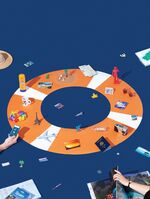 Photographer: Andrew B. Myers for Bloomberg Businessweek
Six Vacations to Solve All Your Problems
Stress, insomnia, romantic burnout, etc. Here's the getaway antidote for each.
Sure, travel can transform your whole being. But what if a summer trip could fix a specific issue, such as vanquishing stubborn love handles or lifting your spirits after the beat down of the daily grind? We picked six destinations—plus six backups—to help you complete your mission. We also recommend what to take with you, including some of the summer's best reads, most flattering swimwear, and essential gadgets. No need to thank us. Just go get your life back on track.
The Problem: I Need a Total Health Overhaul
Go here: Rajasthan, India

Forget juice cleanses. Head to Amanbagh (from $600 per night), a 40-room resort with Mughal-inspired architecture and décor nestled in northwestern India's Aravalli Range. Choose a 7-, 14-, or 21-day retreat based on the ancient practices of Ayurvedic medicine, a whole-body healing approach. An on-site physician identifies guests' doshas, or mind-body types, and designs a program to restore the equilibrium of their energies. The program includes daily detoxing spa treatments (herbal facials, warm oil scalp massages), meditation, and yoga classes; a custom meal plan using ingredients harvested from the resort's 86,000-square-foot farm; and cultural activities, such as a visit to the bird-watcher's paradise of Mansarovar Lake, where you might eye pelicans, herons, geese, and ducks. Still not balanced? Hike through narrow gorges of unhewn marble, or sign up for a yoga or meditation session in an abandoned 17th century temple.

Extracurricular activity: The serene Sariska Tiger Reserve and National Park ($9 per person) is a 45-minute drive away. In addition to Bengal tigers, you'll spot leopards, golden jackals, peacocks, and monkeys, as well as temples and ruins. Go in the evening for the best wildlife viewing—and before July 1, when monsoon season starts and the animals seek refuge from the rain.
Or here: Obonjan Island, Croatia

Until two years ago, tiny Obonjan Island in the Adriatic Sea had been uninhabited for a decade. Developed in the 1970s as a camp for Croatian Boy Scouts, it sat abandoned until 2015, when Sound Channel, a British music-festival organizer, turned it into a wellness-minded summer resort that draws young creatives (from $65 per night). From June 23 to Sept. 3, there's live music and daily TED Talk-style programming on topics such as reiki, hypnosis, and lucid dreaming. Select from one of nine daily yoga classes, or work out in the outdoor gym. After exerting yourself, indulge in a hot and cold crystal massage at the spa (from $33), then take a nap in an air-conditioned "forest lodge" or tent. 
Read this: The Answers, by Catherine Lacey (available June 6)
The first step in any self-improvement project: self-evaluation, both physical and mental, as demonstrated by the heroine in The Answers (Farrar, Straus and Giroux, $26). Plagued by aches and pains, a young woman named Mary seeks out a New Age-y treatment that costs a fortune. To pay for it, she participates in an experiment run by an eccentric movie star. Not only is Lacey's writing a joy—her world-building is almost as keen and luminous as her prose—but her novel also might inspire you to start healing yourself by looking inward. —Maris Kreizman
The Problem: I'm Superstressed
Go here: Coconino County, Ariz.

Cut off the 24/7 data dump at Restival (from $1,495 per person for five nights, all-inclusive), a traveling international wellness festival that lands in September in the Arizona desert 20 minutes east of Flagstaff. The eco-luxe camp of elegant white teepees is outfitted with real beds and linens. (There's internet and a phone line for emergencies, but most visitors remain off the grid.) When you arrive, you'll be greeted with an organic elixir such as kombucha, matcha tea, coconut water, or Bulletproof coffee, which is blended with butter made from the milk of grass-fed cows. Then you can take part in collaborations with the local Navajo clan, including traditional dancing, yoga, ancient storytelling, gong sound baths, sweat lodges with tribal elders, art classes, and astronomy lessons.
Extracurricular activity: Sign up for a free Sacred Spaces, Secret Places day trip with a Navajo elder who takes guests to volcanoes and other nearby spots and offers a history of the tribe and the land.
Or here: Vientiane, Laos

It's easier than ever to reach the Laotian capital: Recent negotiations with neighboring Thailand opened additional flights from Bangkok (there's nothing direct from the U.S.), and new hotels have made Vientiane a haven for those seeking peace and luxury. Check in to the Salana Boutique Hotel (starting at $111 per night), a few blocks from the city center. Rooms combine traditional Laotian elements—high-gloss polished wood, local textiles, scattered frangipani flowers—with modern touches, such as spa-quality rain showers and flatscreen TVs. After you're settled in, go see Haw Phra Kaew. Constructed in 1565 as the royal family's personal chapel, the Buddhist temple is adorned with wood and stone figures, and its lacquered door features intricate Hindu carvings. Soak in the tranquility of the temple's shaded, manicured garden before exploring the rest of the city. A great way to see the slow-paced former French trading post is by bicycle; unlike in other parts of Southeast Asia, traffic isn't crazy, so you won't be risking death. Bike along the soft bend of the Mekong River on a five-hour guided tour with Vientiane ByCycle ($49); you'll pass by (more) temples, the presidential palace, and other stately homes.
Read this: Theft by Finding: Diaries (1977–2002), by David Sedaris (available May 30)
Keeping a diary, they say, is great for releasing tension. Reading Sedaris's, it turns out, is equally cathartic. The humorist has been keeping fastidious notes for 40 years, and Theft by Finding (Little, Brown & Co., $28) is filled with random notes on just about every topic (sometimes really random: "Kim's husband gets his hair cut at a place called Blood, Sweat, and Shears") and germs of great ideas that would become essays. If you want to get out of your own head, enter into the mind of one of the best observers of the absurd. —M.K.
The Problem: I Haven't Saved the Planet
Go here: The Maldives

Yes, the island chain is sinking slowly into the ocean. And, yes, flying thousands of miles to get there isn't the most eco-conscious act. But you can still do your part with the new Stay for Good package at Soneva Fushi (from $1,124 per night). The staff will arrange for you to spend a few hours each day volunteering with conservation activists. Activities include snorkeling with marine biologists to identify turtles and rehabilitate coral; participating in beach, mangrove, and reef cleanups; photographing mantas to help with identification and protection; and maintaining vegetable gardens. In exchange, Soneva Fushi will give you five extra free nights at the resort to enjoy meals on the beach—tuna curry stew is a local favorite for breakfast—and stargazing at the resort's observatory. Using the hotel's telescope, you can count the moons of Jupiter.

Extracurricular activity: How about picking up a badass hobby? During the hotel's two-day free-diving course ($1,050 per person), instructors will teach you how to increase your lung capacity, improve your swimming skills, and relax and focus your mind, lowering your breathing rate to conserve oxygen. Get ready to win every breath-holding competition from now on.
Or here: Volcanoes National Park, Rwanda

Of the 800 or so mountain gorillas left in East Africa, more than half live in the forested foothills of the Virunga Mountains, a chain of 12,000-foot-high volcanoes stretching through Rwanda, Uganda, and the Democratic Republic of the Congo. Wilderness Safaris' six-villa Bisate Lodge (from $1,400 per person per night, all-inclusive), opening this June, was built to fund conservation projects in these countries. After you've gone on a morning trek to see the primates, experts back at the lodge will discuss the gorillas' genetics, behavior, and endangered status. You'll also be encouraged to plant a tree as part of the lodge's reforestation project, which spans 64 acres.
Read this: Blind Spot, by Teju Cole (available June 13)
Novelist and essayist Cole is also a photographer with a knack for identifying beauty, whether in the most physically awesome places (European mountain ranges) or the most ordinary (a parking lot in Brooklyn, N.Y.). In his new collection (Random House, $40), he juxtaposes short essays and full-color photos from his travels, making what's right in front of you seem expansive and wonderful and worth saving. —M.K.
The Problem: I Can't Button My Jeans
Go here: Cabarete, Dominican Republic

Located in a surf town just outside El Choco National Park, the Extreme Hotel (from $400 per week) is a solar-powered beachfront eco-resort serving omelets with farm salad ($5), among other dishes, by local chef Raul Capellan; some of the ingredients are grown on the property's organic farm. Before arriving, you'll talk to trainers about your weight and fitness goals. Once there, you'll sweat to extreme workouts that include strength training, yoga, kickboxing, and CrossFit, or less common methods for getting your heart pumping, such as salsa dancing, kitesurfing, and trapeze work.

Extracurricular activity: The hotel can arrange a day trip to the 27 Waterfalls of Damajagua ($90 per person), a complex of small cascading pools carved out of the limestone hills of the country's Northern Corridor. Climb to the top with a guide, then cool off by swimming in the falls and grottoes, jumping and sliding your way to the bottom.
Or here: Queenstown, New Zealand

Hate the heat? Head to the Southern Hemisphere, where the seasons are flipped. Skiing starts in mid-June, but you can bungee jump, zip line, sky-dive, paraglide, and jet-boat year-round. The region's four ski areas are all within a 20- to 90-minute drive of Queenstown, and they have trails for all skill levels, plus night skiing for the brave/insane. Tucked alongside the pristine waters of Lake Wakatipu and surrounded by snowcapped mountains are several hotels under development. Kick back in between powder hours at the new boutique Hulbert House (from $455 per night), with six suites in an 1888 Victorian villa. Eat dinner at Madam Woo, a Malaysian restaurant featuring Michelin-starred chef Josh Emett. The honey- and soy-tossed squid ($18) will provide lean protein to fuel tomorrow's black diamond runs.
Read this: Grocery: The Buying and Selling of Food in America, by Michael Ruhlman (available May 16)
The longtime food writer takes a break from chefs and restaurants to explore the most mundane part of eating: grocery shopping. Neither a diet book nor a history, Grocery (Abrams Press, $28) digs into how supermarket shelves have grown to overflow with choices and the ways consumer demand (the '90s fat-free fad, the current gluten-free craze) shapes their offerings. Ruhlman has his own shopping rules, including avoiding purchasing anything from the center aisles of the store, where the processed food sits, or with any ingredients he doesn't recognize—minus Pringles, the exception to all rules. —M.K.
The Problem: I Think We Need Some Quality Time
Go here: Borobudur, Indonesia

Is there any better place to reignite sparks than a two-person bespoke pop-up hotel somewhere across the world? You pick the destination, then luxury outfitter Black Tomato, through its new Blink service, will find the site; the customization options extend to which direction your bedroom faces. Think about heading to mystical Borobudur ($40,625 per person for four nights), on the island of Java, which has avoided the crush of international tourists you find in Bali. Blink staff will escort you to an elegant tent pitched in the middle of a rice field, beneath the shadow of Mt. Sumbing volcano. Meals, such as Nasi goreng, a spicy rice dish, are served in a separate dining tent; after dinner, watch a traditional Javanese dance performance. Add on as many other tents as you want: A private spa tent for a deep-tissue massage? A library? A bar? After you break camp, the whole thing disappears.
Extracurricular activities: Catch the sunrise at the pyramidal Borobudur Temple, the largest and most important Buddhist monument in the Southern Hemisphere. You and a guide will climb to the top of the ninth century structure to see the sun come up over the jungle and volcanoes. Then hop in a dokar, a traditional horse-drawn carriage, or ride a bike to see nearby Candirejo village and its surrounding plantations.
Or here: Ngorongoro Conservation Area, Tanzania

At the new Asilia Highlands (from $760 per night, all-inclusive), near the Olmoti volcano, cozy up in one of eight geodesic canvas-and-plexiglass domes, lodging inspired by the round bomas the Masai people build. (They're spaced far enough apart that you'll avoid frequent contact with other guests.) Arrange for a private sundowner—a gin and tonic, perhaps, or one of 25 whiskeys—followed by a candlelit dinner of local specialties such as green banana soup and ugali, a polenta-like dish that forms the basis of most Tanzanian meals.
Read this: Hourglass: Time, Memory, Marriage, by Dani Shapiro
In this short but searing memoir, Shapiro makes art out of a relationship that's evolved from the early days of infatuation and lust to the trials and joys of raising a child to a growing interdependence as time goes by. In beautifully drawn vignettes, she takes us inside the most intimate moments of her imperfect yet happy marriage to journalist and screenwriter Michael Maren, referred to as M. Hourglass (Knopf, $23) is a lovely reminder that one of the most profound decisions we make is whom we love and whom we choose to continue to love in a lifetime. —M.K.
The Problem: I Haven't Slept in 12 Years
Go here: Douro Valley, Portugal

The dreamy Six Senses Douro Valley (from $563 per night) is in a renovated 19th century manor overlooking this tranquil vale, the world's oldest demarcated wine region. For an extra $150 per night, insomniacs can sign up for a 3- to 10-day yogic sleep retreat, which begins before you leave home with a sleep assessment ("Do you have trouble turning off before bed?"; "Does your bed partner snore?"). Upon arrival, a sleep "ambassador" determines what yoga and spa treatments will best help you unwind, whether it's a head or full-body acupressure massage ($126 each for 60 minutes). You'll also get a specially tailored bedtime bag to take home, which might include pajamas, a sleep mask, or custom aromatherapy.
Extracurricular activities: Hotel staff can arrange for a tour of the neighboring Quinta do Mourão estate ($74 per person). The prettiest way to arrive is on foot, a 20-minute walk across the terraced vineyards. If the yoga isn't sending you into a slumber, a flight of 10-, 20-, 40-, and 100-year-old port from the estate's cellar will fix that. Another option: Reserve a table along the Douro River at DOC, a restaurant helmed by Michelin-starred chef Rui Paula, and try his refined version of classic Portuguese salted cod ($32).
Or here: Berlin

Given its famous nightlife scene, Berlin doesn't scream "restful." But the deep-sleep package at Swissotel Berlin (from $189 per night) might be the antidote for too much partying. Somnologist Dr. Michael Feld developed the program, which begins with a wake-up call and an energizing beverage made of maté tea, mango and pineapple juices, ginger, vanilla, and mint. Then it's time for a half-hour in front of a light box, which is said to boost mood and energy. Before bedtime, you'll get a "calm down" drink made with dark Valrhona chocolate (it contains a small amount of caffeine but also tryptophan, which causes drowsiness), orange, sage, and lavender. Finally, you'll lay your head on a pillow emitting binaural beats, which provide low-frequency tones that supposedly help align your brain waves for optimal rest.
Read this: Hallelujah Anyway: Rediscovering Mercy, by Anne Lamott
If you tend to let anger, humiliation, or regret steal your rest, crack open Lamott's self-helpish Hallelujah Anyway (Riverhead Books, $20). She layers spiritual guidance with humor and self-deprecation, which results in insights such as "Mercy means that we soften ever so slightly, so that we don't have to condemn others for being total shits, although they may be that." She advocates for charity and forgiveness with arguments that are theological, literary, philosophical, and always personal. And at the end of the day, if we can forgive ourselves and each other, won't we sleep better? —M.K.
(
Corrects the photo caption identifying the Bazaar restaurant at QT Queenstown.
)