Two Frances Collide in Battle to Shape Europe's Future
"I want to believe in Le Pen. She's the only one left."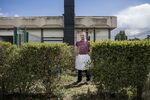 Willy Guenet pulls on a cigarette outside the railway workers' canteen in northern France where he works as a cook and vents his frustration as a floating voter.
Over the years, Guenet has tried Communists, Socialists and the traditional right, and none of them have managed to turn around his hometown of Tergnier in France's northern rustbelt. At 45, he's still stuck in a minimum-wage job and now he's ready to try Marine Le Pen.
"This town is dying," he says, looking out across the abandoned hangars of the town's freight depot. "I want to believe in Le Pen. She's the only one left."
The desperation of places like Tergnier has become a central issue of the presidential election campaign and is set to be a key challenge for whoever takes office after Sunday's runoff.
With traditional manufacturing jobs moving to cheaper locations within the European Union or in Asia, successive governments have failed to reverse the economic decline of northern and eastern France. That's where Le Pen won much of her support in first round of voting on April 23 and that's where front-runner Emmanuel Macron chose to kick off his second-round campaign a few days later.
While polls project that Macron will win by some 20 percentage points, investors around the world are following the campaign closely since a shock win for Le Pen would potentially reverse decades of European integration. She's promising new barriers to protect French workers, a clampdown on immigration and a withdrawal from the euro to break with "savage globalization."
Le Pen already posted her party's biggest ever vote in the first ballot which laid bare the divisions in French society. The National Front candidate conquered the depressed towns of France's industrial decline as well as the conservative heartlands of the south. Macron won the west with middle- and upper-class voters backing him in big towns and cities.

Paris's third arrondissement is two hours' drive and a world away from Tergnier. There may be few places where the globalized economy is working better.
Fashion, media and public relations executives work for clients from Los Angeles to Tokyo and live among the mansions, museums and organic food markets of one of the capital's trendiest neighborhoods. Often derided as the haunt of "les bobos" — affluent, trend-setting "bourgeois bohemians" — Macron won the first round vote there with 45 percent.
"We're bang in the middle of globalization," says 38-year-old Macron supporter Julie Berton, breaking up a croissant on the sunlit terrace of Café Le Sancerre. The fashion-photography agency where she works has offices just around the corner and in New York, with clients from Hermes to Christian Dior.

"Our business is doing well," she says. "I'm optimistic that Macron can do a good job."
This is the France that has faced the advances in technology and free trade that hurt Tergnier, and adapted to them.
"I've suffered from the impact of globalization in my job," said Johane Debas, 53, another Macron voter in the district who works in film production. "We compete with people from all over, but France can't become a little village."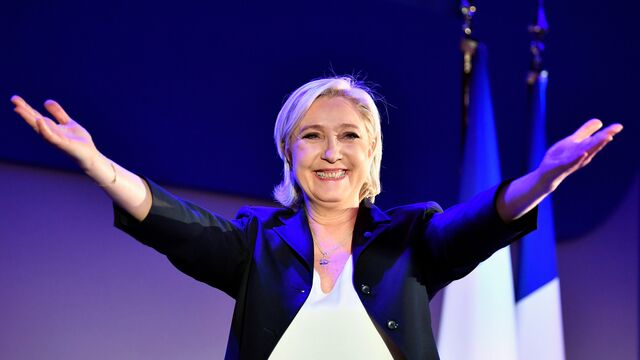 Macron presents himself as a unifying candidate who can win round the Willy Guenets without hurting the likes of Julie Berton.
"She wants to segregate France, to break it in two," Macron told reporters April 27. "My project aims to reconcile these Frances because we are all French."
Tergnier may be Macron's toughest sell.
The town, with a population of 13,000, used to vote Communist and then Socialist. It turned to the National Front as its sprawling rail freight station — once one of France's biggest — shed hundreds of jobs. Steelworks, a sugar-manufacturing plant and other firms closed down or moved elsewhere leaving the jobless rate at 15 percent. The national average is 10 percent. Thirty-six percent of voters backed Le Pen last month, among her highest votes in the country.

"Globalization is bad for Tergnier," said mayor Christian Crohem, 67, who heads a mainly leftist coalition. "We've brought more countries into the EU and we've allowed businesses to move around, so we're up against workers from abroad who don't play by the same rules, it's unfair competition."
He tells the story of a 70-year-old woman who came to see him recently because she didn't have enough money to feed herself. Sitting in his office, she cried with shame as she asked him for a handout to buy food.
"That kind of thing really gets to you," he says. "People here feel abandoned, and so do we, the officials they elect."

That's the strength of feeling that Le Pen has tapped into with her promises to defend the French people and stop immigration. In the process, she's prompted some voters to express views they might have kept quiet about until recently.
Brigitte Bocquet, 63, lost her job when Tergnier's hosiery manufacturer closed and she's backing Le Pen for her line on immigration. Bocquet, who wants France to stay in the EU, is surprised to hear Le Pen has threatened to quit the bloc.

"I'm not an extreme racist, but…," she says, leaving the sentence unfinished. "When you see the money asylum-seekers get, we're stuck with 40 of them in my building."
Crohem is downbeat about the prospects for a Macron presidency. He sees the scale of the challenge facing the country, the risk the new president gets bogged down by the partisan battles of an out-of-touch political class in the capital and worries that the backlash will only get stronger.
"The people in Paris don't know what the reality is here," he says. "And the result is Le Pen gets stronger."
—With assistance from Andre Tartar.