Britain Needs Companies Like This. Brexit May Scare Them Off
Tech startup Boxarr wants to make Brexit work, but has many options if it doesn't.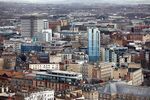 Boxarr Ltd. is exactly the kind of brainy exporter that U.K. politicians of all stripes say they want to encourage.
Developing software for complex engineering projects has made it a British success story, serving such customers as Airbus SE, Safran SA and Boeing Co. from its base in Bristol. Founded in 2003 as a research project by a group of academics, the company now has 14 full-time staff and aggressive plans for international growth—an example of the entrepreneurship that Prime Minister Theresa May calls "the basis of our prosperity."
If only the country that praises companies such as Boxarr weren't threatening to pull the rug out from under them.

Under the Brexit deal May is proposing, employees from elsewhere in the European Union who now can work freely in the U.K. may face stringent visa rules. Even if labor isn't an issue, a post-separation economic slump could dry up investment. A dearth of talent or capital would make it harder for Boxarr to fulfill its global ambitions from the U.K., explained Chief Executive Officer Alasdair Pettigrew. In that case, it won't hesitate to move elsewhere.
"Boxarr is going to be a global titan of technology," Pettigrew said in a meeting room in the government-backed startup incubator that Boxarr calls home. "I'd love to put U.K. in front of that, but it's not a prerequisite. The most important thing is that our growth is not inhibited in any way, so the politicians have to make sure the environment is healthy for business."
Pettigrew's concerns are a variant on those faced by many U.K. businesses as the country embarks on an unprecedented political and economic experiment. Boxarr is one of four companies that Bloomberg will follow throughout the two-year process, during which the U.K. will depart the EU and define a new relationship with its most important trading partners.

That Boxarr could thrive in Bristol, nestled on the banks of the River Avon about 120 miles from London, is the result in part of Britain's international orientation. The western U.K. is one of the world's most vibrant aerospace hubs, part of an integrated European supply chain that stretches across a borderless continent.
Building planes and ships is one of the main applications of Boxarr's software. The technology allows engineers to visualize efficiently the interactions between millions of objects, determining, for example, how a change in the design of a vessel's hull would affect all the components that have to fit inside it.
"I just knew that this thing was exactly what I was looking for," said Pettigrew, who joined Boxarr in 2012 after more than a decade at International Business Machines Corp. Last year the company recorded sales of about $1 million; this year its goal is $5 million and breaking even, he says.
Many of its current and potential customers aren't far away. Boxarr's first client was Rolls-Royce Plc, which maintains engines for the Spanish-built A400M transport plane in Bristol. Airbus, which uses Boxarr software to model its supply chain, has more than 4,000 local staff and makes wings for all its airliners in Wales, before shipping them to France for final assembly. And hundreds of smaller companies in the region produce everything from landing gear to oxygen masks for fighter pilots.
That economic base, combined with a well-regarded university and handsome neighborhoods, has drawn talented engineers to Bristol, many of them from overseas. Boxarr's offices are housed in the Engine Shed, a startup accelerator in an annex of the 175-year-old train station. The space buzzes with hipsters tapping away on MacBooks and holding one-on-ones in meeting nooks modeled on beachfront cottages, chatting in a spray of languages.

Pettigrew's most immediate concern about Brexit is similar to that of many executives in technical fields -- that there simply aren't enough skilled Brits to fill specialized jobs. "We're just not seeing the really technically able people," Pettigrew said of his efforts to hire locals.
Boxarr already has employees from France, Spain and Greece on its small staff, and their future is uncertain. The June 23 vote against continued EU membership was widely interpreted by politicians as a backlash against immigration. May's government hasn't said whether the millions of Europeans already resident in the country can stay once Brexit is complete, let alone laid out the terms on which future migrants might obtain visas.
That anxiety shows in Boxarr's office. As he ambles over to chat with a colleague, a French staffer jokes that he might have to swim home across the English Channel if worse comes to worst.
Still, Pettigrew says Brexit might, on the whole, present opportunities for Boxarr. Tariffs or customs inspections that could be reintroduced if the U.K. doesn't secure a deep free-trade deal with the EU would add a new layer of complexity, interrupting supply chains and making it harder to keep track of production. That's a selling point for a company that produces software aimed at simplifying processes.
"Suddenly, overnight, everyone's supply chains became more complicated," he said. "We've immediately got a reason to go and call again on Renault-Nissan, to go and call Jaguar Land Rover, on Honda and Toyota and really help these guys build a picture of their supply chains."

Dealing with the longer-term effects might require more than renewed sales outreach. If talent isn't available at home, Boxarr will have to expand its footprint in North America instead, Pettigrew said, citing aerospace hubs in Raleigh, North Carolina; Seattle and Montreal as potential destinations. The company also might need to seek capital from U.S. investors, increasing the chances that management would relocate.
For now, Pettigrew stresses that he's trying to make the best of Brexit and that he doesn't want to be seen as a "Bremoaner," the derisive term deployed by anti-EU campaigners for opponents who don't accept the referendum result. 
He's already identified a concrete opportunity to demonstrate that. The coming negotiations between the U.K. and the EU will be among the most challenging in history, taking in thousands of areas of legislation and balancing the interests of 28 countries, all of them interacting in unpredictable ways. Boxarr is planning to pitch its platform to the U.K. government as a tool to manage the negotiations.
Software designed for building aircraft carriers and jet engines thus could be applied to the vagaries of diplomacy. After all, what process could be more complex than steering the ship of state through uncharted waters?