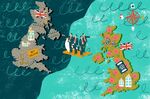 On Brexit's Front Lines
What's it like to run a business while the government pursues its unpredictable plan to quit the European Union? Bloomberg News is following four CEOs over the next two years as they try to limit the fallout. Here are their stories.
While the debate rages over whether Brexit will be a blessing or a curse for British businesses, the reality is nobody will know for years. And even once the results are in, the two camps are sure to disagree over the facts—and, of course, what could have been had Brexit not happened. But these entrepreneurs have to make the best of it now. We're going inside their companies to uncover the real-life impact from decisions made in Westminster. You can follow their progress here.
One Year Later: What our CEOs had to say on the anniversary of the referendum
The Fintech Lenders

Funding Circle Ltd., Britain's largest peer-to-peer lender, matches investors with thousands of small-businesses around Europe. Co-founders Samir Desai and James Meekings and their London employees—many of them non-British—fear major disruption from Brexit, though business is booming so far.
Part One: Brexit Terrified This CEO. Then Business Jumped 50%
Part Two: London Craft Brewer Rides Out Brexit With Hoppy Ales and Hope
Part Three: London's Startups Stress Out Over Brexit—and Ping Pong
The Brexit Backer

Ebac Ltd. makes water coolers, dehumidifiers and washing machines in the northeast of England. Although sales in the European Union contribute a big chunk of revenue, founder John Elliott campaigned for Brexit. He says tariffs, if they are imposed after Brexit, won't seriously hurt his business.
Part One: Lobbying to Leave While Profiting from Europe
Part Two: A Day at the Races Shows Faith in Brexit
Part Three: This Company Loves Brexit. Its Polish Workers Don't Mind
The Poultry Farmer

Traditional Norfolk Poultry sells five million free-range and organic birds a year, on farms in the countryside northeast of London. Co-founder Mark Gorton says 60 percent of his workers are east Europeans, doing jobs he says Britons don't want to do. He's concerned Brexit will curb the supply of labor, while a weakening pound has forced him to raise prices.
Part One: After Brexit Who Will Feed All These Chickens?
Part Two: Even Immigrant Managers Fear Brexit These Days
Part Three: This English Town Backed Brexit. Now the Poles Are Leaving
The Ambitious Startup

Boxarr Ltd. builds software for complex engineering and manufacturing projects, serving clients such as planemaker Airbus from its base in western England. Chief Executive Officer Alasdair Pettigrew says Brexit may present opportunities — but he is worried about access to labor and lenders.
Part One: Britain Needs Companies Like This. Brexit May Scare Them Off 
Part Two: Getting On With Brexit in the City That Hates It the Most
Part Three: A Thriving British Industry Confronts the Price of Brexit