Inside the Fed's First Meeting of the Trump Era: The Annotated Minutes
Will monetary policymakers set the table for a March hike?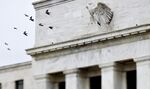 The Federal Reserve cited post-election confidence in keeping rates unchanged at the conclusion of its meeting Feb. 1, the first  for 2017 and the first during the Trump administration. 
Today, with the release of minutes from that meeting, we get to learn whether monetary policymakers expected this positive sentiment to quickly translate into an increase in activity.
Market participants view the chances of a hike next month as slightly better than one-in-three amid nascent signs that the U.S. economy is picking up steam, including encouraging readings on business and residential investment.
Data directly within the Fed's dual mandate, full employment and price stability, has been more mixed. 
Five-year inflation breakevens hit an intermediate peak the day after the meeting, an unwelcome development for Fed officials who said these market-based measures of inflation compensation "remain low." 
January's non-farm payrolls report, meanwhile, showed subdued wage growth with the unemployment rate ticking higher.
More importantly, the minutes may shed light on the discussion about balance sheet normalization at the central bank, which has almost $4.5 trillion in assets after rounds of bond-buying and reinvestments. In addition, we'll learn what kind of fiscal boost they're are expecting from the White House.
Follow along as we annotate the latest release from the Fed.