These Vintage Hennessy Ads Will Have You Thirsting for a Bygone Era
A deep dive into the Cognac maison's archive.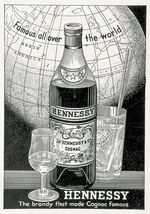 Source: © Jas Hennessy & Co
Raise a glass to Hennessy: A Toast to the World's Preeminent Spirit (Rizzoli 2017, $55), a smooth new volume suitable for the coffee tables and the wet bar alike. As assembled by Glenn O'Brien, the text splices together history, hagiography, and interviews with Cognac experts including master blender Yann Fillioux, who presides over the house's tasting committee, and brand ambassador Nas, who claims, "I was the first one to rap about Hennessy."
Accordingly, Nas's old notepads and tour riders may someday fall into the hands of Raphael Gerard, the archivist responsible for the millions of documents generated since the 1765 founding of Jas. Hennessy & Co. These include 10,000 advertising images that range from the strikingly beautiful to the amusingly kitschy and beyond, telling their own story about tippling in the age of mechanical reproduction.
Guided by Gerard, his colleagues, and other commentators, come with us on a historical tour of the luxury brand's luxuriant branding.