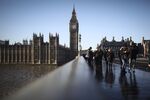 The Brexit White Paper, Annotated
A deep-dive on Theresa May's plans for Britain's exit from the EU
Prime Minister Theresa May's Conservative government has unveiled a "white paper" outlining its proposals for Brexit negotiations. The policy document was released one day after lawmakers took the first step towards approving her plan to trigger Article 50, the mechanism that starts divorce talks between the U.K. and the EU, which she wants to begin by the end of March.
You can find the original document here.
Bloomberg reporters are examining the proposals and annotating the white paper in the note below. Follow along.