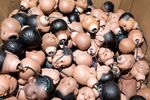 Those Robot Babies Meant to Scare Teens Out of Having Kids Might Not Work
Two out of three U.S. school districts buy infant simulators, but new research shows the automaton newborns don't prevent teen pregnancy.
Fifteen-year-old Shaila Dominguez dreaded the thought of taking her baby out in public, but it was a rare day when she didn't have work or school or both, and Christmas was fast approaching. So on an overcast December afternoon in Rapid City, S.D., she strapped the baby into its animal-print car seat, swung by Taco John's to pick up her paycheck, and made her way to the nearest Walmart.
In the toy aisle, Shaila picked out a robotic turtle for her 4-year-old cousin, with whom she shares a room in their aunt's single-wide trailer. Seconds after she paid the cashier, the baby began to cry, so Shaila perched the car seat on a vacant checkout counter and swapped a green diaper for a yellow one. An elderly man with long white hair approached in a motorized wheelchair. Shaila had draped a blanket to shield the baby from view. Without asking, the man used his thumb and two forefingers to peel it back for a glimpse. "They still make 'em that small!" he said, laughing, and rolled away.
Shaila, who has a pretty, round face and big brown eyes that she makes look bigger with a catlike swoop of black liner, froze in a nervous half-smile. "I don't know if he thinks I'm weird because it's fake, or if he thinks it's real," she said. "I'm so confused. I don't know what to think!"
The baby was indeed a phony, made of vinyl and circuitry instead of flesh and bone. Shaila had to take it everywhere—to fill up the tank of her beat-up Mercury Cougar, to her grandfather's house to eat dinner, to the grocery store to buy cat food—as part of a school assignment designed in part to prevent her from becoming an actual teen mom. A teen mom like her own mother was when she gave birth to Shaila at 14. A teen mom she doesn't want to become, because she knows it could forestall her dreams of being the first in her family to go to college and eventually to law school.
"I like to argue," she'd said when I asked her the night before why she wanted to become a lawyer, her dark hair pulled high into a topknot. "And also because I want to help people."
Since its invention in 1992, the infant simulator that Shaila carried around has become a staple of American education, reaching more than 6 million students at 17,000 schools. It's used in 91 countries around the world—an impressive footprint for the private, 63-person company in Eau Claire, Wis., that invented it, Realityworks, which estimates it controls 95 percent of the infant-simulator market.
For educators such as Wendy Conrad, Shaila's child development teacher at Rapid City Central High School, the appeal of the robot baby is straightforward: Once teenagers see how tough parenthood is, the last thing they'll want to do is have unprotected sex. At $649 each, not counting software and accessories such as car seats and diaper bags, the simulators are no small purchase for schools.
But purchase they do, despite a growing body of research raising doubt about their effectiveness. The latest study, the first randomized, controlled trial to test the intervention's long-term effectiveness on pregnancy outcomes, was the most damning of all. Published in August by Australian researchers in the Lancet, a prominent British medical journal, it found that girls who cared for the electronic progeny got pregnant and gave birth at a higher rate than those who didn't.
Recognizing the threat the study posed to its babies, Realityworks came out like a mother grizzly. "I can only trust that researchers do a good job," says Chief Executive Officer Timm Boettcher, 45. "But that doesn't happen every time, which is why we have the term 'junk science.' "
In 1992 a recently unemployed rocket scientist named Rick Jurmain was sitting on a couch next to his wife, Mary, in their ranch-style home in a San Diego suburb. They were exhausted parents of a newborn baby girl and a 4-year-old boy whose colic had left them sleepless for his first 11 months. On the TV flicked a PBS show on sex education, showing teens carrying flour sacks to mimic parenthood. (Chicken eggs, with their obvious fragility, were also popular at the time.)
"I remarked to Mary rather wearily and skeptically that a sack of flour doesn't wake you up in the middle of the night," Jurmain recalls when I call him at his new home in Vermont. "Mary responded, 'Well, why don't you build something that does?' She was being flippant, but I said, 'That's not a bad idea.' "

Jurmain read a book to teach himself electronics and made his way to the garage, where his son helped him insert parts into circuit boards that Jurmain then soldered in a frying pan. Soon he and Mary had a prototype that they felt better simulated a newborn. They began cold-calling schools. They hired sculptors for the head and body molds; found engineers and manufacturers; and eventually tapped a family-and-consumer-science teacher from Wisconsin, where they'd moved, to develop curriculum.
"My official title back then was vice president in charge of things that go beep," Jurmain says—meaning phones, cars, the fax, and computer. Mary became CEO. They called their first product Baby Think It Over, and it exploded in popularity almost immediately. Mary was a guest on The Oprah Winfrey Show—becoming an early benefactor of the Oprah effect—and was written up in the New York Times. The product has since appeared on 90210, Project Runway, and a Jersey Shore spinoff, where Snooki and JWoww took their robot babies to a gay bar.
Early models did little more than cry, and users had to insert a key into their backs to make them stop. The ninth and latest iteration, the RealCare Baby 3, is more technologically advanced. At Rapid City Central High, Conrad has 22 of them, kept when not in use inside a $5,399 storage/charging cart, all purchased, as is common, with a federal Perkins grant. (For classroom instruction, she also has Realityworks babies that mimic the effects of drug exposure ($399), premature birth ($299), and fetal alcohol syndrome ($295).) The babies weigh 7 pounds and come in seven skin tones, with "ethnic-specific facial features."
With each wail—recordings of real infants, timed to real schedules—Shaila would have two minutes to swipe a sensor-equipped bracelet over another sensor in the baby's stomach. Then she'd have to determine what to do: feed the baby with a sensor-equipped bottle, change its sensor-equipped diaper, or simply rock it until it went back to sleep mode. Just as with a real newborn, Shaila would need to support the baby's neck and monitor its temperature. On Monday, Conrad would download the baby's data to assess how she did.
Students often name their babies. Shaila throughout the weekend referred to hers simply as "No. 9," after its place in Conrad's inventory. On Saturday afternoon, I met her inside the cramped three-bedroom trailer where she lives with Rachael Wannigman, her aunt who's been her guardian since her mom went to prison in 2010; Wannigman's husband; her half-sister, Jasmine, 11; and her two cousins, Destiny, 8, and Xavier, 4. They were headed to their grandfather's house nearby, and as the kids packed what they needed to spend the night into white plastic bags, Shaila readied the car seat. The vinyl body lay motionless, its facial expression poised in a state of alert, brown eyes unblinking, lips pursed for feeding. Then, from the speaker on its chest, No. 9 started to emit tiny groans.
"Oh no, this isn't good timing!" Shaila said in a panic.
Wannigman smiled knowingly. "It never is."
Shaila swiped her wristband and held up the bottle. But that elicited no sucking sound, indicating that wasn't what No. 9 wanted.
"I think it's pooping!" Jasmine squealed.
Silence.
"Well, I think it's fine," Shaila said, then headed out the door.
The last Thursday in August, Boettcher was standing at his desk in his small, windowless office in Eau Claire when an e-mail arrived. A reporter sought a comment on the study about to be released by the Lancet. Boettcher knew nothing about it. But soon there were headlines around the world. The Wall Street Journal: "Robot Babies Not Effective Birth Control, Australian Study Finds." The New York Times: "A Strategy Backfires, Increasing Teen Births." New York magazine: "Creepy Robot Babies Don't Deter Teens From Spawning."
The study had followed 2,834 girls age 13 to 15 at 57 schools in Perth, Australia. From 2003 to 2006, students in the intervention group cared for a Realityworks infant simulator over a weekend as part of a pregnancy prevention curriculum, while the control group received only standard health education. Researchers led by Sally Brinkman at the University of Adelaide's School of Population Health then used medical records from hospitals and abortion clinics to track the girls until they turned 20.
Their findings, Brinkman says, came as a surprise: Girls in the intervention group were twice as likely to give birth and one and a half times more likely to terminate a pregnancy than girls in the control group. In the Lancet, Brinkman wrote that the devices were "likely to be an ineffective use of public resources aimed at pregnancy prevention."
In Eau Claire, Boettcher and Scott Jameson, Realityworks' vice president for sales and marketing, were beside themselves. They obtained a copy of the study to parse its every word. They held late-night conference calls to discuss strategy and contacted lawyers and a crisis public-relations firm. And they crafted a statement that fumed with indignation.
"The study had nothing to do with us, our curriculum, or our RealCare Baby infant simulators, nor are its conclusions about us credible," they wrote. They called the Australian curriculum "not even a CliffsNotes version of ours" and added, "You can't gut the curriculum the way these authors did and expect good performance or draw any inferences whatsoever about our program." They cited a cash "Baby Bonus" program started by the Australian government to boost birthrates, suggesting it gave the study's intervention group, which was slightly poorer, more financial incentive to get pregnant. "What distresses us most about this study, apart from the obvious flaws, is that it confuses a vital public health issue," they concluded. As the RealCare Baby's use has grown, "Teen pregnancy has also declined. There are doubtless many reasons for this, and we believe one is the marked change in attitude toward teen pregnancy and parenting found in RealCare Program participants."
But Brinkman's study wasn't the first to question the value of baby simulators. Previous ones had focused on short-term changes in attitudes and perceptions, and their findings were mixed. Several publications said the devices had "no effect" or a "minimal" impact on students' beliefs. "Infant simulation experiences focus on teaching teens the responsibilities of parenting, the realities of a teen pregnancy, and the personal consequences involved with early sexual behavior," said a 2004 study in Public Health Nursing. "They do not teach teens the skills required to actually prevent a pregnancy." One of the positive reviews, published in 2009 in the journal Health Educator, was underwritten by Realityworks.
The Lancet study was the first unbiased, randomized controlled trial on the infant simulators. That kind of experiment is the gold standard in research, which added to the power of the findings. The study was also the first to look at actual outcomes over the long term: Did girls get pregnant or not? Bill Albert, chief program officer at the National Campaign to Prevent Teen Pregnancy, says this distinction between outcomes vs. intentions is crucial. Take dieting, he says: Success depends not on whether someone intends to lose weight, but on whether they actually do. "It is a reasonable thing, when taxpayer dollars are involved, to say, 'Does this particular intervention work?' " he says. "Based on the research we have, the answer is no, it doesn't work to change teen behavior. Communities should consider the Hippocratic oath here: First, do no harm."
Alison Chopel, the director of the California Adolescent Health Collaborative, has a harsher view. "The company should consider reevaluating how they market their products," she says. "It might have other positive advantages, but if they continue to market their intervention as teen pregnancy prevention, they're going to be defrauding their customers."
Educators looking to fight teen pregnancy, Albert says, should consult the list of evidence-based interventions compiled by the U.S. Department of Health and Human Services' Office of Adolescent Health. Realityworks' program isn't on it. "The overwhelming majority talk about delaying both the onset of sex and the importance of contraception—not either/or, both," says Albert. "When you look at the historic gains this country has made in reducing teen pregnancy since the early 1990s, it has been driven by this magic formula of less sex and more contraception." Some of the more recent promising interventions include a focus on healthy relationships and a Colorado experiment offering free long-acting birth control.
While the teen pregnancy rate has fallen drastically, the U.S. still battles the highest in the developed world. In 2014 some 250,000 babies were born to women age 15 to 19, according to the Centers for Disease Control and Prevention. Teen pregnancy and childbirth cost U.S. taxpayers $9.4 billion in 2010. The tragedy isn't just financial: Babies born to teens face higher rates of abuse, neglect, and incarceration, and in turn are more likely to become teen parents themselves.
The potential for harm grows as robot babies proliferate into lower-income countries, where poor access to contraception and safe abortion and high rates of rape are common, says Brinkman.
"Isn't it beholden upon them," she says of Realityworks, "to actually find out if the program works or not before selling it to the public, when it may indeed cause more harm than good? I question the ethics of implementing such programs without rigorous evaluation. For vulnerable countries and populations, I question the ethics even further. The company should have a responsibility to the communities, schools, and students to know—not just believe—that the program works."
When I traveled to Realityworks in October, Boettcher and Jameson argued the Lancet study was flawed from the start because it measured the wrong thing. "We're not about teen pregnancy prevention," Jameson told me. "We're about educating young people on the choices they make and what the outcomes are going to be like after going through that experience." He added, "If you talk to our educators, they look at it as a parenting tool."
This seems to contradict the company's own messaging. Under the heading "target audience" on its website, "teen pregnancy prevention" is listed first, "childcare" is second, and "parenting skills" is fourth. "Since the company's inception," press releases read, Realityworks has "had a vision of reducing unplanned and unwanted pregnancies." In a blog post on its website, it directs teachers having trouble obtaining federal funding to seek grants aimed at tackling teen pregnancy.

Boettcher and Jameson's second argument was that long-term evidence is unnecessary because educators aren't asking for it. They like the program, and "they believe firmly that it works," Jameson told me. "Our educators who work with us for years are better sources for what they see occurring with individuals than a study."
But that's anecdotal, I responded.
"So it's not valid?" Jameson said. "Don't refute thousands of educators who've been using this for 20 years. All of those educators who've been using this firsthand and seeing it—why are we muting their voice? Why aren't we listening to that?"
I interviewed 17 educators from across the country to do just that. None used the RealCare program solely for teen pregnancy prevention, but they saw that as one of several potential benefits. Most hadn't heard of the Lancet study or those prior, but once I gave them an overview, they brushed them aside. Jameson was right. The emerging science didn't match educators' experiences (even though they admitted they had no way to track actual pregnancy outcomes), and thus they dismissed its relevance to their classrooms. Not one said they'd stop using the RealCare Babies.
"It's working for me," said Marcia Farrar, a family and consumer sciences teacher in Boise, Idaho. "I'm still going to use them."
"I don't have a lot of time to go and spend researching," said LaRae Rosenfeldt, a teacher in West Fargo, N.D., who uses RealCare Babies in her child development class. "Lots of parents say this has value."
I thought back to a tour Jameson had led of the Realityworks warehouse, where babies undergoing repairs before getting shipped out sit next to a giant box of plastic arms and legs destined to be recycled into lawn furniture. He pointed out a hole in the ceiling that Boettcher had made when popping the cork on a celebratory bottle of Champagne. In September, the month after the Lancet review, Realityworks' revenue had reached a record high.
Since Boettcher became CEO in 2005, Realityworks has diversified, and the RealCare Baby line now makes up only about 30 percent of sales. The company has gone further into "simulation learning," part of the career technical-education industry—also known as CTE or simply vocational training—which is fast-growing and enjoys government funding. In 2007, Realityworks introduced a "pregnancy profile" suit that gives wearers a sense of third-trimester burdens. (I tried on the $735 apparatus during my visit. Hard plastic balls dug into my ribs to mimic fetal limbs. A warm weight pressed on my bladder, making me have to pee. And when I bent over to pick up a pen from the floor, the 30-pound belly almost tipped me over.) Realityworks has since released products to teach welding, culinary safety, and the debilities of old age; it's exploring ways to enter the medical-education market.
"Profitability alone does not define our success," reads the company's mission on a sign greeting visitors in the office lobby. "We measure our impact by how many lives are changed in positive ways, and how profoundly they are changed, as a result of our efforts."

In South Dakota, Shaila had enrolled in Conrad's elective class in part because babies are "fun" and "cute," she said. But as her weekend with No. 9 wore on, the excitement wore off. As the oldest of her generation within her family, she'd taken care of her half-sister and younger cousins plenty—even overnight, as the sole provider. No. 9, she decided, was easier. "You don't have to pay as much attention to it, and you don't have to hold it," she said. "I think a real baby would be awake more, and you'd have to interact with it more. And if it was real, I wouldn't let it sleep in my bed with me."
Shaila told me she doesn't plan to start having sex anytime soon and pegged her late 20s as the ideal age to begin motherhood. But she'd felt that way before the robot baby came into her life—and doubted that caring for one would change anyone's mind.
On her classroom door, Conrad had hung a Realityworks poster listing the drawbacks of teen pregnancy. Inside, she told me that while the vast majority of her students can't wait to be done caring for the baby, some do return the following semester pregnant. "I just can't believe it after all the things I've talked to them about in my class," including contraception, she said.
The Lancet study "doesn't make me want to stop using the babies, like they're worthless now," she said. "Because I do feel like even if it's not preventing that particular thing, it still helps me cover a lot of the standards of the curriculum. It does make me think about how I want to present it to my kids, though."
Students had returned the babies that morning. "I don't think I want kids!" a girl named Kassidy said in a huff. A cheerleader named Rachel, who was redoing the assignment for extra credit, said her second time with a robot baby was harder, but overall, not bad.
Shaila came in with a friend and placed No. 9 on a shelf. It was early, and she was tired and quiet. She held out her wrist for Conrad to snip off the sensor bracelet. She was free.