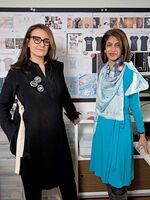 Photographer: Gillian Laub for Bloomberg Businessweek
One Fashion Designer's Quest to End Child Marriage, One Scarf at a Time
Global equality for women and girls is a hard sell, so one designer on a mission found a soft solution.
Henriette Ernst's idea formed over the summer, after a fateful walk in Lower Manhattan with her Morkie, an ewok-like cross between a Yorkshire terrier and a Maltese. She was joined by a neighbor she'd recently met named Yasmeen Hassan, a human-rights lawyer and global executive director for Equality Now. Over the course of a couple of hours, the two talked about many of the issues Hassan works on: rape cases, genital mutilation, child marriage, education for girls. Ernst became increasingly agitated by the discussion—and energized. "I said, 'You know what? Maybe I can do something,' " she recalls. " 'Maybe I can make coffee for your organization, or organize an event, or be a volunteer.' "
Ernst has sparkly dark eyes and brown hair, and she brims with energy and opinions, spoken in a thick German accent that gives her declamations the delightfully contradictory air of a pragmatic diva. For decades she'd been a design director, most recently as senior vice president for women's clothes at Joe Fresh, helping labels meet relentless retail demands for all things new. At the time she met with Hassan, she was taking a break from the industry to contemplate her next career move. "I also felt a little bit sick of the superficiality of the fashion world," she says.

When Ernst visited Equality Now's Manhattan headquarters to learn more about the organization, she immediately felt at home. "I thought, These are friends I've been missing!" As a young girl in Berlin, Ernst had joined demonstrations and raised money for social and environmental causes. As a designer she felt her industry should be more involved—particularly in women's rights. "In the '80s, male designers like Calvin Klein and Kenneth Cole did a wonderful job banding together and raising awareness for AIDS/HIV—but designers have done little to help women," she says. "And that's most of our customers!"

At Equality Now, Ernst felt less enthusiastic when Hassan showed her the organization's branding. The old logo—the symbols for man and woman, fused around an equal sign, looked dated. A newer one looked corporate. "Henriette was like, 'Oh my God, it's hideous,' " Hassan says.
That's when Ernst had an idea: Why not use her skills and fashion world connections to create a brand of clothing that reflected and supported the values of the nonprofit? She decided she'd call the brand Round Plus Square, symbolizing harmony and structure.
Her years at the Royal Academy of Fine Arts in Antwerp, Belgium, from which she graduated in 1994, gave her an intellectual take on clothes and also a useful credential. Previous graduates, such as Ann Demeulemeester and Dries Van Noten, whose deconstructed blazers and bohemian fabrics defined late 1980s high fashion, had polished the school's luster. Ernst landed a series of plum jobs with Calvin Klein, Jil Sander, Strenesse, and Van Noten, learning every aspect of the business from conceptualizing a line to sourcing textiles. In 2009 she joined Céline as head designer for fabric and color concepts, reporting directly to Phoebe Philo, the British fashion arbiter who's behind many of today's surprise trends (for example, the ugly shoe revival in the form of fur-lined Birkenstocks and haute Tevas).

"You can't forget Henriette," says Nadège Vanhee-Cybulski,  women's ready-to-wear artistic director for Hermès, who worked at Céline with Ernst in those years. "She has such a strong sense of femininity and feminism."
She began working on Round Plus Square in August, drawing on old contacts to find the most socially and environmentally progressive factories. (Ernst points out that the textile industry is among the world's biggest polluters.) Funding the entire line on her own, she produced a small initial collection of T-shirts, fabric brooches, silk bandannas, and large square scarves in time for the Make Equality Reality annual yearend gala. To keep prices down, the products are sold exclusively online. Thirty percent of sales will support the charity, while the rest will go back into the business.
For her bandannas ($65) and shawls ($165 to $290), she's using silk manufactured by the Canepa factory near Como, Italy, a woman-owned operation that recycles 80 percent of its water. Ernst's T-shirts ($35 to $58) are made with organic cotton sourced by Neo Tekstil, a woman-run company in Istanbul known for tapping top suppliers for high-quality, organic cotton jersey clothing. "I trust them," says Ernst. "I had food together with the workers, and it was good traditional Turkish food. In China, if you go to a factory, you'd never get the food workers eat."
For years, Hassan says, gaining support for her cause was difficult, because corporate sponsors tend to shy away from controversial topics such as genital mutilation and child brides. Now these issues are less taboo, and support for the rights of girls and women is more widespread. But Equality Now still steps delicately. It operates in many different cultures, where local women run regional offices ensuring the group's message and actions are attuned to social customs and norms.
Ernst interpreted the need for a light touch by tucking handwritten slogans, such as "make equality reality," among lyrical flowers, polka dots, and butterflies. The result is cheerful and subtle in a sisterhood-is-powerful way, but not cloying.

For the line's formal debut at the big fundraising gala in Los Angeles on Dec. 5, Gloria Steinem wore a Round Plus Square scarf on stage. Jaha Dukureh, a leading activist, wore one as a turban. And TV producer Joss Whedon wrapped a bandanna around his wrist.
"High-end donors were very inspired," says Hassan. "Usually NGO T-shirts and products are unattractive, something people buy in the moment to support a cause and then wear only as a nightshirt, if at all. But these are cool-looking."
Of course, Ernst was never going to stop at just brewing Equality Now's coffee. "I feel better knowing that I'm supporting an organization where they're working their asses off to make a difference for women," she says. "I'm not a good lawyer like Yasmeen, I didn't study it. But this I can do."
Included in the Good Business Issue of Bloomberg Businessweek, Dec. 26, 2016-Jan. 8, 2017. Subscribe now.
(
Corrects the name and title of the women's ready-to-wear artistic director for Hermés in the seventh paragraph. Corrects the name of the TV producer in the 12th paragraph. 
)