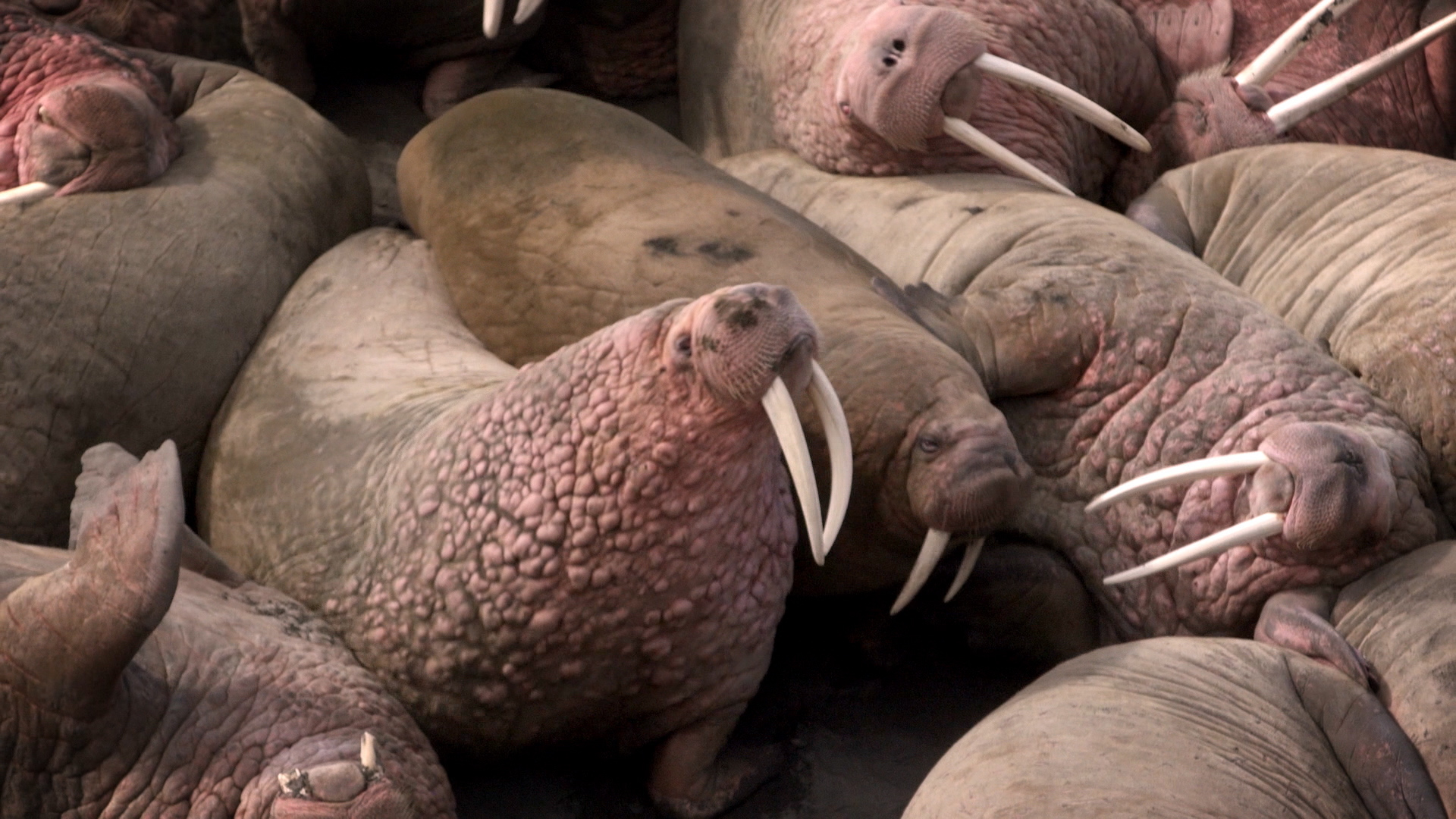 A Once-in-a-Lifetime Trip to See the Strangest Animal on Earth
Take an epic journey to Alaska and come face-to-tusk with endangered walruses.
It's the middle of June, and I'm crawling on my belly over a patch of soft, springy tundra along Cape Greig, Alaska, searching for a group of sunbathing walruses.
I'm in commando mode, my face so close to the ground the grass tickles my nose. The walrus is a skittish creature. Noise from planes, boats, and visitors can cause herds to stampede, crushing smaller, younger animals—it's one of the most common ways for a walrus to die.

My guide for the day is Dan Michels, a pilot and owner of the Crystal Creek Lodge in King Salmon in southwest Alaska. Earlier he'd landed his plane on a beach about a half-mile from the animals, and we'd scrambled as quietly as possible up a bluff for a bird's-eye view. Now, as we creep along the cliff's edge, I wonder how we'll know when we're above them. Before long, an eye-watering aroma wafts up. From the ledge we see at least 250 beasts, all jammed into a few dozen yards of shoreline.
Pacific walruses spend their winters in the Bering Sea pack ice, breed from January to March, and gestate for an epic 15 months. Then, as soon as the calves are born in April or May, the sexes go their separate ways. The females and their young migrate north, while the males enjoy a beach vacation, congregating on rocky outcrops with their best buddies.
In mid-April about 2,000 of these walruses had descended on Cape Greig, near the Ugashik District of Bristol Bay, and established a "haulout," as these gatherings are known, for the first time there that Michels can remember. (In the Eskimo Yup'ik language, a place where walruses come to land is known as an ugli.) By Alaskan standards, Cape Greig isn't particularly remote, but for a resident of the Lower 48, getting here feels like the adventure of a lifetime. My journey began with two commercial flights: a Boeing 737 from New York to Anchorage, then a Saab 2000 turboprop from Anchorage to King Salmon, where a couple of Crystal Creek guides eager to talk about the start of fishing season picked me up.

This morning, after an early breakfast of blueberry-ricotta pancakes and reindeer sausage, we'd boarded Michels's Cessna 185 for the 45-minute ride southwest to the walruses. Curious by nature, he'd piloted back around to provide a better look at the bears, beluga whales, and other wildlife we spotted from 1,300 feet. Later he pointed out ancient native settlements and the remnants of glaciers that made their own slow versions of our journey 60,000 years ago.
Observing the walrus haulout feels more like being on an African wildlife safari than I expected. Except, unlike lions and giraffes, walruses aren't majestic beasts that make you gasp with wonder; they're strangely behaved giants that make you laugh. There's the testy troublemaker, who barks, growls, and rears up at the slightest disturbance, and the attention seeker, who announces his arrival on shore with a loud trumpet. Another ignores a clear path back to the sea to crowd-surf over as many other animals as possible; yet another seems to be waving his flippers in time to music only he can hear. The rest form a pack of blissed-out bros sleeping shoulder to shoulder, their tusks pointing at the sky.
In an indirect way, it's these tusks that brought me here. A few years ago I visited the Anchorage Museum and ended up spending most of my time in the shop studying the walrus ivory carvings for sale. The piece I brought home—an inch-high figure of a hunter morphing into a bear—held a strange power. It translated native shamanic beliefs with an immediacy I could never have picked up from a book. And, I admit, I felt a frisson of excitement from owning ivory—100 percent legit, totally legal ivory.

Like sea otters, polar bears, manatees, seals, whales, porpoises, and dolphins, walruses are protected by the Marine Mammal Protection Act of 1972, which outlaws the killing, selling, and importing of those animals or their parts and products. But indigenous Alaskans' historical reliance on the walrus led to an exception: Natives can kill them for subsistence purposes or to create handicrafts and clothing—as long as the hunt isn't conducted "in a wasteful manner." Spirited debate surrounds the exact meaning of those four words, especially because natives' need for walrus has waned in recent years. But everyone agrees that it prohibits "head hunting"—the killing of walruses exclusively for their tusks.
That afternoon we fly back to Crystal Creek's main lodge, where the massive scribed logs, river-rock fireplace, and wrought-iron accents make an earthy contrast with the Naknek River, which flows outside. The walls are decorated with native masks, bear skins, mounted walrus skulls, and all the fish, duck, and antler motifs you would expect from an operation that's one of only six in the state endorsed by Orvis.
Most of the guests come for the world-class fishing, and many see walruses in the morning and then spend the afternoon in waders casting for salmon, rainbow trout, and arctic char. But with five planes and several boats at their disposal, Crystal Creek guides can customize a trip around brown bears, beachcombing, bird-watching, or hiking.

"It's a place where we can take people with tremendous responsibilities, remove them from their environment, and give them an all-encompassing vacation," says Michels, who first became a guide at the lodge in 1988 and a pilot in 1989 before taking over as owner in 1995. "Our guests don't have to make any decisions. They're left with a lot of open space to be inspired by hospitality, adventure, and interaction with nature. We have 50 different types of wine. Those are the kinds of decisions they have to make."
After a day of choosing their adventures, guests come together for dinner. Meals are served at a long table that seats 12 comfortably, and Michels mixes up the place settings each night to maximize mingling. On this night, chef Brian Sexton, a Charleston, S.C., native who trained at Le Cordon Bleu in Paris and worked at Naha in Chicago, serves an Alaskan potato and truffle pirogi with veal and mushroom broth, crème fraîche, and pickled onions, followed by a main course of roasted Alaskan lamb, white bean puree, tomato chutney, crispy white beans, and lamb jus. And not one but two desserts.
Our conversation inevitably turns to the walruses we'd seen. Until the middle of the last century, indigenous Alaskans depended on walrus intestines for waterproof clothing, walrus skin for boats and houses, and walrus meat to feed themselves and their sled dogs. But when electricity, processed foods, and consumer goods came to the villages, subsistence uses declined. Today, some native communities hunt walruses mainly to teach young people about their traditional tribal culture. Modern hunts generally take home an animal's heart, liver, flippers, meat, skin, and tusks, and those tusks represent a rare source of income for the cash-strapped residents of remote locations.
Unlike elephant tusks, which are ivory-colored throughout, walrus tusks have a slightly darker, grainy core. They're also about a third smaller and more suited to miniature art pieces. Most of the Lewis chessmen, the 12th century gaming pieces discovered in the Outer Hebrides of Scotland in 1831, were carved from Atlantic walrus ivory.
On my second morning at Crystal Creek, we again board Michels's Cessna, this time heading west-northwest. After 90 minutes in the air, we land at the Togiak Village Airport, an unattended dirt airstrip, where we're met by Alfred "Twilly" Gosuk, a Yup'ik carver best known for his work with walrus ivory and whalebone.

In Gosuk's workshop—a yellow converted shipping container next to his family home on the village's main road—I discover a distinctive aroma. As he touches a Makita die grinder to the 10-inch walrus tusk, the ivory dust smells exactly like a dentist drilling into human teeth. "I'm a dentist and a bone doctor," he jokes.
Gosuk, 53, started carving in 1984, when he washed out of the U.S. Marines at age 20 and went to live with his brother Sam in Seattle. Sam paid a World War II veteran named Jim Freeman $20 to give Twilly a carving lesson in soapstone.
After six years in the Pacific Northwest, Gosuk moved back to Togiak, where he'd grown up, and carried on carving. Only when he ran out of soapstone did he turn to some walrus tusks his father had given him. "I got a hacksaw, and I cut out the walrus shape like Jim had taught me." He sighs. "It took me one month to make my first walrus, and it was ugly. I think I sold it for $40—and it was big!"
In the quarter-century since, Gosuk has accumulated the tools and skill that allow him to carve with supreme efficiency the figurines he sells for $250 each. From his perch at the back of the shipping container, working by the light of a bare bulb, he can easily reach a die grinder, a band saw, a belt sander, a Dremel rotary power tool, and, fittingly, dental burs for detail work.
After Alaska was granted statehood in 1959, the first governor, William Egan, kicked off a tourism campaign that gave travelers to the 49th state two things: a small metal pin decorated with a luxuriously tusked walrus and a certificate that declared they experienced "the beauty of Alaska's scenic grandeur, the thrill of her vast wilderness, and the warmth not only of her climate but of her people as well." Anyone holding a certificate was proclaimed "a lifetime member in good standing of the Order of the Alaska Walrus."

It's appropriate that Egan chose the walrus to symbolize the state—both are large and hard to get to, yet surprisingly approachable. Unlike human tourists who place their sun loungers at regular intervals along the side of a pool, walruses have no sense of personal space. Their preference is to be on top of each other. At the Cape Greig haulout, it's hard to see where one ends and the next begins. Only the contrast of bright white tusks against the pink, brown, and gray flesh of their bodies distinguishes one from the next.
For such massive creatures—male Pacific walruses can weigh as much as 2 tons, more than an Audi R8—they're surprisingly fidgety, constantly shifting and rearranging themselves. When one decides to change locations, he goes by the most direct route, crawling over the bodies of 25 of his closest friends, committing casual stabbings and flipper crushings along the way. "This is why men should never vacation together," says Steve Winterfeld, an information security analyst from Colorado, as we observe the walrus heap at Cape Greig.
This year, Michels inaugurated a tradition: At dinner he presents guests who've visited a haulout that day with a metal pin from the 1960s campaign. They're collector's items now. By late August, Michels said he'd given out about 30 pins over the summer. We're an elite group, we members of the Order of the Alaska Walrus. And yet my most precious souvenir from the trip is an ivory ring I bought from Gosuk. When I took it from his outstretched hand, it smelled of teeth and sea breezes. That's faded now, but the memory lingers.
A four-day, four-night package of guided activities at Crystal Creek Lodge—including meals, transfers, use of chest waders and rods, and a $250 bar credit—starts from $8,400 per person, depending on the season. Walrus viewing is an additional $500 per person (minimum of two and as many as six). The best time to see them is from May to August.