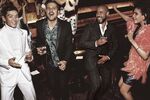 How to Be the Best Dressed Guy At Your Office Holiday Party
Six of New York's top bartenders model the coolest new suits and tuxes of the season.
"Festive attire" is what the party invitations call for during the holidays. But what does that even mean? To show off a few stylish riffs on this season's look, our contributing fashion director Brian Coats and photographer Tom Schirmacher met up at New York's Palace Hotel with six guys (plus a few model friends) who know a thing or two about having an excellent time. "The best holiday parties are where everyone checks everything at the door," says the Standard's Gates Otsuji, one of the bartenders featured here. "The stress, the deadlines, all of it." Each guy also gave his favorite holiday drink because, no matter your taste in fashion, a cocktail in hand might be the most festive accessory of all.

Karl Franz Williams's current spirit of choice is rum. "My family is from the Caribbean, and rum is very much a part of our culture." The 41-year-old recently bought and reopened Anchor Spa, across from Yale University, his alma mater. One of his new seasonal drinks, the Kid Creole, mixes Blackwell's rum, lime, Demerera syrup, and sweet potato juice.

The seawater-infused martini for New York's Metropolis Oyster Room and Cocktail Bar is one of Yusef Austin's favorite recent creations. To make it, the 44-year-old co-owner of The Cocktail Architect hires a fish monger to bring back fresh seawater from Montauk. "It really makes a dirty martini pop," he says.

"A cocktail is like a musical chord, where all the elements come together to form a beautiful harmony," says Sharif Thomas, 32, beverage director at Bill's Townhouse in Midtown. He's known for his Manhattans, but he likes to shake it up during the holidays. "I make a pumpkin bourbon eggnog that's a mix of bourbon, brandy, cognac, pumpkin puree, cinnamon, and heavy cream. It's always a hit at parties." 

Gates Otsuji, the regional chef de bar for the Standard's New York properties, got into bartending right after high school. "My day job was in photo lab, so it wasn't a big transition," says Otsuji, 43. "Just a different darkened room with different chemicals." For seasonal sipping, he recommends Pechuga mezcal, straight up. "It's distilled in small batches during the holidays, with a raw chicken breast and fruits and vegetables," he says. "The process comes from mezcaleros cooking holiday meals with the heat from distillation. It's a little pricey, but worth it."

Sam Anderson, 35, does not approve of seasonal wine. "Mulled wine is the worst," he scolds. "Don't do that to wine, please." As beverage director of Mission Chinese Food, he recommends trying the restaurant's own concoction, the Phil Khallins, a heady mix of gin, coconut milk, and kaffir lime leaf.

Giuseppe Gonzáles, 40, the Bronx-born, Puerto Rico-raised, Cornell-educated owner of Suffolk Arms on the Lower East Side, has had enough of seven-ingredient drinks with an armada's worth of bitters. "Whenever I see a cocktail recipe, I look for something I can take away," he says—especially if that something is pumpkin spice. "When did bartenders think it was cool to imitate Starbucks?"
Shot on location at The Lotte New York Palace Hotel.
(
Corrects item manufacturer in final image caption.
)