Why Witnesses to Venezuela's Catastrophic Corruption Keep Turning Up in the U.S.
If you have the goods on the Maduro government, Martín Rodil might be able to get you a deal.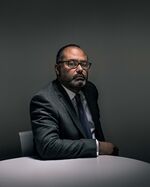 Photographer: Christopher Gregory for Bloomberg Businessweek
Para leer el reportaje en español.
The setting was idyllic: the Belmond La Samanna resort on the French side of St. Martin. It's a Caribbean retreat with beach cabanas, tennis courts, and $1,000-a-night rooms. As guests enjoyed alfresco massages and hammock cocktails that February afternoon, inside one room everyone was all business. An engineer from the Venezuelan state oil company, Petróleos de Venezuela S.A., set a 12-inch stack of documents on the table, and the questions began from three investigators from the New York County District Attorney's Office. They'd flown him from Venezuela via Curaçao—first commercial, then charter—to cover his tracks.
The engineer and his documents were central to a case the investigators had been pursuing for five years: the funneling of hundreds of millions of dollars from PDVSA ("peh-deh-VEH-sah") through U.S. and Swiss banks to Iran, skirting U.S. sanctions on the country. Investigators suspected that PDVSA had laundered the funds via vastly inflated housing construction contracts with Iranian companies. The documents appeared to detail the housing deals and payments to Swiss bank accounts through JPMorgan Chase—a potential violation of U.S. law. The investigation is ongoing; PDVSA hasn't been charged with illegal activity involving Iran.
An affable man who spoke little English, the engineer knew that if the case succeeded, he could be in line for political asylum in the U.S., along with a possible whistle-blower reward. He also saw what the Iranians were up to and didn't like it. So though the questioning took two days, he was patient.
There was someone else in the room, the man who'd put it all together—a Venezuelan named Martín Rodil. Tall, bespectacled, with a few extra pounds around the middle, Rodil, 43, had mastered the art of being both bulldozer and sweetheart. He'd been a low-level researcher at the International Monetary Fund in Washington until an acquaintance hired him in 2006 to look into payments by PDVSA to Iran. It became an obsession, and before long he was in communication with the district attorney's office in Lower Manhattan. Rodil was an unconventional collaborator, one former investigator says: He sought no credit and didn't know at first to ask for money. And the documents and tips he provided almost always checked out. Eventually, he started talking to prosecutors about a witness to the Iran payments whom they just had to meet. He'd found the PDVSA engineer.
And now, here they were. As Rodil worked in the resort room, helping translate the engineer's answers, he'd not yet been condemned as a traitor on Venezuelan national television. U.S. law enforcement officials hadn't yet warned him of credible threats to his life, advising against travel anywhere near his home country. And aides to President-elect Donald Trump hadn't started asking for advice about Venezuela.
That would come later.
But by the time of the meeting on St. Martin, in 2014, Rodil had become a key, compensated, and sometimes controversial figure in the U.S. pursuit of Venezuelan corruption and drug trafficking cases against top officials in the socialist government of President Nicolás Maduro and PDVSA. Some of the information he passed on—that Iran was about to place missiles in Venezuela, for example—proved groundless. But much else has held up, and as the bloom has gone off South American leftist populism, Rodil's fixation on replacing the Venezuelan government has become mainstream.
The case of the PDVSA engineer is an example of Rodil's original and most basic service: He delivers Venezuelans of value and is paid—modestly, he says—by government entities. He also has a better-paying business in which his clients are rich Venezuelans who are desperate to get out. He helps them do that and, where appropriate, works with them to develop strategies for cooperating with U.S. authorities. For these services, he commands an hourly rate or is kept on retainer. The most lucrative of his businesses is a consulting practice for companies and individuals seeking intelligence and risk assessment in Latin America.
Rodil has helped bring more than two dozen of his countrymen to the U.S. They're an elite slice of the Venezuelan diaspora fleeing a wrecked economy and social turmoil. They include former generals, ministers, and oil executives and a former senior judge and presidential bodyguard. The role he plays in their lives is often profound. He coaxes them to reveal what they saw and participated in. He then assesses the value of their information and determines which government agency would be most interested. He brokers the relationship with the agency and often does more—helping his clients move to safe places with secure telephones, for example.
Some of those he's delivered have taken part in corrupt deals. Many hope to exchange what they know for a visa or protection in America; others want to help the U.S. go after their old bosses, colleagues, and government leaders. Their stories document the cruel mix of corruption and mismanagement that has run Venezuela, an OPEC member sitting on the world's largest oil reserves, into the ground. "Martín Rodil's delivered critical assets and documents for U.S. investigators," says a U.S. State Department official with knowledge of the cases.

Trump's victory seems to have turbocharged Rodil's practice. On the Monday morning after Thanksgiving, he's driving his car and talking. There's almost too much business to handle, he says. As he navigates through Washington, his adopted hometown, his phone won't stop buzzing. People close to the Trump transition team are calling to ask for a white paper on Venezuelan policy. There are also text messages to answer, calls to make, meetings with congressional Republicans to attend. He pulls over.
"It's been nonstop since Trump won. Everyone wants to know what it means," Rodil says as he sits in his parked car, the hazard lights flashing. During the campaign, Trump promised to crack down on Venezuela's government. Now that he's won, Rodil has gotten multiple inquiries from senior officials and military officers in Venezuela, sounding him out for a deal. "People are really scared," he says.
To appreciate the arc of Rodil's role as rainmaker is to grasp how far Venezuela has fallen. The story inevitably involves oil. In 1960 the country was the world's biggest oil producer; today Saudi Arabia produces almost five times more.
PDVSA was never the world's most efficient oil company, but as late as the 1990s it was a competent state-owned monopoly. It was a hybrid—nationalized yet open to joint ventures and run by thousands of experienced engineers, rig operators, and oil workers. In 1997 production peaked at 3.6 million barrels a day, and the company had a five-year plan to reach 5 million. It now produces barely 2 million barrels a day.
In 1998, Hugo Chávez, a charismatic former army paratrooper, won the presidency in a landslide. He imposed big changes on industrial policy, land ownership, and income distribution. At PDVSA he installed top executives who shared his ideology. In 2002 he named as company president Gastón Parra, a professor with no experience in the oil industry. Within months, oil workers went on strike, national unions joined in, and Chávez called on the military to intervene. Senior commanders refused and demanded Chávez's resignation. For 48 hours, Chávez stepped down in what was, in essence, a military coup. But loyalists mounted a countercoup, and Chávez returned to the presidency, going on television to condemn many of the PDVSA managers by name. When he was done, he'd fired two-thirds of the employees, including the most seasoned engineers, technicians, and researchers, and replaced them with more loyalists.
Within two years, Rafael Ramírez—Venezuela's current ambassador to the United Nations—began a decade-long run as president of PDVSA. He followed Chávez's order to turn the company into an engine of political and social change. Chávez sought to lead a group of countries aligned against the U.S. and used oil as a policy tool. He shipped vastly subsidized crude to Cuba, the Dominican Republic, and other countries, and borrowed $65 billion from China, to be repaid in crude. The company also created scores of subsidiaries that had nothing to do with producing oil, including a brick factory, sorghum and pig farms, and programs to build schools.
Chávez's ascent to power also brought about corruption on a scale never before seen at PDVSA. According to a recent report by Venezuela's opposition-led Congress, $11 billion was looted from PDVSA from 2004 to 2014. The company paid for a million tons of food, for example—powdered milk, meat, chicken, cooking oil—and less than a quarter of it was ever delivered; internal audits put the cost of the loss at $1.9 billion. Billions more were paid for fraudulent contracts for oil rigs, ships, and refineries. U.S. officials suspect the company has been used to hide and launder billions earned from crooked deals and from helping Colombian guerrillas traffic cocaine through Venezuela. (PDVSA didn't respond to multiple requests for comment for this story.)
As the country plunges further into crisis—as once-modern emergency rooms run critically short of antibiotics and bandages, violent crime empties city streets at night, and middle-class families routinely give up dinner because food simply costs too much—oil specialists lament the rapid decline of PDVSA. "That is depriving the Venezuelan people of the natural resources they own," says Amos Hochstein, the State Department's coordinator for energy. "Venezuela can and should be a wealthy country."

Rodil arrived in Washington in 2000 as an unemployed political science graduate with the modest ambition of studying English and expanding his horizons. He worked as a part-time limo driver, then caught on at the IMF. In 2003 he met Tal Hanan, a former Israeli army commando who was working as a security and investigative consultant. They stayed in touch.
Three years later, Rodil had settled into a job as a data processor at one of the IMF's Latin America departments in Washington. He spent his days entering information from central banks in South America into obscure databases. One day, as he toiled on a project about money laundering, the phone rang. It was Hanan. He said a client, a large bank, was worried that a Panamanian bank it was buying might be a conduit for PDVSA-linked money destined for Iran. That would be a violation of U.S. sanctions.
The concern made sense. In 2006, Chávez hosted Iranian President Mahmoud Ahmadinejad, part of his plan to build and lead an anti-U.S. movement. A 2012 internal briefing for Chávez, obtained by Bloomberg, notes that the two countries had signed 262 agreements for work in Venezuela and Iran—to search for oil, transport fuels, plant and mill corn, and build cement and chemical factories. The ventures were a "model for the anti-imperialist struggle," the briefing says.
Hanan knew Rodil was working for the IMF on something about money laundering, and he said those skills could be put to use for his client. Would he like to work part time to help trace the money's path? Rodil said he could use the extra cash.
Rodil, who'd been an intern at PDVSA, called a friend there. The friend told him PDVSA had contracted with Iranian companies to build apartments throughout Venezuela. He provided documents about the deals and also introduced Rodil to the PDVSA engineer, who produced more documents. Rodil came to suspect that the contracts were a cover for Chávez to funnel money to Iran. He quit the IMF and went into partnership with Hanan. Shortly thereafter, he also started working as a consultant with Roger Noriega, who'd been an assistant secretary of state under George W. Bush and whom many involved in Latin America consider a far-right ideologue. That has made some mistrustful of Rodil and his activities, too.
Since he was 8, Rodil has worn a Star of David pendant, a gift from his grandfather. He wasn't raised as a Jew, but as he worked with an Israeli on an investigation involving Iran, he began to think about that part of his identity. In 2007 he and Hanan decided to tell the Israeli government what they were learning. Through a mutual contact, Rodil went to Bogotá to see Yosef Kuperwasser, a retired Israeli brigadier general who'd spent years in intelligence and was working as a private security consultant for Colombian President Alvaro Uribe. Kuperwasser organized a meeting in Israel with senior intelligence officers to hear about the Venezuelan connection. At Israel's intelligence headquarters at Glilot Junction, north of Tel Aviv, a dozen men questioned Rodil and Hanan for two days. Rodil says the officials urged him to take his evidence to U.S. law enforcement.
When he returned to the U.S., Rodil called Adam Kaufmann, then an assistant New York district attorney heading the international financial crimes section. Kaufmann had spent years investigating Lebanese drug trafficking in Paraguay and worked on so-called stripping cases related to Iran—cases in which banks and companies strip Iran's name off money transfers to evade sanctions. But Kaufmann knew less about the Iran-Venezuela connection.
The documents Rodil handed over revealed that PDVSA had financed and managed at least three contracts with Iranian construction companies, worth more than $2.3 billion. Of 24,000 units planned, only a couple thousand had been built. The PDVSA engineer was the manager on one of the projects, operated by Iranian International Housing. He'd spent a year dealing with the Iranians. They were tyrants on the job site, and he considered them corrupt and overpaid—the agents of a vast rip-off of his country. "I knew something strange was going on, and I was fed up with it," he said in October in a phone interview from Venezuela, asking that his name be withheld because of fears he'd be accused of treason and jailed.
The engineer's great value was that he knew about the money in detail. On his project, his documents showed, the Iranians were being paid roughly $74,000 per apartment, four or five times what a unit cost to build. Prosecutors suspect it was a way for Chávez, until he died in 2013, and then Maduro to move money to Iran. In order to receive payment in dollars, which Venezuela had and Iran desperately wanted, Behrooz Zangeneh, managing director of Iranian International Housing, asked to be paid via third parties. In one 2011 letter, Zangeneh instructed Ducolsa, the state housing company PDVSA was using to oversee the project, to direct payments to an account at Hyposwiss Private Bank held by an obscure Swiss asset-management firm called Clarity Trade & Finance. Ducolsa made the payments through JPMorgan Chase, PDVSA documents show. The funds should go to Clarity Trade "in view of the current difficulties for transfer and movement of funds," Zangeneh wrote. (JPMorgan Chase declined to comment. Investigators don't suspect the bank was aware it was being used to help move money to Iranians. Iranian International Housing and Zangeneh didn't respond to requests for comment. Hyposwiss Private Bank shut down in 2013; its owner, St. Galler Kantonalbank, declined to comment. An accounting company representing Clarity Trade, which is now in liquidation, declined to comment.)
Six months after the meeting on St. Martin, prosecutors flew the engineer to New York, where he sat down with them again, signed a deal to cooperate, and handed over his documents. He returned to Venezuela, where he's waiting to see if prosecutors bring indictments and fly him back to New York as a witness.
In 2015 another key figure in the case popped up in America. Rodil heard from a Venezuelan contact that a former PDVSA executive had traveled to New York to learn English and take business courses. Rodil contacted the man and explained that his signature on key documents could get him into legal trouble in the U.S. He tried to persuade him to talk to the prosecutors and offered to arrange a deal. The ex-official turned him away, saying he'd done nothing wrong, and settled with his girlfriend into a rented apartment along the Hudson River, in Westchester County. Investigators stewed: A man who'd signed crucial documents in the case was living comfortably just north of their Manhattan offices.
This past January, Rodil got a call on his cell phone before breakfast. "I need help," the caller pleaded. "The cops have just been here." It was the former PDVSA executive. An investigator from the New York County District Attorney's Office and an FBI agent had knocked on his door at 6 a.m. Speaking in Spanish, they told him they knew plenty about him—where he took classes in business administration and where he studied English. They had documents with his signature that seemed to show he'd helped PDVSA violate U.S. sanctions on Iran using New York banks. At least one letter said the money should be transferred through the U.S., but the name "Iran" needed to be struck.
Answering questions in his bathrobe, a bit disoriented, the man said those above him at PDVSA had cleared his actions. The investigators knew that. They wanted to use him to nail his bosses. One of the two investigators said, "When I go home for the day, it's to my wife and kids. I won't have to think more about our meeting. You, on the other hand, can expect another knock on the door. The next time you pass through a U.S. airport, there might be a tap on the shoulder." After they left, the man made his desperate phone call. Rodil told him to contact a lawyer. "I told him, 'Once the investigators come to your door, it's too late for my help.' " After the potential witness was in the hands of any U.S. agency, no other agency was going to pay Rodil to deliver him. The ex-executive hurried back to Venezuela.

Life was starting to get dangerous for Rodil. Federal prosecutors were zeroing in on corruption at PDVSA's operations in the U.S. in a group of overlapping cases in Houston, Miami, and New York. Two nephews of Maduro's wife were sitting in a New York prison awaiting trial. Rodil's friends in Israeli intelligence and U.S. law enforcement told him they were hearing about threats to his life. It quickly got worse. In April, Diosdado Cabello, a former congressional leader and one of Venezuela's most powerful figures, used his TV show to denounce Rodil. Sitting at a desk with a big studded club at his fingertips, Cabello declared, "Venezuelan traitors to their country: a Venezuelan named Martín Rodil. You got that? Martín Rodil!" He described Rodil as a man who made a living helping corrupt Venezuelans escape to the U.S. to give secrets to the enemy. He accused him of being involved in plans for a coup d'état.
Rodil hasn't been to Venezuela in 11 years. Last year the government refused to renew his passport, rendering him stateless. Soon after Cabello's televised tirade, a contact inside Venezuela tipped off Rodil that the authorities were going after his brother in Caracas. Rodil got his brother out, at 3 a.m., by land to Colombia, and then to Washington, where he lives with Rodil's family.
Rodil's links to Israel have grown. With funding from a Venezuelan Jew, he's also brought dozens of Venezuelan doctors and other specialists to Israel to confer on a detailed plan for rebuilding the country after the fall of Chavismo. In the past year, Rodil helped found the Venezuelan American Leadership Council, a lobbying group modeled on the powerful American Israel Public Affairs Committee. Its leaders—Rodil just became the group's president—hope to use it to win congressional support to pressure Maduro. Rodil recently took Israeli citizenship, the source of his sole passport. "I feel patriotism for three countries," he says. "For Venezuela, where I was born; Israel, where I am a citizen; and the U.S., where I have spent 16 years and where my kids are growing up."
U.S. cases against Venezuelans have started to reach courtrooms. Earlier this year, two Venezuelan oil-services contractors pleaded guilty in federal court in Houston to bribing three PDVSA employees to secure $1 billion of contracts on American soil. Federal prosecutors in Houston are expected to issue indictments and seize properties of other Venezuelans soon, people familiar with the case say. In November the president's wife's nephews were convicted in a Manhattan court of conspiring to traffic 800 kilos of cocaine. (Maduro and his wife weren't implicated.) In one way or another, Rodil's clients had a hand in all these cases.
Not long ago, Rodil set up a new company, Inter-American Solutions, and moved into posh K Street offices in Washington. He's hired a researcher from the New York County District Attorney's Office and is opening a Manhattan branch in the Chrysler Building. He's increasing his focus on the most lucrative part of his business, the investigative work and analysis for banks, investors, and companies.
On a recent Thursday afternoon, Rodil and a small group of fellow Venezuelans ate arepas, Venezuela's corn-patty staple, in the company's D.C. conference room. Rodil paused and put down his food, and everyone stopped to listen. He told a story about a client who had to make a run for it at night by sea to a Caribbean island and is now seeking asylum in the U.S. He spoke of the ex-PDVSA executive surprised at the door by investigators. Then he stared at the half-eaten arepa on his plate. "This is the Venezuelan diaspora," Rodil said. "We got this from a food truck downstairs owned by a guy who left. He wasn't downstairs a year ago. I see Venezuelans everywhere I go now."
The calls keep coming. "So many people want to leave," he said. "It's gotten to the point where we have to turn people away."

—With Ladane Nasseri
(Removes personal information in the 34th paragraph.)