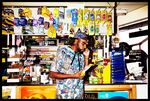 An Incubator for (Former) Drug Dealers
"Hustlers are entrepreneurs denied opportunity."
Over the past decade, a number of government, academic, and nonprofit programs have attempted to address the structural problems that face convicts when they're released from prison—a campaign known as the "re-entry movement." One of the biggest contributors to misery and recidivism is an inability to find steady work. Former inmates encounter stigma, bias, and even formal obstacles to getting hired. Connecticut, for example, has 423 employment restrictions based on criminal records, including bans on obtaining a teaching certificate, operating commercial motor vehicles, and becoming a firefighter.
Amid calls for more job training, less automatic background searching, and other changes that would make it easier for ex-felons to become employees, an alternative idea has slowly taken hold: Encourage them to start their own businesses. The largest nonprofit pushing entrepreneurism of this kind is Defy Ventures, based in New York, which over the past six years has trained more than 500 formerly incarcerated people and incubated more than 150 successful startups. Defy has become a critical darling among social scientists, boasting a 3 percent recidivism rate among alumni, compared with the national average of 76 percent of released inmates who are reincarcerated within five years. Numbers like that made me wonder if Defy was a solitary success, peculiar to its founders or its home in a thriving city—or if similar efforts could help ex-convicts elsewhere, on a smaller scale. One interesting program, I was told, was under way in Hartford.
There, on the morning of July 9, a year to the day after he shed his prison uniform for street clothes, Bashaun Brown stood in a rented conference room. Beside him were two colleagues, both undergraduates at nearby Wesleyan University, and seated before him were four aspiring entrepreneurs. This was a meeting of TRAP House, Brown's creation, an incubator for former drug dealers who want to start legal companies. The name stands for "transforming, reinventing, and prospering" and is a play on the term for drug-stash locations.
Brown, 37, sported a backwards Wesleyan baseball cap and, on his forearm, a large black tattoo of a lion's head. "I'd like to thank y'all," he began. "I've been home one year. Y'all definitely helped me make it one of the best years. It's almost like a support group. Drug Dealers Anonymous." Brown is a teddy bear of a man. His dark eyes, framed by curled lashes, smile when he speaks. "Can't relapse," he told his audience with a knowing look. His recent prison term was for bank robbery, even though he had for years sold cocaine and heroin.
Brown's premise with TRAP House is that "hustlers are entrepreneurs denied opportunity." The agenda for class that day included honing elevator pitches, gaining access to seed capital, and calculating financial projections. Brown flipped through slides projected on a screen behind him from his laptop, a silver MacBook with busted hinges and a decal of Shel Silverstein's The Giving Tree. Angel investors, Brown told the group, are "a group of true capitalists who use money to make money. Like how some people live off the thrill of dealing drugs, these guys live off the thrill of that flip."
The four TRAP stars, as the students are called, were in their 30s. Brown asked each to practice an elevator pitch for hypothetical investors. Ruthie Hernandez, wearing a T-shirt printed with a picture of her incarcerated boyfriend, described an eco-friendly commercial cleaning business she wants to open up. Two other members of the group, Jermaine Rose and Bromwell Hill Jr., prefer to go by their rap names—Great and Greedy, respectively. Great practiced pitching his T-shirt company, looking up to make eye contact after every sentence. The effect was a little arrhythmic. "We make designs for the community," he said. "What we see the community needs, what the community is asking for. Designs that they want to see, to empower them."

Greedy, a lanky man with shoulder-length dreads and leopard-print sneakers, was a more natural speaker, mentioning a number of business ideas, including a mobile baseball cap boutique and a grilled-cheese food truck. "Who doesn't like grilled cheese?" he said. His real dream, Greedy told the room, was to start a music therapy program for children with learning disabilities, inspired by his experience teaching his disabled daughter to speak via hip-hop-inspired call-and-response.
Brown later told me that as he sees it, drug dealers have more business savvy than they realize. "If I'm talking about marketing research, I would tell the guys, 'Listen, you have done this before,' " he said. " 'You didn't just come to your 'hood and set up shop. No, you have to do some kind of research. What type of drugs do they want to buy? What price would they buy it for? How much would I make?' " The same is true of gauging risk. In addition to the potential of economic loss, a hustler must "look at the odds of getting caught and then do an analysis," Brown said. "Most people say that criminals are irrational. But when it comes to selling drugs, it's a highly rational choice." He kept riffing on such topics as team-building and customer relations. "The better drug dealers I know have great interpersonal skills," he said.
Born in 1979 in Plainfield, N.J., Brown had an early introduction to the drug trade. His father, Billy, was a successful hustler who pleaded with Bashaun to focus on his education. Bashaun obeyed, mostly, and went to Morehouse College, in Atlanta. After one year of school, he turned to the streets. Bashaun "became his own best customer," as Billy puts it, and he soon found himself in drug-related debt, which led to an attempted robbery and a six-and-a-half-year sentence at Cheshire Correctional Institution, a prison in Connecticut. There he took advantage of a Wesleyan program, the Center for Prison Education, to take classes for four years with university professors and undergraduate assistants. Brown was a thirsty student, several of his former teachers say. In one literature course, after reading Bharati Mukherjee's novel Jasmine, about an Indian immigrant to the U.S., Brown wrote a paper comparing the protagonist's identity as defined by physical space to that of an inmate. He also studied economics.
After Brown was released, on July 9, 2015, he used his Wesleyan contacts to get a meeting with Makaela Kingsley, the director of the university's Patricelli Center for Social Entrepreneurship, so he could pitch her on TRAP House, which he'd thought up while inside. "He has a brilliant way of seamlessly flowing from one community to another," Kingsley says. "His hypothesis was so compelling—that drug dealers are natural entrepreneurs. As is Bashaun as a person, which I think is inseparable from the idea." Her center agreed to provide $5,000 in seed funding. An additional $25,000 came from the organization's namesake, Bob Patricelli, a local health-care executive and philanthropist. He pledged the funds after meeting Brown only once. "He had a quiet presence and an interesting blend of humility and charisma," Patricelli says. "I just liked him a lot."

Brown promoted his incubator by walking the streets of north Hartford and visiting nearby halfway houses. He sought out drug dealers, but the only true requirement for TRAP House, according to a flier he distributed, was that applicants be "ready to use skills learned on the street to launch a legal enterprise." He showed a knack for publicity, talking up the program during interviews on TV and public radio. With a Yale professor he published a conversation about a 19th century prison memoir for the Los Angeles Review of Books. He also began taking undergraduate classes at Wesleyan and teamed up with two students there to help plan TRAP House events. One of them, Irvine Peck's-Agaya, 20, told me that she prepared by watching the HBO crime show The Wire, in case there was ever a session Brown couldn't attend.
On June 4, 2016, about a dozen TRAP House applicants were invited to pitch Brown and his Wesleyan partners, "Shark Tank-style," at Our Piece of the Pie, a youth center in Hartford. From that pool, the TRAP stars were selected. As the one-year anniversary of Brown's release approached, his incubator was off to a hopeful start. But whether it succeeded or failed, it appeared that Brown himself—without a college degree and with a felony record—might beat the odds.
Curious about how Greedy's business prospects were faring after the TRAP House session in July, I met him at home early on a Sunday evening in September. We drove to the parking lot of a convenience store in Windsor, his hometown, on the outskirts of Hartford. Greedy pulled a mesh rack of baseball caps from the trunk of his car and started showing them to a potential customer he'd just met inside the store, a white man wearing a black fitted cap and baggy jeans.
Greedy bounced to a rhythm in his head. He exclusively sells snapbacks—hats with an adjustable plastic strip that can be snapped to size or left open, as Greedy prefers. "They call me Mr. Unstrapped," he said, spinning his gray cap around so the unconnected straps framed his forehead. He started in on a sales pitch that connected the hat's aesthetics to something higher than fashion trends, more like a way of life. "You gotta free your mind, you feel me, you gotta let loose," he told his customer.
The man laughed. "Hell yeah, man."
"I'm a snapback connoisseur," Greedy said.
The 10 hats in his rack were all that remained from a shipment of 50, and they looked like leftovers. Greedy took out his cracked iPhone and showed a picture of the models he'd already sold, with flashier designs and vibrant colors. He'd bought the shipment with a zero-interest loan of $400 from TRAP House. He used the proceeds from his first 40 sales—$20 apiece, or three for $50—to pay back the loan and get another, but he said he was sitting on that money, unable to put it to use, because his hat supplier, a man named Jose, had become elusive.
Greedy's business model was shaped by what he'd learned selling drugs. Know your clients—he goes directly to the doors of many customers, who hear of him through word of mouth. Offer the best product at the cheapest price. Make sure your product stands out. "I was branded around my neighborhood as Mr. Exotic," Greedy said of his marijuana-dealing days. If there was a new, unique strand of weed available, he wanted to hawk it first. "That's the same thing with my hats," he said. "You're not going to get them anywhere else." He added that much of his pot client base carried over to snapbacks.
Before meeting Brown, Greedy saw his history as an obstacle to the type of life he wanted. TRAP House taught him otherwise, he said: "I can use it as a catapult." He didn't sell any hats that night, a failure that didn't seem to dampen his spirit. This was his day off from waiting tables at a local restaurant. And he had a number of other ideas for ventures, including personalized rap ballads, which he envisioned as birthday or Christmas gifts.
The founder of Defy Ventures, Catherine Hoke, had the benefit of years of experience in venture capital and private equity before she started her nonprofit. Brown lacked all that when he launched TRAP House, trying to make up the difference with enthusiasm and his own brand of hustle. For someone fresh out of prison, it may have been too great a load. In October I called Greedy to share an unsettling update: Brown was taking time off from school and his incubator. It wasn't clear what his reasons were, and I wasn't able to get in touch with him, despite multiple attempts over weeks. It was easy enough to see that he'd been burning the candle at both ends, between his academic and professional endeavors and keeping up appearances for journalists.
Greedy listened and said he still put Brown on a pedestal. He compared the situation to a basketball star in a close game. "If you're tired and you can't even do anything because you're so dead tired, you have to sit down," he said. An exhausted player, star or not, doesn't help anyone. "You mess everybody else's game up when you could have sat down, recharged, come back, and brought us to the victory."