In Pursuit of a 10,000% Return
Betting on lawsuits has growing appeal—and noteworthy backers, as a case against Volkswagen over its emissions scandal reveals.
The researchers from West Virginia University who in 2013 first discovered evidence that Volkswagen might be cheating on emissions tests weren't thinking of California teachers at the time. But when the news of VW's deception finally broke on Friday, Sept. 18, 2015, Brian Bartow—chief lawyer for the California State Teachers' Retirement System, the second-largest pension fund in the U.S.—knew right away he had a problem. CalSTRS, with $190 billion or so in assets, owned about 330,000 Volkswagen shares.
Within days, VW's stock price plummeted almost 40 percent, CalSTRS had lost roughly €20 million ($22.5 million) on its holdings, and the carmaker's reputation was under withering attack. "It seems Volkswagen had a dirty little secret, and it's not just consumers who are feeling betrayed," Representative Fred Upton (R-Mich.), chairman of the U.S. Energy and Commerce Committee, said on Sept. 29.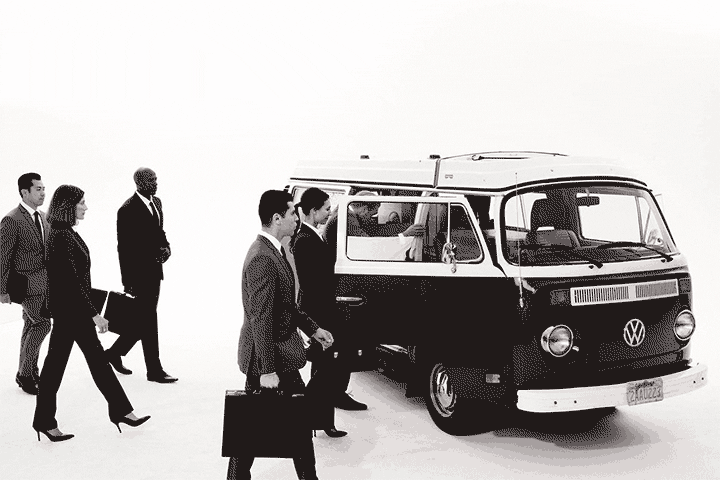 Amid the fallout, Bartow e-mailed one of his legal advisers, Irwin Schwartz, who had been reviewing CalSTRS's exposure from his office in Westwood, Mass. Already, legal teams around the world were planning to sue VW for damages. Schwartz had plenty of experience in class actions and knew there was a way to join one without shouldering huge legal fees in a claim that might fail, risking the pensions of some 860,000 current and former teachers.
The trick was to find a case against VW that was being funded by someone else. He flagged one being readied for filing at Braunschweig District Court, about a half-hour drive from VW's headquarters in Wolfsburg, Germany. It was being handled by Quinn Emanuel, a big U.S. law firm that focuses on business litigation. Bentham Europe, a London-based investment firm that specializes in funding lawsuits, was looking for shareholders to join the case. In return for a share of any winnings, Bentham offered to cover all the costs of the action against VW.
For Bartow, getting on board was a simple decision. CalSTRS would pay nothing to take part, and if the German courts agreed that VW investors had been misled, the fund would get back at least some of what it had lost. So CalSTRS signed on as lead plaintiff, and the lawsuit was filed on June 20 of this year. "Volkswagen's actions are particularly heinous, since the company marketed itself as a forward-thinking steward of the environment," CalSTRS Chief Executive Officer Jack Ehnes said at the time.
By September, 80 more Volkswagen shareholders, most of them institutional investors like CalSTRS, had joined the Bentham claim. Some had never taken part in a class-action lawsuit before. Eventually, so many investors sued the carmaker that vans were needed to transport the paperwork to the Braunschweig court. For its part, VW set aside about €18 billion to cover the scandal's cost.
Bentham offered the same deal to all the plaintiffs it represented in the suit. Its cut would likely be in the region of 18 percent to 24 percent, depending on the size of the plaintiff's shareholding. For plaintiffs, the calculation was straightforward, says Bentham Chief Investment Officer Jeremy Marshall. "If they had to do it on their own," he says, "they frankly wouldn't do it." (He declined to comment on Bentham's take, saying its arrangements with shareholders are confidential.)
Although Bentham's website doesn't say so, the firm is owned by New York-based Elliott Management, a $28 billion activist hedge fund and one of a growing number to recognize how much money can be made betting on lawsuits. Elliott's founder and president, Paul Singer, is a pugnacious former lawyer with a history of using litigation to get what he wants. In a decade-long legal battle to make Argentina honor its debts following the world's biggest-ever sovereign default, Argentine officials called Elliott a "vulture" and "scum." Undeterred, Singer took the case all the way to the U.S. Supreme Court before Argentina settled earlier this year and agreed to pay Elliott and several other hedge funds $4.65 billion.
In its foray into litigation funding, Elliott originally teamed up with an Australian specialist firm called IMF Bentham to create Bentham Europe. Elliott, which bought out IMF's share of Bentham Europe in June, has never spoken publicly about litigation finance; two spokesmen declined to comment to Bloomberg Markets on the firm's funding plans.
But it's easy to see the appeal of an asset class that isn't tethered to financial markets at a time when interest rates are at rock bottom and investment returns are anemic. If the VW shareholders lose, Singer's fund will have spent a few million euros to pay for German lawyers. If they win—and secure the €2 billion they're seeking in damages—Elliott could get back as much as €400 million, a potential return of 10,000 percent.
Litigation funding has a checkered past. For centuries it was a crime to fund someone else's lawsuit, under ancient English "champerty and maintenance" laws created to stop noblemen from meddling in each other's quarrels. (To get a sense of the kind of behavior champerty laws were trying to prevent, imagine a medieval Peter Thiel, the PayPal tech billionaire who recently bankrolled Hulk Hogan's sex-tape lawsuit against Gawker Media because he disliked Gawker's journalism.)
By the 20th century, legal and accountancy firms started buying and selling insurance and bankruptcy claims informally, but champerty rules remained a barrier to trading in legal claims. Then, during the late 1990s and early 2000s, a string of British and Australian court rulings held that it wasn't a bad thing for claimants with legitimate grievances to get external financial help, even if the helpers were out to make a profit.
Although litigation funding remained impossible in some jurisdictions, it spread quickly in others. Early investors in lawsuits were mostly opportunistic hedge funds and wealthy individuals whose involvement was private and confidential. It was a good deal for litigants, who no longer had to worry about spiraling legal costs; for lawyers, who got paid no matter the outcome; and for the funders, who could get back multiple times what they paid for a share of the suit if it succeeded.

Australian judges, keen to establish a level playing field between those doing the suing and those being sued, were among the quickest to lift restrictions and allow litigation funding to be done in the open. IMF Bentham, with offices across Australia, was the first litigation funder to sell its shares on a public stock exchange and a pioneer in the practice as a specialty rather than a sideline. After its float in 2000 raised A$6.6 million ($4.3 million), IMF remained a penny stock as markets struggled to value something that had never been traded before.
Since the financial crisis, however, lower interest rates have sent investors scurrying in search of decent returns, and litigation funding has become an increasingly attractive asset class. While the sums look small next to the $100 trillion global bond market, the profile of litigation funding's new supporters suggests an investment strategy on the rise.
Last year, Therium Capital Management, another London-based funder, secured £200 million ($303.5 million) in financing from a single company, believed to be the largest-ever single investment of this type. Therium didn't disclose the identity of its backer, but several people familiar with the matter say it's AmTrust Financial Services, a New York insurer with $21 billion in assets. (An AmTrust spokeswoman declined to comment.) Therium plans to raise more money, the people say. In June, Fortress Investment Group, a $70 billion alternative asset manager in New York, did a deal with London-based litigation funder Vannin Capital that gives Vannin access to a pool of as much as $500 million.
Litigation funding also provides a new line of work for attorneys. Harry Stockdale, a director at Haitong Securities in London who advises litigation funds on raising capital, estimates the amount of money committed to litigation finance has grown tenfold since 2009, to about $3.5 billion. If all those cases are successful, they could pay out as much as $30 billion. "This activity may be a fraction of the size of the fund management industry," he says. "But it isn't bad when you consider that most of the managers running litigation funds were practicing lawyers back in 2009."
Even so, this is frontier territory. Because litigation funding is too young to have much of a track record—and because funders share lawyers' fondness for secrecy—the asset class isn't easily analyzed. "One of the challenges of our business is the strict confidentiality that overlays our investments," Burford Capital, a publicly traded company and the world's largest litigation funder, said in its 2015 annual report. "We repeat our annual caution that individual litigation results are inherently unpredictable."
It can be hard for outsiders to get answers even to basic questions. What sort of returns can you expect, long-term, from investing in lawsuits? (Spoiler: probably less than 10,000 percent, but more than what the average hedge fund returns these days.) What are the dangers? How badly are investors hurt when funded cases fail?
To get some answers, Bloomberg Markets interviewed more than a dozen litigation funders, bankers, and academics, and analyzed data from the small number of firms that release figures publicly. What emerged is an asset class with unique characteristics. True to the maxim that lawyers make money in good times and bad, litigation funding is impervious to recessions and other economic shocks. Managed well, litigation funds can offer returns that are hard to find anywhere else.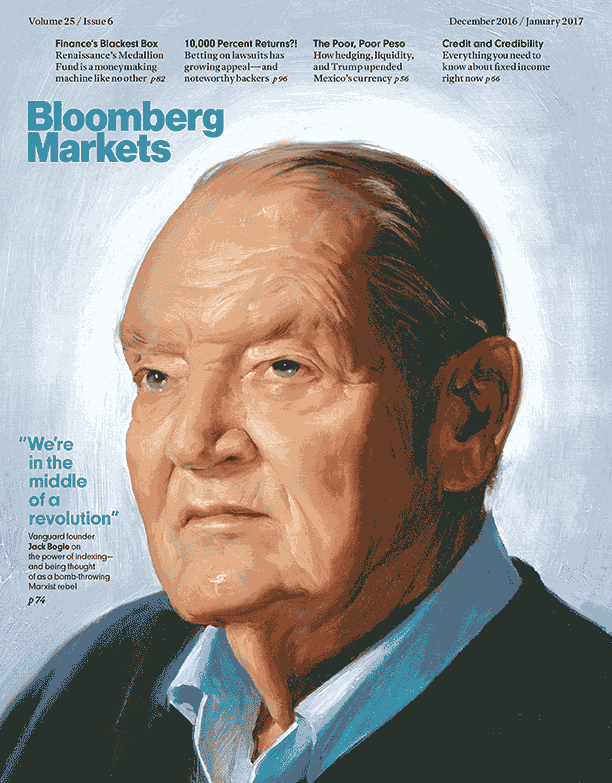 In May 2007, on the eve of the financial crisis, Colin Cameron became an executive manager for the City of Swan, outside Perth, Australia. More than 3,000 kilometers west of Sydney, Swan is a long way from the trading floors of Wall Street in distance and way of life. So Cameron was a little surprised to see Swan had invested taxpayers' money in something called a collateralized debt obligation with the Australian arm of Lehman Brothers. "I did a bit of research," he says. "You could read the stuff that was going on in America." Early in 2008 he began speaking to other councils who had AAA-rated CDOs that suddenly looked shaky.
When Lehman blew up later that year and the CDOs turned out to be worth mere cents on the dollar, a group of local governments in Australia arranged a conference call. About 50 people were on the line, including Cameron, officials from other cities, attorneys, and IMF Bentham Executive Director John Walker. Walker outlined the terms of a deal. He was willing to pay the legal fees for a group action against Lehman and its bankruptcy administrators as long as the local governments agreed to give up about 25 percent to 30 percent of their winnings. "We are risking our money on this, but we don't get anything unless we win," he told the group. "And we think we will win."
IMF's action eventually signed up about 70 local governments, charities, even churches. The case went to trial in 2011. Cameron testified that no one in his right mind would have invested in Lehman's CDOs if they'd known their defects. The judge agreed, and Lehman's liquidators settled the case in 2013. Cameron thinks Swan will get back most of its A$11 million exposure to the CDOs once the Lehman bankruptcy administration is concluded. Walker, who's since left IMF and started his own firm, says IMF made about A$55 million against the roughly A$13 million it spent funding the case over at least five years.
Litigation funding has its ups and downs. IMF has won, and lost, some big lawsuits. In the five years through Sept. 30, 2016, its shares returned 69 percent, including the dividends the firm pays out from its legal winnings. It's invested in a total of 187 cases and says it has a 90 percent win rate. This year its shares are up 41 percent as of Sept. 30.
Another publicly traded litigation funder, London-listed Juridica Investments, has also proved to be a roller-coaster ride for investors. Its shares dropped more than 40 percent during 2015 after a single negative ruling. The fund is now in "runoff," meaning its managers are seeing out its existing lawsuits but have stopped taking new cases. In the five years ended Sept. 30, Juridica delivered total returns of about 5.8 percent to its shareholders, including dividends.
During the same five-year period, IMF and Juridica underperformed the S&P 500 index, which returned 113.2 percent. And litigation funding can be costly when things go wrong. If a case fails, the funder waves goodbye to all the money spent on attorneys and, in some jurisdictions, such as the U.K., it's liable for the other side's legal bill, doubling the loss. Funders get insurance to cover themselves against this outcome. But it still hurts.
The Cardsharps, a 16th century painting by Caravaggio, shows three men in feathered hats engrossed in a game of cards. One is cheating, reaching behind his back to where a spare deck is concealed next to a dagger. The combination of sumptuous Venetian style and the cocksure pose of the trickster, familiar even centuries later, has made the painting a classic worth millions of dollars.
In 2006, Sotheby's auctioned a similar work, thought to be a copy, for £42,000. The next year a collector announced that the painting sold at auction was a genuine Caravaggio, leading its previous owner, Lancelot Thwaytes, to sue Sotheby's for getting him such a paltry sum. Harbour Litigation Funding, a private firm run out of London, agreed to support him.
Thwaytes lost the case. Experts couldn't agree on whether the work was a copy or genuine, the judge noted in a 2015 decision. Harbour was left having to pay both sides' legal bills as well as the cost of hiring at least five art history experts to testify. Although the firm had insurance to cover some of the cost, it ended up losing about £2.8 million. Commenting on the case on its website at the time, Harbour said it carries out due diligence and only funds lawsuits it believes will, from the firm's vantage point, succeed. When a suit doesn't, Harbour said, "we have to write off our entire investment and move on."
The Cardsharps decision was never going to be a deadly blow to Harbour, which has about £400 million committed to cases around the world, worth as much as £2.5 billion. Litigation funders expect to lose; that's part of the deal. Modern specialist firms take on dozens of cases at a time, amassing a portfolio of assets. If they can get 5 or 10 times their money back with a good result, they don't need to win many to make a profit.
Private litigation funds such as Harbour, Vannin, and Therium keep their returns a closely guarded secret. But several people with knowledge of the industry say annualized returns of 15 percent to 20 percent could be expected over the life of a fund. The asset class is becoming "more mainstream," according to Andrew Gardner, a lawyer-turned-banker at London-based Lancea Partners who helps private funds raise money. "You can have some tremendous wins," he says, adding that just one success can put an entire portfolio into profit.
Litigation funding's biggest lure may be its disconnection from markets. If the S&P 500 plunged 50 percent, litigation funds would still make money. If an asteroid made of gold crashed into the earth and the ensuing glut sent the traditional bear investor's refuge to historic lows, litigation funds would be unaffected. In both cases, they might even make more money, given that lawsuits tend to follow economic shocks. Gardner says that when litigation funds are raising money from investors, the line they use, in investment jargon, is "Private equity returns, but uncorrelated."
Burford Capital, run out of New York and London, is the best-performing public litigation funder. In the five years to Sept. 30, it returned 291.6 percent to its shareholders, including dividends. Burford has branched out into legal insurance and loans to law firms; it's also diversified the type of cases it invests in. Traded on the London Stock Exchange, it now offers to fight defendant lawsuits on behalf of large corporations, one of which is reported to be BT Group, in return for a share of the money saved by a successful defense, rather than the winnings. (Burford declined to identify the company involved, saying such information is confidential.)
Burford hasn't seen the volatile swings of Juridica or IMF. But, as its 2015 annual report indicated, it doesn't generally tell investors which cases it's invested in, or when it wins or loses specific suits, or the terms of the deals it offers. Such secretiveness is standard practice across the industry, with the exception of IMF. Litigation funds as a group are happy to discuss access to justice—that is, the idea that they enable people to come to court who wouldn't otherwise be able to afford it. But they're reluctant to discuss actual litigation.
Even if they did, lawsuits are incredibly difficult to value. Payouts depend on the whims of judges, the crapshoot of evidence exchange, the reliability of witnesses, and a host of other intangibles. Funders get around this by hiring panels of senior judges and attorneys to review how likely a case is to succeed, but the process is more intuition than science.
Investors are mostly in the dark, says Malcolm Stewart, a former accountant who used to run a litigation fund and is working on a Ph.D. thesis about the industry at the University of Nottingham in the U.K. "You don't know what the assets are worth, and you don't know what the liabilities are," he says. "You don't know when it is going to end or when you are going to get paid." To an investor considering this asset class for the first time, Stewart has this advice: "If you are of a nervous disposition, don't."
And to unsettle your nerves a little more, there's this: What's happening to the legal market isn't that dissimilar to what happened to the mortgage market before the financial crisis. Something of inherent but uncertain value (in this case, a lawsuit) is packaged into a single entity along with so many other assets that it can absorb a given number of failures. That entity (in this case, the litigation fund) sells shares, or fund units, in the market, sending the risk out into areas of the market that can stomach it.
As with mortgages, the influx of money increases efficiency and allows more consumers access to the product by taking part in suits. Will the litigation funding boom, like subprime mortgages, also end in a bust? Its backers don't think so, nor, apparently, do those who are investing in it: The money is still coming in.
As the legal offensive against Volkswagen trundles on, the court in Braunschweig has logged about 1,400 suits on behalf of shareholders large and small. Altogether, claims for damages amount to at least €8 billion. While the legal battle could go on for years, Bentham CIO Marshall is optimistic about the chances of success, both for VW shareholders and his investors at Elliott. "We saw an opportunity, and we put it together and went out and provided it to the market," he says.
For Bartow, the CalSTRS lawyer, taking VW to court isn't all about the money, he says. Bartow, who in his free time makes paintings of the California coastline, declined to be interviewed at length for this article. But he said in e-mails sent through a spokesman that companies must be held accountable for engaging "in such widespread deliberate deceit which destroys shareholder value, damages their reputation, and harms the public."
Volkswagen Group spokesman Hermann Prax says the company "remains of the opinion that it duly fulfilled its disclosure obligations under capital markets law." As it prepares to defend itself in court, VW, founded eight decades ago to build the "people's car," is finding out how expensive it could be to violate the people's trust.
Chellel covers legal affairs in London. With Karin Matussek
This story appears in the December 2016 / January 2017 issue of Bloomberg Markets.