Solving Climate Change With Beer From Patagonia's Food Startup
Executives at the outdoor apparel company are sick and tired of Big Food's greenwashing.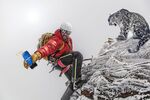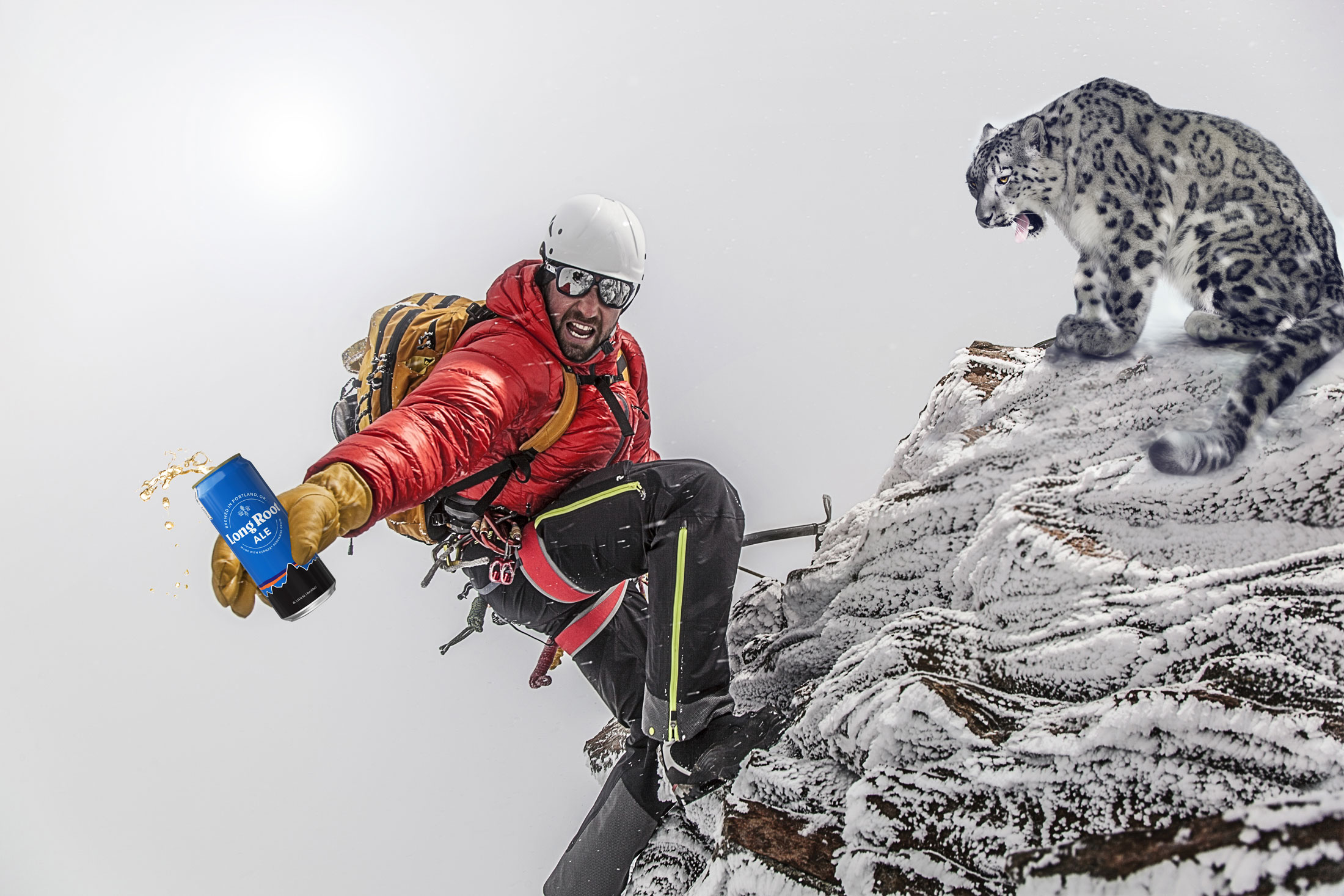 Yvon Chouinard, the short, bluff, fatalistic founder of Patagonia, the company renowned for its pricey parkas, fuzzy fleeces, and exhortations to buy fewer of them, sits in a cafeteria-style Chinese restaurant in Jackson, Wyo. He scratches a clam from its shell, forks it into his mouth, chews, checks the time. "Oh, we're fine," he says, and Birgit Cameron, seated on his right, does her best to look reassured. A fairly recent addition to the Patagonia family, Cameron seems as eager to make a good impression this evening as Chouinard is indifferent to how he's perceived. The two are expected in 10 minutes at the Center for the Arts in Jackson, where they'll appear on stage together and introduce Unbroken Ground, a 26-minute film produced by Patagonia that highlights the suppliers of Patagonia Provisions, the three-year-old sister food company that Cameron heads. Depending on your level of cynicism, Unbroken Ground may strike you as a well-turned documentary about the ecologically enlightened suppliers behind the foods she sells, or perhaps as a slick marketing piece. Naturally, it's both.
"It's hard to get people fired up about how cotton is grown in Turkey," Chouinard says, "but we've got to, because the way 99 percent of cotton is grown, it's a disaster. And it's the same with where most of our food comes from. So we use film because a lot of these little guys we're working with don't have the resources to make a movie. We do."
At 77, Chouinard long ago stepped back from Patagonia's day-to-day operations, but he and his wife, Malinda (also present, but not to be quoted), remain the owners and stewards of the brand. They mostly split their time between here, where their home faces the Teton Range, and Ventura, Calif., where Patagonia's headquarters and their children and grandkids are. Both published books in the last two months: Yvon, an updated edition of his memoir-cum-management treatise, Let My People Go Surfing; Malinda, with co-author Jennifer Ridgeway, Family Business: Innovative On-Site Child Care Since 1983, a monograph promoting kindergartens at corporate offices.
They'd explored selling food for years. The impulse wasn't toward brand extension so much as applying to cuisine the things they'd learned from making the switch to organic cotton and torture-free goose down at Patagonia. Yvon, especially, always wanted to do something with tsampa, a roasted barley he'd found to be the perfect fuel on treks in Nepal and Tibet. But the food business didn't get off the ground until their chief executive officer, Rose Marcario, recruited Cameron. The two established a startup in Sausalito, Calif., in 2012. A year later, smoked Alaskan salmon became Patagonia Provisions' first product ($12 for a 6-ounce portion). Since then, it has added freeze-dried tsampa soups ($6.50 each), fruit and nut bars (12 for $24), buffalo jerky ($10 for 2 ounces), and, in September, three low-sugar hot cereals ($6.50 per serving). Mostly, they've sold these online, at Patagonia's stores, and at REI, the outdoor retailer, but they've begun working with independent natural foods stores, too.
While the line seems intended for hikers and campers—haute trail food—the products were selected, Cameron says, because, as dry goods, they're "shelf-stable," and because each comes from a subcontractor that met their environmental and labor standards. "The first product was about saving wild salmon species—catching the salmon in the correct way so you can count how many are coming upriver, how many you can safely take," she says. "So what we want to do in each case is make sure that we're armed with enough information to make the right decisions, and when we are, that really determines when we bring it out."

Cameron, 52, has straight, blond hair, and bright, alert eyes. She could pass for Swedish, but is in fact a German-Canadian émigré to Marin County. She's dressed casually but nicely, with a new Patagonia down shirt over an organic cotton tee. Earlier that day, she caught three fish on a branch of the Snake River after Chouinard coached her on her fly-cast. She's clearly soaking up all she can during her time with the ­founders, but now, with a reporter along, she's wary, too: What'll Yvon blurt out next?
Chouinard, dressed in an old sweater, jeans, and Converse sneakers, has begun to resemble the raptors he trained as a teenager—fewer feathers at the temple, perhaps, a little beakier in profile. A celebrated big-wall climber, mountaineer, and surfer, he has a laugh that evokes the sound one intends when responding "HA!" in a text. He can come off as a crank. He avoids computers, doesn't do e-mail, and told the New Yorker's Nick Paumgarten this summer that Apple, the most valuable public company going, makes toys. "The American empire, and globalization, which is a form of empire, is finished," he says. "And, really, who cares? HA!"
On stage in Jackson, his despondency is less devil-may-care, more personal. "You know, I really thought that if we led by example, if we showed as a company that with a little more effort you could make a product that's just as good but also takes better care of the environment, that others would follow. But it's not happening." He sighs. "I was naive, I guess."
If there's one stay against his pessimism, though, it's ­"regenerative agriculture." Like all buzzphrases, it's subject to debate, frequently misapplied, and often uttered in an all-is-revealed tone, like "plastics" in The Graduate. A paradigm. Even so, what it refers to is profound. Conventional farming practices tend to entail reaping one annual crop, tilling the soil for next season's harvest, and making extensive use of inputs—fertilizer, herbicides, pesticides—to boost yield. Regenerative agriculture emphasizes a diverse variety of crops (throughout the farm, in rotation, or even in the same field), not tilling the soil, using fewer inputs, and adding perennials into the mix as buffers and cover crops. It's a lot harder than it sounds, but a growing body of soil science and on-farm research shows that these techniques—especially not tilling the soil (hence, Unbroken Ground)—can generate competitive harvests while saving water and restoring topsoil. That restored soil is able to fix more nitrogen in place, so farmers can cut down on expensive nitrogen fertilizers and excess nitrogen doesn't run off into rivers and create dead zones in bays. This soil retains higher concentrations of carbon, too, so it doesn't rise in the atmosphere and trap heat there, frying the planet.
"Our mission statement includes that line 'cause no unnecessary harm,' but there's a limit to that," says Rick Ridgeway, one of Chouinard's oldest friends, who's been with the company since the beginning. "You can reduce the footprint, but it is still a footprint. Making our jackets is harmful to the planet. There's no way around it. But imagine if the product, that jacket or, more likely, a sweater, was made from a natural fiber—cotton or wool—that had been grown from animals that were grazed using regenerative protocols. And those protocols return the soil to sufficient health that it pulls carbon out of the air and returns it to the ground. Well, now your sweater is part of the climate change solution. Not less bad, more good."
"If we're in a situation where there's drought in a ton of places, and there's a method that uses a ton less water, why wouldn't you try that?" Cameron says. Because of drought, wind, and other erosion, the U.S. loses 1.7 billion tons of topsoil—valued at $44 billion—annually, according to the federal Natural Resources Conservation Service. One study, from David Johnson, a molecular biologist at New Mexico State University's Institute for Sustainable Agriculture Research, goes so far as to suggest that rehabilitated soil and undisturbed prairie alone can absorb enough carbon to neutralize the risks posed by global warming. That strikes many researchers as absurdly, even recklessly, optimistic. Others, such as Chris Field and Katharine Mach, at Stanford, insist that regenerative agriculture is nevertheless a valuable opportunity, because it's a "win-win"—better soil, less carbon.
"This is why we're working with Kernza," Cameron says. "It's a new food crop that acts like a sponge for carbon." Kernza is a wild grain; it's also a relatively recent registered trademark held by the Land Institute in Salina, Kan. An intermediate wheatgrass, it has dense, deep roots—ideal for keeping soil in place and sending down nutrients and carbon. A perennial, it's ideally suited to regenerative agriculture. But it still has a ways to go before it's a viable competitor to annual wheat. Chouinard and Cameron figure that if Patagonia Provisions can create some demand for it, the crew of Ph.D.s at the Land Institute might eventually get it there.
Chouinard says he's been giving money over the years to farmers to grow the stuff. "Last year we got about 80,000 pounds of usable grain," he says. Patagonia Provisions had to determine that Kernza was generally recognized as safe (GRAS) under U.S. Food and Drug Administration regulations, so it kicked in the $50,000 it took in research and testing necessary to gain that designation. Kernza is tricky to store, though, for milling. "So," Chouinard says, "we made most of it into a beer."
Another partner, Hopworks Urban Brewery in Portland, Ore., did the brewing, well enough that on Oct. 3, Patagonia Provisions Long Root Ale will go on sale in 101 Whole Foods Market stores in California, Oregon, and Washington. As a note on the 16-ounce cans explains, it's made with 15 percent "Kernza perennial grain"—the first large-scale product to include it. The self-aware label asks before you do: "What's a clothing company know about beer?"
"I offer two versions of the tour, one that's intended to generate more interest, and one that's more to impress. Which'll it be?" asks Wes Jackson as we navigate the main building of the Land Institute, which he co-founded in 1976. Before I can answer, he puts his hand on a door handle, and, just before turning it, says, "This really is the road to Damascus."
The door opens on a set of descending stairs. On the opposite wall, from the rafters to the bottom of the stairwell, is a banner with a blown-up, laminated photo of two plants on a black background. On the left is a conventional red wheat plant; on the right, Kernza. The wheat's roots run roughly a quarter to a third of the banner. The Kernza root ball extends three times as long, like a giant beard, to the bottom. "All the microbial life that's vital to soil you can't see, so it's too abstract," Jackson explains. "But when people see this—it's immediate." It's also a lot less messy than carrying around the root ball in his backpack, as he did for years when giving talks and raising money for his research. He even unspooled the mass of fine tendrils in a few airports and at least once in the aisle of an airplane. "Who told you about that?" he asks, laughing at the memory. "Well, it's true. It's not easy being an eccentric."
Jackson's a big fellow, but gets around well for 80, and he doesn't look like a radical. He wears a plaid button-down and reading glasses. His haircut is from 1966. His broad shoulders made him an effective guard for his championship college football team, "back when there were two coaches and we all played 60 minutes." He later coached track and field and football while finishing his graduate studies. He secured tenure at California State at Sacramento in the early '70s, but took a year off to come back to Kansas. Then two events, one right after the other, changed the course of his life.
The first was a report from the U.S. Department of Agriculture showing that soils in the American heartland weren't substantially better than they'd been during the Dust Bowl. The second was a visit to native prairie in Salina—natural grassland that had suffered none of the degradation and erosion that nearby cropland had. That undisturbed prairie, he later wrote, ought to serve as our standard for future agricultural practices. Or, as he has also put it, "Most analysis of the problems in agriculture do not deal with problem of agriculture."
Jackson readily acknowledges that conventional agriculture, which has allowed us to feed billions more people in the last century, remains a remarkable achievement. The trouble is that it's not sustainable, he says. "Soil is more valuable than oil—and just as nonrenewable."

We drive in an old pickup to a plot that has neat rows of Kernza. It's blistering hot, the first official day of autumn—the mercury will hit 97F, a record—and the monarch butterflies in the milkweed are about the only things that don't seem stunned by the heat. The Kernza plants look like they belong on a dune—short, dry shafts and a spray of pointy grass about 2 feet high. The institute also studies sorghum, sunflowers, and wheat, growing each of them in monoculture fields, in polycultures (with legumes), and in rotation—all in an effort to discover how to yield not only edible grain, but richer soil.
"We have made a lot of progress, but there's a ways to go," says Lee DeHaan, the institute's chief Kernza breeder, when we're back inside. DeHaan lives on the property in a solar- and wood-heated home that he built. Through selection, he's managed to triple the size of Kernza seeds, which are more slender and a fraction the size of typical wheat berries. He shows me to a table where a grad student tweezes the seeds into cartons for germination. Then DeHaan digs a hand into a bin of Kernza. "The nutritional profile is quite good. It's higher in protein than most wheat and lower in gluten strength," he says. The smaller size of Kernza and its cylindrical shape remain a problem. It doesn't work well with existing combines, for example, and it wasn't clear at first if it would gum up the machines used for Long Root Ale.
"We had a lot of questions going in about how it'd perform, like if it would clog our sieves," says Christian Ettinger, the founder and brewmaster of Hop Works. "Barley is more like a kernel, and wheat is elliptical, like a pellet," he says. "Kernza is more like wild rice." Happily for Long Root Ale, the Kernza became suspended in the barley mash and added a nutty spiciness to the hopped-up ale they wanted to create.
Most of the Kernza in the Long Root Ale is grown in a second location, at the University of Minnesota's campus in St. Paul, where Patagonia Provisions paid for 54 acres of production in 2014. Now they're up to 125 acres. It will be up to DeHaan and his peers in Minnesota to determine if Kernza is a novelty additive to products like Long Root Ale or something more. General Mills has begun testing it, too.
Even those skeptical of Kernza are interested to see what might come of it. "I welcome it, of course," says Miriam Horn, of the Environmental Defense Fund and author of Rancher, Farmer, Fisherman: Conservation Heroes of the American Heartland. Her one caution: "It's misleading to think that these smaller, experimental efforts are the only path." Horn mentions a farmer, Justin Knopf, whom she profiles in her book. He employs regenerative, no-till practices, working not far from the Land Institute. But his is no boutique operation. He cranks out massive amounts of hard red winter wheat on 4,500 acres. "Sustainability really can scale," Horn says.
"No one wants to be told what to do, and there certainly isn't only one right way forward," says Stephen Jones, a geneticist and director of the Bread Lab at Washington State University. At the lab, Jones has overseen the cultivation of a buckwheat that Patagonia Provisions uses in its soups. "In some ways we come at this in reverse to the Land Institute," he says. "They're domesticating a wild wheat, while we're trying to ­un-domesticate wheat." At the core, though, the goal is the same, he says: "More diversity, because our best defense against change is to have variation, and the best thing for growers is to have more options."

The offices for Patagonia Provisions are within a duplex on the Bridgeway, the two-lane road that winds along the shore of the San Francisco Bay in the tourist town of Sausalito, just over the Golden Gate Bridge from the city. Ventura, where Patagonia began and remains, is great for surfing, but it's a bit cut off from everything. Marcario and Cameron felt it was critical that Provisions be near the food-obsessed Bay Area. Chad Robertson, a celebrated baker and founder of Tartine, has baked with Kernza. Karen Leibowitz and Anthony Myint, the owners of The Perennial restaurant, also in San Francisco, use Kernza in one of their most popular dishes, not to mention in ice cream.
On a recent Wednesday, about a dozen people were in the office, and a spread of Provisions breakfast cereals was laid out on a central table with fresh berries, Greek yogurt, nuts, seeds, and almonds. No one appeared to be older than 27, hung over, or unable to run straight up the steepest trail on nearby Mt. Tamalpias.
Listening to Cameron can be like reading a heavily footnoted Mom blog crossed with a green-market flyer. Her desire to avoid extra sugar and salt in Provisions products stems from her search for healthier snacks for her kids. "And really," she asks, sounding for a moment as exasperated as Chouinard, "how hard is it to add a little honey or sugar yourself?"
Cameron's grandfather owned a coffee import company and dazzled her as a kid with his travels. Her father started a global import-export commodity food business in Toronto, which her brother now runs. She broke away from food initially, training as an architect and working as a designer for years, but she's relieved now to discover how much she learned about the food business listening to her parents at the dinner table.
Cameron appreciates that most attempts by companies to jump categories end badly. She doesn't let that bother her too much. Provisions has been set up as a separate company, but she says the parent brand and what it stands for give her a distinct advantage. Daymon Worldwide's director of global consumer strategy Carl Jorgensen agrees. "It may be niche, but it has cred," says Jorgensen, who tracks grocery and organic food companies. "Energy bars and craft beers are incredibly crowded categories, but that's where the brand should help them." Annual sales of natural and organic foods are growing faster than those of the general food market by 20  percentage points, and other upscale brands such as Restoration Hardware are experimenting with food, too.
Because both Patagonia companies are private, Cameron doesn't have investors breathing down her neck. "We're not dealing with that kind of pressure," she says. "We can afford to be patient." Also because they're private, Patagonia Provisions doesn't publish financial data. Cameron says sales are meeting expectations, which is confirmed by Marcario, the parent brand's CEO. This summer, Provisions launched in Japan, its first market outside the U.S., and, she says, the line has done so well that she's had to restock sooner than expected.
Having Marcario's support is arguably Cameron's greatest advantage. A gay, Buddhist alumna of General Magic, a l­egendary 1990s Silicon Valley company, Marcario is often sought for speeches and panels, though she professes to prefer doing the work of a chief executive to being on the conference circuit. She's gone native, wears flip-flops to work in Ventura's open-plan executive suite. Inside Patagonia, she's renowned for her fiscal discipline—she was initially hired as chief financial officer, in 2008.
"You really get behind the berm when you're the CFO. You see everything," Marcario says. She was surprised to find that, for such a beloved brand, Patagonia wasn't bigger. "Your company seems so small," she recalls telling Chouinard and the company's then-CEO, Casey Sheahan. It's less small now. Marcario and Doug Freeman, the chief operating officer, led a streamlining of the company's partners, processes, and inventory system, reducing 150 partners to 80 in 17 countries. Although Chouinard regularly blames growth for the planet's troubles, revenue has doubled since 2010, to $800 million. Barring unforeseen catastrophes, Patagonia will become a ­billion-dollar company on Marcario's watch. "It's early yet," she says, "but I do think food could one day be even bigger than clothing for us."
One question that comes up frequently for Cameron: Who is Patagonia Provisions for? Are they only making healthy food for their apparel customers, those who can afford to drop $299 on a "Patagucci" hoodie? "It's something we're thinking a lot about," Cameron says. She has no illusions that they're going to feed the world, "but our intention is to stimulate regional economies and to highlight practices that others can run with. Like with breadfruit." Breadfruit, she explains, is a staple food, native to Hawaii, that was cleared out to make room for pineapple and sugar cane—export cash crops. Hawaiians, Cameron says, only have from three days to two weeks of food if they were suddenly cut off. She's working on a project that could create a market for breadfruit. "So you help to bring back infrastructure that was there before," she says, "and promote self-sufficiency and potentially give a lot of young farmers a way to make a living." Just as Patagonia's main brand has sought out and supported environmental causes, she's hoping to fund activism around food insecurity. She touts the work of Oran Hesterman, of the Fair Food Network, creator of the Double Up Food Bucks, a program active in several states that doubles the purchase power of food stamps at farmers' markets.
Michael Besancon, a former global vice president for Whole Foods, is consulting with Patagonia Provisions. Over lunch at Fish, a sustainable seafood restaurant in Sausalito that's a magnet for foreign tourists, he listens carefully to Cameron's virtuous vision. It's not that he doesn't believe it. He does. But, he says, even if Cameron gets the science and the often maddening politics of food right, she has a more fundamental challenge: "Does it eat?"

During the Q&A following the screening of Unbroken Ground, Chouinard tells the crowd he doesn't think anything short of major social and political upheaval will keep the earth habitable. "It's going to take a revolution," he says. "And I want to be in my blacksmith shop sharpening the guillotines." At breakfast with Cameron the next morning, he's less hyperbolic but no less emphatic.
"The thing we're gonna run out of first is water," he says. "And the second one is topsoil." He cites John Jeavons, co-founder of Ecology Action, who warns we have maybe 30 more years of topsoil. "Let's say you just don't believe it. Double it to 60. It's still a scary fact."
We're seated in the Silver Dollar bar at The Wort, an Old West hotel in the center of Jackson that features framed photos of the gambling and other vices that once took place there. The bar closed eight hours ago, the tables are all cleared, and the only light is from the windows. The concierge offered us seating here, away from the dining room, so we could record our conversation. The bar's usually packed, so the quiet is striking. There are worse places, it must be said, to contemplate the end of the world. The mounted buffalo head in the lobby is a reminder, too, that much of what Patagonia Provisions proposes is meant to recapture the benefit of what was already here.
"We did a carbon sequestration study on the [O'Brian] buffalo ranch where we get our jerky, and he's got a fence. On one side are the bison, and on the other side they're raising cattle," Cameron says. The bison side, they found, sequesters nine tons per 2.5 acres more than the cattle ranch. The difference, Chouinard explains, is the way they graze. "Cattle stay in one place. They stomp the earth down, harden the hardpan so when it rains, it just runs off," he says. "The buffalo have got little sharp hooves like deer do, and elk do, and animals that belong in those places. And they make little divots, and every time it rains, it holds in the divots and also it presses the grass down into those divots and makes compost. And you know, [the farmer] doesn't touch those animals. Doesn't have to go out and feed them during the winter, doesn't have to be there at birthing, sticking his arm in some cow's uterus to pull this thing out. Doesn't do any of that stuff."
Chouinard's passion for regenerative agriculture and grazing was something he shared with his best friend, Doug Tompkins, who died on Dec. 8, 2015, after getting caught in a storm on Lago General Carrera, on the Chilean-Argentine border. Chouinard and Rick Ridgeway were on the water, too, but survived. Yvon still speaks of Doug in the present tense. "We're both doombats," he says. He allows that Tompkins, the founder of North Face, who sold his interest in his second company, Esprit Holdings, in 1990 to commit himself full time to wilderness conservation in South America, tried to persuade him to do the same. (On Sept. 25, Tompkins's widow, Kris McDivitt Tompkins, donated 2.2 million acres for a new national park in Argentina.) "Yeah, Doug would rag on me a lot about staying. He kept saying I should sell the business and do what he's doing. And I would argue, 'Look, what I'm trying to do is change the way people do business. I can do far more by showing by example.' Of course, that's when I was an idealist."
For a while, he was proud of the work his sustainability teams did with companies like Walmart. But, he says, "they took the low-hanging fruit, recycling plastic, converting their fleet over to natural gas. Things like that. They did everything that ends up making 'em more money. But when it comes down to doing the hard things, anything with a long-term payoff, they backed out." He stresses that it's not just Walmart. "All of these companies, whether it's Dannon or Unilever, they're all ­greenwashing. They start out making a big deal out of something and they back down. It's like Nike started out doing a little bit of organic cotton, like 1 percent. Now I don't know if they do any at all. The fashion industry, same thing."
All the same, he has high hopes for Provisions. They're looking at shipping frozen portions of salmon. While there are no plans for Patagonia Pot, they're looking into hemp seeds. Chouinard has been urging Cameron to look into canned fish, and shellfish, most of all. "That's my next thing," he says. "Eating the type of fish we should be eating, rather than sitting down to a tuna steak. Eating sea snails and squid, and sardines, anchovies, rather than making fish meal out of them and feeding 'em to pigs and chickens. Shellfish is the most responsible form of animal protein, because mussels and clams are just filter feeders. Put 'em in Chesapeake Bay, and they clean the bay and provide protein." Shellfish, he says, are a way we really can feed the world.
Before the plates can be cleared at The Wort, Chouinard says, to Cameron's horror, that Long Root Ale isn't for him. "All these India pale ales, they're all too overhopped," he grouses. For a moment, the West Coast style of IPA seems like the most ridiculous thing he's ever heard of. He'd prefer a hefeweizen—a wheat beer that uses more of the wheat-like Kernza. He'll have to wait. When saving mankind, it's sometimes necessary to first make a concession to popular taste.
(Updates to specify the period of sales growth in the 30th paragraph.)
(
Corrects the process through which Patagonia Provisions gained a GRAS designation in the the 13th paragraph.
)