Kegs, Climbing, Kombucha: This Is Co-Working Now
WeWork's success has spawned new boutique spaces to help you find your "authentic self."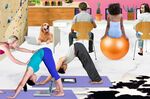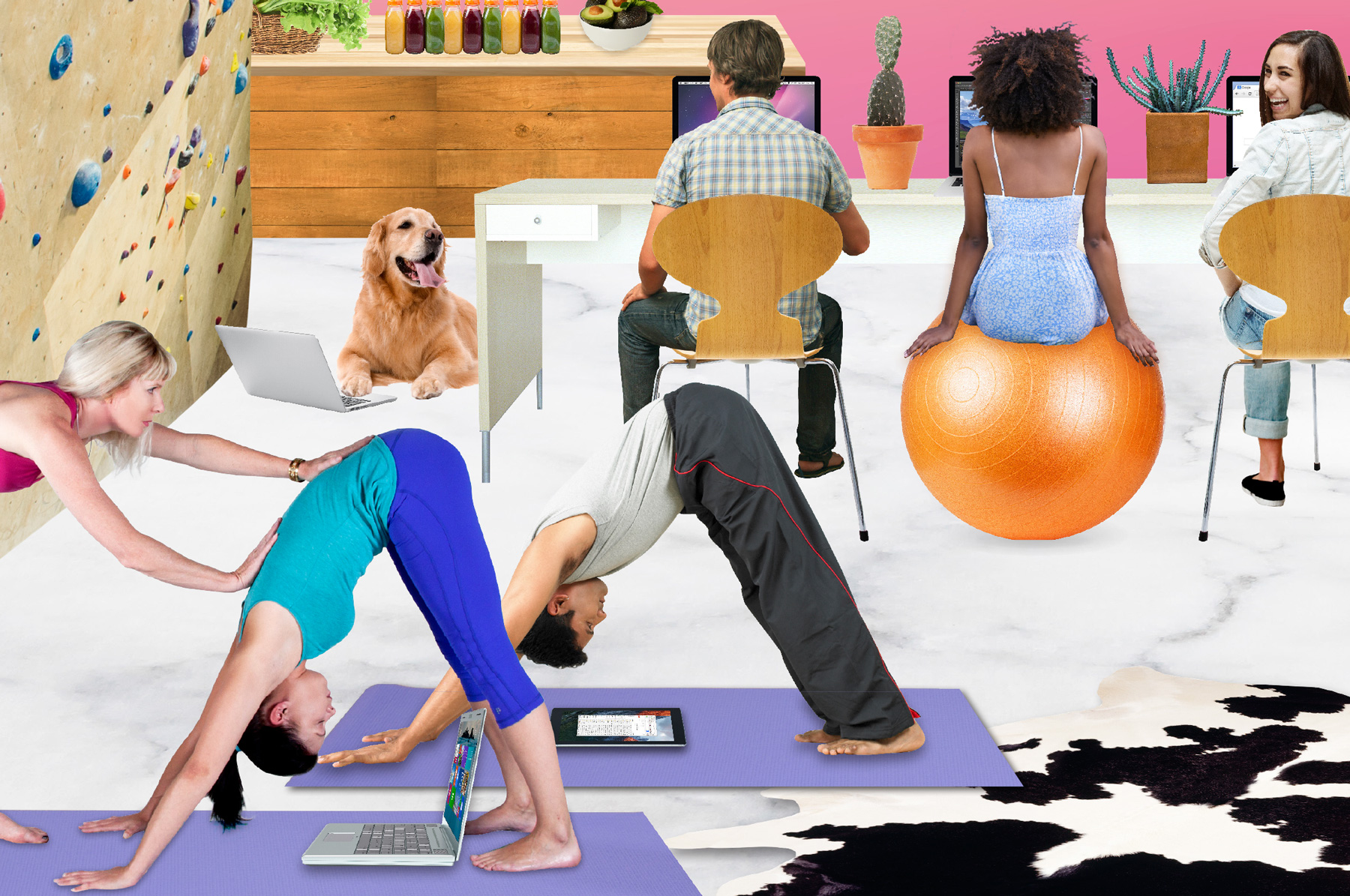 It's around 1 o'clock on a recent Monday afternoon, and I walk 30 seconds from my desk to a locker room, change into leggings and a sweatproof tank top, grab a yoga mat, and start meditating in a studio with three other women. "Forget about deadlines," the instructor tells us. "Forget about the looming appointments and assignments." I'm trying, but it's hard: My desk is so close, I could hear my phone if it rang. After an hour of stretching, posing, and not forgetting about deadlines, I put my work clothes back on; soon I'm tapping away again at my laptop. It's a normal afternoon at Primary, a new co-working space in downtown Manhattan. For $300 a month, I can grab a $10 green juice after a midday vinyasa flow class just feet from where I manage the flow of my in-box.
This is what co-working looks like in 2016, half a decade after the first shared spaces popped up. WeWork, which popularized the model, opened its first location in SoHo in 2010 to fill commercial buildings in the recession. Now it's worth more than $16 billion (an internal financial review in April slashed 2016 profit and revenue forecasts). Deskmag—yes, the industry has its own trade magazine—estimates there will be 10,000 co-working spaces worldwide by yearend: If you live in a second- or third-tier city, and there's no yoga at yours yet, stay tuned. Manhattan alone devotes more than 5 million square feet to the collectives, according to real estate services firm Cushman & Wakefield; and in San Francisco, there's been 300,000 sq. ft. of co-working space leased since mid-2014, reports JLL, another real estate services company. "The industry has gone crazy. Co-working used to be an office phenomenon. Now it's tech shops, makerspaces, bio labs, community kitchens, and car-fixing places," says Steve King of small business consulting firm Emergent Research in Lafayette, Calif. "You can find shared workspaces for almost any kind of work."

And any niche interest. When WeWork was the only player, kegs were enough to get people in the door because, hey, free booze. Today there's much more differentiation. At Primary, the emphasis is on wellness: exercise programs, kombucha and healthy snacks, and succulents and ivies trailing vines across tabletops, because I guess healthy people are into plants. The purported benefit of these quirks? Community! Which is what we seem comfortable substituting for a life outside the workplace. It appears that we're entering the work-life singularity, and we're going to love it one green juice at a time. As James O'Reilly, 33, a founding partner of NeueHouse, a high-end co-working space in Manhattan, says, "People are happiest when their work can live in their lives more comfortably, when it's something they don't have to isolate." To put it another way, co-working spaces have become self-selecting worlds where an entrepreneur can be her "authentic self," says Gretchen Spreitzer, a professor at the University of Michigan's Ross School of Business who studies how organizations help employees thrive.

I'm spending a week testing out co-working spaces in New York to try to find my authentic self. Primary, an urban hippie dreamscape, is my first stop. "We are catering our experience to a different demographic than WeWork," says co-founder Lisa Skye Hain, 39, who has the glowing skin and sun-kissed hair found only in vitamin ads. "For me it was about 'How do I make it slightly different?' " The Wi-Fi password at Primary is FEELGREAT.
Coworkrs, my next destination, helps you live your best Brooklyn life. "Our idea is trying to infuse the neighborhood in the space," says co-founder Shlomo Silber, 32. That starts at the front desk, where the Coworkrs motto, "At Home at Work," is hand-painted on a made-to-look-artisanal wooden sign. Elsewhere in the three-story former tile factory in the industrial Gowanus neighborhood are exposed timber beams, distressed cement walls, a staircase made of steel slabs, and art that looks like Banksy snuck in to paint. For a Brooklyn gentrifier like me, it feels like home, or at least like the aspirational home-goods store down the street.
Silber's neighborhood-infusion strategy is smart. People working in these spaces told me they choose one based on proximity to home since commutes are a time suck that cuts mostly into leisure hours. Often their goal is just to get out of the house. Commandeering a table at your local coffee shop used to be the way to do this. It was cheaper. A day pass to Coworkrs costs $40, about the same as 10 cold-brew coffees. But unlike at Starbucks, there are plenty of outlets, privacy, and open seats. Plus, there's yoga on one roof deck and a garden on the other.
Despite potential distractions, most people I met at co-working spaces spend their time doing actual work. That's the case at my next locale, Study Hall, which is aimed at freelance writers. The Gowanus spot is one room with two wooden-slab tables that sit six people each. A couple of desks are shoved against a wall. Extension cords snake along the floor. It's among a handful of single-profession spaces: Rough Draft caters to designers, Rise attracts fintech companies, and the Farm focuses on wellness technology startups. "Not to brag, but we actually provide community," says Peter Moskowitz, 28, who co-founded Study Hall with freelancer Kyle Chayka (who has written for Bloomberg Businessweek). It cost about $6,000 to get the location going, Moskowitz says. "The idea of working next to some tech guy doesn't do anything for me. I would have nothing to talk to him about. We want to talk to other journalists."
Working at Study Hall is like hanging out with co-workers at Bloomberg headquarters, which is to say there's real work involved. At the crack of 11 a.m., other writers trickle in, and we talk shop. One reporter gives another a potential lead on a story in Orlando in the wake of the nightclub massacre. "We're all engaged in the same professional stuff. We can help each other," Moskowitz says. Except that most of the time, Study Hallers sit silent, headphones on. Despite all the talk of community, in my week inhabiting co-working spaces, I observed little human interaction. Whenever I point this out, evangelists mention in-house events organized by what are referred to as community managers. Study Hall has Q&As with authors. Primary holds breakfasts with nutritionists. NeueHouse has movie screenings with Meg Ryan.

At another neighborhood-themed space, the Yard, people drink. One evening I head to a Negroni-making class on the roof of the Lower East Side location, which caters to the party-going types who tend to live in the area. (The Yard has nine spots in New York; a 10th, in Philadelphia, is coming soon.) About 50 people, almost all younger than 35, are there. Channing James, a bartender at restaurateur David Chang's Momofuku Ko, begins with a lesson. "Can anyone tell me what gin is?" he asks. "Alcohol!" respond two women. They grab a Beefeater bottle and pose for an Instagram photo. "Everybody say, 'Alcoholics Anonymous,' " says the man taking the pic. They oblige. "I'm drunk!" one says.
Less than 10 minutes later, having assembled our bright red drinks with orange twists, we mingle. It's as fun as any happy hour with colleagues. The "alcohol!" women make conversation with strangers, but they're community managers—being friendly is the job. Half the people I talk to don't even co-work at the Yard. They're friends of members and came for a drink on a Manhattan rooftop on a hot summer night. Ken Zamkow, the founder of Sports Guru, a video startup, says he looked at 14 spaces before landing here. He lives in the area, but he says another consideration was more important: "Some places don't allow dogs."

The last stop on my tour, the Queens outpost of Brooklyn Boulders, isn't even a proper office. It's a rock-climbing gym with desks. (It also has locations in Chicago, Somerville, Mass., and, uh, Brooklyn.) After members started networking, the founders walled off space for tables, chairs, and a printer. Co-working, like access to the sauna, is an amenity that comes with the $115-per-month climbing fee. On a Friday afternoon, about a half-dozen people in workout clothes type on laptops on a platform overlooking fake boulders. Music blasts. Kids run around. I can't get anything done, but two women who work for Perfumer & Flavorist magazine appear to be having more success. When they need a break, they climb.
"We'll do half an hour of climbing, 20 minutes of work," says Paige Crist, 38, who has on yoga pants and a muscle shirt. "If we have a problem, we take it to the wall. You climb it out, and you come back with a fresh perspective." Do their bosses mind that they spend more than half the day not working? "If we weren't exceeding expectations, they'd probably not be cool with it," Crist says, laughing.
It's nice work, if you can get it. I don't climb, but I do yoga, and when I'm talking to Crist, I think back to my midday vinyasa class at Primary. I loved it, even though I spent an extra hour at my desk. And though it didn't necessarily clear my head, it was a welcome break from e-mailing. Many of the people I talk to at Brooklyn Boulders spend way more than nine hours at what is essentially their office. They climb and work and work and climb until midnight. I ask Crist when her workday ends. "It's just when you get to a good stopping point," she says. "I'm usually never done working."
(
Corrects the number of the Yard's locations in the ninth paragraph.
)