Can Turkey's Republic Survive Erdogan's Purge?
Keeping an independent newspaper in business is hard enough. Try doing it in Istanbul.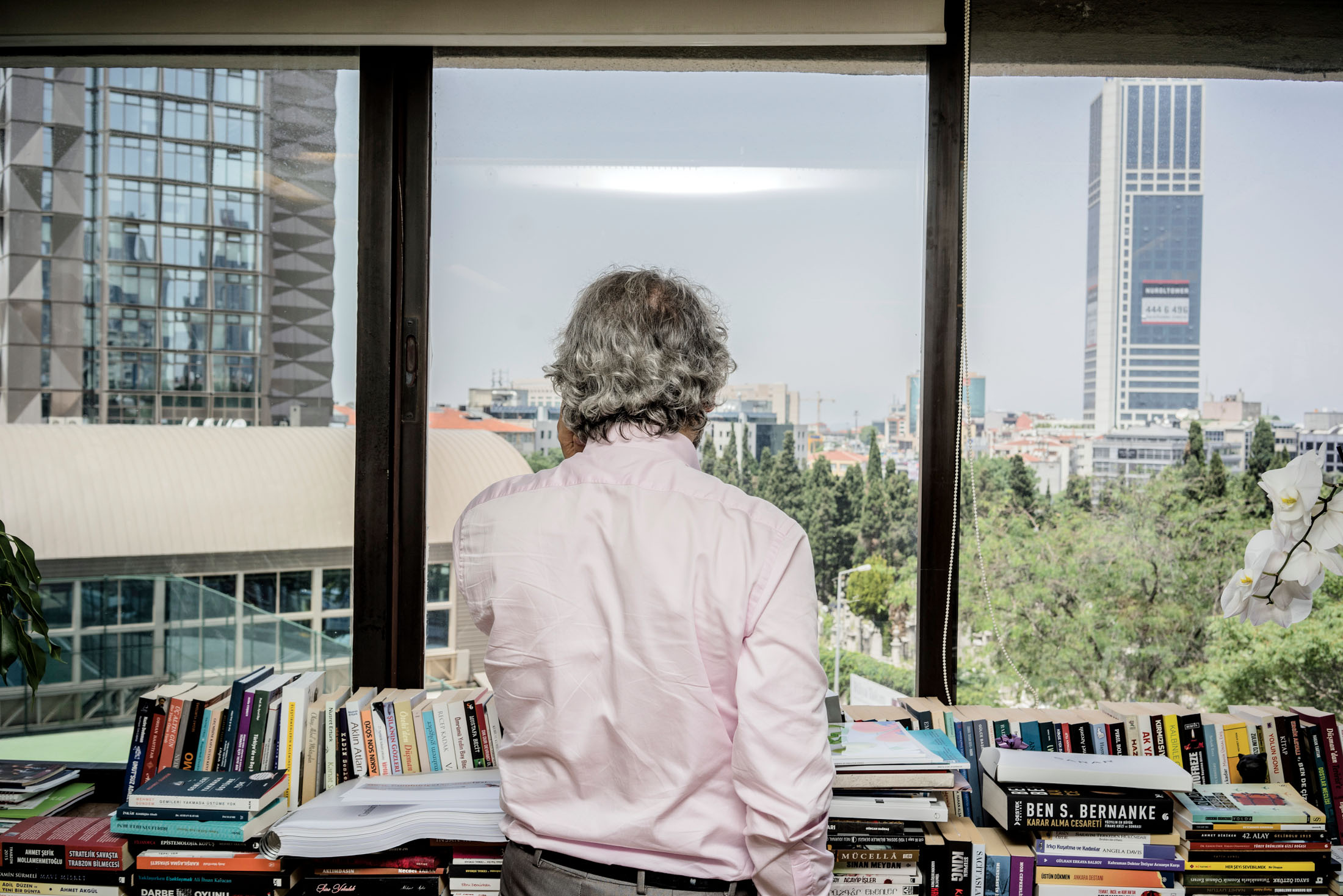 Photographer: Guy Martin
On the afternoon of May 6 the Turkish journalist Can Dundar was speaking to a television reporter outside Istanbul's Caglayan courthouse when he noticed a man with a mustache and a navy-blue windbreaker walking toward him, holding a handgun. Dundar (pronounced DOON-dar) is editor-in-chief of the newspaper Cumhuriyet, one of the few Turkish media outlets still openly critical of the government. He and Cumhuriyet colleague Erdem Gul were awaiting their sentences after a monthslong criminal trial. Dundar's bodyguard had remained inside during the court's recess. Seeing the gun, the TV reporter said, "Run."
The man with the mustache fired two shots, shouting, "Traitor!" Dundar hopped to one side, his shoulders hunched, and ducked behind his interviewer, who moved to shelter him. Dundar's wife, Dilek, grabbed the assailant's right arm, and a parliamentarian who had been standing nearby bear-hugged the man from behind. Dundar ran a few steps off, then slowed and looked back. He was unscathed, though one bullet had grazed the leg of the TV reporter. Seconds later the attacker was kneeling, with the guns of three plainclothes police officers and the cameras of more than a dozen TV crews trained on him. Then Dundar and Gul went back into the courthouse to receive their sentences: five years in prison for Gul, five years and 10 months for Dundar. (They remain free while their case is on appeal.)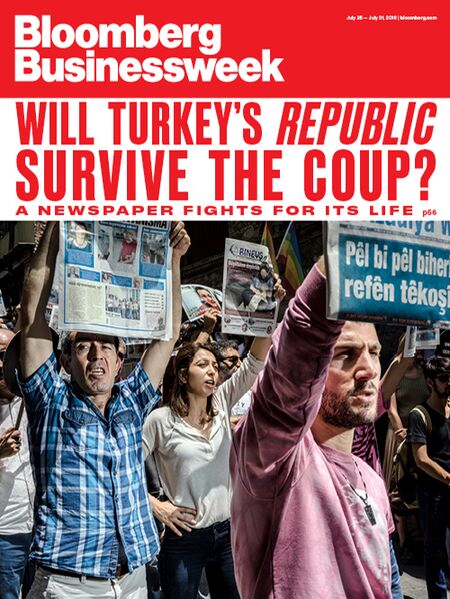 A trim man with a broad face and a springy mane of gray hair, Dundar, 55, became Cumhuriyet's editor-in-chief in February 2015. His conviction this May—Dundar says he's the defendant in so many concurrent cases he's all but lost track—was the result of a story he published a year earlier detailing how Turkey's national intelligence agency smuggled weapons into neighboring Syria, most likely for Islamic rebels fighting the forces of President Bashar al-Assad. After the story came out, Turkey's president and former prime minister, Recep Tayyip Erdogan, went on television and promised that the parties responsible for the story "will pay a heavy price." Six months later, Dundar and Gul were charged with aiding a terrorist organization, attempting to overthrow the government, espionage, and revealing state secrets. So far, the two have been convicted only of the last offense. They've already spent three months in pretrial detention, inhabiting adjoining cells in Istanbul's Silivri Prison until Turkey's constitutional court ordered their release.
Turkey has never had a truly free press. It has a long tradition of censorship, especially around the combustible politics of its religious and ethnic minorities. And that was before the bloody coup attempt of Friday, July 15, which began with fighter jets buzzing Ankara and military units in Istanbul closing both bridges across the Bosporus. Battles among civilians, police officers, and soldiers left 290 dead and 1,400 wounded. The putsch also showcased the courage of Turkish journalists: The staff at CNN Turk defied a helicopter full of putschist soldiers who showed up to take over their studios, and a photographer for the pro-government daily Yeni Safak was shot dead in the street.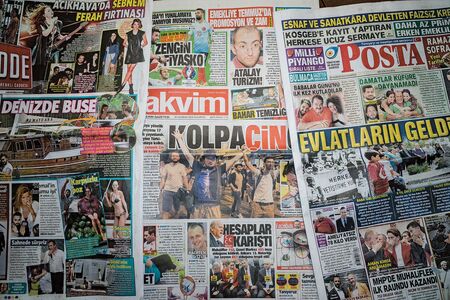 Many in Turkey worry the failed takeover will only hasten the end of independent journalism there. In recent years, Turkish journalists have described a climate far worse than anything they can remember. TV stations critical of the government have been dropped from the state-run satellite broadcaster—one of them, the pro-Kurdish IMC TV, in the middle of a live interview with Dundar and Gul. Foreign journalists have been deported and denied entry to the country, and last fall mobs led by a prominent young politician in Erdogan's party twice attacked the Istanbul offices of the newspaper Hurriyet. Reporters Without Borders lists Turkey 151st out of 180 countries in its World Press Freedom Index, between Tajikistan and the Democratic Republic of Congo. In June the watchdog group's Turkey representative was arrested and placed in detention on charges of distributing terrorist propaganda.
"Like Russia, we have come to the end of journalism," says Yavuz Baydar, a longtime columnist and co-founder of the Platform for Independent Journalism, an Istanbul-based nonprofit. Under a law that criminalizes insulting the nation's leader, more than 2,000 cases have been opened against journalists, cartoonists, teachers, a former Miss Turkey, and even schoolchildren in the past two years. The few days since the coup have seen massive purges. Tens of thousands in the military, police, and judiciary have been fired or detained; 21,000 teachers have had their licenses revoked; and the deans of all the nation's universities have been ordered to resign. Several news sites have been blocked, and two dozen TV and radio stations have had their broadcast licenses canceled. Erdogan and his defenders justify these measures as necessary to keep the country from flying apart.
"We maintain that it's illegal to disclose classified information and place security officers at risk," says an official in Erdogan's office, who declined to be named when discussing Dundar's case. In the aftermath of the coup, "Our priority is to shed light on how and why more than 200 innocent people were killed by the coup plotters and to make sure something like this doesn't happen again."
Six stories tall and prematurely crumbling, the offices of Cumhuriyet (the name means "Republic") sit on a corner across from a walled cemetery. Dundar's office is on the top floor, with the Caglayan courthouse visible through the white orchids that crowd his windowsills. An 8-foot-tall fence manned by armed guards and garlanded along one side with grapevines has offered little protection against the grenades and homemade bombs that have been thrown at the building over the years. After the deadly January 2015 terrorist attack on Charlie Hebdo, Cumhuriyet was the only paper in the Islamic world to reprint the French satirical weekly's cartoon of the Prophet Muhammad. Police closed off the entire block against the protesters who gathered in response. This spring the two Cumhuriyet writers whose columns accompanied the images were sentenced to two years in prison for "inciting public hatred." Like Dundar and Gul, they're out on appeal.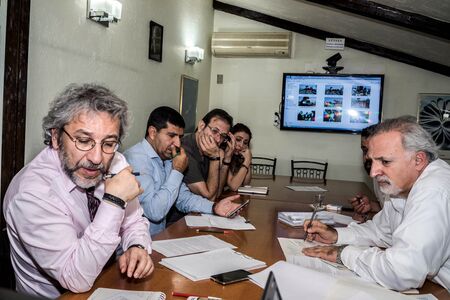 Cumhuriyet's daily front page meeting takes place at 2 p.m., in a room just under the roof with a sloping, half-timbered ceiling. The paper's top editors, mostly middle-aged men, work their way through a list of stories, and a designer mocks up the front page in pencil on a large sheet of blue graph paper. On a Wednesday afternoon in late May, the first item on the list is German Chancellor Angela Merkel's latest visit to Ankara to discuss the refugee problem. Turkey, already housing 3 million of Syria's displaced, agreed in March to take in migrants expelled from Europe.
Farther down the list is the shake-up in Erdogan's cabinet following the resignation of Prime Minister Ahmet Davutoglu, part of the president's continued centralization of power. The meeting moves on to the number of generals and admirals who attended the wedding of the president's daughter and the scion of a Turkish defense contractor. Then Pinar Ersoy, the paper's young foreign editor, proposes running a translation of a New York Times Magazine story about renewed fighting in the southeast between the Turkish military and the separatist Kurdistan Workers' Party, or PKK. With a limited reporting budget and 24-hour curfews limiting access to the besieged cities, Cumhuriyet has few other ways to cover it. Dundar cautions Ersoy about using one of the more inflammatory quotes in the story. "Soldiers are dying," he explains. Kurdish and Islamic State terrorists have killed 280 people in Turkey over the past year.
Dundar grew up in Ankara, the Turkish capital, where his parents worked for the government. "Ankara is a city of bureaucrats," he says with a dismissive smile. His father was a functionary in the national intelligence agency, the MIT, and his mother worked in press relations, doling out reporters' credentials. To the young Dundar, the life of a newspaperman held a certain rebellious glamour. After studying journalism at Ankara University, he did graduate work in London, then returned home for a Ph.D., writing a thesis on how Turkey and Britain handled state secrets during wartime. "Now it's ironic, of course," he says.
Over the next few decades, Dundar moved between print and television. He made documentaries, reported for the NTV channel and CNN Turk, and churned out 40 books. He joined Cumhuriyet three years ago as a columnist after being fired by a larger newspaper, Milliyet, over his insistence on writing about the massive 2013 antigovernment protests that spread from Istanbul's Gezi Park.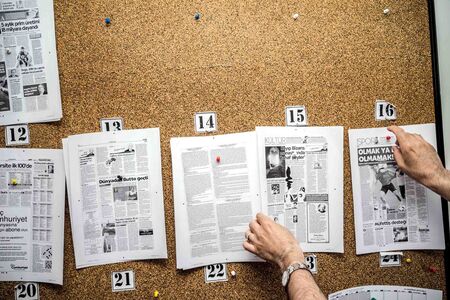 Cumhuriyet has a storied and tortured past: It was started by a comrade of Turkey's revered founder, Mustafa Kemal Ataturk, and in the violent politics of the 1980s and '90s six of its columnists were assassinated. A shoestring operation, it's owned by a foundation, which insulates it somewhat against the financial pressure the government can bring to bear. Some of the most influential newspapers and TV stations in Turkey have in recent years been bought, often at the insistence of officials of Erdogan's Justice and Development Party—the AKP—by businessmen whose fortunes depend on government loans and public contracts. "The owners of media channels are actually in other businesses—telecommunications, energy, construction—so there's a huge conflict of interest," says Asli Tunc, a professor of media studies at Istanbul Bilgi University. "They're not criticizing any policies of the government. On the contrary, they are making very obvious propaganda." Erdogan has boasted that the owner of Milliyet asked him to suggest a new editor-in-chief.
Cumhuriyet, by contrast, has trouble finding companies willing to take the risk of advertising in its pages. Most of its income comes from newsstand sales: Its circulation hovers around 50,000, and at 1.5 Turkish lira (49¢), it's slightly more expensive than most papers. That funds operations, ink and paper, and the modest salaries of its staff of 200. As editor-in-chief, Dundar spends much of his time traveling abroad to accept prizes from media and civil society organizations—this fall the Committee to Protect Journalists will award him the prestigious International Press Freedom Award—and he has begun talking to international foundations about helping to fund the paper. "We have many awards from all over the world," he says, "but we can't eat them."
The paper faces the same problems papers face everywhere, as younger readers get their news from social media and the internet destroys the newspaper business model. Twitter is hugely popular among Turks, a fact not lost on the government. Turkey is the world leader in government requests to remove content from the service (Russia is second), and it has shut down Twitter and YouTube in the past. The AKP has a 6,000-person social media team; critics of the government can expect to be targeted by coordinated Twitter attacks.
When Erdogan first came to power in 2003 as prime minister, Dundar was among those who were cautiously optimistic. The AKP is largely an Islamic party, but as mayor of Istanbul in the 1990s, Erdogan had focused on improving the roads, public transit, and an overtaxed water system. As prime minister, Erdogan helped open up Turkey's stagnant economy and started talks with the PKK. As president, he's become the most powerful leader Turkey has had since Ataturk. Most important for Dundar, Erdogan stood up to the military, which had, in the name of Ataturk, overthrown civilian governments four times since 1960. "Erdogan promised at the beginning to take the army out of Turkish politics, and he did that," Dundar says.
The mechanism for this was a series of prosecutions, starting in 2008, alleging a massive plot to overthrow the government. The list of defendants, which grew to several hundred, included not only senior military officers, but also politicians, lawyers, activists, academics, and journalists. Many of the charges were clearly trumped up. Forensic experts found, among other inconsistencies, that incriminating documents alleged to be from 2002 and 2003 were written using Microsoft Office 2007.
The prosecutions were born out of an alliance between the AKP and the followers of Fethullah Gulen, a Turkish cleric. From his self-imposed exile in Pennsylvania's Pocono Mountains, Gulen preaches a progressive version of Islam and presides over a global network of for-profit schools and test-prep programs that bring in money and churn out fervent followers. Gulenists were prevalent in the Turkish National Police and the judiciary, and many Turks are deeply suspicious of the movement.
After the trials, the prime minister and the Gulenists fell out. "The last two forces left standing in Turkey were the Gulen movement and Erdogan, and they turned on each other," says Gareth Jenkins, an Istanbul-based analyst with the Central Asia-Caucasus Institute & Silk Road Studies Program Joint Center. In December 2013, Gulenist police officers and prosecutors launched a sensational corruption investigation of AKP officials and party-linked businessmen. Erdogan, still the prime minister, responded by firing or reassigning anyone in law enforcement suspected of being a Gulenist. Media outlets linked to the movement were singled out, including Zaman, the country's biggest newspaper. In March of this year the government took it over, sending riot police to clear the building.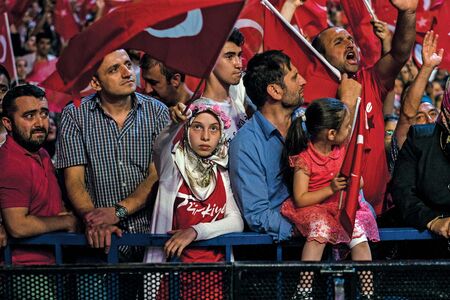 Erdogan has described the coup attempt as a sharp escalation of this battle. He's blamed it on the Gulenist "parallel state"; the resulting purges he presents as a means to cleanse government and civil society once and for all of anyone affiliated with the movement. Early on the morning of July 16, he described the plot as a "gift from God"—an opportunity for a final reckoning.
Although pro-government news outlets far outnumber critical ones, it's difficult to find journalists from them willing to speak to a foreign reporter. I met with one, a columnist and TV correspondent, at a sidewalk cafe overlooking Gezi Park. We spoke for nearly two hours. The thing to keep in mind, she told me, was that there is no truly independent Turkish media. Each outlet is aligned with one of the country's fractious religious, political, and ethnic groups—Islamist or Gulenist, Armenian, Kemalist or Kurd—and blatantly slants its coverage accordingly. Cumhuriyet, as she saw it, was no different. "In Turkey, everyone lies," she said. "Every journalist fakes stories. The pro-government newspapers make false stories. Antigovernment newspapers make false stories. People don't apologize for that."
In attacking journalists, she pointed out, Erdogan is mostly using laws inherited from previous administrations. She disputed the characterization of a nation sliding toward autocracy. Erdogan had helped ease long-maintained taboos, such as discussing the country's persecution of its Alevi minority or publicly proclaiming one's devout Muslim faith. That helps explain why, during the coup, thousands heeded his call to take to the streets and defy the military. Erdogan is, the journalist argued, leading a difficult transition from a military-dominated, insular, impoverished nation to a modern, pluralistic democracy. "Is Turkey a more democratic country in 2016 than it used to be in 2002? Yes. And will Turkey become a more democratic country in 2026 than 2016? Yes," she said. "We are trying to establish a new Turkey—a new legal system, a new culture, a new administrative structure—in a region where all the bordering countries are suffering from serious problems."
A few days after we spoke, the journalist e-mailed, expressing regret for having granted the interview. "This is a very, very complicated subject," she wrote, "and the international press prefers to portray it in a black and white style (which is kind of understandable to a certain extent)."
Late last year, Cumhuriyet carried Dundar's account of the first night he spent in prison while awaiting trial. It happened to be his wedding anniversary, and as the cell doors closed, he was surprised by an unlikely sense of relief. His life had become unbearably stressful; there were the financial straits of the paper, the multiple criminal charges; there were death threats and his mortgage. He'd been longing for an escape, and sitting alone in a prison cell he realized, "Exactly what I wanted happened." With characteristic speed, he wrote a book about his imprisonment by the time he was freed.
Dundar's courthouse attacker, 40-year-old Murat Sahin, has been indicted on multiple charges—he claims he only meant to teach the journalist a lesson. As for Dundar, he struggled to find the sense of freedom he tasted in Silivri Prison. On July 7 he announced he was taking a leave of absence. The past year, he wrote to the staff, had taken a toll: "While my passion for journalism and determination to report did not subside one bit, I feel I grew physically and spiritually tired." Shortly after his announcement, he flew to Hamburg to receive another award.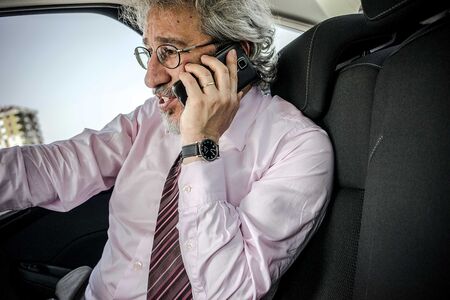 Back in Istanbul, Aydin Engin ran the paper in Dundar's absence. A week later, on the evening of July 15, he headed back to the office, getting in at around 10 p.m. At first he was dubious about the rumors of a coup. TV stations hadn't been taken over, and social media was still working. "I know a lot about coups. I'm used to them, I'm 75 years old," he says. "I told my colleagues I won't believe it until a general gets on TV."
As it became clear he was wrong, the paper sent five reporters into the streets, then called them back for security reasons. The entire staff was at the offices all night—they would end up working for 40 hours straight. At 4 a.m., with the coup appearing to falter, they finally decided on the next day's headline: "Democracy Is the Only Solution," with a photo of triumphant citizens posing on a tank. At 4:30 a.m., a threatening-looking crowd began to form outside the office, dispersing after the staff turned off the lights. Eventually, Engin and two colleagues checked into a hotel for a few hours to sleep.
In the days since the coup, the fear and euphoria have given way to grim apprehension among Turkey's dissident journalists. Writers and editors who freely criticized the government before the coup are far more circumspect now. "There is mass violence every evening in Istanbul," one says. "Thugs of the AKP attack people, and these attacks appear to be spontaneous, but maybe they're not."
"It's an acutely worrying and turbulent period we're in," says Emma Sinclair-Webb, an Istanbul-based researcher with Human Rights Watch. "People—people who didn't support the coup—are very afraid of what's to come and where this can go in the days ahead, in terms of fundamental rights and freedoms and the rule of law."
When the coup began, Dundar was still in Europe. "I'm disappointed, of course I should have been there," he says in a phone call on July 19. He's not planning to go back to Turkey for a while, though. When asked, he says it's probably better not to reveal exactly where he is. Two days earlier, and one day after the coup was put down, a list of 70 journalists slated for detention appeared on a pro-government Twitter account. Dundar's name was on it.
—With Isobel Finkel and Arzum Karasu