Avoid the Mykonos Crowds at These Stunning, Lesser-Known Greek Isles
Right now, such famous Greek beach destinations as Mykonos and Santorini are filling up with global tourists. But Greece has 200 inhabited islands; if you want a genuine local experience without the crowds, these seven quiet spits of land offer something unique and unforgettable.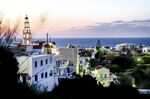 Come here hungry: This chic little hideout is the original home of Nikos Tselementes, Greece's answer to Julia Child. He was the first person to write down traditional recipes for Aegean cuisine a hundred years ago, and Nikos's book remains available today. Most of those signature local dishes lean heavily on the herbs that grow on the rugged landscape of Sifnos–think thyme and sage–as well as the olive trees and goat's milk cheeses such as manoura and mithizra, which are usually cooked in the type of clay pot used here for centuries. Manolis is the best place to sample that food; the eponymous chef's son is now in charge of the kitchen.

Don't miss the medieval town of Kastro, a tiny fortified enclave bolted to steep cliffs that resemble a set from some lost Indiana Jones movie.
Where to stay: Book the private villas that form part of the Verina boutique hotel, with a private lap pool, gym, and hammam.

This roughly circular island probably derived its name (which means rocky) from an ancient myth that claimed that Serifos's original inhabitants were petrified into boulders by Medusa's death stare. Today those rocks, erstwhile humans or not, are its key allure. This is a paradise for outdoor types, a peaceful, hike-friendly island whose best beaches are reachable only after strenuous exertion. To bake on the marvelous Kalo Ambeli, you'll need to drive on rough-hewn roads and then clamber over the landscape for at least 15 minutes.

Pack plenty of water, sunscreen, and a shady hat for the island's prime hike, though: a four-hour expedition from the old town, via a series of winding paths, to the fortress-like whitewashed hulk that is the centuries-old monastery of Taxiarchis.
Where to stay: Livadi, the southeastern port, is the handiest base because the island's old town is perched, Santorini-style, high on a hill via a miles-long, twisty road. Make like the chic Greeks who form the bulk of this island's visitors by booking a villa there.

It isn't easy to reach this island in the northern Aegean, especially from Athens. Hugging the Dardanelles, Samothrace is a six-hour journey by car and ferry, even from regional hub Thessaloniki. The odyssey is well worth the effort, though: Samothrace's lush greenery and pristine landscape is punctuated by the peak of Mount Fengari, which reaches more than 5,000 feet above sea level.

Spend time here exploring the countryside, and you'll be rewarded by thermal pools, hot springs, swimming holes, and waterfalls. Soak up history, too. The rubble-strewn Temple of the Winged Victory, or Nike, was the original site of one of the best-known sculptures from antiquity; The Winged Victory of Samothrace is now spectacularly displayed in the Louvre in Paris.
Where to stay: Enjoy views from the terraces from Archondissa, a self-described boutique beach hotel perched perfectly on Therma beach, between the coast and that mountain.

Most incomers to Amorgos, the easternmost island of the Cycladic cluster, are making a pilgrimage to the key location site for Luc Besson's free-diving epic, The Big Blue. If you want to follow their lead into the depths of the Aegean, Greek Navy special ops vet Dimitris Sinodinos runs the decade-old Amorgos Diving Centre, which conducts scuba and snorkeling trips alongside free-dive certification for first-timers.

Otherwise, come here for the chance to detox entirely: This kidney-shaped island is one of the quieter corners of the Med, even in summertime. Most of the amenities are in the chora around Katapola harbor, where you can try such island delicacies as xerotigana (fried tamale-like pies filled with beet and fennel).
Where to stay: English-speaker Mike Roussos owns an island-spanning network of chic chalets, Agios Pavlos, including several right on the pebbly namesake beach on Amorgos's northern edge.

Sure, Tom Hanks and his Greek-American wife Rita Wilson might have a house here, and Madonna and Bruce Springsteen have both been sighted in its tiny chora. But Antiparos is aptly named: This is the antithesis of nearby Paros, the rowdy, package holiday-crammed sibling island. Indeed, this is a bohemian hideout, full of moneyed Athenians with few inhibitions. (Pack lightly for a trip; many beaches are clothing-optional.) The best skinny-dipping spot is the small crescent of sand just opposite the islet of Dipla, which can be reached by wading through the waters amid most tides.

While swimsuits are also optional at pebbly Soros beach, pack one to wear during lunch at the beachfront taverna, which serves a killer version of the island's signature fish stew, kakavia.
Where to stay: Crash at the restaurant with rooms, the Big Blue, with its lively bar and comfy hammocks.

The package-holiday sun-seekers who have overrun Kos and Rhodes have damaged the reputation of their island cluster, Greece's easternmost Dodecanese. They have also helped keep crowds away from such unspoiled gems as Karpathos, which feels much like a trip back in time. Women in Olympos, the island's hilltop town, often wear traditional dress, and Karpathos is known among mainlanders for the locals' love of folk music and the riotous traditional festivals they throw during August.

Karpathos is also handy for more modern pastimes: Thanks to some windy weather systems nearby, several windsurfing outfits operate on the coast.
Where to stay: The gleaming Hotel Konstantinos Palace, with its multilevel pool, spa, and expanse of beach, rivals most luxury hotels in South Beach or the south of France. It's mere steps from the downtown of the island's biggest community, where you'll find a hodgepodge of tasty tavernas. Boats leave the port daily to shuttle visitors to stunning, isolated beaches with crystal-clear water and gray, stone shores.

The fashion flock makes up the bulk of this island's seasonal visitors, especially Milanese who have coopted it as an extension of La Dolce Vita. (An estimated three-quarters of the tourists here are from Italy.)  Certainly, the largest, most appealing beach on the island, Pori, wouldn't seem out of place on the Tuscan coast, complete with a stylish beach bar that mixes super-sized servings of Aperol spritz.
Gastronautis is a new-ish café in the town center that features contemporary riffs on Greek classics; its minimalist modern interior, though, has a distinctly Italian affect. There's even a design store, Spigolo, on the same cobbled street, run by an expat couple from Ancona.

Where to stay: The fanciest hotel in town is Aeolos, on the hilltop of the main settlement. The rooms are large, albeit simple, and the setting is unbeatable; the bougainvillea-wreathed terrace and outdoor pool offer killer views of the bay.