Michelob Ultra: Get Fit ... Then Get Lit
Behold the macrobrew miracle.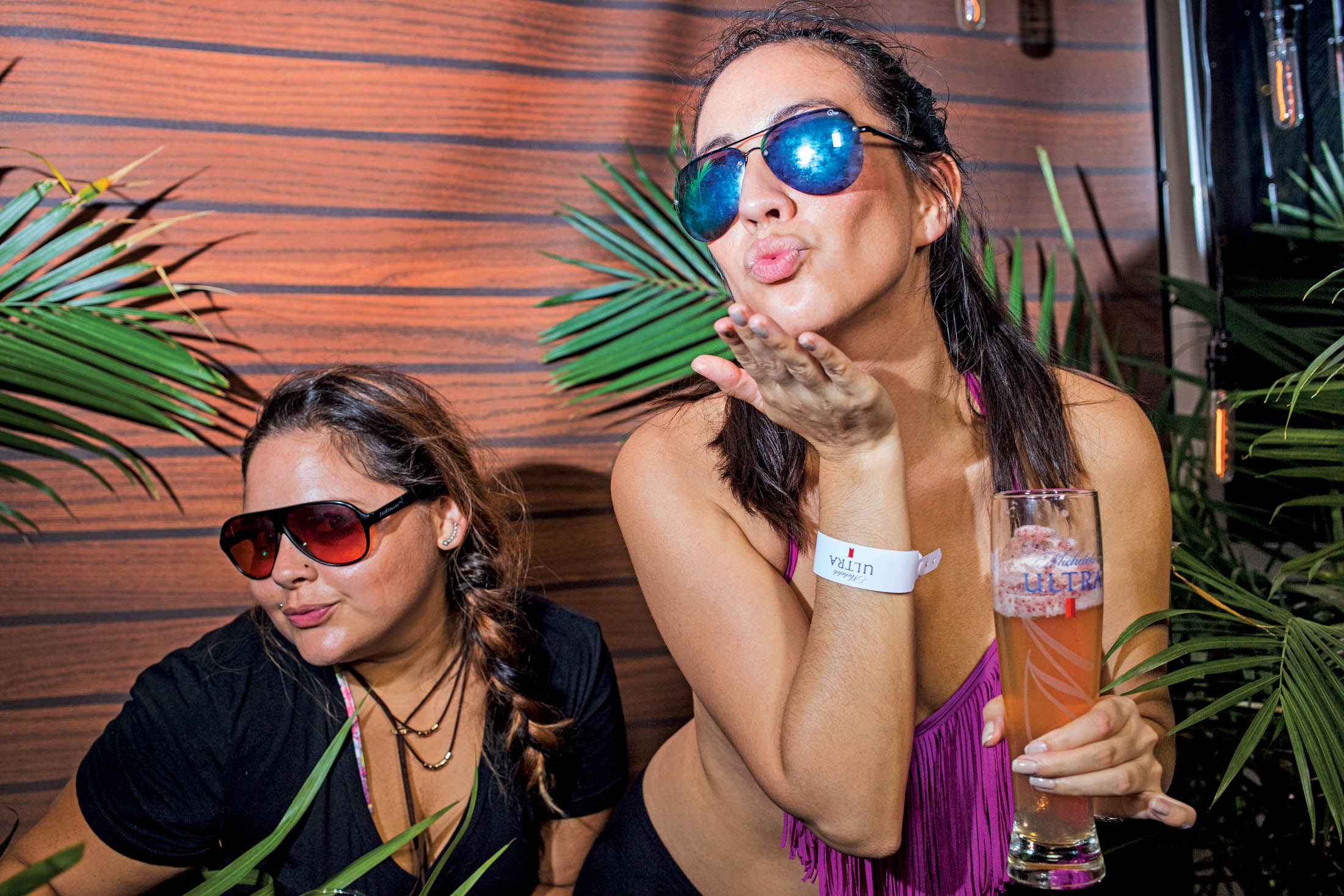 Photographer: Eva O'Leary for Bloomberg Businessweek
Sixty paddleboarders are floating through Biscayne Bay on a mild evening in June. To the west, the sun dips below the Miami skyline. A cameraman bobs in the water snapping pictures as they teeter past. A drone buzzes overhead taking video. The paddlers make a right at the Miami River toward their destination: a 120-foot, triple-decker party boat loaded with coolers full of Michelob Ultra.
I have come on this sunset cruise to investigate a macrobrew miracle: Michelob Ultra is thriving even as nearly every other mainline domestic beer is in slow decline. In the past three years, Ultra's annual shipments have risen 27 percent, from 4.1 million to 5.2 million barrels, according to Beer Marketer's Insights. In that same span, the leading U.S. brand, Bud Light, is down 4 percent; Coors Light, 6 percent; Budweiser, 7 percent. Name any big American brand, and the story is the same. Craft brews and imports, especially from Mexico, are chipping away at their market. Only Michelob Ultra, a low-calorie, low-carbohydrate lager from Anheuser-Busch InBev, is soaring alongside the microbrews and Modelos.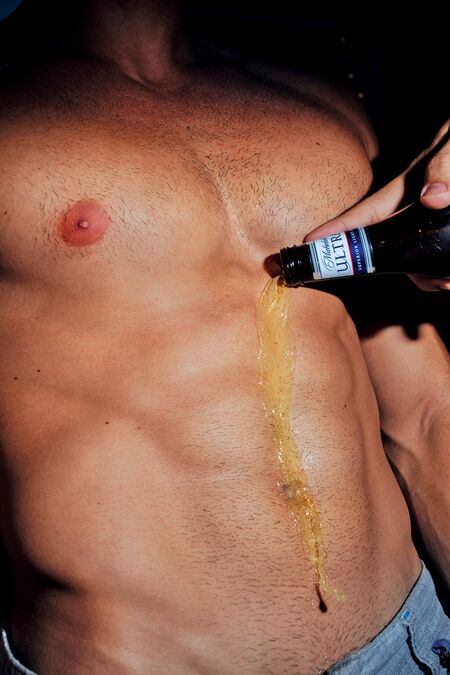 "It's awesome," says Wendy Sebastian, holding a glass full of Ultra on the party boat in Miami. Sebastian, a 45-year-old stay-at-home mom from Chicago, won her place on board by writing about her fondness for Ultra on Facebook—part of a contest the brand is holding this summer. In return for writing about the beer's latest slogan ("Brewed for those who go the extra mile"), winners are offered a chance to board the Miami party boat in June, jog through New York City in July, or climb a beachside cliff in Southern California in August—always followed by drinking. They get, in other words, to live inside of an Ultra TV ad for a day. Ultra's Super Bowl spot earlier this year featured a series of chiseled men and women exhaling through their mouths after doing squats, sprinting, cycling, and shadow boxing—followed by the hiss of an Ultra bottle cap twisting off.
In her winning entry, Sebastian wrote about doing "one more rep, one more minute, one more set," before treating herself to an Ultra. She tried the beer for the first time in February. "I was going on a health kick," she says. It quickly became her beer of choice. "I don't like most light beers. This is crisper and more refreshing and doesn't leave a nasty aftertaste like Miller Lite," she says, delivering a testimonial that should leave the brand managers high-fiving. "This is really champagne-y for a beer. And it doesn't make me feel all full and gross."
AB InBev introduced Ultra in 2002, during the height of the Atkins diet craze, to appeal to drinkers who had come to see carbohydrates as the enemy. The main selling point was Ultra's 2.6 grams of carbs per 12-ounce serving, vs. Budweiser's 10.6 grams and Bud Light's 6.6. It worked almost too well. In its first full year on the market, Ultra shipped more than 3 million barrels, cutting into the market for Bud Light. (To protect its more established brand, Anheuser-Busch put out ads telling consumers, "All light beers are low on carbs. Choose on taste.")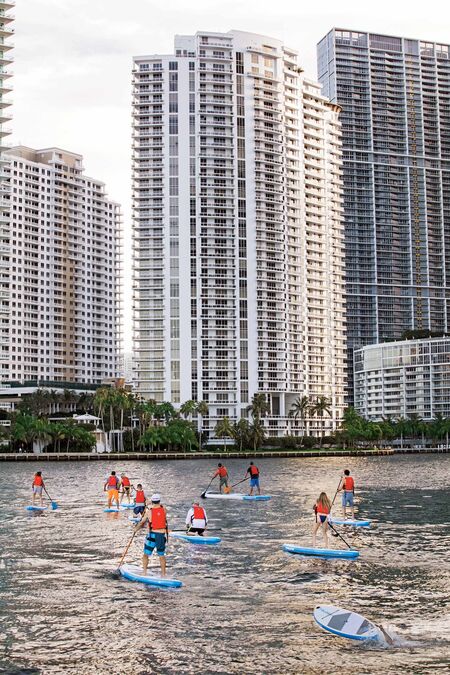 The success spurred an arms race of low-carb and extra-low-calorie beers. Coors came out with Aspen Edge (94 calories, 2.6 carbs). Anheuser-Busch followed with Budweiser Select (99 calories, 3.1 carbs). Miller offered MGD 64, later renamed Miller 64 (64 calories, 2.4 carbs). Not to be outdone, Anheuser-Busch added Budweiser Select 55 (55 calories, 1.9 carbs). The big brewers were slowly moving into the bottled water business. Then the low-carb diet fad cooled, and the beers it had spawned were either discontinued or faded into irrelevance. Ultra survived, but its growth stalled. By 2010, shipments had flattened out at about 3.4 million barrels.
The brand staged a comeback, when the others haven't, by ditching its association with dieting and attaching itself to a new fitness lexicon instead. "Diet" and "light" are out. "Health" and "active lifestyles" are in. "The brand is really positioned around this active lifestyle space," says Joe Lennon, Ultra's 32-year-old brand director at AB InBev. "Our target consumer is somebody who makes a conscious effort to live that healthy, active lifestyle but still enjoys time with friends and having a few beers." During our 15-minute conversation on the shore in Miami, Lennon says "active" 21 times, usually with "lifestyle" close after.
"They've gone beyond light into health," says Allen Adamson, founder of Brand Simple Consulting. The distinction matters, Adamson says, because consumers choose a beer brand based in large part on the message it sends to others. "If I am holding a Miller 64, it says I am on a diet," he says. "If I am holding any other light beer, it says I'm a wimp." Holding a Michelob Ultra says: I like to go on all-day hikes and then throw back a few beers on mountaintops with my fit friends.
The carbohydrate and calorie information (95 per 12-ounce serving) are still there on the label, giving drinkers permission to indulge, but quietly, in silver against a white background. More prominent is the promise of a "superior light beer." AB InBev reinforces this "superiority" by selling Ultra for a little more than Bud Light but less than most imports and craft beers—a niche known in the industry as super-premium. The average 24-beer case price for Ultra, according to Nielsen, is $25.40. Bud Light is $21. Corona Extra, $31.40.
Ultra drinkers, according to AB InBev's market research, tend to be a little older than the typical light beer customer, a little more affluent. And, more often than usual for light beers, they're women: 35 percent female as opposed to 30 percent. The brand has succeeded in appealing to drinkers who are done with funnels and shot-gunning but still like to party, and whose fondness for small-batch anything is matched only by a desire to stay fit.
On the party boat in Miami, Ultra "brand ambassadors"—the women in tank tops and yoga pants, the men in T-shirts and shorts—hand out bowls of quinoa with carrots, beet salads, and nibbles of kale and polenta. The DJ plays Weezer, MGMT, and Foster the People. Above deck, Ben Schlottman, a 26-year-old who lives in Miami and works in marketing for a cruise line, takes in the evening air in a tank top and flip-flops. He's normally a craft beer drinker. "It's good for a mainstream beer," he says of Ultra. "I can actually taste a little flavor." His wife, Tiana, declares Ultra "bearable." This is about the normal level of enthusiasm on the boat. Other verdicts include: "a good keep-you-going beer" and "not bad, actually."
But Ultra doesn't need raves. The pitch to drinkers is largely about what it doesn't have. "It's a beer that doesn't undo all the hard work that they put into working out," says Lennon.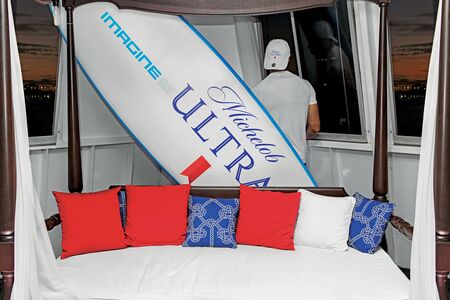 (
Corrects Joe Lennon's title in the seventh paragraph.
)