Last Service at the Four Seasons
In the weeks before the closing of New York's most storied lunch spot, the longtime staff had a chance to reflect on regulars, relationships, and inexorable change. This is what they saw, and remembered.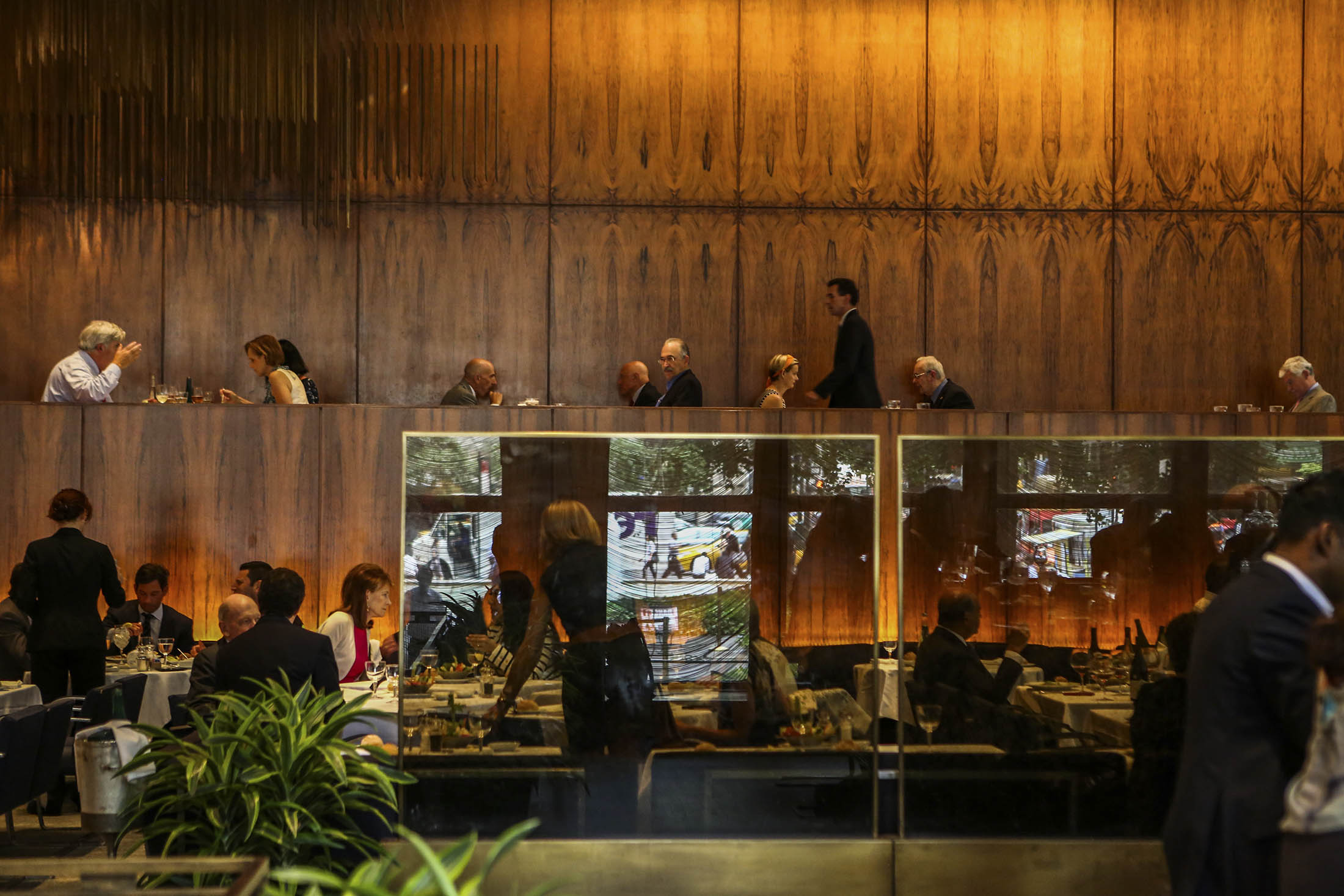 Photographer: Chris Goodney/Bloomberg
It was a moment that had been coming, just as it did most afternoons in the last days at the Four Seasons. The girls entered the pool. First one, then another; then two more, black dresses hitched up against the thigh-deep water. Then the laughter started, heads flung back, reassuring gulps of laughter. The men roared and reached for their camera phones.
Through the passageway at the bar, the conversation went something like this: "My dad used to hang out here in the 60s. Is it true you're shutting down?" The barman nodded. "Really—when?"
This was the Four Seasons, the Manhattan restaurant that spawned the term 'power-lunch.' Kissinger café, it was a place presidents popped into. Opened in 1959, it fed everyone who was anyone in this city where those kinds of definitions mean something. Out of work royals and Hall of Famers, regular millionaires and derailed billionaires, they all came here. This was the good life; fine dining for the .5 percent in the right company. And now it's over.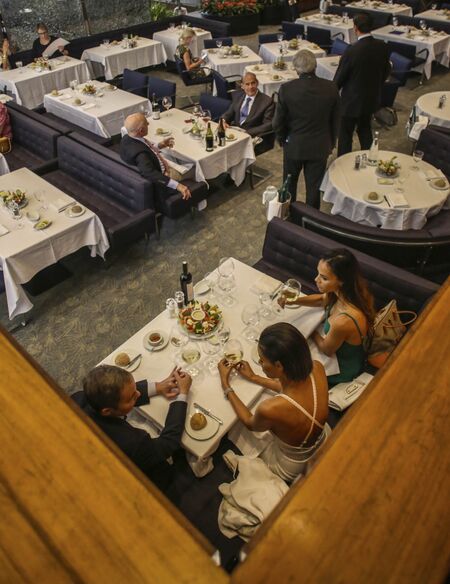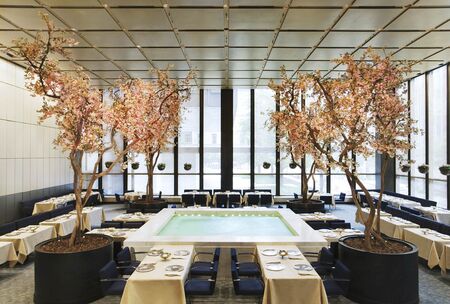 The Four Seasons, which opened when Dwight Eisenhower was president of the United States, is closed. Today, the plates will remain cupboarded, the silver drawered. The cavernous Grill room and walnut-clad passageways—landmarked and protected from alteration by the city—now belong to a new generation of restaurateurs. The shallow piscina that gave the restaurant's Pool room its name will be drained, the footprints of those frolicking diners scrubbed from the mosaicked bottom; menus of Dover sole and hanger steak, sautéed foie gras and in-season field greens replaced with something more inevitably contemporary. Memories of what once was will fade and be fictionalized.
But before any of that could happen, there had to be an ending, a last hurrah before the champagne ran dry.
For the 130 staff responsible for getting to that finale, led by the flamboyant Julian Niccolini and his quieter co-owner Alex Von Bidder, it meant dismantling an era and finishing what for some had been a life's work.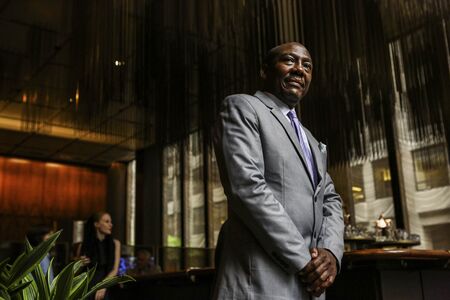 Three weeks before the end, Daniel Sanon, the Four Seasons' back of house manager, looked around the emptying room and sighed. Of the lunch parties to have just departed, two left tables on which mounds of pink sludge glisten like the corpses of cartoon flamingos. "The cotton candy has gotten way, way out of control recently," he explained. The oversize sugary spires were everywhere at the Four Seasons. Once just a treat for birthday diners, at the end the waiters bring it out whenever asked—which was often. After all, what could be better than cotton candy, except possibly cotton candy in a pool?
We were sitting on the terrace of the Grill Room, an elevated row of tables that the regulars call 'Siberia,' and Sanon, a powerfully set Haitian with a voice that seems always at the precipice of laughter, was explaining the difficulties of closure. "About two months ago, when it started to get really busy with tourists, I started to watch everybody's body language, the staff, and I got scared," he said. "I thought we are going to kill each other; we are not going to make it to the end. It's so stressful trying to get to the end."
Sanon joined in 1996 to process food. Lately, he was the restaurant's all-seeing eye. He was the steady presence in the emotionally charged final weeks I spent with the Four Seasons' staff, but his sentiment is universally held among them: the tourists have been stressing everyone out. They came in gangs, or alone to inhale the atmosphere before it went. One evening, nine men approached the bar. Out of towners a mile off, they asked for a drinks menu and were politely told they wouldn't be served anything on there. They filed out, a frustrated gaggle of plaid shirts and cargo shorts, but not before the obligatory selfie by the bar. The next night, two ladies from France wanted to know if they could get some liveried matchbooks.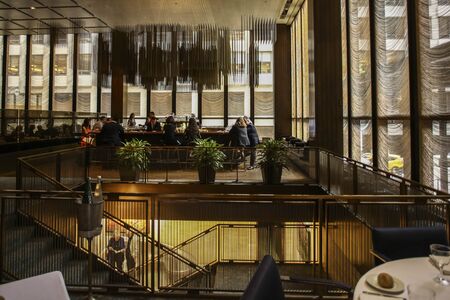 Photographer: Chris Goodney/Bloomberg
Another irritant for the staff was the surge in self-declared regulars demanding to be treated as, well, regulars—an orgy of nostalgia that eventually pushed reservations to 700 a day, twice normal level. Sonia Colon, who has managed bookings for 19 years, confirmed there was an "urgency to come to the Four Seasons now." In the last month, she heard them all: dying mother, dead dog, traveled cross country, or cross world; "We've been coming here forever!" That last one usually means, "We came once decades ago." Some of those lucky enough to get in have taken liberties, dragging the meal out for hours. "Right now it's all about nostalgia," she said, in the last days.
Then there were the real regulars, who weren't urgent, just despondent. They broke down roughly as follows: There was the "three times a month for the past thirty years crowd," the "every night at the bar but only for an hour crowd," and the "whenever I'm in town (and I'm going to spend large) crowd."
Then there were "fixtures," a quintet of hyper-hitters—Blackstone founders Steve Schwarzman and Pete Peterson among them—who had tables on permanent reservation and who, one imagines, will need withdrawal therapy.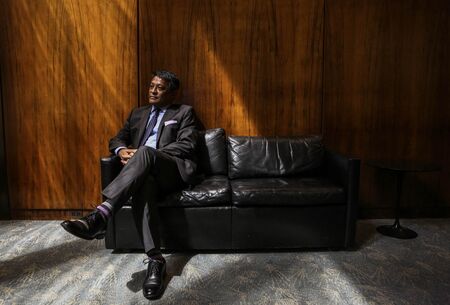 But what kept them coming? How has the Four Seasons, in this age of bulldozer faddism, endured? It's hard to capture the depth of relationship between the staff and regulars without descending into psychobabble, but anyone can say that it is all about the personal. Regulars book with someone they know—and who will be there to talk to them when they ascend the shallow steps to the restaurant. They get the table captain they ask for and with it, the comfort of being known. One, who didn't want to be named for this piece, was snuck in at 11 a.m. every day. In the half an hour of peace before the restaurant opens, he sips a whiskey and talked to his favorite barman. Sanon says the benefits of intimacy go both ways—the staff stays for decades because of it.
Indeed, the Four Seasons' success is a joint venture, a customer-staff conspiracy in which the regulars get a fix of almost casual familiarity, while the staff perform a long-mastered act of ignoring the big power of their guests outside the walls of the restaurant.
Perhaps inevitably, such amity has created the imprint of a family. Of the regulars and staff interviewed, many spoke of a "Four Seasons family." Birthdays, weddings, kids' graduations, blow-out trading days, they've been experienced together here. So, too, were the collective sufferings of 9/11 and the banking crisis, when titans hunkered down, slashed their wine bills and sought refuge from the press pack. That connection has been writ large in these ambered days, with eulogy after eulogy appearing across not only the New York, but the national press. But in the end, the feeling is quite simple, quite interpersonal. And so, too, is the dreadful sense of its ending.
"The end—it has been all anyone wants to talk about," said Julius Mariano, a veteran of the restaurant's front of house staff. It was still two weeks away and he looked tired as he spread his upturned palms in a gesture that says, "What more can we do?" The staff just wanted to get to the end without falling apart. No tears, no dragged feet, just keeping it all going, he said. Still, he added, "We are getting customers coming in all teary eyed and emotional."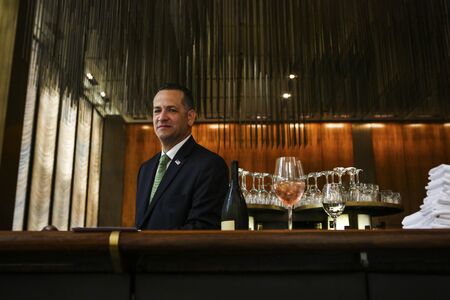 It's hard to imagine Charles Corpio crying. The Four Seasons barman, Corpio is a study in raised-chin resolve when we met. A tough Tom Hanks lookalike with steady, black eyes, he has a way of speaking that means the conversation always ends up back in your hands after about 90 seconds. That's a barman thing, he explains—the customer needs an option to talk about themselves.
And he's had some customers. After 26 years at the bar, I asked, who was his favorite?
There was the night Madonna got squashed at the bar. "I was walking by her and her body guard says: Oi! And I say, I am just walking by—there are three hundred people in the room, we gotta walk by each other. Or Bill Parcells—that was a good night. Corpio asked the legendary football coach who was his all-time star player: "And he says, Mark Bavaro. And I said, I knew he was going to say that."
Copio had mixed feelings about the final weeks. On the one hand, "We've had a lot of the older generation of regulars coming in in the last few weeks. They want to bring their kids in and say: "This is how I rolled, this is how I did business; you don't have to do it this way, but it worked for me." Less welcome was what he called a rise in the bridge and tunnel crowd, those from outside Manhattan. "They don't really understand the concept of going to a restaurant, going to a bar having a cocktail, going to the table, and then maybe going back to the bar and having an after dinner drink. They don't know any of that. They just know, Wow, this place is expensive and I better have great service, you know, because I am spending a lot of money. So they are kinda hard to deal with because they feel like they want their money's worth."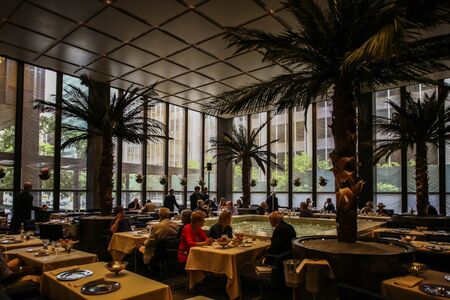 Friday night, just over a week to go, and the scene at the bar was different, more assertive perhaps. All around the polished walnut square of the counter the customers wanted to talk—mostly about the end. Tuck leaned across from his seat and introduces himself. He and his wife Sherri were in from Florida. Did I know it was closing? What do I think?
Behind the scalloped lace of the window blinds, rain smacked the panes in great slobbering heaves. The oldest barman, Greg, wore a badge on which a spaghetti-twirled fork in a clenched fist was encircled with the words UNITE HERE LOCAL 100. He beckoned me. He's a union man and not happy about the impending redundancies. In a voice that sounded like gargled motor oil, he asked about my story. "What's it going to be—a puff piece? You should talk to me. You know we're in dispute with the owners about not getting jobs in the new spot."
The 'new spot,' as it's known, will open at some point in the future (depending on who you talk to it's a year, 18 months, or two years away) across Park Avenue and will be the second act of the Four Seasons' current owners, Niccolini and von Bidder, ex-employees who took over the restaurant in 1995. Technically they are equal partners, but in these last days of disco at the Four Seasons, Niccolini was the headline DJ, the floor-filler spinning a requiem to power eating. And when the end finally came, in the steamy days of July 2016, he was in his element.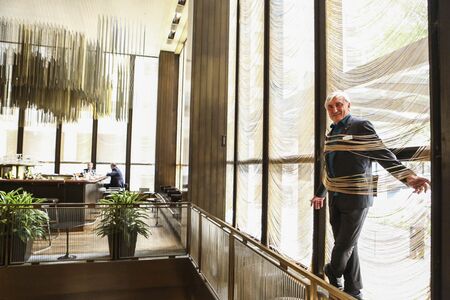 Under the improbably high ceiling of the pool room, he butterflies between guests. A few seconds with each, a handshake or bear hug, then back to the staff, checking that it is all going right. It is an accelerated version of his every day. If you go in at lunch, he's as much at the tables as he is behind reception, blurring the line between server and served. This is his crowd and he their guy. He has been doing it here for forty years and embodies that essential truth of enduring service: meet the needs of anyone for long enough and you become a mirror to—and manifestation of—their values and neuroses.
In the pool itself, it's standing room only. A woman goes horizontal with a sort of fall-down-dead back flop but is quickly pulled up. Niccolini applauds her and heads out to the passage way to have his picture taken. He pulls on a fuchsia chef's coat and smiles at the waiting photographers. Von Bidder stands further down the passage for his photos. He's wearing a charcoal suit.
At the bar, it's a five-deep free for all—though they've been running low on liquor stock for days. People want to be able to say, "I was here; I saw it at the end." A huddle of young investment bankers, all awesome hair and Amexes, say it's their first time here. "I just saw f--king Ken Langone downstairs. Ken Langone!" The combative Home Depot founder is a regular. The bar is running dry; it's not built for this sort of pounding. Down in the lobby, a man in a monogramed shirt is trying to prize quarters from the sofa made of coins, others, one dressed as—or perhaps actually—a monk, lie on the floor.
At a little after 9pm, the party is over. Guests sign massive plaques on the way out. "Thanks for the memories." Niccolini has changed into a black polo shirt, trousers, and silver shoes—a jester at his own funeral. He starts tearing down a long banner displaying the restaurant's logo of a tree in its four seasons, wrapping himself in it as he goes. And for a second it all makes sense: the pool-hoppers, the endless cotton candy, the devoted regulars and staff who have loved serving them. This was always about the fun.