Spend Three Amazing, Panda-Cuddling Days in Chengdu
A long, spicy weekend in this ancient Chinese city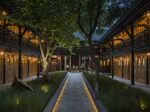 Day 1
From Hong Kong, take the three-hour Air China flight to Chengdu, newly operated by Cathay Pacific. Check into the tranquil Temple House (from $220; 86 28 6636-9999), a five-star hotel set in a restored Qing dynasty courtyard. It's inspired by nearby Daci Temple, a working Dharma monastery that was once the largest Buddhist temple in the province and is now surrounded by high-end fashion boutiques. Stroll through the bonsai garden in People's Park to the Renmin Park teahouse for a chrysanthemum tea, then head to dinner at Yu Zhi Lan (from $92 per person; 86 28 6249-1966), where chef Lan Guijun's duck-yolk noodles in cabbage broth is a standout.


Day 2
No trip to Chengdu is complete without seeing the pandas, and the Dujiangyan Panda Valley (from $275; 86 28 8729-6600) is the only place in the world you can hold a baby one. They allow just 20 visitors a day, so book well in advance and arrive around 8:30 a.m., when the little bears are being fed and are at their most active. A 90-minute drive away is Mt. Qingcheng, the birthplace of Taoism. If the hike up thousands of steps to the mountaintop temple seems a bit much, two porters will carry you up in a hammock for about $15. Descend and dine with German-style beers next to the roaring 2,000-year-old Dujiangyan irrigation system, the yang to the serene yin of the spalike Six Senses Qingcheng Mountain (rooms from $256; 86 28 8728-9871).


Day 3
Wake up with a tai chi lesson from Liu Sui Bin, the Qingcheng Taijiquan martial-arts master, then recuperate with a tea ceremony and a traditional vegetarian breakfast ($153; book through Six Senses) before heading back to the city. Pick up handwoven silk brocades along Jinli Street, then continue on to the Qing-dynasty-style pagodas that make up the Wide and Narrow Alleys, a popular tourist and nightlife spot. Duck into one of the many pubs before a show at the Shu Feng Ya Yun Sichuan Opera (from $23; 86 28 8611-1025), where you'll see fire-eaters and a local style of dance theater in which performers change masks at cyclonic speeds. Afterward, try the hot pot dinner at Shu JiuXiang (86 28 8430-0666), to get your fill of spicy Sichuan peppers before heading home.