The Donald Trump GOP Unity Tracker
On the question of backing their presumptive nominee for president of the United States, where do Republicans stand?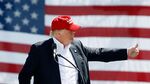 At this same juncture in past presidential election cycles—in the aftermath of the conventions and with fewer than 100 days before voters hit the polls—party leaders usually coalesce behind their nominees, and fight side by side with them to win the White House and down-ballot races. But this is the year of Donald Trump.
Leaving aside some incendiary comments on social media, in interviews, and at rallies, in his more scripted moments, Trump seems to be acting in a way that unites the party, rather than divides. Last Friday, he endorsed House Speaker Paul Ryan at a rally in Green Bay, Wisconsin, throwing in endorsements for Senators John McCain and Kelly Ayotte for good measure. During that same rally, Trump told the crowd that "as a unified party we will lead our country to unity as well."
"Very important," he added. "We need the unity. We have to win this election."
Despite scathing news reports suggesting that members of the Republican Party are contemplating abandoning Trump, Bloomberg Politics' Unity Tracker shows that support has remained mostly stagnant since early June. A clear majority of Republican leaders (68.5 percent of those in our tracker) are still backing the presumptive nominee, when you add together outright Trump supporters and nominee-supporting "triangulators" (people who have not explicitly expressed support for Trump, but have made it clear that they will "support the Republican nominee").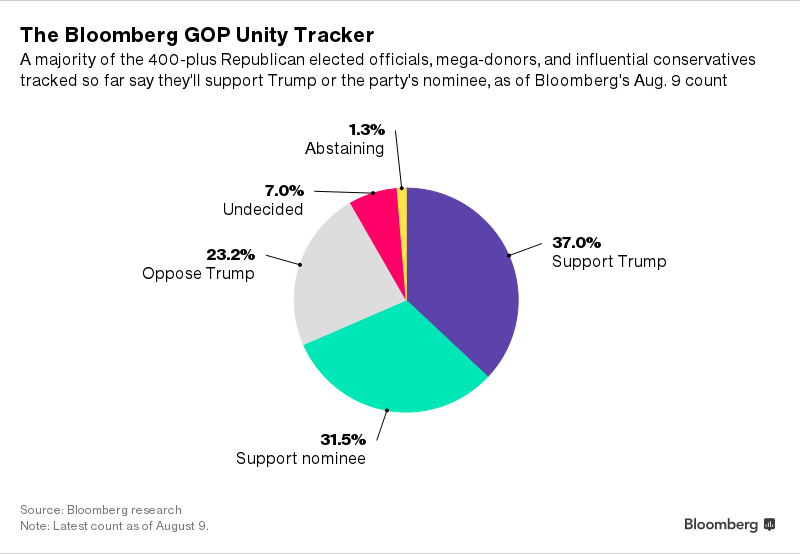 When Bloomberg Politics first released the tracker on May 26, Trump had the support of 65.9 percent of Republican leadership; support inched up and peaked at 69.6 percent earlier this summer, and now has gone down slightly. While this disputes the narrative that the Republican party is turning their backs on the nominee, it also calls into question the assumption that the party would automatically coalesce around Trump after his convention. 
Elected officials
Splitting the party into categories—elected officials currently in office, conservative mega-donors, and influential conservatives*—shows that elected officials are standing more firmly behind Trump than other segments of the broader Republican Party. (Details on how we defined each segment are at the end of the article.)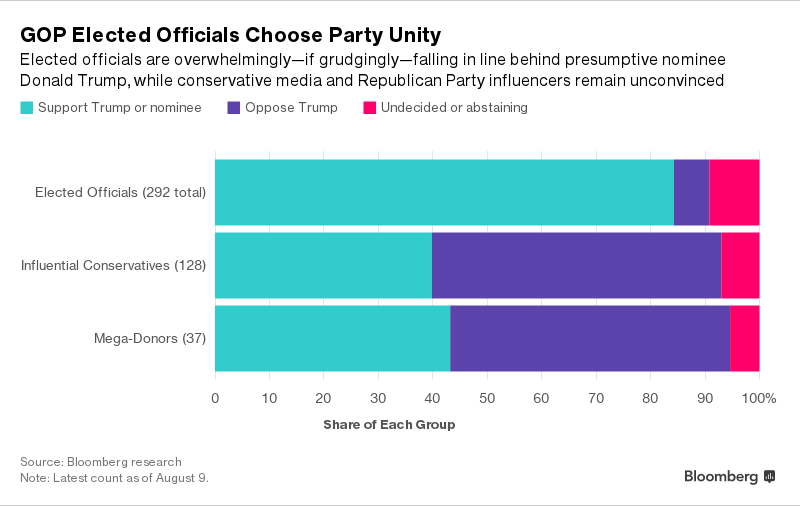 After weeks of public hesitation, House Speaker Paul Ryan finally declared that he'll vote for Trump—though he said on Wisconsin radio on June 3 that he "completely disagree[s]" with Trump's attacks on the judge overseeing a lawsuit against Trump University, and later disavowed Trump's attacks on the Gold Star family of Captain Humayun Khan.
Some of Trump's elected-official supporters stood with him early on, like Alabama Senator Jeff Sessions. Others have been more vague. New Hampshire Senator Kelly Ayotte, for example, pledged to support the party's nominee while simultaneously refusing to endorse Trump, a head-scratching example of how some officials are walking a fine line. 
Still, elected officials who overtly oppose Trump are few and far between.
Florida Representative Ileana Ros-Lehtinen stated definitively fairly early on that she will not support her party's presumptive nominee. Nebraska Senator Ben Sasse was the first to suggest that a third-party candidate should run against both Trump and the Democratic nominee—and now he has one: Evan McMullin. 
More recently, Senator Mark Kirk, who is up for re-election in his Illinois district, said he will not support the Republican nominee and began airing ads touting him as one of the few Republicans who have stood up to Trump.
GOP Representative Mike Coffman of Colorado also released an ad in his state promising to "stand up" to Donald Trump.
Pennsylvania Senator Pat Toomey, who is also up for re-election this year, has taken similar, but less definitive, actions to distance himself from Trump, telling reporters in a conference call on Friday that when Republicans in his state vote in November, those voters "will make a completely separate decision" between the top of the ticket and down-ballot races. He added that Trump "is in a category unto himself."
And Senator Susan Collins from Maine, who is not up for re-election, has perhaps set the most distance between herself and the Republican nominee, writing in the Washington Post that she will not support Donald Trump, and will not be voting for him. "It was his attacks directed at people who could not respond on an equal footing—either because they do not share his power or stature or because professional responsibility precluded them from engaging at such a level—that revealed Mr. Trump as unworthy of being our president," Collins wrote. 
Mega-donors and influential conservatives
Donors and other influential voices in the party seem warier of Trump than many elected Republican officials, though he has made some headway with those groups. Trump earned the support of New York Jets owner Woody Johnson, who is slated to serve as one of the vice chairs for Trump's victory fund in conjunction with the RNC. Republican mega-donor and roofing magnate Diane Hendricks also signed on to support Trump. But other conservative mega-donors, like hedge fund manager Paul Singer, have been outspoken about their opposition for Trump, and the usually active Koch brothers, Charles and David, are so far planning to allocate their funds to down-ballot races. 
People in this category—including some right-wing journalists, conservative authors, members of think tanks and other lobbying groups as well as previous Republican office-holders—have shown some of the most vehement opposition to Trump, with figures like Weekly Standard editor Bill Kristol, Wisconsin radio host Charlie Sykes, Atlanta radio host Erick Erickson, and columnist George Will pledging that they will not support their party's nominee. (Bloomberg Politics reported May 31 that Kristol was eyeing conservative lawyer David French as a possible independent candidate, but French has since announced he will not be running to president.)
Former Republican office holders are also split on whether to back Trump, with figures like Haley Barbour and Tim Pawlenty supporting the nominee, while others, like former Presidents George W. Bush and George H.W. Bush, have decided to stay out of the race. 
A sampling of where some of the biggest names in each group stand is below. (View the full Unity Tracker list here.)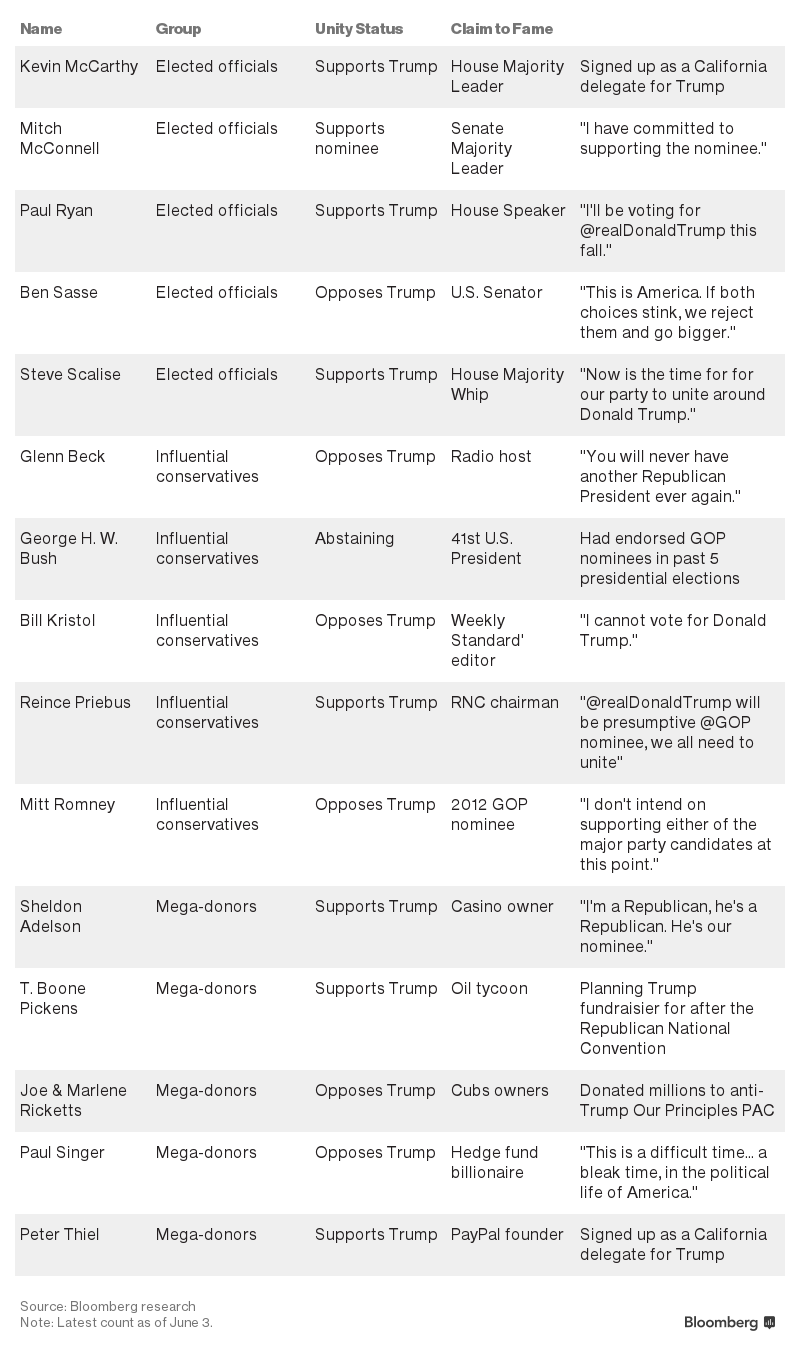 While most mega-donor couples are standing together in support or opposition of Trump, others, like Richard and Liz Uihlein are split, with Liz committing to support the presumptive Republican nominee by helping raise money for his victory fund and becoming a member of his economic advisory council, while Richard has donated millions to anti-Trump Our Principle PAC and to Club for Growth, which was a major sponsor of anti-Trump advertising this spring.
States that stand out
The list of 20 states where we're hearing the most support or opposition from top elected officials (as well as people who are speaking out about how they're still undecided) correlates with known battleground states. These include perennial swing states like Florida, Ohio, and North Carolina, which wield strong influence over which candidate clinches the magic 270 Electoral College votes needed to win the presidency.
In Florida, for instance, the state's governor and 14 of its 16 members of Congress have spoken out publicly in support Trump or the Republican nominee. In Ohio, though, Governor John Kasich skipped the July convention, even though it was hosted in his own home state, and he has not endorsed Donald Trump—thought he has left the door open for a possible endorsement in the future. As for where Republican elected officials are most leery of Trump, Kansas and purple Virginia stand out as having among the largest number of Trump opponents or undecideds.

Also notable: Trump hasn't yet fully consolidated support of elected officials in his home state of New York, where three of the state's nine Republican congressmen either oppose him or remain undecided about supporting his candidacy. (We are not tracking current or former state legislators, some of whom could also have influence on how their state votes in the general election.)
A fractured field
Remember that GOP loyalty pledge? Trump's 16 former rivals are all over the map when it comes to supporting him, despite all of them signing an RNC document pledging to back the eventual Republican nominee. At the Republican National Convention in Cleveland, Marco Rubio and Scott Walker spoke in support of Trump, while Cruz was booed off the stage after he failed to endorse him. Chris Christie was the first to stand on stage alongside Tump and endorse him, and others like Ben Carson and Bobby Jindal followed suit fairly quickly. Carly Fiorina and John Kasich are still withholding their support, while Rick Santorum came around to backing Trump after a "long heart-to-heart." Lindsey Graham simply vowed that he will refuse to back any presidential candidate, come what may.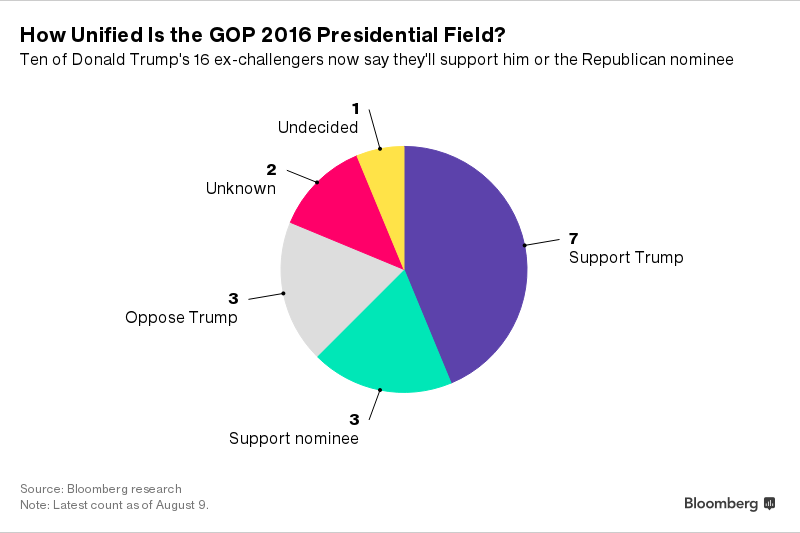 Here's a complete list of Trump's 16 onetime challengers for the Republican nomination and where they stand, ranked by when they left the presidential race: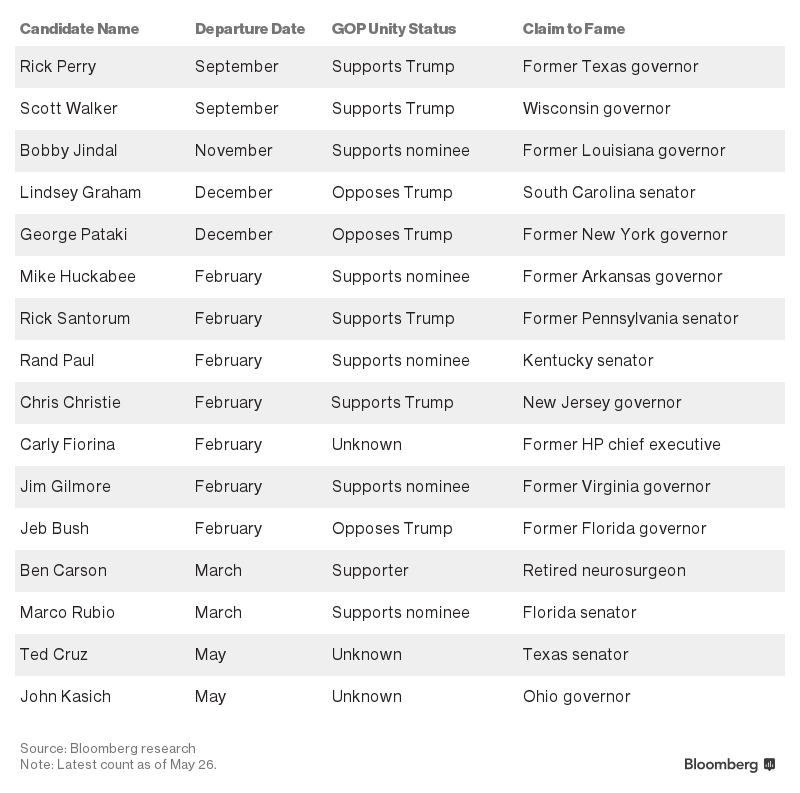 *Methodology:
Bloomberg Politics' Unity Tracker is a snapshot: who's backing Trump, who isn't, and who's trying to carve out a position somewhere in between. We looked at the views of almost 1,000 individuals in three categories (see definitions below), then assigned the nearly 400 people who have weighed in so far (by our latest count) to one of five categories:
Trump supporters
Trump opponents
Abstainers—people who have publicly stated that they will not take a position
Undecideds—people whose public sentiments reflect an evolving or mixed position 
"Triangulators," or people who have not explicitly expressed support for Trump, but have made it clear that they will "support the Republican nominee" come what may, or have expressed a whatever-it-takes-to-beat-Hillary Clinton point of view
If it was impossible to tell from their public statements where a person stands vis-a-vis Trump, or if he or she has been silent on the topic, his or her status is currently "unknown," and you will not see that person on the full tracker, nor represented in the charts in this article. 
Here is how the tracker defines each group
Elected officials: All current Republican governors and members of Congress.
Mega-donors: The top 100 donors to Republican candidates, collectively, across 2012 and 2016 so far, according to OpenSecrets.org. In our tracker, couples, as defined by OpenSecrets, generally count as a unit, and their status is defined by either a public statement from one member of the couple, or a contribution to the anti-Trump Our Principles PAC. The one exception is Elizabeth and Richard Uihlein.
Influential conservatives: All former Republican presidents, governors, senators and House leaders; the current and former chairmen of the Republican National Committee; and the media figures with the most influence among conservative audiences. That influence was measured in partnership with social data company StatSocial by calculating the reach each journalist or blogger has on Twitter among followers identified as right wing, building on a similar analysis the company performed in 2015. Who made the cut? People with a right-wing following at least 15 percentage points greater than their left-wing following, and with reach and influence among conservatives online at least 25 times greater than that of the average Twitter user.
Editor's note: An earlier version of this story was removed due to premature publication.