Gandhi Heir Emerges as Threat to India's Modi
Rahul Gandhi on India's 2014 election: 'I consider that defeat a blessing.'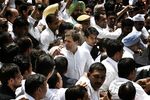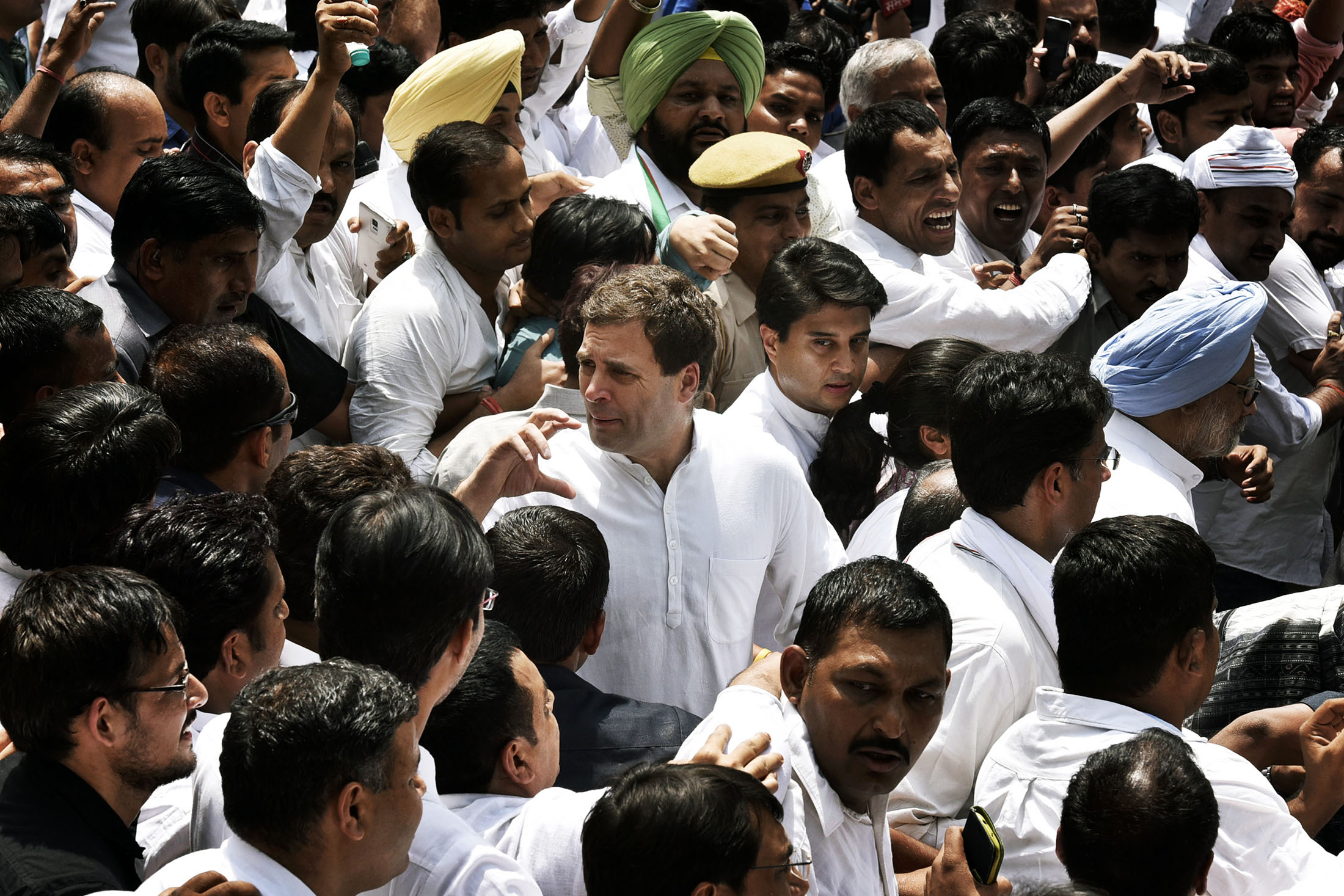 It was one of the stranger sights in Indian politics: On the day the storied Congress party suffered its worst-ever defeat, deputy leader Rahul Gandhi stood with a wide grin on his face.
That expression in May 2014 as his mother conceded the election to Prime Minister Narendra Modi typified the image of Gandhi as a reluctant heir to the nation's most famous political dynasty. To his detractors, it confirmed he'd never be more than a silver-spooned noble who would rather take exotic holidays than run Asia's third-largest economy.
Two years later, Gandhi's smile makes more sense. As the son, grandson and great grandson of Indian prime ministers, the 45-year-old has always been expected to eventually lead the country. The party's collapse seemed to liberate him.

"I consider that defeat a blessing," Gandhi said while meeting members of the media in Delhi in March. It helped clear a lot of unnecessary ideas from his head, he said.
Gandhi is now emerging as a key threat to Modi, and almost by default a top challenger to replace him in 2019. While the prime minister is still an overwhelming favorite to win another term based on popularity surveys, India's 1.3 billion people—the bulk of whom live on less than $3 per day—have a history of surprising pollsters. 
Until recently, Gandhi seemed adrift. In early 2015, he went on a two-month sabbatical, prompting "#WhereIsRahulGandhi?" to trend on Twitter. Speculation ranged from Thailand to Italy to Aspen.
Wherever he was, Gandhi came back revitalized. He traveled through rural India branding Modi as a champion of the elite who doesn't care about farmers. The strategy paid off last year: Modi dropped a proposal to ease rules on land acquisition, and his ruling party lost an election in Bihar, India's third-most populous state.
Gandhi has since kept up the offensive, drawing large crowds at anti-Modi events from Mumbai to Assam to Delhi. He also hired a top political strategist who had helped engineer Modi's victory.
"Gandhi has definitely evolved as a politician," said Milan Vaishnav, senior associate in the South Asia Program at the Carnegie Endowment for International Peace. "One sees this in his demeanor, speeches, and presence. In years past, he was virtually absent at the time of national crisis. That is no longer the case."

Perhaps most telling was Gandhi's February visit to Jawaharlal Nehru University in Delhi. Police arrested the student union president on charges of sedition for allegedly making anti-India statements at a rally. Gandhi rejected advice to stay away.
"To hell with it, I will go," he said, recalling the decision. For Gandhi, the issue was simple: the government was stifling free speech, and someone needed to intervene.

Gandhi's family has long dominated the Congress party, which has run India for about 80 percent of the time since independence in 1947. Jawaharlal Nehru, Rahul's great-grandfather, became the country's first prime minister. Soon after came his daughter, Indira Gandhi, and her son, Rajiv Gandhi, Rahul's father. His Italy-born mother, Sonia Gandhi, has led Congress since 1998.
Rahul Gandhi lost his grandmother to assassins in 1984 and his father to a suicide bomber seven years later, prompting him to transfer from Harvard University to the less well known Rollins College in Florida to complete his education. He later obtained a master's degree in development studies from Cambridge University and worked for a London-based consulting firm. He finally returned to join politics just as Congress swept into power in 2004.
Over the next decade, Gandhi kept a low profile. He turned down cabinet posts in former Prime Minister Manmohan Singh's government, rarely spoke in public and avoided declaring himself Congress's prime ministerial candidate in the 2014 campaign.
He stuck out in other ways. Unlike politicians who often dress in knee-length kurtas to cover bulging stomachs, Gandhi can be found wearing jeans and regularly goes to the gym. He has remained a bachelor—unusual in marriage-obsessed India.
Gandhi's rhetorical skills are routinely criticized. In one of many gaffes that went viral, he said: "Politics is everywhere—it's in your shirt, it's in your pants." In a 2014 television interview, he repeatedly referred to himself in the third person and reflected on his political ambitions: "I am an anomaly in the environment I'm in."
The 2014 defeat spawned a more accessible, more high-profile Gandhi. Prior to that, he said, he refrained from criticizing policies publicly to avoid undermining leaders of the government unless he felt very strongly about an issue. As opposition leader, he can chastise Modi's administration at will.
Gandhi's reluctance to dive head first into politics also reflects a struggle to reconcile his position in India's hierarchical society. While his last name has given him a privileged upbringing and a pathway to power, it also provides ammunition for critics who say that everything has been handed to him on a silver platter.

That inner conflict, combined with his part-European lineage and extensive time overseas, has helped turn Gandhi into a vocal proponent of meritocracy. Nowadays he often uses lengthy meetings with journalists, students and entrepreneurs to denounce hierarchy and discrimination based on India's caste system.
Those views have also shaped his efforts to reform the Congress party, with little to show for it so far. At one point Gandhi sought to impose U.S.-style primaries to pick party leaders, yet dropped the idea after opposition from regional power brokers.
Shashi Tharoor, a Congress member who was a finalist to head the United Nations in 2006, says Gandhi's leadership style contrasts with Modi's desire to be "the man on the white horse."
"He says he doesn't have all the answers, he doesn't necessarily know all the questions, but he is willing to listen," Tharoor said of Gandhi in an e-mail.
Gandhi routinely warns that Modi is eroding India's secular foundations in favor of the Hindu majority. At a February meeting in the southern state of Kerala, Gandhi told several dozen entrepreneurs that intolerance of differing viewpoints would stifle innovation.
"I have no right to shut you up and you have no right to shut me up," Gandhi said. "That is my idea of India—It is free flow of ideas."
Still, Gandhi's economic views are hazy compared with Modi's aspirational vision of India as a prosperous world power. In a rare address to an Indian business group in 2013, Gandhi largely avoided talking about specific policy measures. He instead made headlines for calling India a "beehive" that is more complex than "simple" China.
Both rural villagers and financial investors welcomed the ouster of the Congress-led government in 2014. Its tenure ended with corruption scandals, tax disputes with multinational companies, large budget deficits and one of Asia's highest inflation rates.
"Most investors don't see serious prime minister material in him as of now," said Jay Shankar, an economist with Religare Capital Markets Ltd. in New Delhi. "One doesn't know where he stands."
Victory in 2019 remains a long shot. While a Pew Research Center poll showed Gandhi's popularity rose to 62 percent last year from 50 percent in 2013, that's still 25 percentage points below Modi.
Modi's recent state election losses have mostly helped regional parties, prompting suggestions that Bihar Chief Minister Nitish Kumar should lead an anti-Modi coalition in 2019.

What's more, corruption allegations linger, including possible criminal charges for Rahul and Sonia Gandhi over accusations of a $300 million real-estate fraud involving a party-run newspaper. The pair has repeatedly denied wrongdoing, saying the cases are political.
For Modi, a former tea seller, Gandhi represents all that's wrong with India's dynastic politics. On the campaign trail, he derisively called him "Shahzada," or "The Prince," and told voters that eliminating Congress from the nation would bring freedom from a culture representing "dynasty politics, nepotism, corruption, communalism, divisions in society or poverty."
"Modi wants to bring progress and all Rahul Gandhi is interested in is to defame India and stop the transformation of villages," said Shrikant Sharma, a spokesman for the prime minister's Bharatiya Janata Party.
Gandhi hasn't said decisively whether he wants to be prime minister in 2019. Before then, he faces a bigger challenge: Convincing both his party and voters to buy into his vision of a more equal India. Paradoxically, success may determine whether the Gandhi family dynasty remains a political force.
"He's perched between a rock and a hard place, but he also wields tremendous power," said Nikita Sud, an associate professor of development studies at the University of Oxford. "How he wields that power is critical." 

--With assistance from Jeanette Rodrigues.