Three Adventure-Packed Days in Tasmania
This southern Australian island is a place of spectacular scenery, exotic animals, and some of the best whisky in the world.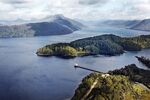 Traveling to Tasmania is like going to the edge of the globe—if the edge of the globe had really excellent whisky. Half a million people live in this remote Australian state, but you wouldn't know it tooling around the deserted countryside. To get the full Tassie experience, see our 3-day itinerary below.
Day 1
Start in Tasmania's capital city, Hobart, a two-hour flight from Sydney, and check into the luxurious H Jones Suite at the Henry Jones Art Hotel (from $650; 03 6210-7700). Then it's time for a visit to the Museum of Old and New Art (03 6277-9900), a weird and delightful place founded by eccentric millionaire gambler David Walsh. Accessible by a 30-minute ride down the Derwent River in a high-powered catamaran, the space is bathed in the light of a James Turrell installation that hovers over the site like a UFO; don't miss Erwin Wurm's Fat Car, a full-size fiberglass rendition of a Porsche. For dinner, get reservations at Franklin (03 6234-3375), where the menu includes grilled beef heart mortadella as well as a stellar wood-roasted abalone with dried oysters.
Day 2
Book a private trip with Tasmanian Whisky Tours ($300; 04 1209-9933). A chauffeured Audi will drive you to distilleries such as Sullivans Cove, where the rare French Oak Cask, named the world's best single malt last year, gets made. A half-hour from Hobart is Mt. Wellington, with views of the Tasman Sea and the World Heritage-protected Southwest National Park. Then finish the day at Port Arthur, home of a 19th century prison colony and Pennicott Wilderness Journeys ($92; 03 6234-4270), a tour outfit operating speedboats to Tasman Island, the rounding point for Rolex's annual Sydney-to-Hobart yacht race. Vessels dart around Cape Pillar, the highest vertical sea cliff in the Southern Hemisphere. Spot fur seals, albatrosses, and peregrine falcons.


Day 3
Drive to the eastern coast to watch Australasian gannets diving for food in Freycinet National Park. Kayak Coles Bay with Freycinet Adventures ($70; 03 6257-0500), then hike around Wineglass Bay to enjoy postcard-perfect views of Tasmania's most famous white-sand beach. Or go in the other direction and spend the night at Pumphouse Point (from $205; 04 2809-0436), a collection of 18 suites spread between two buildings, including a house perched 900 feet in the middle of serene Lake St. Clair. Take a rowboat and go trout fishing, or stay on land and look for the porcupine-like echidna or a duck-billed platypus, two strange mammals that, like their native country, are unlike anything you've ever seen.