Larry Ellison's Private Eden Is Open for Business
When the tech billionaire bought Lanai, it made headlines. Now he's at it again with the opening of Hawaii's, if not the world's, best new hotel resort.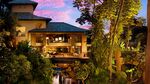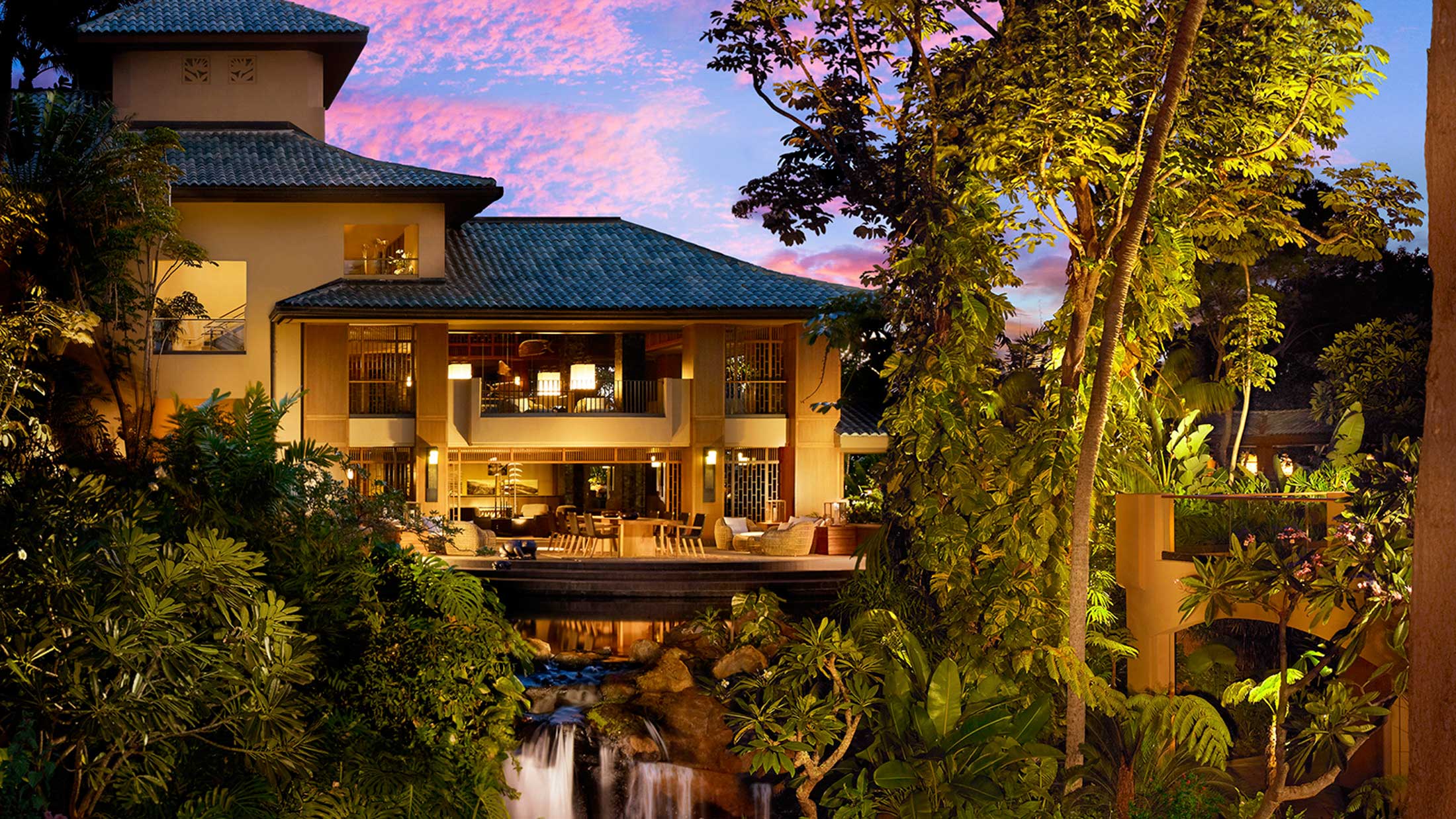 Apostrophe-shaped Lanai is the perfect size to do just one thing really well. It's been a Mormon colony, a massive ranch, and the world's largest pineapple plantation. Now the smallest of the Aloha State's public islands and its 3,000 residents are testing the waters as a sustainable society-building experiment steered by luxury tourism. The driver: tech billionaire Larry Ellison.
When the entire 88,000-acre, 140-square-mile island (or 98 percent of it, anyway) just west of Maui came up for sale in 2012, Oracle's Ellison snapped it all up, landing two coveted Four Seasons resorts in the deal.  And as of this February, after years of small improvements and a seven-month complete shut down, the Four Seasons Resort Lanai (née Manele Bay) is reopen for business.


The Transformation
"As far as we're concerned, it's a completely new resort," said GM Tom Reolens, a 10-year veteran of the property who managed Ellison's total overhaul, from new rooms to new pools. "We opened up all the views, changed all the landscaping, all new restaurants, and have altered the look to be much more Hawaiian."
Visiting a month into the beachside resort's Billionaire Upgrade, those words ring true. If it was spoken of at all before, travelers knew Manele Bay as an underwhelming, "affordable" Four Seasons with a dated Asian look. Its commendable qualities were a location on a quiet, private beach and the arresting cliff-side golf course where Ellison's sometime rival billionaire Bill Gates married his wife Melinda on the 12th tee. 
That Jack Nicklaus-designed course is still there—though now open only to guests—and drawing such celebs since reopening as Cindy Crawford, Will Smith, and Derek Jeter, but the rest of Manele is unrecognizable. By all accounts Ellison was personally involved in every element of the construction, making the designer Todd Avery Lenahan and hundreds of workers redo the lobby from scratch four different times, until the ocean views on entering were framed just right. Designs now mix a few midcentury modern pieces, traditional Hawaiian materials, and Polynesian artwork, such as a 19th century Koa Hawaiian outrigger canoe.
Ellison and his team decreased the number of rooms from 286 to 217, stripping them down to the rebar. They also added Hawaii's most expensive suite, a three-bedroom, $21,000-a-night indulgence called Ali'i. New wood floors and new fixtures, along with hundreds of works of original art, were added, plus handmade parchment wall coverings, massive French doors opening out to decks, Toto Washlet-equipped bathrooms, large closets—you get the idea. Nothing except the cement structure remains from the previous incarnation.




The result is arguably the best Four Seasons resort in the world—a sentiment the head of Four Seasons hotels, Isadore Sharp, shared with the Roelens at the resort's reopening in February. "He told us that this is best room product we have in our company today."
When asked how much the best Four Seasons cost, though, Roelens demurs. Jim Clemens, a Lanai local who has worked in luxury hotel construction, suggested that given the level of finish for the rooms, art work, reconstruction, and seven-month shut down, Ellison spent around $450 million on the Resort Lanai project. And he has one more resort renovation on the island to go.
"It's a game changer for Hawaiian tourism and a game changer for Four Seasons," said David Lowy, a member of the Travel + Leisure Travel Advisory Board, over a bottle of Domiane Ott rosé at the hotel's new bar just off the now picture-perfect lobby. The property, he says, can finally take advantage of its unique location on an unblemished island and draw the sort of upper-echelon clientele that often skipped stopping off at the resort for more than a round of golf.



Uncle Larry
What do the 3,000-plus locals who live in Lanai think about their "Uncle Larry," as he's been nicknamed?
Everyone willing to go on the record was either sanguine or flat-out enthusiastic about what he's done to the resort and for the island—new investments in infrastructure range from the small (such as trimming problematic trees) to the necessary (a new water filtration system) to the marquee (a resort-quality, Olympic-size public pool). There's even a new state-of-the-art movie theater that all the islanders claim is the best in Hawaii.
The few potential dissenting voices—including a woman at the tiny airport who ominously said "do your research" when it became clear she was talking to a reporter—wouldn't allow themselves to be interviewed.  
Mike Carroll, who has owned a Lanai City gallery off the main square for more than a decade, is a believer. "It's the economic engine that keeps this island going," he says. Times were lean when it was shut for renovations, but now there's a new hope for the future.
And what of the new clientele who are paying at a minimum $1,075 a night for rooms at the resort? "We're starting to see more original paintings finding homes, and that's great. We're very encouraged with what we're seeing," says a smiling Carroll.
The island's been in private hands since the 1870s, first Mormon missionaries, then ranchers, and finally Dole to grow pineapples. Industrialist David Murdock bought Castle & Cooke (Dole's holding company, which owned the island) and decided to create the two resorts in the 1990s that still stand. As Carroll pointed out, "Had the resorts not been built, we would be in real economic trouble," but it took Ellison to rescue them.

Jenna Majkus, owner of a clothing and gift boutique down the square called the Local Gentry, agrees, "Immediately from Ellison buying the resort and island, our infrastructure was getting much-needed investment, which was a great improvement from the island's previous owner, David Murdock."

These "city" residents—there are no stoplights in town or anywhere on the island—eagerly await the reopening of the 101-room Lodge at Keole. Nowhere near the beach, the second of Ellison's Four Seasons resorts is nestled in the heart of the island's former ranching operations just to the east of town.
Its very un-Hawaiian, dormered, plantation-style house resembles more a woodsy National Park lodge than tropical paradise and draws guests accordingly. Indeed, a wood burning fireplace in the main building is the state's largest (and one of 10 fireplaces at the lodge). As of publishing, the plan is to reopen the Lodge at Keole at the end of 2016, in time for Christmas.

Happier Island, Better Resort  
Though Lanai is not known for its surf, Four Seasons staff have made sure that if you do want to leave the resort's pools, four restaurants (including outposts of Nobu and Malibu Farm), the golf course, tennis courts, and private beach, there's plenty to do, and it's easily done. There's a naturalist UTV trip along foothill dirt paths for a closer look at the flora, fauna. and history of the island's interior. There are horseback rides around the base of the island's highest peak, Lana'ihale, an inactive volcano to the east of Lanai City. There's hiking and biking, snorkeling and whale watching (of course), sailing, and so on. There's even a Cat Ranch with some 300 "Hawaiian Lions."

As the travel expert Lowy said at the end of our drinks, "my rule of thumb always is that if you can go to a resort that is created by a billionaire who wants to make it the best that it could be, he's subsidizing your vacation."
It's undoubtedly true that Ellison will never make back the money he's poured into  this project, but gauging by how involved he in not only in the resort but also the island, this asset's profitability is clearly not the point. Nor is promoting it as a feather in his cap (he declined to speak on the record). The point lies more in what he has said previously: "What it feels like to me is this really cool 21st-century engineering project, where I get to work with the people of Lanai to create a prosperous and sustainable Eden in the Pacific." Watching the last sunset go down on my own too-short time in this Eden, that dedication indeed shines through.