An Audacious Plan to Reboot Italy's Economy
Prime Minister Matteo Renzi has big plans for the euro zone's third-largest economy. Can he succeed where so many have failed?
Matteo Renzi picks up a saber propped against a gilded armchair in a salon at Palazzo Chigi, his official residence in Rome. A fencing champion gave him the weapon as a present, the boyish-looking 41-year-old prime minister says. So who's he going to use it against? Renzi brandishes the blade for a moment, then slices it down through the air. He grins. "Italian banks!"
He's joking, but you can't blame Italy's youngest-ever PM for having money matters on his mind as he begins his third year in office. Renzi's legacy will be judged on whether he can pull the country out of a three-year recession—its longest on record and one for which banks and their bad loans get a lot of the blame. It's not just Renzi's political future that's at stake. This is the euro zone's third-biggest economy. The country's public debt fell to €2.17 trillion ($2.47 trillion) in December, but measured against gross domestic product, it's still the single currency club's second-biggest after that of Greece, at more than 130 percent.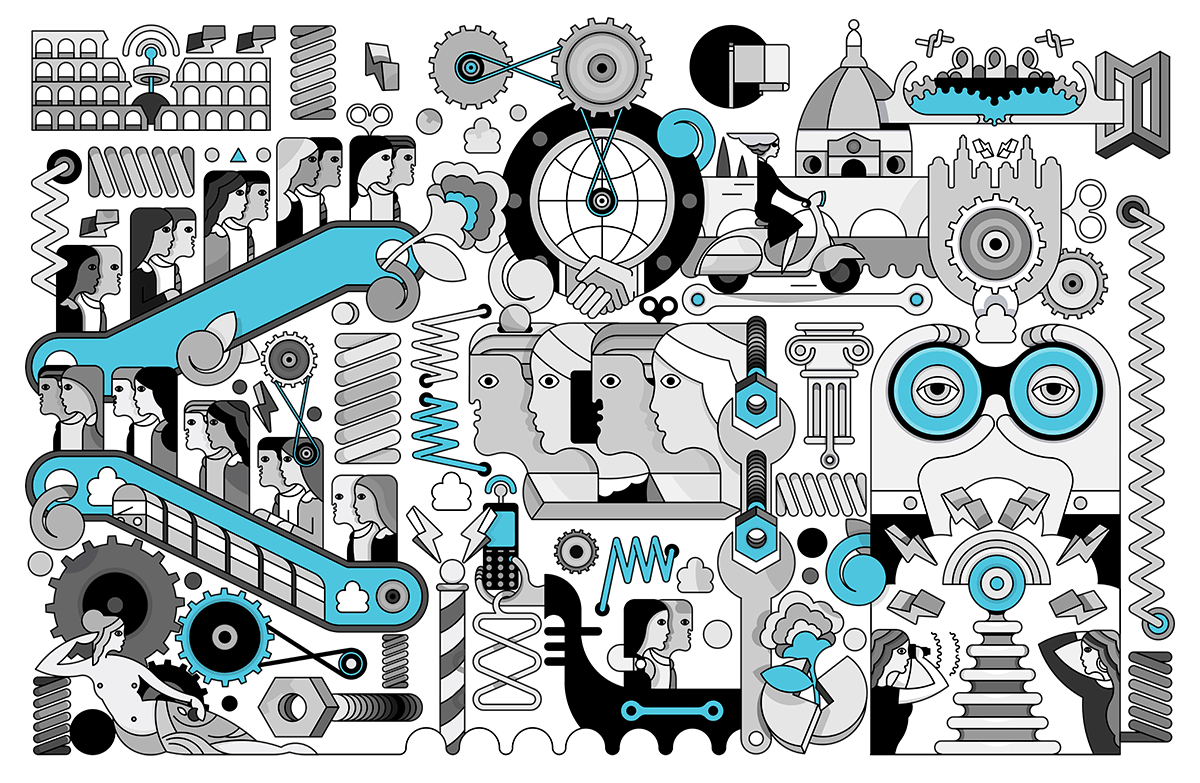 An ambitious outsider who first conquered Italy's biggest political party, then the premiership, Renzi is seeking to transform a nation paralyzed by economic stagnation, political corruption, and weak, short-lived governments—63 of them since World War II. As it is, Italy is barely crawling out of recession. GDP rose 0.8 percent last year, according to the European Commission (EC), and will expand 1.4 percent this year, lagging behind all euro zone nations except Greece and Finland. The latest numbers suggest even more pain. In the fourth quarter of 2015, GDP rose only 0.1 percent—the slowest pace in a year, according to Istat, the government statistics bureau.
For Renzi, heading what is arguably the most reformist postwar Italian government and confronted with a seismic immigration problem, the challenges are daunting. When he took office he promised "a reform a month." Can he deliver on his ambitious agenda? How soon can he achieve stronger growth? And can he cajole the European Union to give him the budget flexibility he needs to make headway?
Renzi crackles with energy. At the start of our interview, he stashes the sword in his office next door, returns to ask who wants coffee, and then phones in the order himself. Nicknamed il Rottamatore—the Demolition Man—because of his calls to destroy Italy's political establishment, he sees the woes of the past as an opportunity. "I weep when I think of the incredible mistakes that were made in Italy over the last 20 years," he says in heavily accented English. "But that also means we can do much." In the next 10 years, he says, Italy could become the leading player in the European Union—ahead of even Germany and France. "That's the Italian role I would like to see," he adds.
That's obviously quite a claim, and one rooted in Renzi's outsized confidence. Tall and often sporting a trendy narrow black tie (he's rarely seen in the leather jackets he used to wear before becoming PM), Renzi smiles easily and likes to crack jokes, mocking his audience or himself. In a serious vein, he compares his government's reform push and Italy's relative political stability to what's going on in other big European states. "One country is particularly affected by the migration crisis," he says, clearly meaning Germany. "Another one has elections next year"—France, surely—and "another is focused on the referendum"—the U.K., with its June vote on staying in or leaving the EU—while "another country is without a government"—Spain.

"The real credibility of a leader is in what he delivers," he says. "In the first two years we have achieved important results. No one believed that in this time we could change the electoral law, cut taxes for the first time. But I will continue."
He's not one for looking back much. "I don't have the time," he says. Shifting restlessly in an antique armchair, Renzi talks fast as he looks ahead to the time between now and the next Italian general election, which must be held before May 23, 2018. "When I ran my first marathon," he says, "a wise man told me, 'Don't think about the 42 kilometers; run, run, run.' " He ticks off items on his to-do list: attracting foreign investment, making public administration more efficient, expanding broadband. "So until 2018 I'll go on running. If I stop to think … I'm finished."
Banks are high on Renzi's list. The day we meet in February, his government is crafting new measures to speed up the bad-loan market and encourage mergers and acquisitions. Total lending to borrowers considered insolvent reached €200.9 billion in December, and a senior government official privately says bad loans plaguing Italian banks are the single biggest factor weighing down the economy. "The markets are worried," Renzi says. "We must come back with transparency, transparency, transparency. The banks of the future will have less retail and be more innovative. I am confident that government measures on banks will be a signal to the markets." In late March, Banco Popolare and Banca Popolare di Milano agreed to merge in a deal that will create the country's third-largest lender. Such mergers, along with new laws, are "far from being big-bang solutions," but they at least show that "something is finally moving," Oxford Economics wrote in a report on March 30.
At a meeting at the Treasury in Rome on Monday evening, officials and bank executives agreed to create a multibillion-euro fund to help troubled smaller lenders raise capital and offload bad loans. The new fund, named Atlante and the result of more than a week of talks among banks, insurers and state lender Cassa Depositi e Prestiti, may be worth about 5 billion euros, said Alessandro Vandelli, chief executive officer of Banca Popolare dell'Emiglia Romagna Scarl.
Many Italian business and bank executives are backing Renzi, but they want more from him. It didn't help his reform push that his industry minister, Federica Guidi, resigned over an alleged conflict of interest in April. Giorgio Squinzi, outgoing chairman of the employers' lobby Confindustria, says growth will take hold "only if we clean up our own home." Only then, he says, can reforms have an impact on the "real economy."
Politics and communication skills run in Renzi's family. His father was a marketing consultant and elected councilor in the Tuscan town of Rignano sull'Arno. As a student representative, the future prime minister stood up to authority early on, refusing to stop distribution of a school newspaper that contained criticism of a mathematics teacher. Later he canvassed for Prime Minister Romano Prodi of the center-left Democratic Party (PD). In 2009, after serving as president of Florence's provincial council, he was elected mayor at 34, representing the PD. The following year he earned his stripes as Demolition Man. Presiding over three days of lectures and debates in a converted railway station, Renzi began what Filippo Taddei, the PD's chief economist, calls the "takeover" of the party, demanding that its old-line bosses be dismissed.
Renzi's Florentine roots have been a spur and a drag in his political ascent. Detractors chide him for cocooning himself in a clique of Tuscan insiders known as the giglio magico (magic lily), named after the flower that has symbolized Florence since the Middle Ages. Even so, by December 2013, Renzi had become the PD's leader. Within days, he and Taddei, a fellow at Johns Hopkins University's Bologna Center, were drafting an economic platform. Taddei recalls that he and several colleagues "worked liked dogs over Christmas and New Year." Their focus was on how to shift the burden of taxation away from employees and business and make the labor market more efficient. The platform was ready by the end of January 2014. The following month, Renzi became prime minister. "The demolition can now begin," he proclaimed.
Renzi was just 39. Together with his ministers—half of them women—he formed Italy's youngest-ever government. He cut payroll taxes for lower-income workers. He pushed through Parliament the so-called Jobs Act that made it easier for companies to hire and fire while increasing employment protection for workers in line with their seniority. He shook up the electoral system in an effort to end Italy's syndrome of revolving-door governments. His tax reforms included moving to abolish the tax on primary residences and reducing taxes on company profits.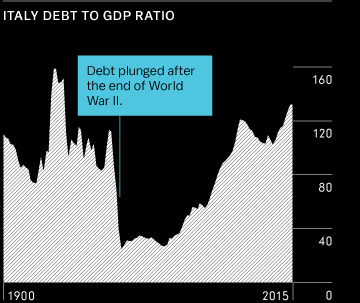 Finance Minister Pier Carlo Padoan, 66, a former chief economist at the Organisation for European Co-operation and Development, calls Renzi "my young boss." "I feel like an ex-demolished man," Padoan quips. "My generation is the one of the prime minister's dad, and no doubt some of the ministers in the government are my daughters' age, or even younger." Renzi and Padoan often communicate by text message. Renzi's messages ping in as early as 6 a.m. They're not all business; Renzi, a supporter of the soccer club AFC Fiorentina, frequently goads Padoan, an A.S. Roma fan.
Some of Renzi's critics say Italy's improved growth prospects are due to quantitative easing by the European Central Bank, not the current government in Rome. Sticking up for his boss, Padoan points to ECB President Mario Draghi: "Draghi says something I very much agree with. An expansionary monetary policy is a necessary but not sufficient condition." For QE to work, countries must do their part, Padoan says. In Italy, that means implementing structural policies that make the "transmission" of stimulus funds "more efficient."
Padoan says Italy is starting to see the benefits. He says pro-growth policies such as reining in public spending and selling off state-owned assets will boost employment and shrink public debt. Italy created 764,000 more permanent jobs in 2015 than it did the year before, according to INPS, the government welfare agency. Even so, the overall jobless rate rose to 11.7 percent in February, with youth unemployment at 39.1 percent in December. As for public debt, the EC says it expects Italy's burden will fall to 132.4 percent of GDP this year, from 132.8 percent in 2015, the first decline after eight years of increases in the ratio. That depends on sustained GDP growth, however. "There's always the risk that with inflation close to zero, it could go into negative territory," Padoan admits. "But I'm convinced that inflation will rise, even if that happens gradually."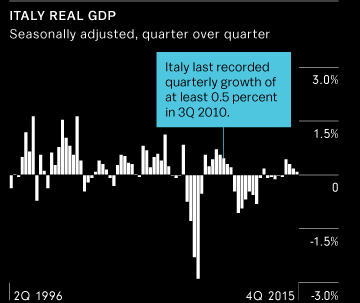 Renzi's push for growth also depends on getting some leeway from EC austerity rules designed to cut government spending and shrink budget deficits. Under his spending plans, Italy's deficit will move dangerously close to the 3 percent of GDP set by the EC. Since September, Renzi has been pressing for a loosening that amounts to 1 percent of GDP—not just to give himself time to implement reforms and promote growth, but also to help the government manage the cost of the refugee crisis. Brussels should grant Renzi flexibility because of Italy's front-line "exposure" to that crisis as a Mediterranean state, says Claudio De Vincenti, an economist Renzi recruited as a cabinet undersecretary. The Renzi government is "the most reformist government since the war," De Vincenti says. "Europe should be grateful, instead of suspicious, that Italy requests flexibility."
For some of Renzi's critics, the changes are not deep enough. Andrea Montanino, who served as an executive director for Italy at the International Monetary Fund until last year, credits Renzi with raising confidence in Italy. That, he says, has helped to avoid "worse scenarios" than the debt crisis of 2011, when government bond yields soared to a record high, forcing Prime Minister Silvio Berlusconi, already entangled in a sex scandal, to quit. But Montanino wants Renzi to "make the country more competitive"—by creating a venture capital system that works, cutting the red tape involved in starting a business, and speeding up a sclerotic judicial system.
Daniel Gros, director for economy and finance at the Centre for European Policy Studies in Brussels, says Renzi's reforms have stopped short of the mark: A review that could have led to cuts in public spending "has more or less disappeared, and he's done a U-turn on his initial plan to keep taxation on income instead of wealth by abolishing the tax on first homes." Gros believes Italy's biggest problem is low productivity, and he says the country could yet wreck the fragile euro zone if it defaults on its debts. "That's not the direction things are heading now," he says, "but why not?"
On Jan. 22, Renzi invited Tim Cook, Apple's chief executive officer, to a buffet lunch of pasta at Palazzo Chigi. They celebrated the company's decision to pick Naples for its first iOS App Development Center in Europe. Three days earlier another CEO from the U.S., Chuck Robbins of Cisco Systems, announced strategic investments in Italy. At the end of January, Renzi met with Jeff Immelt, CEO of General Electric, which pledged to invest $600 million in the country. There's a buzz that's been lacking in Italy, says Renzi's business-investment adviser, Marco Simoni, a professor on leave from the London School of Economics. "I see several multinational companies a week," he says. "Service companies are coming to Italy, sovereign funds, private capital from real estate to pension funds. This is a country that has spent the last 15 years somehow paralyzed by the fear of globalization. Now the prime minister talks to businesses."
Foreign investors spent a record $19.7 billion last year buying companies based in Italy, building on six increases in a row since 2009, according to data compiled by Bloomberg. That's led some Italians to say foreigners are taking over. Simoni counters with the case of Baci chocolates, made by Perugina. His great-great uncle designed Baci's graphics, including an iconic "love note." Simoni points out that Nestlé, a Swiss company, bought Perugina. Nestlé appreciates "the Italian character of the chocolate, so it holds on to that," Simoni says. "The same goes for leather shoes, clothes, even engineers like those who work for GE. For us, the nationality of the investor doesn't matter. What matters is having a serious industrial plan."
In the evenings, Renzi often retreats to his private apartment on the third floor of the palazzo, directly above his office, for a pizza dinner with members of the giglio magico. Its key members are, like Renzi, Tuscan-born: Luca Lotti, 33, a cabinet undersecretary, and Maria Elena Boschi, 35, minister for constitutional reforms. "Renzi doesn't accept dinner invitations," says Maria Teresa Meli, a political journalist for the Corriere della Sera newspaper who's close to the premier. "He doesn't like going to 'parties that matter' in Rome. He'll spend his evenings with a couple of people from the magic lily in his flat, wearing jeans and a sweatshirt, barefoot. Then Renzi will say, 'Let's have a pizza,' and often it's Lotti himself who goes to get them. That's the dinner—pizza and Coke."
The cliquishness rankles many inside and outside government: too small, too Tuscan. "Renzi's real defect is that he doesn't have a dream team," says Enrico Mentana, news editor at the private LA7 TV channel and previously a news presenter on Berlusconi's TG5 news. "He's a soloist. He trusts only those he met in the past and not those who could give him another point of view. He's like actors who come up to the capital from provincial theaters, and, after a time, find their repertoire is finished. He needs new people, a program for Phase 2."
Renzi is not about to cut off his old mates. "We're still the boys up from the country" is how he puts it, according to Meli. Indeed, virtually every weekend, he shuttles to and from his family at Pontassieve, east of Florence. His wife, Agnese, with whom he has three children, teaches at a secondary school there.
With municipal elections expected in June presenting a test of Renzi's popularity, he's been getting out into the country more often—touring a nuclear physics laboratory in the Abruzzo region, east of the capital, for example. He's said he'll call a referendum, possibly in October, on his planned reform of the Senate. As part of his strategy to overhaul the ruling elites, he wants to dramatically reduce the powers of the upper house and free up the lawmaking process. It's likely to be a contentious plebiscite, and Renzi has vowed to resign if he loses. His support seems to be holding up reasonably well in Italy's fractured political arena. About a third of Italians back his party, according to polling in April. That was down from just over 40 percent two years ago, but still well ahead of the Five Star Movement led by comedian-blogger Beppe Grillo (about 25 percent) and Umberto Bossi's Northern League (about 14 percent).
Five Star Lawmaker Carla Ruocco ridicules the idea that Renzi and his team mark a break from the past, and says the Renzi government is merely "a continuation of previous administrations, including Berlusconi's." Ruocco notes that cabinet members such as Interior Minister Angelino Alfano and Health Minister Beatrice Lorenzin have served in earlier governments, and also points to Renzi's support from Senator Denis Verdini, a former member of Berlusconi's Forza Italia party. "Renzi governs with Alfano, with Verdini," she says. "And he's a Demolition Man?"
Well, yes—in one sense, anyway. The PM is already planning his own demolition, at least as a politician. "I've decided on just two terms," he says. If he serves out his first and wins a second, he'd leave office in 2023 as a relatively young man: "When I'm 48, I'll be a pensioner!"
This story has been updated to add the 10th paragraph on an agreement to form a multi-billion euro fund to help troubled banks.