Damascus Love Songs Can't Drown Out the Destruction of Syria
In the capital of a ruined country, ordinary Syrians are keen to prove that life goes on. So is the government.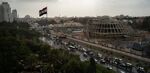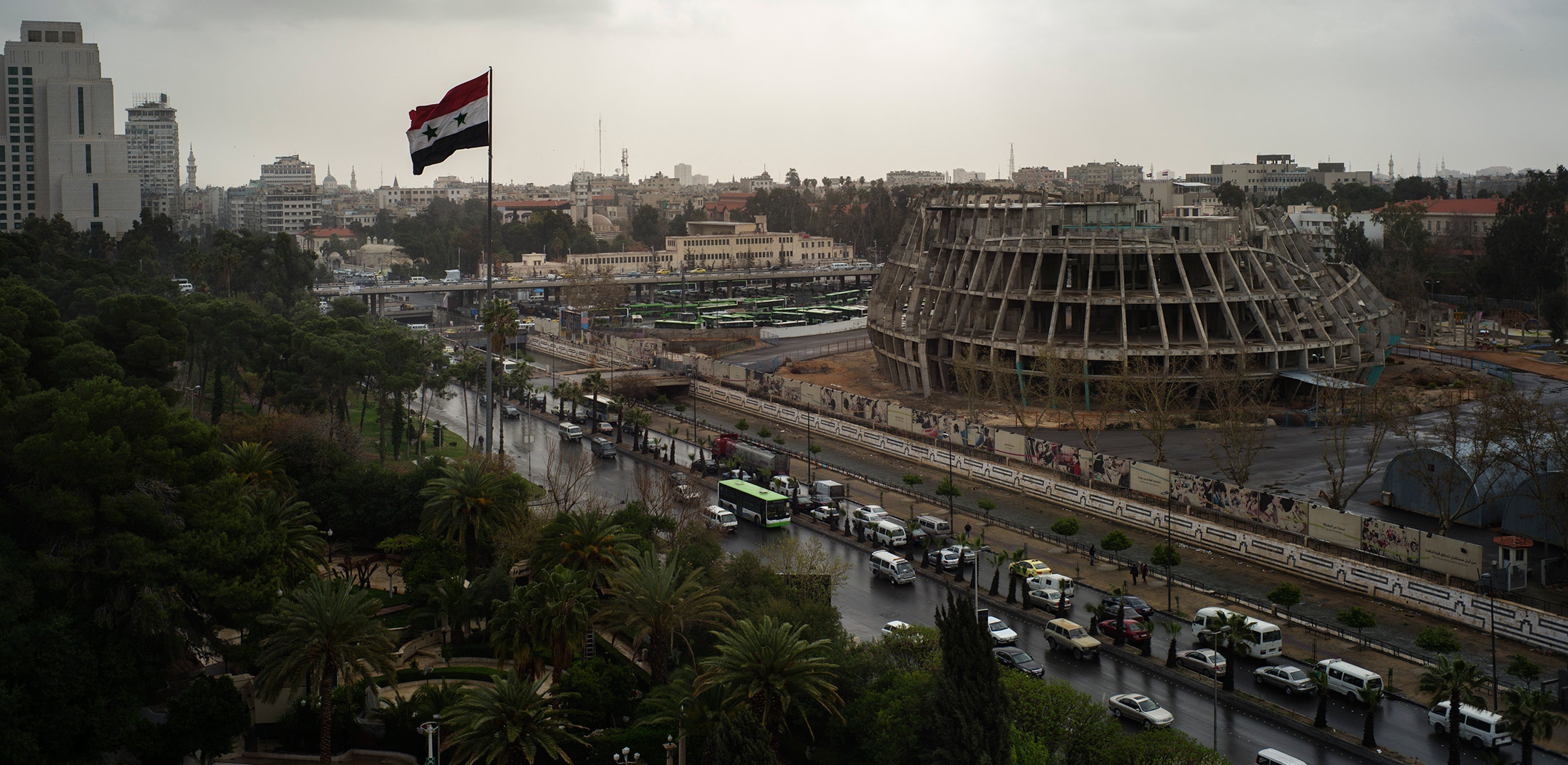 At the Damascus opera house, youths in jeans, old gentlemen in suits and ties and women in long-sleeved dresses and headscarves cheer and applaud the two performers of Arabic love songs.
As the audience sways to the music, one man twirling a tissue in each hand, the five-year war that has crippled their country is all but forgotten, at least for the evening.
"We come here to relax, calm our nerves and leave the world behind us," said Sawsan Nabulsi, 52, who owns a beauty salon in the Syrian capital. She was at the concert with her husband and two friends.
With the backdrop of rocketing food prices, a decimated currency, a jobless rate above 50 percent and families living hand-to-mouth, it's a slice of Damascus life that offers an insight into how President Bashar al-Assad manages to maintain a veneer of normalcy long after Arab Spring revolts toppled other leaders.
For the government, keeping the 1,300-seat, cubed opera house complex open helps to show it's still functioning and in control, albeit thanks to financial and military aid from Iran and Russia. It subsidizes tickets for the performances at the officially named Assad House for Culture and Arts. The priciest were the equivalent of 70 cents each.

"The state is performing all its duties," National Reconciliation Minister Ali Haidar said in an interview at his office in Damascus. The western powers wanted to show that Syria has become a failed state, "but we have been determined not to allow" this to happen, he said.
Hundreds of civilians, including school children, have died in rebel shelling of Damascus and government airstrikes against fighters in hideouts outside the city. But as you enter it from the Beirut road to the west, it appears untouched, spared the kind of violence that ravaged whole neighborhoods in cities to the north like Homs and Aleppo.
Swinging, Dancing
Damascus's prewar population of about 3 million has doubled, with the influx of mainly Sunni refugees from other areas.
On a recent weekend after a Feb. 27 truce stopped the rockets, children were on swings in a public park, teenagers glided down steps on roller-blades, young men did a belly-dance to the rhythmic sound of a tabla drum and ancient souqs were busy. Sprinklers at traffic circles watered spring flowers while movie theaters showed recent Hollywood offerings.
Men sipping coffee and puffing on shisha water-pipes in a café were even relaxed last week about the surprise announcement by Russian President Vladimir Putin to start withdrawing military support to Syria. They said it showed the war might finally be nearing an end after leaving at least 270,000 people dead.

But it's going to be a long road back from the destruction, both physically and financially in a country where the minimum wage is down to about 20,000 pounds, or a little more than $40. The currency has plunged from 47 to the dollar before the war to about 450, with some eateries changing prices daily.
The price of fuel for cars and generators -- regular power cuts have made them indispensable -- has more than tripled. Food prices have soared, though the government still subsidizes some items, such as rice, sugar and bread.
Selling Silver
Desperate for cash, some Syrians have been selling household items to survive.
At a government-run handicraft market, two women, one with bleached blond hair, walked into a silver jewelry store with two serving spoons. They asked the owner, Yeser Allaf, if they were silver. When he told them they most likely were not, they looked so dejected he promised to check again.
"Men have sold their wives' jewelry or their daughters' earrings to rent a room or buy food," said Allaf, 25. "It's been one of the most painful things to see."

Syrians who bought produce by the kilo are now getting only as much as they need, with some having to go weeks without meat or fruit. Festive treats are also purchased more carefully.
Saeed Zenbarakji, whose store stocks chocolate and pistachio-studded candy, sold 1 million Syrian pounds of sweets during any Eid season before the war -- and after.
"Calculate that at today's currency rates and you will get the picture," said Zenbarakji. He used to post staff at the door to prevent a stampede. Now, many newlyweds are eschewing the traditional box of sugar-coated almonds for guests. "We've never been through such circumstances before," he said.
The Dictator and the State
Assad, 50, has portrayed the conflict as one between the state and terrorists, refusing to acknowledge the legitimacy of demands made by democracy-seeking activists.
His narrative was reinforced by the emergence of Islamic State and other extremist factions, though it's come at a heavy cost, Paul Salem, vice president of the Middle East Institute in Washington, said by phone.
"In Tunisia and Egypt, the dictators have fallen but the countries have survived," Salem said. "In Syria, the dictator has survived but the Syrian state as it was has not."
Assad controls about a third of the country, though most of the population and the country's major cities. The rest of the territory is divided between armed groups, including the al-Qaeda-linked Nusra Front, and Islamic State.
The 25-mile (40-kilometer) highway from the Lebanese border to Damascus, dotted with flowering almond, cherry and apricot trees, tells the story of missed opportunities.
Off the road, hilltop villages, which had teemed with Gulf tourists, are now largely war zones.
A showcase project by Dubai developers Emaar Properties PJSC and Invest Group Overseas lies abandoned, with faded purple flags bearing the company's name fluttering in the wind. The project was supposed to include office space, a five-star hotel, residences, space for 255 retail outlets, cinemas and the new headquarters of the Damascus Securities Exchange.

The damage to the economy is so huge it will need $180 billion of investment over 10 years to return to its prewar size of $60 billion, Abdallah al-Dardari, deputy executive secretary at the UN Economic and Social Commission for Western Asia.
Two million homes out of 4.7 million have been destroyed, he said. It means that Syria needs to build about 300,000 homes a year over the next decade, added al-Dardari, a former Syrian deputy prime minister. Maintaining the business-as-usual image, Assad laid the foundation stone last week of a residential project that will include 12,000 houses.
"Syria has lost five years of its modern history," al-Dardari said at his office in Beirut. "And between 30 and 40 years of human development."
Changing Habits
About half of Syria's prewar population of 23 million has been displaced, with the human tide reaching Europe triggering the biggest refugee crisis since World War II. For those who stayed in the relative calm of Damascus, Syria feels different.
Majd Maasarani, 20, said he and his friends opted to "vent" by wiggling hips in a mock belly-dance at Tishrin Park, the largest open space in the city. "Our lives have become confined to this 5-kilometer space," said Maasarani, who works in a candy store. "We dance, post our pictures on Facebook and call it a day."
Nizar al-Asli, 65, used to travel to "every corner of Syria" on weekends before the war. These days, it's lunch under a tree on the pavement with his family. A shisha pipe, playing cards and a speaker hooked to a mobile phone provide entertainment.
Such resilience has also led some people to confront the reality of what's happened to their nation.
To help neighborhood children traumatized by falling shells, sculptor Mustafa Ali started free weekly art lessons in the courtyard of his gallery in the old city. "We don't expect them to become artists, but the goal is to get them out of the atmosphere of war," said Noha Ali, 43, a painter and the owner's wife, as the children drew pictures for Mother's Day.

Hani Hamza, who sells shisha pipes encrusted with shiny beads in the Hamidiyyeh souq, said he made one in the shape of a rifle in the colors of the Syrian flag. It's to express "our steadfastness in the face of the enemies who have ruined our country," he said.
At the souqs in the old city, there's a determination to keep traditions alive, though sales are down more than 50 percent.
One of them is the Bakdash ice cream shop, which first opened in 1890. On a recent Saturday morning, it was packed with Syrians enjoying ice cream, made of mastic and dried orchid root called sahlep and rolled in pistachio nuts.
The price of one serving has been doubled to 200 pounds, said owner Hisham Bakdash, 73. "This store is part of our folklore," he said.
The Nofara coffee shop behind the centuries-old Umayyad Mosque has maintained the art of storytelling. On a recent evening, Ahmed al-Lahham, 57, read the tale of a king who went around freeing slaves captured by an evil Western rival. Lahham banged a long metal stick to keep the attention of his clientele from straying.

The opera house director, Juwan Karjouli, said last week he put on 181 shows last year, an increase of 75 percent from 2014, despite "difficult circumstances" that included the departure of bands and groups from Syria. It sits near government buildings and has been hit by mortars. It was the venue for one of Assad's defiant speeches.
At the concert, the audience was appreciative, giving the performers a standing ovation and snapping selfies with them. Music "transports me to a different world," said Hania al-Khoja. "There's love and humanity in music, and that gives me hope."