Latin America's Obsessed With This Music Service Run From an English Attic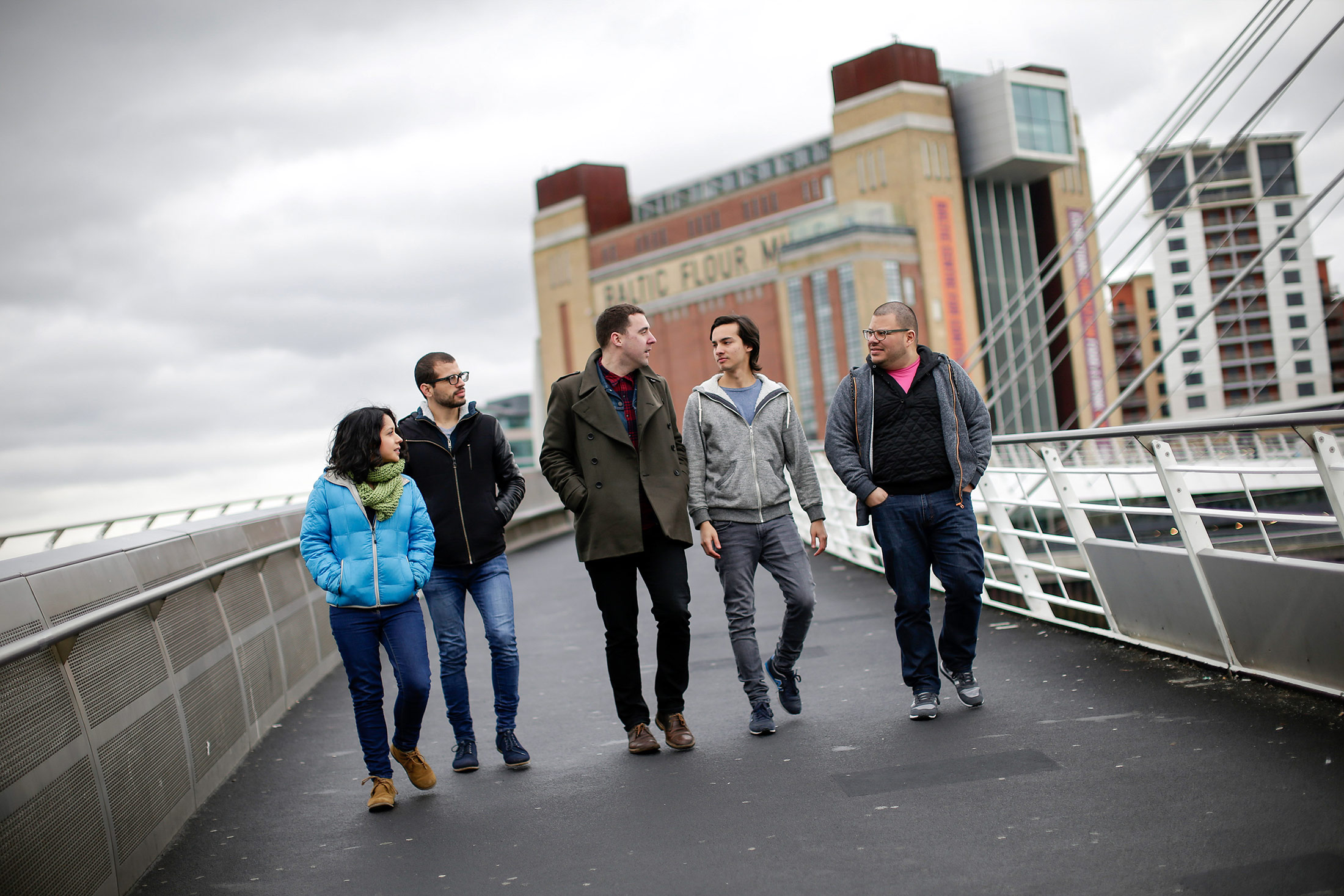 Photographer: Matthew Lloyd/Bloomberg
When Daniel Salas and his cousin Melvin Salas first started talking about creating a music technology startup in their hometown of San Jose, Costa Rica, in 2012, they couldn't have guessed the conversation would lead them to a tiny attic office behind an old theater in Newcastle, an industrial city in Northeast England with tech hub dreams.
Yet Leaf Music, a startup based 5,300 miles and cultural light years from its founders' home, has become one of the fastest growing music streaming apps in Latin America and the Caribbean. In the Dominican Republic, Venezuela, and Ecuador, Leaf has beaten Spotify, Apple Music, Soundcloud and Pandora, to become the most popular music service.
Not bad for a team of seven full-time employees with almost no funding.
Leaf bills itself as "the first music streaming app designed for the post-millenial generation." The majority of its users are under 24 years old. "This generation is accustomed to being able to get their music for free, from YouTube," Melvin Salas says. "They won't pay for a subscription service." For these users, he says, a music service has to be mobile first, incorporate elements of a social network, have a video, and, critically, it has to be free.
Leaf pulls the majority of its content from Alphabet Inc.'s YouTube, allowing the startup to overlay its own user interface and provide a service with no subscription fees or in-app advertising. Because the content is streamed legitimately from YouTube, the startup doesn't have to worry about copyright issues that have bedeviled the likes of Pandora and Soundcloud. Competitors, including Beats Music, FoxTuber, Musi, Youtify and Streamus, have taken similar approaches. YouTube tried to get into this game itself with YouTube Red, a paid subscription service currently only available in the U.S. but which YouTube intends to roll out worldwide.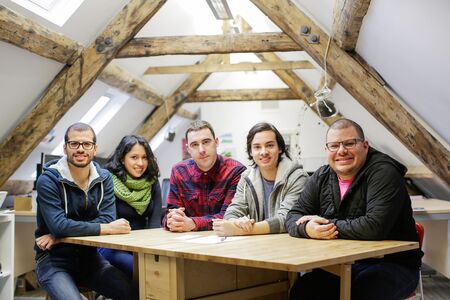 YouTube Wrapper
But Leaf is far more than just a YouTube wrapper, say Gilbert Corrales, the startup's 33-year-old co-founder and chief executive officer. He believes the app's value lies within its curated YouTube videos and the services it will build around them. It's something other apps have tried: Sharing DJ playlists helped propel Soundcloud's growth, while Spotify rolled out mobile features designed to find music to suit a listener's mood or match their pace during a run.
Leaf will automatically generate customized playlists for individual users -– either based on its own data analytics, or even in response to chat messages from users sent from within the app. About 150,000 users have started such chats so far. "We had a little kid from the Netherlands reaching out. He had cancer," Danny Salas says. "He was keeping us up to date on how his treatment is going and we were feeding him tracks to help him. We had something similar happen with a kid from Chile right after the earthquake."
This side of the business isn't scalable, the company admits, but the founders think they can feed demand by getting users to engage directly with one another. Leaf plans to create communities around specific genres and sub-genres of music and already allows users to build and share playlists.
So where's the business model, one might ask. "Our long-term vision is to become an engagement and discovery platform where artists and fans can come together and connect and that's where we intend to monetize, by helping artists and their labels be more effective at capitalizing on their relationship with the fans," Corrales says.
In practice, that may mean helping artists find their most zealous fans in particular geographies, in order to help the bands decide where to book concerts. "We want to provide artists with actionable data," Corrales says. "Even though young people, especially in Latin America, won't pay for a music app subscription, they will pay a lot of money to go to concerts," Corrales says. Leaf might in the future take a cut of ticket revenue it helped generate, or allow merchandise to be sold through the app.
Latin America is seen as a vital frontier for the music industry and a key territory for concert revenues, which now constitute more than half of all music spending in the region — live music was worth $623 million in 2014 and that figure is expected to grow at nearly 6 percent annually to reach $823 million by 2019, according to an analysis from PricewaterhouseCoopers.

Leaf has begun experimenting with producing its own recording sessions for musicians, starting in February with up-and-coming British electropop band Shields, which -– not so coincidentally -– are also from Newcastle, and which will stream exclusively through Leaf's app.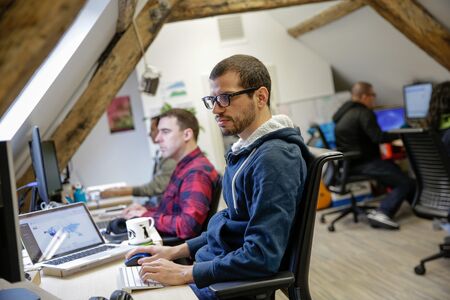 Road to Newcastle
Leaf's road to Newcastle began with Corrales. The Salas cousins had no experience in the music industry or app development. Danny, 28 and skinny, with collar-length black hair, had a background in film production; Melvin, also 28 and thin, with a close-shaved head, had trained as an architect. The duo sought advice from Corrales, a star in San Jose's tiny tech community. Corrales taught computer science at the local Universidad Latina de Costa Rica, had briefly been the Costa Rican government's top tech official, and had worked for Intel, HP, Microsoft, and a string of startups in both Costa Rica and the U.S. Corrales' wife, Helga Alvarez, was also a serious coder, having served as lead developer for gay dating app Grindr.
The Salases liked Corrales and Alvarez. Their requests for friendly advice quickly morphed into pleas for the couple join them as co-founders. "I was hesitant," Alvarez says. "I wasn't sure these guys were serious." In the end, the four decided they would work together for a month, which "turned into two months and then three months," Corrales says.
Before long Corrales was contacted by Estonian business accelerator Startup Wiseguys, asking if Leaf would be interested in applying to join the group. Corrales knew Skype's development team had come out of Estonia and that the country's tech ecosystem had an increasingly global profile. He also noticed that John Bradford, the former managing director of London's well-known Techstars accelerator, was on Startup Wiseguys' board. The Leaf team applied and was soon packing its bags.
After graduating from the accelerator, Bradford told the team about a U.K. government program that was trying to entice foreign tech startups to Britain. It offered founders small stipends and help with visas, as well as partnerships with other U.K. tech incubators. Leaf was accepted into the program and ultimately secured a spot with Ignite, a Newcastle-based incubator funded by angel investors that offers startups 17,000 pounds ($24,450) for a three-month residency, plus mentorship and credits towards web hosting, in exchange for an eight percent equity stake of the business.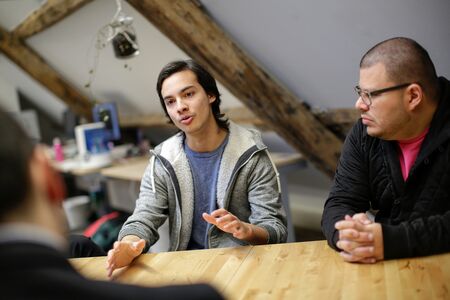 Why Newcastle?
Like so many startups, Leaf had initially been interested in moving to London. But Bradford, who also serves as an advisor to Ignite, told the Leaf team that Newcastle offered something the capital didn't: cheap housing, which would enable them to stretch their government stipends and the accelerator funding. Arriving in July 2014, each member of the team managed to live on 700 pounds a month — about just $1,000 — contributing the rest of their U.K. government stipends to supplement Leaf's modest marketing budget. "We couldn't have done that in London," Corrales says.
Frugality paid off here too. When Leaf began using Twitter to target potential users, Twitter's advertising experts told Melvin Salas, who handles the startup's marketing, to expect to spend at least 1 pound per customer acquisition. If Leaf got really good at it, Twitter thought they might hope to reduce that amount to 50 pence per acquisition within six months. Within two weeks, Leaf cuts its acquisition cost to less than 10 pence, a level so low that Twitter's marketing executives have come to Leaf for advice. "It actually helped that we didn't know anything about marketing," Melvin Salas says. Instead of designing a single, high-quality advertising campaign -- which Salas says amounts to an expensive, time-consuming gamble on a single marketing concept -- Leaf experimented with thousands of low budget ads trying out different concepts. They kept what worked, and junked the rest.
What worked best were simple ads, using colorful clip art, public domain photography and a bit of pop art design. "In the beginning we put too much effort into trying to make the ads look beautiful," Corrales says. "You have to realize you are not designing for yourself or your peers, you are designing for your users."
Seed Round
Wesley Hartley, an investment analyst who worked at Northstar Ventures, a Newcastle venture capital firm, met the Leaf team soon after they arrived. The app had just formally launched and had gained about 20,000 active users in a little under two months, prior to any marketing. "I heard there was this really good team trying to do something in the music industry," he says. Hartley was a music lover, had played in bands, and had also recently visited Costa Rica as tourist – so he was curious. But he was also skeptical. "Music is just a notoriously difficult industry," he says. "After meeting them, I thought if there is a team that is going to crack it, it is this team." He was so confident in Leaf's prospects, he quit his job at Northstar to join them.
In August, Leaf completed a 450,000-pound seed round, with participation from Northstar Ventures and a number of angel investors – including Doug Scott's Potential U.K. syndicate -- giving financial breathing space the nimble team hadn't had before. Leaf may look to raise a Series A round later this year, Corrales says, as the startup looks to grow more rapidly – expanding beyond the seven full-timers it currently employs. "Given the success we're having, opportunities are opening up that we are going to need to take advantage of," he says.