Justin Trudeau: The Canadian Coming for Dinner
The beloved son of Pierre Trudeau rode a wave of enthusiasm to the top post in Canadian politics. His upcoming trip to the White House marks the first state visit by a Canadian prime minister in 20 years.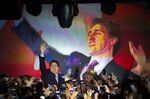 Justin Trudeau's landslide election as prime minister of Canada in October produced a stir over his boyish charm and pedigree—he is the 44-year-old son of Pierre Trudeau, whose years in power sparkled with raffish glamour. Like father, like son, many assumed of the athletic, open-faced victor, a onetime snowboard instructor with a big earth-and-raven tattoo on his left arm. Mobs greet him as they would a film star.
Less understood abroad as Trudeau prepares for a White House dinner on Thursday is the way the new prime minister rode to victory on what might best be called Canadian exceptionalism—the contention that his friendly, frozen land of 36 million multicultural souls has a unique role as a global model.
Canada should push itself "as a story and as a framework for the way the world will evolve," he said in an interview in Vancouver last week, his once-adolescent haircut long since pared back to prime ministerial dignity. In a year or two, he offered, the thousands of Syrian refugees Canada has absorbed will be "part of our society" and Trudeau will showcase them. Inclusiveness, he has said, is Canada's "gift to the world."

The question four months into his term is how his sunny focus on values and identity and his hundreds of election promises translate into policy at a time of plunging oil prices, burgeoning deficits at home and continued instability abroad.
Trudeau, the first Canadian accorded a Washington state dinner in two decades, has an enormously ambitious agenda: absorbing thousands of additional Syrian refugees, treating aboriginal groups as equals, overhauling the electoral system, promoting green industries and stimulating the economy through major infrastructure spending, to name a few.
So far, he has tilted distinctly left, imposing a tax hike on the top 1 percent and a climate test for pipelines, as well as withdrawing Canada's jets from bombing Islamic State. Not all, including those rooting for him, are certain it's all going to work out, even though he has a parliamentary majority.
"Delivering what we promised will be a big challenge," said Marc Miller, elected to parliament as a member of Trudeau's Liberal Party and a close friend since they were schoolmates. "We promised a lot."
Others raise more profound questions. Irwin Cotler, a former Liberal justice minister and close friend of Trudeau's father, admires the young prime minister. But he worries.
"His instincts are to trust and give people a chance," Cotler said. "I don't know if Justin has an appreciation of evil."

Cotler isn't the first to wonder. Before becoming prime minister, Trudeau came under fire for praising the efficiency of China's government and arguing that the Boston bombings were in part due to the Tsarnaev brothers' sense of exclusion from society.
Nobody questioned the toughness of the older Trudeau, who despite his civil libertarian bent invoked martial law against Quebec separatists.

The new prime minister is used to being underestimated. He was never a brilliant student and he traveled, smoked marijuana and worked as a bar bouncer, whitewater instructor and teacher. He didn't always relish carrying the family name, sometimes signing into places with false identities.
Whether he understands evil, he is no stranger to tragedy. In 1998, his youngest brother Michel was killed in an avalanche. His broken father fell ill and died two years later, after Justin spent the final months reading to Pierre from the former prime minister's favorite works of classical French literature. His mother Margaret, three decades younger than her husband, had long ago walked out. Suffering from both bipolar disorder and restlessness, she danced in revealing outfits at New York's Studio 54 and partied with Ted Kennedy and Mick Jagger. She went on to remarry and become an author and advocate for mental health awareness, bursting onto the national scene once again on election night.
Justin Trudeau's first adult foray into public life came at his father's funeral in 2000. Just 28, he ascended the podium of the historic Gothic-Revivalist Notre-Dame Basilica in Montreal and revealed an instinctual grasp for oratory with a mix of humor and poignancy. Many of the 3,000 mourners who filled the pews, including Fidel Castro, Jimmy Carter and the Duke of York, were rapt.
By 2008, he had won a seat in Parliament from a working-class, multiethnic district of Montreal called Papineau. He chose that riding, as Canadian electoral districts are called, because it was no shoo-in, was filled with recent immigrants and was held by a separatist party. He hit the streets every day, showing an aptitude for retail politics. But he was still a backbencher; Stephen Harper, the Conservative prime minister who had been drawn to politics in part by his loathing of Pierre Trudeau, ran the country.
In 2012, pondering a move to become party leader, Trudeau displayed flair and cunning. He had read about a cancer fundraising event involving amateur white-collar boxers. A boxer himself, he challenged any Conservative. The one who took him up was a swaggering bruiser named Patrick Brazeau, three years younger, trained in the Canadian Forces and with a black belt in karate. There wasn't a person, including Trudeau's wife, Sophie, who didn't believe he was a goner. But he trained relentlessly for six months and won with a mix of patience, stamina and a long reach.
It wasn't long before he was elected leader of a party many thought down for the count. He surrounded himself with a gifted inner circle—nearly all of them in their 30s and 40s—and ran an error-free campaign built on hope and change, much as Barack Obama had done in 2008.
He selected a young cabinet, many new to politics, fully half of them women. They include an Afghan refugee, an aboriginal chief and two turban-wearing Sikhs. He has, in effect, heralded a Kennedy-esque changing of the generational guard.
The underutilized power of Canadian decency, which became a cornerstone of Trudeau's pitches to investors at Davos in January, resonated in the election.
A key moment came in September after the lifeless body of 3-year-old Alan Kurdi washed ashore in Turkey, forcing the world's gaze onto the Syrian refugee crisis. When it became known that the toddler had relatives in Vancouver who had tried unsuccessfully to bring over family members, Harper spoke of security concerns while Trudeau invoked Canada's historic generosity. Harper advocated against the face-covering niqab worn by some pious Muslim women and called for stripping terrorists of citizenship. Trudeau declaimed the politics of fear. The rising Liberals cruised to victory.
"Harper came out of the populist, anti-establishment, small-government roots of western Canada," said John McArthur, a fellow at the Brookings Institution in Washington who focuses on Canada. "In the end, enough people saw his policies as a betrayal of founding precepts and as being un-Canadian."
Of course, Harper's belief in Canada as a self-reliant, more socially conservative nation of oil, soil and timber best overseen by minimal government still has plenty of backers. His party's vote total was only down slightly, but was overwhelmed by new voters and a higher turnout that propelled the Liberals to a solid victory.
Trudeau is discovering that governing is more complicated than campaigning. He vowed his deficits would not exceed C$10 billion ($7.2 billion), a cap quickly abandoned as oil prices continued to fall, and promised his tax changes would be revenue-neutral. They are actually projected to cost C$1.4 billion. He said in the interview last week that his message to other governments is that balancing a budget "is not an end in itself, it's a means to an end."
He has followed through on a pledge to withdraw Canada's fighter jets from the battle against Islamic State while upping Canada's involvement in other ways, including adding special forces to train local fighters. The confusing logic has drawn fire, as has the assertion that Canadian trainers will not participate in combat.

It is no surprise that Obama has taken a shine to Trudeau, manifested by the quick state dinner invitation. Several Obama aides advised the Liberal campaign. During the traditional congratulatory call the day after the October election, Obama told his new counterpart that he and Michelle had been reminded of themselves seven years earlier as they watched his acceptance speech.
Trudeau's requests of Obama will include the easing of border flows to facilitate trade, as well as syncing climate policies. Fully 75 percent of Canadian exports go to the U.S. With Canadian growth lagging, security-induced border congestion represents a critical concern.

Trudeau arrives amid a growing clamor among Republicans that Canada's refugee policy toward Syrians—it has taken 25,000 since the change in government—is rendering the northern border unsafe. Should a Republican win the presidency in November, things could get complicated.
The mutual affection of host and guest aside, relations with a U.S. president are tricky for a Canadian prime minister. The words "U.S.-style" often serve as shorthand in Canada for right-wing. Canadians want their prime ministers to get along with presidents while not being seen as their poodles. No relationship is more important—or fraught. Trudeau's father once compared Canada's position to sleeping next to an elephant.
Obama has so far publicly accepted Trudeau's uneasy policy shift in the fight against Islamic State.
For now, Trudeau is operating from a position of political strength. His exceptional comfort with people of all sorts—the mighty with whom he frequently met as a boy at his father's side, as well as the refugees—serves him well. His popularity is up from Election Day.
In a modest section of low-slung buildings, fast food shops and dollar stores in Trudeau's Papineau district, 23-year-old Elissa Charon sat at her workbench in a cobbler's shop on a recent crisp morning. Although she is from a family of Quebec separatists with little love for the Trudeaus, her reaction to the election was straightforward.
Harper, she said, "pushed Canada to act just like the United States. At least with Trudeau, we have our identity back."