Modernizing Super Mario: How Nintendo Has Reinvented Its Star
New challenges for middle-aged Mario as Nintendo opens up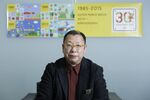 In the 30-odd years since his debut, Nintendo Co.'s Mario went from a pixelated man — with dots for eyes, a bar for a mustache and a square nose — to an expressive 3D character. Video game designer Takashi Tezuka has helped guide him through most of the iterations.
Modernizing Mario has required upgrading graphics for a clearer, sharper image, while also consciously cultivating a secret inner life. He remains a man of few words: Each generation of players can use its imagination to decide the character's personality.
"We thought he should be a character that's free to do anything," said Tezuka, who has worked on every Super Mario Bros. game since its debut in 1985. "Mario has to keep up with the times."
Super Mario Maker, a do-it-yourself construction kit that allows users to create and upload their own levels of the game for others to play, is the latest hit in the franchise that has helped Nintendo sell more than half a billion units of its consoles and hand-held players. The company is now readying to test the star power of its character on new audiences when it launches a smartphone service next year. 

Standard Set
"Through all the changes in devices and technologies, Nintendo has always specialized in producing a particular feeling of freedom when manipulating a character," said Masanobu Endo, a professor at Tokyo Polytechnic University's game department. "They set the standard."
Tezuka was speaking at the company's main development center, a sprawling walled-in compound in a quiet Kyoto neighborhood, with a jogging course and tennis courts. Very little about its immaculate, echoing hallways would suggest a home to one of the world's most creative companies.
Nintendo's Shigeru Miyamoto created Mario when he was denied a license to use Popeye for a video game that would become Donkey Kong. Miyamoto originally set out to make a blank-slate character he called Mr. Video, generic enough to be used in any game.
The original Mario's simplicity had much to do with the limitations of early games. Confined by computer memory restrictions, Miyamoto gave Mario a hat to avoid animating hair and a mustache to hide the mouth. 

Saving Bits
Elsewhere in the game, clouds were reused as bushes to save precious bits, Tezuka said leaning over a sheet of graphing paper covered in what looks like child drawings. The paper shows a sketch of a Super Mario level, signed by Miyamoto and dated February 1985.
Pixel grid broadsheets like that one are how games were designed back then. Tezuka, who became Miyamoto's assistant after less than a year at the company, had to think long and hard about every change, because it would take until the next day before programmers could digitize the designs and make them playable.
"We were just having a lot of fun," Tezuka said. "It was all about seeing who can come up with something that surprises your colleagues and makes them laugh."

The first Super Mario Bros. spearheaded the company's push into the U.S. console market at a time when the video gaming industry was in a slump. The company sold more than 300 million games in the series, transforming Mario into an engine for hardware adoption and a pop culture icon. 
Sega, PlayStation
In the early 90s, Mario helped fight Sega Sammy Holdings Inc.'s Genesis and its blue-haired hedgehog, Sonic. Nintendo 64 called on Mario and his cohort to demonstrate its 3D graphics in 1996 as it was facing competition from Sony Corp.'s PlayStation.
Super Mario Maker is a showcase for the Wii U console's touchscreen gamepad, providing a canvass for players to design their own stages. The idea came from a group of company software engineers responsible for creating level-editing tools for game designers.
"Most games tend to be about following a predetermined path to solve puzzles. There aren't a lot where you think and create on your own," Tezuka said. "I wanted to make something that's more like a toy."
Some Misgivings
Miyamoto, who sits next to Tezuka and like everyone in the company save the president doesn't have his own office, thought it was a great idea. Despite some misgivings about letting users experiment with one of Nintendo's most precious brands, Super Mario Maker was released in September. It sold more than a million units within weeks. There are now more than 3.3 million courses, played more than 200 million times.
The game's success is a testament to Nintendo's ability to appeal to the latest generation of players despite the industry's trend for increasingly cinematic, open titles. It is also a sign of enduring nostalgia among older gamers for the Mario of those early eight-bit days. 

Collector's Watch
The character's longevity has also conferred a cultural cachet that attracts corporate brands and artists alike: from Mercedes-Benz showing up in a Mario Kart game to an artist hacking an old Nintendo Entertainment System game to create a Mario landscape consisting only of blue sky and pixelated clouds.
For Manuel Emch, the chief executive officer of luxury watchmaker Romain Jerome, Mario is a generational icon as well as a source of fond memories of his first trip to the U.S. The Swiss company collaborated with Nintendo on a $18,950 limited-edition timepiece featuring a pixelated Mario hand-painted mid-jump in cold enamel. Most of the 85 watches have sold out.
"When I see the watch, it brings me immediately back to my childhood, the smell of popcorn we used to eat while playing," Emch said. "Because it's something that has evolved, it makes the original element even more powerful."
Nintendo plans to release five titles for mobile phones over the next year, starting in March with a free-to-play messaging-based application called Miitomo. Tezuka declined to comment whether Mario will make an appearance on the smartphone screen. He also wouldn't talk about the successor to the Wii U console, code-named NX.
"We feel quite strongly about creating things that are in sync with the times," he said with a smile, a hand on the plush stuffed Mario doll at his side.