The Men of the NHL in the Season's Best Investment Coats
Photographs by Taylor Jewell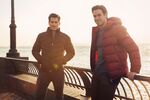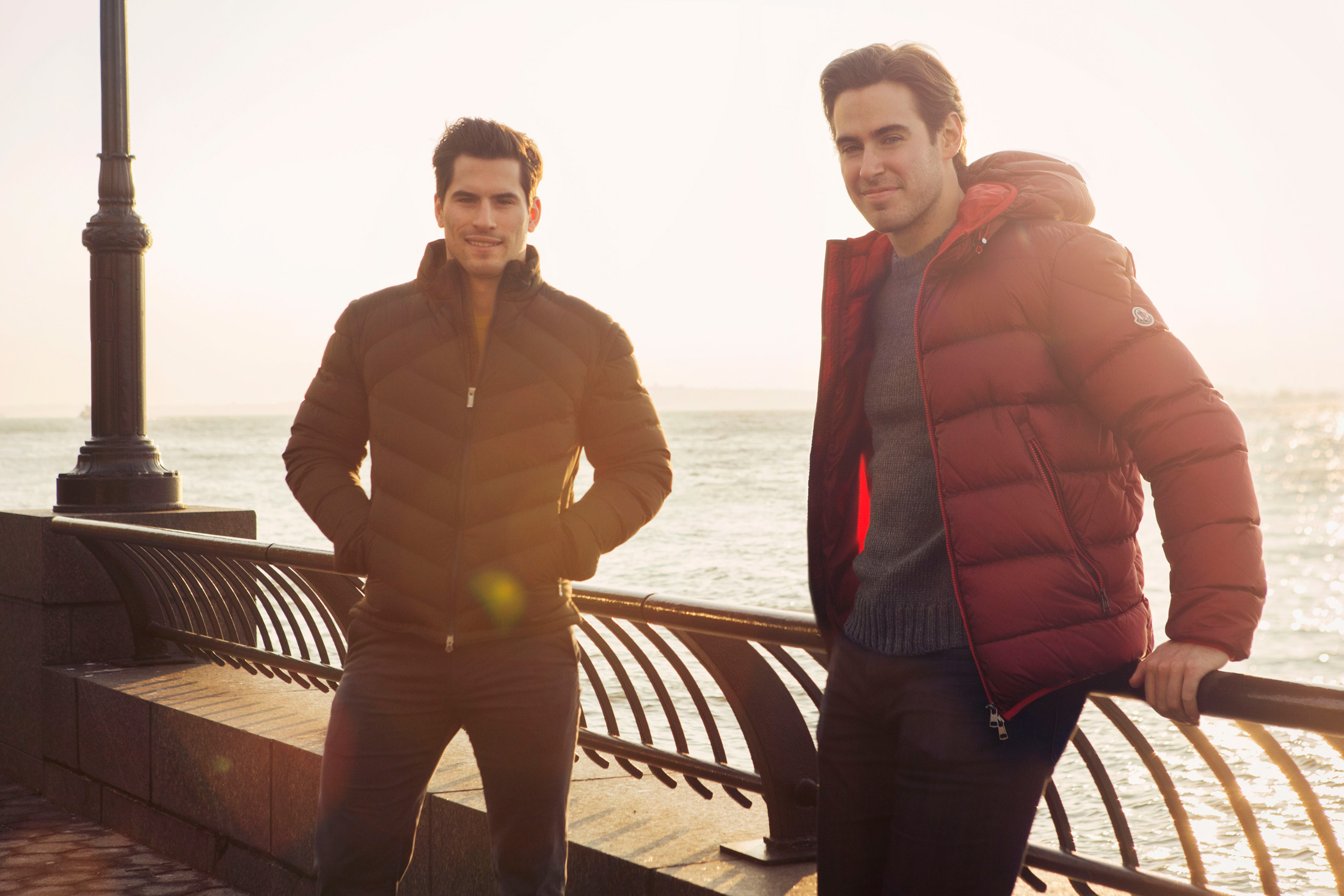 Don't let the mild mid-December temperatures fool you, we still have a lot of winter and many (many) frigid days ahead. On the upside, we also still have a lot of incredible hockey left, too, with the National Hockey League only about one-third of the way through its current 82-game regular season.
Since the best winter coats are often a serious investment, we decided to make a real project of testing out the best ones to recommend to you. We asked seven players from one of the toughest, most rivalry-intense divisions within the NHL, the Metropolitan Division in the Eastern Conference, to road test some of the most luxurious, weather-beating outer layers on the market—from pea coats, to down-filled parkas, to single and double-breasted overcoats.
Like the men who are wearing them, these 15 coats are game-changers.

Our first stop was downtown Philadelphia, near the Rittenhouse Hotel and along the Schuylkill Banks boardwalk, where we helped Michael Del Zotto and Michael Raffl find the right coats for their slim, athletic body types.  
Michael Del Zotto, #15


Age: 25 |  Position: Defenseman  |  Hometown: Stouffville, Ontario, Canada  
The reason defenseman Michael Del Zotto is so compelling to watch as a hockey player is the same reason he's so fun to dress up: lots of confidence. He looks great in clothes because he has the body of a professional athlete, sure. But it's more about his keen (almost studied, but not in an artificial way) awareness of himself—both his strengths and shortcomings—that makes him so ultra-appealing as both a model and, more importantly, a player. His coach must think so, too, as he currently leads the Flyers in ice time. While we were out shooting, his teammate and fellow model Michael Raffl called him one of the best dressed guys not only on the team (along with Mark Streit), but possibly in the league. Del Zotto responded, "He's smart." There's that confidence.
Michael Raffl, #12


Age: 27 |  Position: Left Wing  |  Hometown: Villach, Austria
Michael Raffl is a natural—on the ice, of course, as an offensive leader for the orange and black, but also as a style subject. The team clown and a close friend of Del Zotto's (they're both single, by the way) came in to the shoot a bit nervous, as this was the first time he's ever been asked to pose in a fashion feature. But you wouldn't know it. Without even trying, Raffl oozed a masculinity reminiscent of such legends as Steve McQueen and James Dean. When I mention this to him, the native-Austrian asks, "Who?" 


Next we visited the Battery Park City waterfront (which overlooks New Jersey, of course) with Devils players John Moore and Adam Henrique. Here, the clothing was provided by Ermenegildo Zegna, Theory, and Mr Porter.  
 Adam Henrique, #14


Age: 25 |  Position: Center  |  Hometown: Brantford, Ontario, Canada
Warning: If you ever meet Adam Henrique and you slyly mention you're a New York Rangers fan, he will simply say, "Oh, so you remember game six of the Eastern Conference Finals in 2012, then?" (wink, wink.) Ouch. He's referring to (Rangers fans: cover your ears) his game winning goal in overtime that ended the Rangers stellar season and sent the Devils instead to the Stanley Cup Finals. They went on to lose to the Los Angeles Kings, but that game cemented Henrique—who fans and teammates adoringly call "Rico"—as a tremendous talent and asset to the team. Off the ice, Henrique is known for his playfulness (including his epic Movember mustache). Case in point: Three hours after the shoot wrapped, he showed up at the Devils' holiday party wearing this. He told me earlier that day, "I'm still deciding between wearing a red and green Christmas tree suit that I bought on the internet ... or a classic tuxedo." Good choice, Rico.
John Moore, #2


 Age: 25 |  Position: Defenseman  |  Hometown: Winnetka, Ill.
Speaking of memorable overtime goals, John Moore—in his first season as a blueliner for the Devils—scored the first game-winning overtime goal of his professional career against the Montreal Canadiens on Nov. 28. The best part? It was a rebound off a pass from Henrique. Thirty games into the season, Moore continues to impress his new Devs teammates and fans with both his quick-thinking defensive and offensive skills. When it comes to style, Moore favors luxurious basics from the likes of Vince and Theory but admits to being equally comfortable in suiting, which he mostly has custom-made by a tailor in Montreal. "You kinda learn to live in a suit," he says. "It's part of the job." 


We took Chris Kreider to Lower Manhattan after dark, outside the luxury shopping complex Brookfield Place. This time around, clothing was provided by Paul Smith and Salvatore Ferragamo. 
Chris Kreider, #20
 Age: 24 | Position: Left Wing  |  Hometown: Boxford, Mass.
About the game of hockey, forward Chris Kreider recently said, "When you keep it simple, it's a simple game." As the Massachusetts native, who's become a proven difference-maker for the Blueshirts, found out, the same can be said about fashion. Having come to Brookfield Place looking for options to replace his favorite (recently stolen) Calvin Klein black peacoat  ("It's a long story," he said), we chose to set aside bright colors and unnecessary complications and tried on timeless outerwear pieces that prove the awesome staying power of simplicity. The verdict: "I want all of these," he says. "But I've especially been looking for the perfect leather jacket." Guess he already forgot about that peacoat. 


Finally, we explored Williamsburg, Brooklyn, on a rainy afternoon with Johnny Boychuk and Nick Leddy. Here, all clothing was provided by Gentry. 
Johnny Boychuk, #55

 Age: 31 | Position: Defenseman  |  Hometown: Edmonton, Alberta, Canada 
I expected to be impressed by Johnny Boychuk. After all, he's a veteran top-tier defenseman for the Isles and a Stanley Cup champion (with his former team, the Boston Bruins). But what I didn't expect was his elevated taste in performance wear. "Last month I bought a bunch of Stone Island clothes. Two jackets, a sweatsuit, and some knits," he says, wearing most if not all of said pieces. He looked straight out of Man of the World central casting. (Also fitting, since we were at Gentry—one of the few places in New York that carries the highly covetable Stone Island.) "But what I really need now is a good wool suit," he says. He didn't end up buying a suit that day, but of course he snatched up that streamlined Stone Island parka he wore for the shoot. Like I said, impressive. 
Nick Leddy, #2

 Age: 24 |  Position: Defenseman  |  Hometown: Eden Prairie, Minn.
Nick Leddy and Boychuk truly started their careers as Islanders as a pair—having been traded within minutes of each other last October. Like Boychuk, Leddy is a tough defender with a Stanley Cup pedigree who was brought on board to help revitalize hockey on Long Island. And that they have—despite a move to the Barclays Center in Brooklyn, which earned them the mantle of "real" New Yorkers complete with a 45-minute commute to work. (That's right, the Isles now ride the LIRR right into Atlantic Terminal for home games.) So how did Nick Leddy celebrate his first career season schlepping through the boroughs? "I bought myself a Audemars Piguet watch last spring," he says. "That's probably my biggest purchase, ever."  

Nic Screws is the style director at Bloomberg. Follow her on Instagram and Twitter or e-mail her any of your fashion concerns or questions at nscrews@bloomberg.net.
For the best in travel, food, drinks, fashion, cars, and life, sign up for the Pursuits newsletter. Delivered weekly.
(
Update: Corrects spelling of Johnny Boychuk's last name and the brand of peacoat worn by John Moore.
)