Forget Sexy: Cutting-Edge Design Gives Taiwan's Giant Bicycles the Edge
Bike maker plans expansion with U.S. sales up 13.8 percent in first half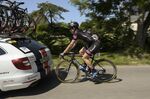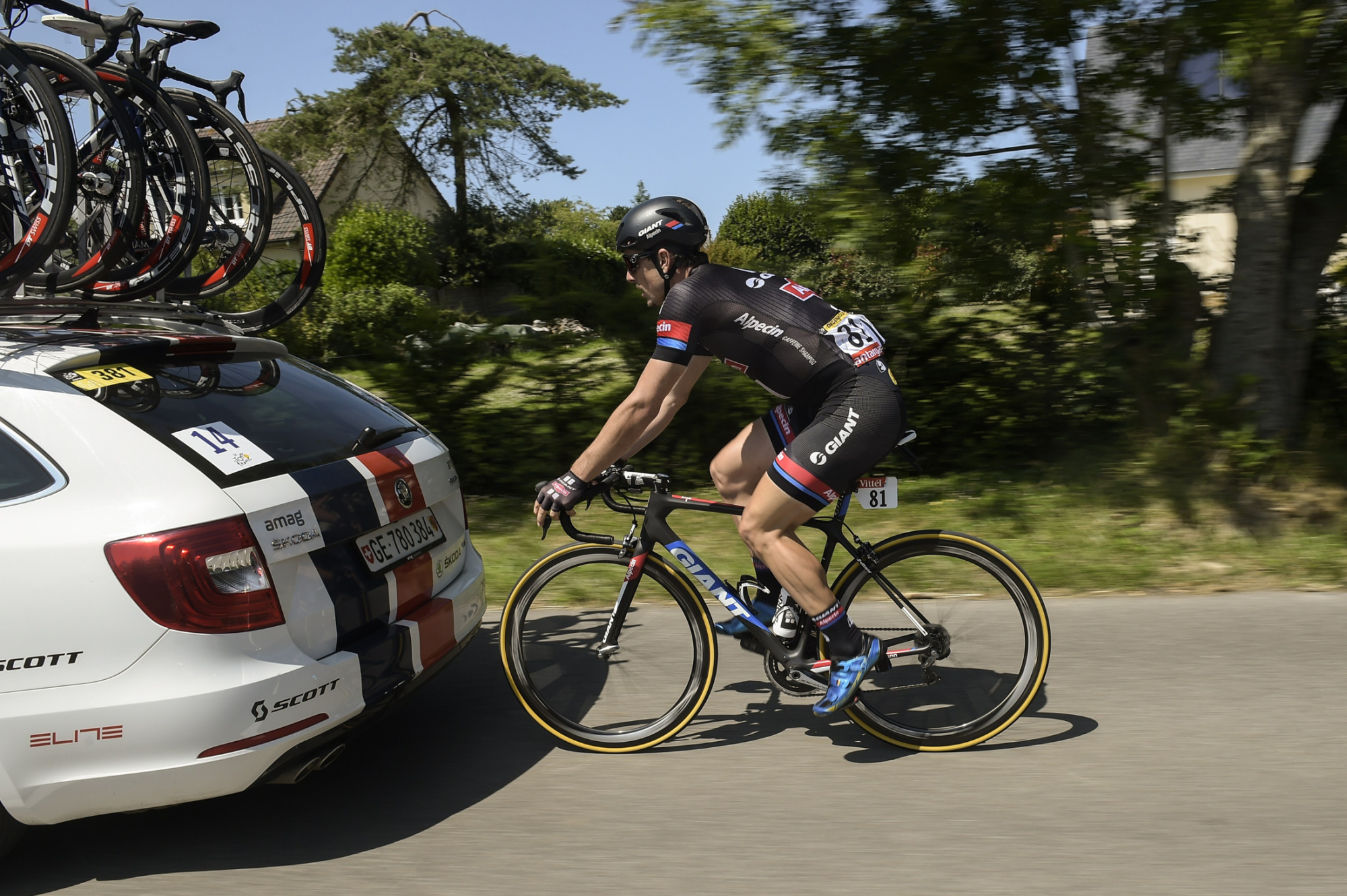 Among professional riders and cycling magazine reviewers, the Propel, which retails in the U.S. for $2,200-$9,000 depending on the model, is more than a high-performance racing bicycle. It's an engineering marvel.
It's so light you can lift it with one hand. It's so fast, promising to shave 12 to 36 seconds off race time over 40 kilometers (25 miles), that it was picked by German rider John Degenkolb for a final sprint in this year's Tour de France.
The Propel, named Cycling Plus Magazine's "Bike of the Year" both this year and last, isn't the handiwork of prestige Italian or North American brands such as Cannodale, Colnago, Pinarello or Cervélo. It's made by Taiwan's Giant Manufacturing Co., the biggest bike manufacturer in the world better known until recently as a contract manufacturer for Trek, Scott and other bikes—not for its high-end, carbon-fiber racing bicycles. 

"I think Giant's technical prowess and abilities are amongst the very best in the whole industry," said Warren Rossiter, senior technical editor for road for the London-based magazine group that publishes Cycling Plus and Bikeradar, and whose team tests more than 200 bikes a year. "Giant may lack the cachet of historic Italian or American innovators like Cannondale, but for those in the know, the Giant brand represents truly cutting-edge design and technology."
But while serious enthusiasts now recognize Giant's engineering and design chops, casual riders haven't always—some even spray paint away Giant's logo on the frame. So to improve its image overseas, Giant is planning an expansion in the U.S., from the 125 bike shops now offering Giant bikes as at least half of their inventory to 155 by the end of next near, adding to the almost 1,000 stores that carry Giant bikes in lesser proportions with other models.
U.S. Expansion
Giant USA in September also began rolling out its bike fitting system—to tailor bikes for individual riders—in 10 stores such as its southern California location on Santa Monica beach, and plans as many as 250 within five years, according to John Thompson, Giant USA's general manager. For the first time, during this year's Tour de France, Giant ran 65 television commercials on NBC, he said.
Still, Giant wants consumers to know that its selling strategy is based on quality, not flash. "Tony" Lo Hsiang-an, the chief executive officer of three decades, said he realizes Giant is "not as sexy as some of the brands." He said in a 90-minute interview in a bike workroom at headquarters in Taiwan's west coast city of Taichung that the brand's image is improving, because innovation speaks for itself.
"Strategy wise, we have no intention to become just a very fancy brand," he said. "Our root is still technology and quality. Everything we do, we must have very good reasons why we do that. I think some brands, they are more marketing, more talk, but I believe ours should be real."
Sales in the U.S., where Giant is third-largest behind Trek and Specialized among specialty bike retailers, are up 13.8 percent in the first half of this year compared with the same period last year, according to data provided by Giant. They're up almost 7 percent in Europe in the period, despite the drop in the value of the euro. The only place they're falling is in China, Giant's biggest market, where an 8.5 percent decline in the first half can be blamed on a slowing economy that's affecting makers of everything from cars to mobile phones.
Giant's global sales of about NT$60 billion ($2 billion) last year, up 10.4 percent from 2013, are helped by the fact that it also contract-manufactures brands it's competing against. At its high-end factory in Taichung that can make more than 2,000 models and turn out 5,000 bikes a day, Scott and Trek frames can be seen coming off the same assembly line that produces Giant-branded bikes. Colnago bikes are made by Giant, too.
That doesn't mean they're the same—the companies themselves provide designs, specs and some parts. Giant provides the manufacturing and workers—and reaps the benefits of their sales, too. Revenue of NT$47.3 billion as of the end of September puts the company on track to report a 4 percent increase this year.

Manufacturing for others, known as original equipment manufacturing, "helps us understand the overall market situation. It helps our management do planning and not make silly mistakes," said "King" Liu Chin-piao, Giant's chairman who founded the company in 1972.
A still-robust 81-year-old, he has ridden his bicycle 2.5 hours either to the office or home every day for years and continues to do so—followed by a car and driver after having an accident last year. Liu said he will step down next year and hand over to a successor, leaving behind a solid foundation for continued growth.  


Sweet Spot
"I think Giant is the best-positioned right now of any company in the global bicycle business, because of the combination of the OEM business and its brand positioning," said Jay Townley, a partner in the Gluskin Townley Group, a U.S. consultancy that researches the bicycle market for clients such as the National Bicycle Dealers Association. "They are able to take a look at the market and think about the best mix, the best way in which they will be able to control the market."
CEO Lo, 66, believes there's no conflict. If bike manufacturers can simply convince more people to buy bicycles, all companies can grow, he said. Based on global bicycle sales, Lo calculates that only a small percentage of people in the world ride a bicycle, roughly 18 percent. He calls himself a "missionary" who can introduce them to the healthy and healing powers of cycling. "They need to be saved," he said.
Road surface and gradation, the technology of the bike, a rider's size, strength and length of his or her arms and legs—all those make up what Lo calls "cycling science," which means getting the rider the best ride possible. In addition to five frame sizes to fit different riders' heights, Giant offers even casual riders its fitting system to adjust bikes to their riding needs—much as you would when you have a suit tailored. While other brands offer such systems, primarily based on a stationary bicycle frame, Giant's costs considerably less, said Thompson of Giant USA. Giant's lowest-cost bikes start from around $330, with aluminum frames rather than carbon fiber.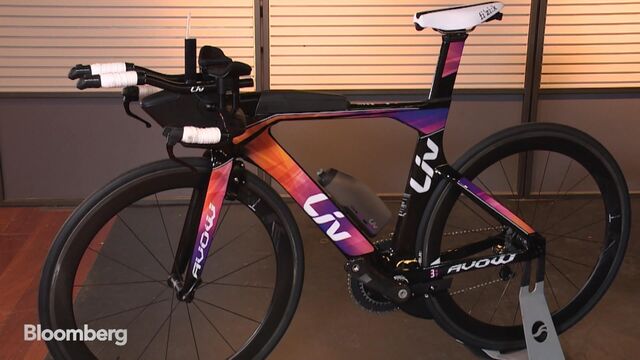 "We're trying to create more cycling fun in the way we present our brand," said Thompson, who called Giant "the best kept secret in the bike business. That's changing rapidly as we tell our story."
Innovations have helped. VeloNews, which performs Consumer Reports-like testing, scored the Propel a perfect 30 out of 30 in the magazine's evaluations of the fastest and strongest bikes in the world, the first to achieve its highest scores on both. Giant put brakes behind the wheel forks to decrease drag, and strengthened the handlebar post to reduce wobbliness at high speeds. 

Female Riders
Women are also a new target market. Giant sells racing bikes, branded as Liv, that are designed especially for women's bodies, rather than just producing smaller frames painted pink or lowering the cross bar as other brands have done. In the U.S., Giant has 80 Liv ambassadors—women who lead bike tours and host events—and there are dedicated Liv stores in Taiwan, Dubai and Shanghai.
"I think women really deserve to have their own bike," said Lo. "You cannot take a men's bike and make it smaller. That's wrong. So we are doing it from zero."
Liv bikes now set the standard for women's cycling equipment, according to Cycling Plus's Rossiter. Another Giant bike, Defy, won his Bike of the Year previously, and was a five-time Bicycling magazine Editor's Choice award-winner as well. Now Giant just needs its brand image to match its quality, Rossiter said. "Made in Taiwan" is a loaded phrase filled with echoes of a less-technological past. It's time to move beyond it.
"Perhaps the perception is that the brand doesn't have the soul or heritage of the old European marques, and that they don't shout as loudly as American or German brands when it comes to technical innovation," he said. "If anything, I believe it may be a cultural issue, that they don't promote their strengths as well as other brands."
With all the accolades Giant is now receiving around the world, according to Lo, do they have to? 

Read These Next
Bicycle King Sets Succession in Motion for New Leader in '17
Bikes So Beautiful You Have to Wait Months to Get One
These Japanese Engineers Invented $7,900 Bike Wheels