Santander's Ana Botin Has Something to Prove
The chairman is out to show impatient investors she can build on her father's banking legacy, in part by scaling back on his ambitions.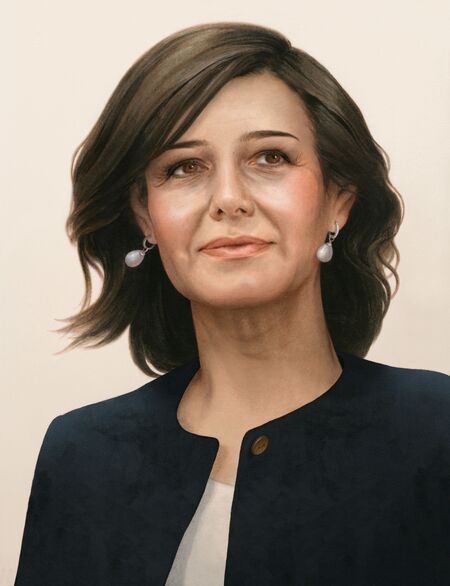 "Who do you bank with?"
Ana Botín can't help herself. As group executive chairman of Madrid-based Banco Santander, she manages the most valuable lender in the euro zone, with a market capitalization of 75 billion euros ($81 billion). But whenever she meets with money managers or friends or, as she's doing on this September morning, grants a rare interview, she doesn't just weigh in on quantitative easing or how fintech is reshaping the business of banking. Botín relishes a bit of selling.
"I would love it if you became a Santander customer," Botín, 55, tells us at Bloomberg's European headquarters in London. "Go to santander.co.uk," she continues, adding, "Definitely check out the 1|2|3 account. Our service is great, and we have Apple Pay, and we have a great app, Spendlytics, which is superpopular. It allows you to track how you spend. It's incredibly good."
Excuse me? Ana Botín, the most influential female banker in the world, scion of one of Europe's great banking dynasties, someone who talks economics with Christine Lagarde and monetary policy with Lawrence Summers, an aristocrat who will one day inherit the title of marquesa … she's pitching checking accounts? Is she joking? Not a chance.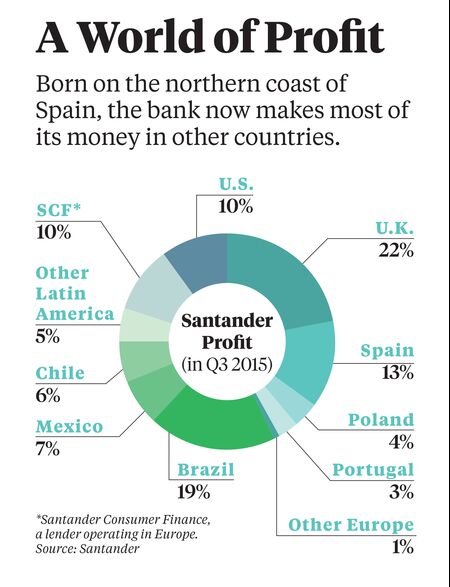 Emilio Botín, Ana's late father and predecessor as chairman, transformed Santander from a regional lender into a global player through scores of acquisitions over 28 years. Today, Santander has 1.3 trillion euros in assets and operations in the U.K., Brazil, Mexico, Germany, Poland, and the U.S. But the fall of Lehman Brothers seven years ago ended the era of empire building. Ana, who replaced her father after he suffered a fatal heart attack on Sept. 9, 2014, is betting that growth now will come from a more prosaic source: the customer. She's long been enamored of the way Wells Fargo, the world's most valuable bank, turns branches into "stores" that cross-sell credit cards, mortgages, and other financial offerings to customers.
Now, Santander is remodeling branches to look like first-class airline lounges and investing in digital payments and mobile banking startups. Botín's team has even redesigned the checking account itself in a new offering called 1|2|3, which issues a raft of rebates for automated bill paying and maintaining a healthy balance. About 90 percent of Santander's 117 million customers worldwide use their accounts for basic needs such as depositing their paychecks and withdrawing cash. Botín wants to turn them into what she calls "loyal customers" who pay their monthly bills via their Santander account, utilize Santander credit cards, and take out a Santander mortgage. She vows to add almost 6 million of these more lucrative customers by 2018.
Botín says her strategy will boost profits and increase the bank's return on tangible equity—a measure of how well the lender is utilizing its capital—from 11 percent to 13 percent. "We are going to make people who do some things with Santander into loyal customers who bank with us every day," says Botín, who speaks fluent English with get-it-done authority. "This is what will allow us to compete in a world where banking customers have more and more choice. If we don't do this, then we won't grow in the next decade."
Botín will have to hit her mark in an unforgiving banking climate. Near-zero interest rates, unprecedented capital requirements, Europe's economic woes, China's economic slowdown, hordes of peer-to-peer lenders picking off borrowers: Botín and her rivals are confronting a long list of challenges.
Santander's stockholders aren't giving Botín much of a grace period. Excluding a onetime tax windfall of 835 million euros, the bank posted 5.1 billion euros in profits on 24.3 billion euros in revenue in the first nine months of 2015, 17 percent more than the same period in 2014. This year, Santander's shares have dropped 26 percent, trading at about 5.18 euros in Madrid on Monday, compared with a 1.7 percent jump in the benchmark Euro Stoxx Banks Index this year.
When Botín unveiled her growth plan in London on Sept. 23, many analysts and investors were skeptical. JPMorgan Chase analyst Kian Abouhossein found her targets too conservative and downgraded the stock to neutral from overweight. Andrea Williams, a fund manager at Royal London Asset Management, was left wondering whether the revenues from new customers would offset the costs of acquiring them. "The bank has said that 1|2|3 customers are four times more profitable than existing customers, and I'm not sure how that is derived," says Williams, whose firm holds 2.4 million Santander shares. "You have to see this strategy run for a while. At this time, I don't feel compelled to add to our position."
Still, Santander seems a bastion of calm compared with its European peers. Long dependent on investment banking and trading, Barclays, Credit Suisse, Deutsche Bank, and Royal Bank of Scotland are still reeling from the upheaval of 2008. News headlines bemoan a crucible of blown quarters, ousted CEOs, mass layoffs, and billions in legal fines in market-rigging and tax evasion scandals. Santander, which draws only a fifth of its profits from the racier side of finance, has remained a largely drama-free zone. "We're a boring retail and commercial bank," Botín says.
Hardly. Botín has taken charge of Santander as retail banking faces an unprecedented shake-up in the way it loans money to businesses, processes payments, and extends credit to households. In her father's day, banks grew by swallowing smaller rivals. Now, Botín must not only duel with other lenders for customers but also fend off powerful interlopers such as Apple, Amazon.com, and Google. In June, Santander enabled its U.K. customers to use Apple Pay to make contactless payments, but it pays the tech giant fees to make this happen. "It's very expensive for us, but 60 percent of our customers have an iPhone," Botín says.
Ana Botín has been preparing to lead Santander for 30 years. Her career has taken her from Wall Street to Spanish banking's reconquista of Latin America to post-crash Britain. An elegant woman dressed on this September day in a midnight-blue bouclé jacket with light-catching sequins, Botín exudes a combination of glamour and gravitas. She's a detail-oriented executive and makes it a point to regularly approve a few loan applications for small businesses herself. Often away from Santander's manicured corporate campus outside Madrid, she's constantly winging from Spain to South America to New York to London, where she spends a couple of days every other week.
Having begun her career in New York, she speaks with a bluntness that would mortify most European bankers. When U.K. Chancellor of the Exchequer George Osborne surprised British banks by levying an additional 8 percent tax on their profits in July, Botín didn't hesitate to articulate her opposition in a face-to-face meeting. "We were very upset about this," she says. "That's going to cost us £500 million at Santander U.K. for the next three years. Do you know how hard we're going to have to work and how many customers we're going to have to get?" Osborne didn't back down. (He declined to comment for this story.)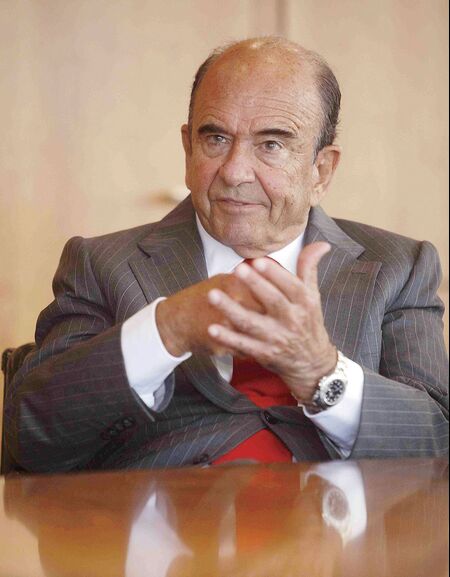 Virtually nothing will shape Botín's tenure more than how she reckons with her father's legacy. A master strategist who counseled Spanish prime ministers and formed friendships with fellow banking chieftains Jamie Dimon and Josef Ackermann, Emilio Botín epitomized the generation that reordered global finance in the closing decades of the 20th century. After Santander's board appointed Ana chairman, she started adapting the 159-year-old bank for a new era of smartphone-wielding consumers who believe her industry is old-fashioned and out of touch.
"I don't think Ana feels constrained by her father's legacy at all," says David Coulter, who, as a former CEO of Bank of America and vice chairman of JPMorgan Chase, has known the Botín family for years. "You can't replicate the old model because times have changed. She's focusing on organic growth, and I think she's going to be pretty aggressive in pursuing that strategy."
The changes have come fast. Emilio paid Santander stockholders a dividend of 0.60 euros per share annually for eight straight years. Ana slashed the payout to 0.20 euros last January as part of a push to bolster the lender's capital base. Many in Emilio's old guard—including CEO Javier Marín and the heads of the Brazilian, Spanish, and U.S. units—are out. She's installed her own people in 21 of the bank's 31 top management positions. In August, she decided against one-upping São Paulo–based Banco Bradesco's $5.2 billion bid for HSBC's 850-branch Brazilian division, a deal one former senior Santander executive says her father never would have let slip away.
"Buying is not difficult; delivering value is difficult," says Sergio Rial, who will become Banco Santander Brasil's CEO beginning on Jan. 1, 2016. "The bank has had a phenomenal history of being very shrewd in terms of acquisitions. Ana gave a very clear signal that she is committed to value creation."
Yet Botín will have to overcome some big challenges her father left behind. For starters, there's capital: Santander could sure use more of it. Emilio favored running the bank with a thin capital buffer instead of diluting his stockholders by issuing more equity. In January 2015, Botín raised 7.5 billion euros in an equity offering at 6.18 euros per share. Even so, as of early November, the bank still had a common equity Tier 1 ratio of 9.9 percent, the second lowest among the 24 biggest publicly traded European banks, according to data compiled by Bloomberg.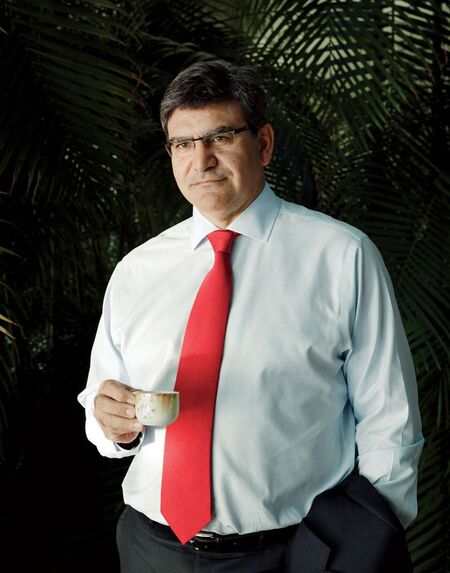 Investors expect big banks to build fully loaded CET1 ratios—measuring their ability to withstand losses during economic crises—of 12 percent. Botín says Santander will hit at least 11 percent by 2018. CEO José Antonio Álvarez says the bank, which boasts market share greater than 10 percent in almost all the nations where it operates, will get there organically. "There's no country head in the group that can tell me, 'I am not competing efficiently because I don't have scale,' except in the U.S.," says Álvarez. "They can't make that case."
Botín must also sort out the aftershocks of Emilio's push into the U.S. during the mid-2000s. Santander Holdings USA, comprising a Boston-based bank and subprime auto loan enterprise, flunked the Federal Reserve's stress tests covering 2013 and 2014 after its examiners found "widespread and critical deficiencies" in the unit's governance, risk management, and information systems.
Then there's Brazil. Santander garners about 87 percent of its profits from outside of Spain. São Paulo–based Banco Santander Brasil, which contributed 19 percent of the bank's bottom line in the third quarter, had long been the best-performing unit in the group. But China's slowdown has walloped South America's No. 1 commodities exporter at the same time embattled President Dilma Rousseff is fighting for her political life amid the deepening Petrobras corruption scandal. The Brazilian economy is in recession, and the real lost 28 percent of its value against the euro in the first nine months of 2015. In the third quarter, Banco Santander Brasil's profits declined almost 15 percent, to 385 million euros, from the prior quarter. If the real had not fallen so far, the division's bottom line would have slipped only 1.4 percent.
Botín might not want to jettison her father's deal-making approach so readily, some investors say. There are many banks across the EU ripe for acquisition, including Deutsche Postbank, a Bonn-based lender with 154 billion euros in assets, and Banca Monte dei Paschi di Siena, the troubled Italian institution that suffered a 70 percent collapse in its share price in the three years ended on Nov. 9. In a speech on Feb. 12, 2014, European Central Bank President Mario Draghi signaled he'd welcome cross-border banking mergers to "address financial fragmentation" in the euro zone. That's an opportunity, says a London-based hedge fund manager who's long invested in European financial services firms. "There's a lot of deposits around, and the ECB wants interbreeding of all the banks, so if Santander can get bigger, that would be a positive," says the investor, who declined to be named because he was talking about a single company.
Botín counters that her strategy has already shown that it works. From 2012 to 2014, Santander U.K., which Botín led as CEO, increased the number of loyal account holders by 63 percent, to 3.6 million, and its pretax profits surged 21 percent, to £1.4 billion. "Unfortunately, every time people write about us, it's the share price, and that's a fair thing," Botín says. "But what I do is manage results. Whenever I get challenged that a focus on adding loyal customers does not deliver for shareholders, all I say is, 'Look what has happened in the U.K.' Everything we did here we are now taking to the rest of the group."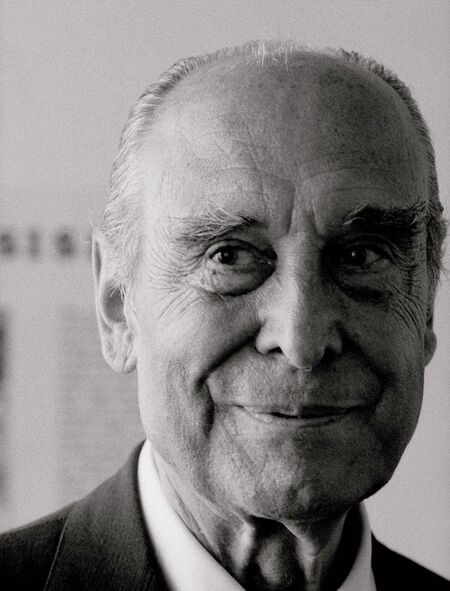 Ana Patricia Botín-Sanz de Sautuola y O'Shea was born in Santander, a one-time bustling port in Spain's northern province of Cantabria that used to be a summer retreat for Spanish monarchs. She's the eldest of six, and her mother, Paloma O'Shea, is a pianist and president of the Queen Sofía College of Music in Madrid. In 2008, King Juan Carlos ennobled Paloma the Marquesa de O'Shea.
Botín shared her father's taste for finance, and after earning a degree in economics from Bryn Mawr College near Philadelphia, she went to work at the old J.P. Morgan in New York as an analyst and investment banker. She stayed eight years and, in 1988, at the age of 28, joined the family business. Although the Botíns have run Santander since Ana's great-grandfather Emilio Botín López was named its president in 1909, the family holds less than 2 percent of Santander's equity. (Ana Botín's 0.12 percent stake was worth 92 million euros as of Oct. 19.) Even so, there's no mistaking their status. There's a saying inside the bank: "En Santander, o eres Botínes o eres botones." ("At Santander, if you're not a Botín, then you're just a bellhop.")
Emilio succeeded his father as chairman of Santander in 1986. Eight years later, he executed a $2 billion deal that vaulted Santander into the top ranks of Spanish lending. He outbid his rivals by shelling out a 49 percent premium to capture a controlling stake in Banco Español de Crédito, or Banesto. It was just the first in a series of bold thrusts he'd make in the years to come. In 2007, he joined Royal Bank of Scotland and the Belgian lender Fortis Bank in the 73 billion euros takeover of Dutch giant ABN Amro–the biggest banking deal ever and, within a year, the most damaging. The British government had to nationalize overleveraged RBS to save it from bankruptcy. Fortis, too, needed a bailout. But Botín walked away with ABN Amro's Brazilian unit, Banco Real, which made Santander the No. 4 lender there. Then he sold ABN Amro's Italian lender, Banca Antonveneta, to Paschi for 9 billion euros after it had been valued at 6.6 billion euros.
A lover of golf, Formula One racing, and big-game hunting on the African savanna, Emilio cut a figure as a man of action. Every morning at breakfast, he reviewed tables that showed the overnight market values of the world's biggest banks, say former employees who worked with him. He was determined to see Santander climb to the top of the list. In the mid-1990s, a wave of economic liberalization swept across Latin America, and governments started privatizing state-owned lenders. "The opportunity presented itself precisely when Emilio needed it," says Mauro F. Guillén, co-author of Building a Global Bank: The Transformation of Banco Santander. "He was very aggressive in seizing it."
Ana, then head of Santander's fledgling investment bank, spent that decade hopscotching through Mexico and South America. Even as Emilio invested $12.3 billion in more than two dozen banks in nine Latin American nations, Santander Investment produced lackluster results. In 1999, it ranked 14th in the world in bond underwriting and didn't even make the table in equity offerings, according to Bloomberg data. Back in Madrid, Santander Investment was considered a bust, say former bank executives. But Guillén says that the division, and Ana, played an instrumental role in helping Emilio identify takeover targets. "It's true it didn't make much money, but they were gathering data and building networks of contacts and establishing a beachhead in the region," says Guillén, a professor of international management at the University of Pennsylvania's Wharton School. "And Ana ran the show."
By 2002, married and with three children, Botín returned to Madrid to take the helm at Banesto. The switch from investment banking to Santander's core retailing mission suited her. Botín hired Spanish tennis champion Rafael Nadal as a pitchman, and buoyed by the real estate-fueled economic boom in those years, the bank's net income soared 79 percent, to 780 million euros, by 2008. When the property market crashed, Banesto took a hit like virtually every other lender in the nation, losing 955 million euros in 2012. (Santander's total profits declined almost 59 percent that year, to 2.2 billion euros.)
Yet by then Botín had moved to London to lead Santander U.K. And she'd taken along Rami Aboukhair, a Harvard-educated Spanish economist from Granada who'd run Banesto's marketing and product development team. Together, they created the 1|2|3 World account that, if used to cover household bills, pays back cash at a rate of 1 to 3 percent. Botín hired Jessica Ennis-Hill, the Olympic gold medal–winning heptathlete, and star golfer Rory McIlroy to promote 1|2|3 on TV, the Web, and the sides of buses. Deposits in current accounts jumped to almost £50 billion from £10 billion in 2012. The performance emboldened Botín to take the strategy back home to Spain. "I think at times in the past, we were too financially inclined," Botín says, alluding to her father's zest for dealmaking. "I'm not saying we did things in the wrong way. It's just that we're redefining the bank for a new era."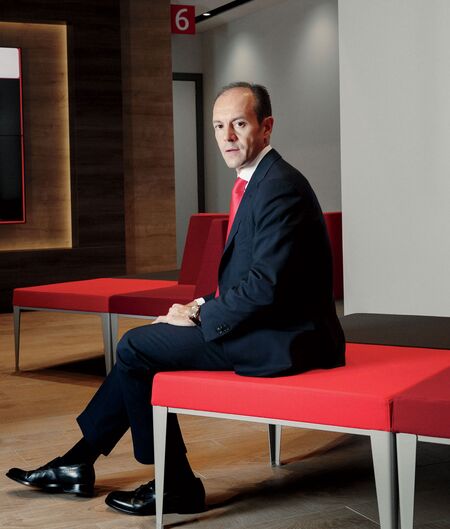 On an electric-blue morning in Madrid's Moncloa district, Aboukhair glides into a newly remodeled Santander branch that expresses everything Botín wants to see in her bank. Cozy nooks are furnished with Santander-red chairs and iPads on pedestals so customers can access the bank's offerings. A lounge area with a mammoth flat-screen TV looks more fitting for watching a Real Madrid soccer match than attending to fiscal matters. One wall is adorned with a mural-sized photograph of a handsome young home-buying couple and the words "Te ayuda a hacer realidad tus proyectos." ("We help make your projects a reality."). Signage touting 1|2|3 abounds. The bank plans to redesign 300 branches a year in Spain along similar lines.
Aboukhair, whom Botín promoted to country head in Spain in June, finishes a call on his Santander-red mobile phone and asks a subordinate why he isn't wearing his Santander-red necktie. He's only half-joking. A slender man with a marketer's taste for catchphrases, Aboukhair says 1|2|3 has drawn 140,000 new customers away from rivals since its introduction in May. "It's not a product; it's a strategy," he says.
Yet Aboukhair's program isn't close to breaking even. What's more, he's rolling it out just as low interest rates are squeezing his division's revenues. In the third quarter, the bank's interest income in Spain declined 2.2 percent. So how will the 1|2|3 program's marketing costs, cash-back rebates, and new account management processes affect his bottom line? "I can't tell you the Coca-Cola formula," Aboukhair says. "But the costs of 1|2|3 will be neutral in Spain by the end of 2016."
Shiny new branches won't solve Botín's problems in the U.S., the one market where Emilio's sure hand may have failed him. Back in 2006, Santander paid $636 million for a subprime auto loan originator in Dallas called Drive Financial, which had amassed a $3 billion loan portfolio and a network of 10,000 dealers nationwide. In an earnings call on Feb. 1, 2007, Álvarez, then Santan-der's financial director, said yields of 20 percent would drive a "quantum leap" in net interest income in the years to come. He was right. Profits at Santander Consumer USA, as Drive Financial was rebranded, quadrupled over the next seven years, to $766 million.
But allegations that the auto loan maker was violating fair-lending laws also mounted. "Santander is known for being very aggressive," says Chris Kukla, a senior vice president at the Center for Responsible Lending, a Durham, North Carolina–based watchdog group. On Feb. 25, Santander Consumer USA paid $9.3 million to settle a case brought by the Department of Justice that it was unlawfully repossessing cars owned by members of the U.S. military. In July, the Consumer Financial Protection Bureau notified federal prosecutors the company may have violated the Equal Credit Opportunity Act by originating car loans that charge higher interest rates to minorities. "We are committed to treating our customers fairly and ensuring we comply with the law," says Santander USA spokesman Peter Greiff.
Sovereign Bank, which Emilio acquired for $2.1 billion in 2008, is also a big problem. Now known as Santander Bank, it has 682 branches stretching from Pennsylvania to New England, but it's hamstrung by outdated IT systems, says a former senior executive at the unit familiar with its operations. In March, Botín hired Scott Powell, a former CEO of consumer banking at JPMorgan Chase, to overhaul Santander Holdings USA. And in August, Botín tapped Blythe Masters, another one-time JPMorgan senior executive who now heads tech startup Digital Asset Holdings, to serve as nonexecutive chairman of the consumer unit's board. As long as Santander Holdings USA continues to fail the Fed's annual stress tests, it can't pay dividends and make other capital distributions without the approval of regulators.
"We bought a bank that was broken," Botín says. "It is now well organized. Santander Consumer has had a series of issues, which have been resolved. Our business in the U.S. is profitable; it has a very strong balance sheet and a very strong capital base. The challenge is that we need to take it to a higher level."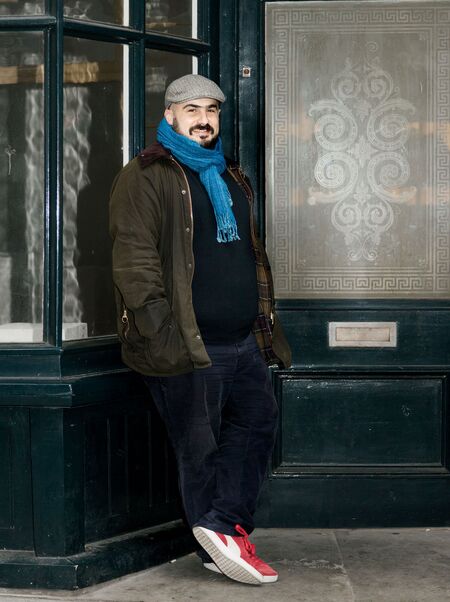 Back in London, Botín can concentrate on the future instead of cleaning up the messes of the past. Hanbury Street in the tech-hipster haven of Shoreditch is filled with vintage clothing boutiques and psychedelic graffiti. That's where Botín set up a $100 million investment fund called Santander InnoVentures in 2014 to unearth promising fintech startups. It's safe to say that Mariano Belinky, the fund's managing partner, is the only guy at Santander with tattoos of Jimi Hendrix on one arm and Miles Davis on the other.
The explosion of peer-to-peer lenders, cloud-based payments disrupters, and a new breed of fintech firms wielding the blockchain code that powers bitcoin has become a potent threat to the existing order. In the next decade, up to 40 percent of the revenue and 60 percent of the profits in the global retail banking industry will be at risk, thanks to these upstarts, according to a report released in October by McKinsey & Co. Botín takes these changes so seriously that she asked Belinky to report directly to Víctor Matarranz, her chief of staff, instead of the bank's innovation division.
Belinky, a former McKinsey consultant, has been busy. Santander InnoVentures has taken equity stakes in iZettle, a Stockholm-based mobile payments startup, and Kabbage, an Atlanta company that arranges online loans for small businesses. In October, the fund took part in the $32 million Series A round for Ripple, a San Francisco firm that's made strides in using the blockchain's peer-to-peer technology to streamline the annual movement of $21 trillion in cross-border payments. "The blockchain is something that will transform our industry," Matarranz says. "If we address this properly, if we are on top of the wave, that could be a fundamental opportunity for us."
Santander has nimbly taken advantage of opportunities ever since Emilio Botín pulled off the Banesto deal. He built an empire by acquiring one bank at a time, and unlike the financial supermarkets assembled by his rivals, it's still intact. But Ana has chosen to build on his legacy—one customer at a time. With challenges ranging from Brazil's woes to the Fed's scrutiny to tech upstarts, managing the empire looks even tougher than building it.
Even so, while the bank's stock has been a laggard for most of her tenure, it did gain 6.3 percent since she unveiled her strategy in September. "We know where we want to go, and we know how to get there," Botín says. "But we need a bit of time."—With assistance from Charles Penty, Francisco Marcelino, and Dakin Campbell.