Meet the Next Generation of Artisan Bike Builders
London has a proud history of hand made bicycles, and today's cottage industry in the U.S. has its roots in the British capital. As cycling's popularity surges, the craft is on the rise again.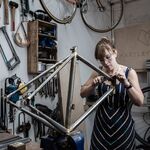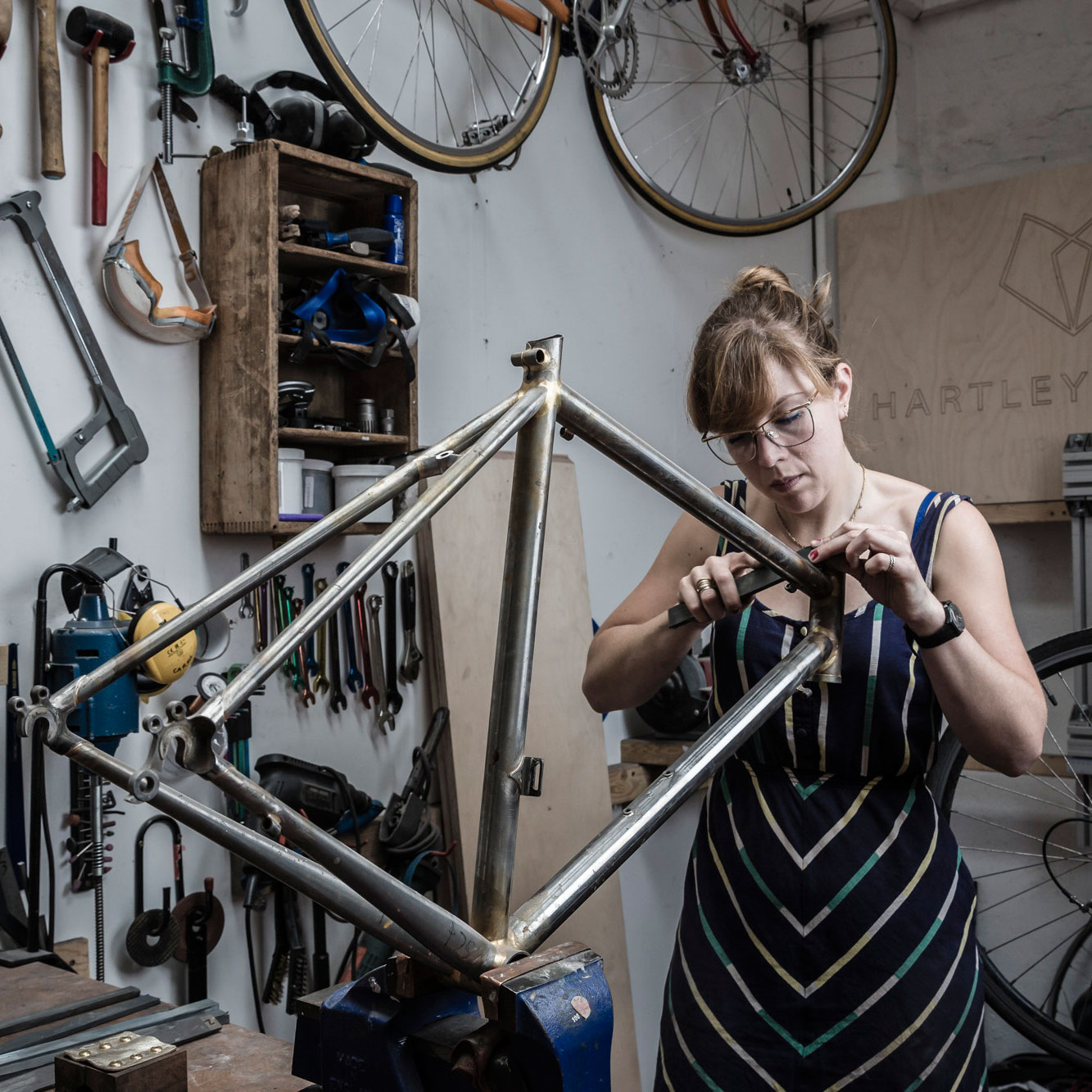 Caren Hartley trained as a jeweler then turned her metalworking skills to larger objects. Think sculptures. These days you can find her in a south London workshop cutting steel tubes, filing, shaping, and wielding an 840 degree torch to make steel bicycle frames.
Any keen cyclist - as she is - would appreciate such a career arc: train in the arts, then later embrace the diamond-shaped bicycle frame, an object that often ranks in the pantheon of utilitarian art, a design that essentially hasn't changed since it replaced the Penny Farthing some 130 years ago.
The attraction of her trade is obvious: demand for bikes is outpacing supply as cycling grows in cities around the world. At the same time, more consumers than ever are seeking locally made products. Hartley's bikes are not on Etsy: each is made to fit one person.
''It's definitely a growing market, but like anything hand-made there's a limit to how much you can produce,'' says Hartley, 31, a rare woman in an industry dominated by men. If you call her tomorrow, she might be able to build you something five months from now, such is the state of her order book. She'll make fewer than a dozen frames this year. It's hard to say exactly how many framebuilders are working in London today, but it may be fewer than a dozen. 
The growth in popularity of a trade show for hand-made bikes shows the explosion of interest. Started in 2011 by Phil Taylor, a builder for Simple Cycles, an outfit based outside of London, the inaugural show drew 40 exhibitors. Last year there were more than 120. Visitor attendance has tripled to about 6,000. 

The sport of cycling is recovering from decades of decline brought on by the motorcar. The trend has clearly changed, as the number of trips taken by bicycle in the British capital soared by half to more than 500,000 a day in the decade through 2013. That's more than was taken by the iconic black cab, most recent government data show.
Along the River Thames lies another sign of rebirth. One lane of the Embankment - an artery of constantly coursing traffic akin to Manhattan's FDR drive - is being taken away from cars and trucks to construct 18 miles of sheltered bike lanes that will be the longest of its kind in Europe. Taxi drivers and other motorists have sought to block the transformation, arguing it will only worsen traffic.
But London has a history of cycling and bike building. Decades ago local builders dotted the city, famed names from Hetchins to Holdsworth. While a flood of cheap imports from Taiwan eventually decimated demand, the city's legacy of craftsmanship can be found around the world. Several deans of American bespoke framebuilding, including Richard Sachs and Ben Serotta, learned the trade four decades ago in a tiny shop called Witcomb Lightweight Cycles in Deptford, southeast London. They returned home and a cottage industry was born from Connecticut to Oregon.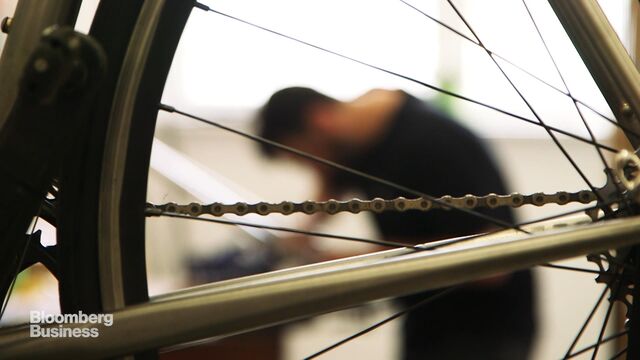 Further along the Thames from Deptford lies Woolwich, a neighborhood where you'll find Matthew Sowter, an award-winning builder and founder of Saffron Frameworks. He says production this year will soar by about one-third. To 42 bikes.
Like Hartley, his wait list is about six months for a frame that starts around £1,300 ($2,000) plus paint of £350 to £1,000 or more. That excludes wheels, gears, saddle, handlebars and other kit that can add thousands more (though it doesn't have to). The most extravagant bike can top £10,000.
He's so particular he's been through seven paint shops before setting on his current sprayer, 200 miles away in York.
''We can make the most beautiful frame in its raw form, but a painter can screw that up in a couple of seconds,'' says the 38-year-old craftsman.
Sowter used to be a road bike racer, then some five years ago wanted a change in direction. Inspired by an American builder working in Italy named Darren Crisp, he took a course in welding then apprenticed for two years at an established workshop before setting out on his own.
''There is no definite path,'' he said of his career to framebuilding. ''There are no formal standards. I did a welding course, that's about it.'' That and a love of riding bikes.
Since then he's literally helped write the book on framebuilders in England, documenting dozens of the nation's finest.

At Talbot Frameworks in Crystal Palace, south London, Matt McDonough has been building for more than two years professionally. Before that, he taught mechanics and made them for friends and family.
Now he's selling 40 to 50 a year, each one pushing his skills. When electronic gearsets came along, he was the first person to replace the wires used for shifting with what was essentially conductive paint. This paint carried the electrical signal from the lever to the gears, clumsy to fettle but what he calls "basic electronics."
He says the hardest thing he's done so far is to use steel sleeves - called lugs - to connect tubes made of carbon fiber. Like others, his wait list is four to six months, with prices starting at around £1,500 for a painted frame.
"We try to do as much varied stuff as we can," he says. "It's almost as if we are prototyping every time we build a bike."

Tom Donhou came to Hackney Wick in east London from Norwich, where he started about five years ago. He's done maybe 100 custom frames and won awards for his work.
His most radical creation is one for himself, the "100mph bike" that he would ride, slipstreaming behind a car, in an attempt to reach that speed. He reached 80 mph behind a vintage Ford Zephyr but did top triple digits on stationary  rollers. That bike these days hangs in the window of a London cycle café called Look Mum No Hands! when it's not on display at the London Design Museum.
He's been so adventurous people come asking for bespoke designs that would essentially reengineer the bicycle. One wanted a new kind of collapsible tandem bike. Such a design might take six months, meriting production of one million frames, not just one, Donhou says.
Asked the hardest thing he's ever actually done, Donhou pauses. A black-and-white paint scheme evocative of WWI fighter planes. Hundreds of dots and pencil lines. Rolls of masking tape. Repeated 15 hour days in the workshop, masking the design, before the paint could be sprayed.
"If the paint goes wrong," he says. "It really goes." His wait list is nine months. 
So with the spring riding season a distant thought, it's time to join the queue.
Click the picture below to peek inside their workshops.

Photography by Miles Willis. Video by Tom Gibson
Production by Nicholas Tufnell and Tom Hall