September Was the Most Extreme Month in 136 Years of Heat Records
It doesn't get any hotter than this... yet.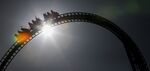 We did it again. 
Last month was the hottest September on record for planet Earth, according to data released Wednesday by the National Oceanic and Atmospheric Administration. Not only was it a record-breaking September, but it was the largest jump from what's considered normal for any month ever measured. 
In 136 years of global temperature data, we are in uncharted territory. This new milestone follows the hottest summer on record, the hottest start to a year on record, the hottest 12 months on record, the hottest calendar year on record (2014) and the hottest decade on record. And this year's extremes are likely to continue as a very strong El Niño weather pattern in the Pacific Ocean continues to rip more heat into the atmosphere.
The animation below shows the Earth's warming climate, recorded in monthly measurements from land and sea dating back to 1880. Temperatures are displayed in degrees above or below the 20th century average. Thirteen of the 14 hottest years have come in the 21st century. At this point 2015 is virtually guaranteed to set a new record, according to NOAA.  
Results from the world's top monitoring agencies vary slightly. NOAA and the Japan Meteorological Agency measure monthly temperatures as departures from the 20th-century average for that time of year. Both listed September as the largest departure from normal for any month, making it an even bigger deal than all the "hottest month" headlines you may have read this year. NASA rated it as the second-hottest September, after 2014. All three agencies agree that 2015 is on track to be the hottest yet, by a long shot. 
The heat was experienced differently across the world, but few places escaped it altogether. The map below shows a few purple spots of cooler-than-average temperatures and plenty of record-breaking red. The massive stretch of crimson in the Pacific Ocean is the footprint of El Niño, and the blob of red off the eastern coast of Africa is that region's equivalent, known as the Indian Ocean Dipole.

Watch this next: