Revisiting Momofuku Ko, After the Revolution
The rambunctious chef-driven counter has evolved into one of New York's most elegant restaurants.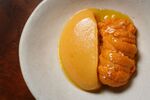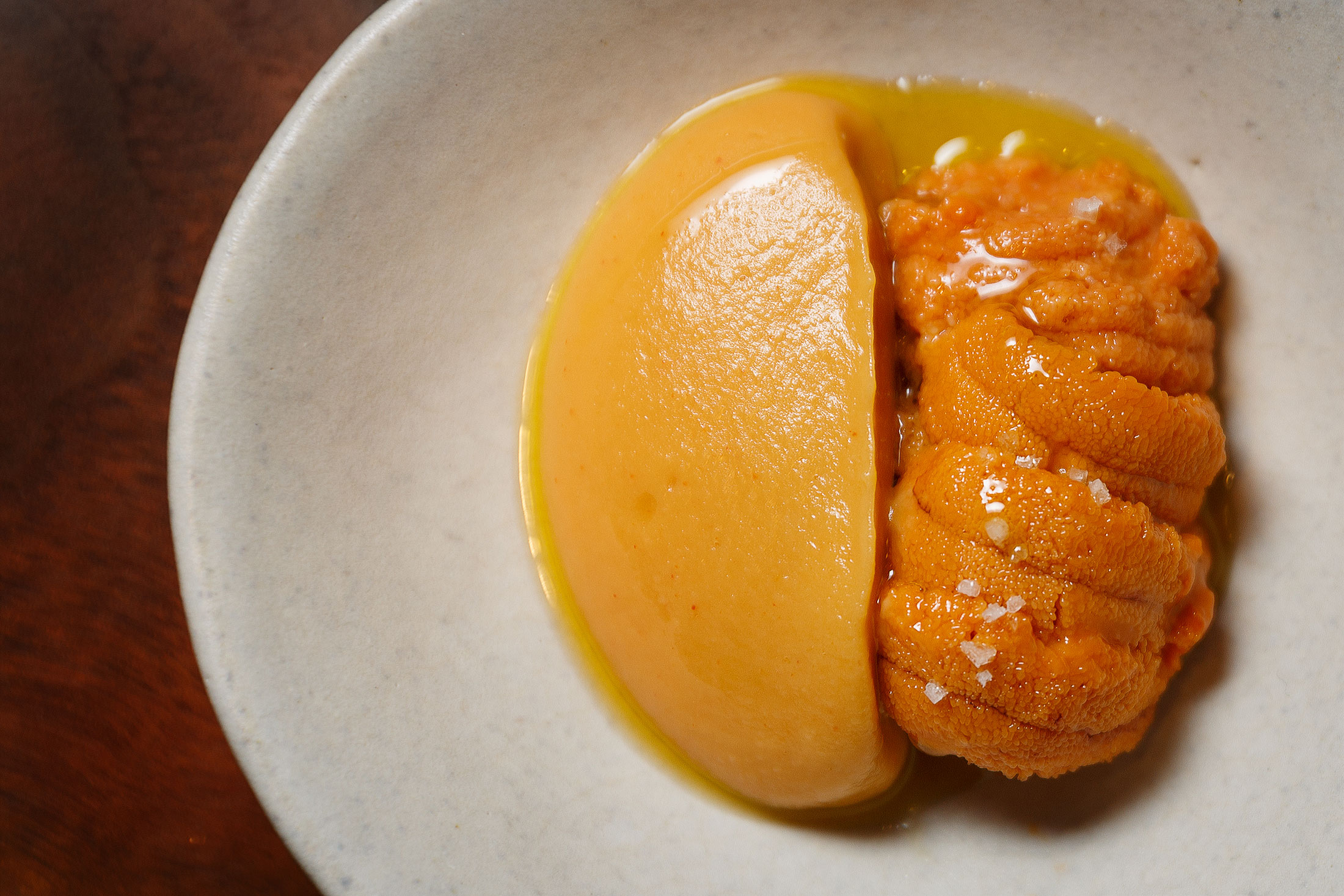 Trust the European tire manufacturer that sizes up the world's greatest restaurants, and you might assume Momofuku's Ko was a notch below New York's more established halls of luxury. You'd be wrong. A year in to its new space, the restaurant has evolved into a model of contemporary fine dining, serving one of the city's most elegant and exquisite tasting menus. 
Elegance wasn't always Ko's strong suit. When David Chang first opened the chef's counter in 2008, a dozen diners could fit around the kitchen on uncomfortable wooden stools for a high-low tasting menu that included syrup-soaked lychees straight from the can, served under a rain of frozen, cured foie gras. You went for the thrills, and you traded in all of the usual elegance associated with tasting menus for the fun of it. If you didn't find it fun to be squashed-in with sweaty strangers, at least it was something of a bargain, (In its early days, the tasting came to $85.) 

You can still spoon up that dish at Ko, and the cooks will still hand it to you directly, sliding it over a wide, gleaming walnut counter. But the restaurant upgraded about a year ago to a roomier space in a swankier corner of the East Village, where cooks now work quietly before you on a 12-course tasting ($175), and a masterful wait staff managed by Su Wong Ruiz takes care of you from the sidelines.
While no one is marching across the room, making a show of attending to you, look, the steel silverware for your next course appears at your elbow just a moment before you need it. The second you finish, your plates disappear silently. When you look around to see who is free to come over, someone appears. This is the intuitive, unobtrusive, well-timed attentiveness that defines great service. This upgrade has pushed Ko into the realm of serious luxury. 

Sean Gray, the chef, first joined the restaurant in 2009 as sous chef. He now elaborates on the aesthetic that defined Ko's earliest menus. A battered and fried chicken oyster arrives early, bright with vinegar. The oyster is a small cut of dark meat from two grooves at the base of the bird's thighs, and it's a favorite bite among line cooks and chicken-carving grandmothers alike. It serves as a reminder that even though Ko now favors posh Zalto glassware, finally allows (no-flash) photography, and has invested in fancy, comfortable chairs with backs, it's still run by a bunch of cooks.
In Gray's tenure, the restaurant has pushed to create a more complex, more sophisticated progression of dishes. At times, these seem to work together as a three-hour-long unit: The buttery potato puree tickled with fermented radish and a massive dollop of caviar is tasty on its own, but it's also a set-up. Its lush, all-around softness works to emphasize the structure and texture of the gorgeously crisp oshizushi, a bite of pressed mackerel and rice, that follows. 
Current flavor obsessions guide the menu, such as hozon, a miso-like paste made from American grains and legumes, instead of rice. It is fermented in Momofuku's Brooklyn lab, and it tastes like what it is: 100 percent pure, uncut umami. You'd expect it to be intense, stinky, loud. But a dollop of smooth, creamsicle-colored chickpea hozon delicately expands on everything that's wonderful about a raw piece of sea urchin from Hokkaido without ever taking over the conversation. A smear of sunflower hozon later weaves its way seamlessly into a pasta course of chewy rye pici under white truffles. 
Ko doesn't indulge diners in theatrics—sauces poured table-side, cloches lifted, elaborate routines that indicate someone is paying attention to you but often fail to do anything for the food. A bowl of raw sea bream with clear, softly set fish jelly is an exception. The dish is spritzed, without flourish, with a shiso-flavored spray just before a cook pushes it across the walnut counter. The soft, green, pleasingly herbaceous perfume mellows out the fishiness, lengthening its flavors by giving them a head start.


No Reservations 
The reservation process has always been the single most infuriating thing about dinner at Ko, but it's not as infuriating as it used to be. There are now a few tables which you can reserve for larger groups of five to seven people. And for those who can afford it, two seats are reserved nightly for a charity bidding (these recently sold for $1000 on top the $175 a person rate). The big news: There's a bar! At the bar, if there's room, you can walk in without a reservation and order from a shortlist of tasting menu dishes offered a la carte.  

While there are now a few tables for larger parties, the best seats are still around the open kitchen. The food is always the show, but the food is never a show. Compositions are simple— in some cases, almost bare: A blushing eye of aged lamb in the center of a large plate, with no other components, is essentially the meat course. Depending on where you sit, you might have watched a cook trimming its fat, rolling it in nori powder, turning it over the charcoal grill. It looks like nothing much, draped with chilies, but it is exceptionally delicious. The fat is creamy and melting like a ripe cheese.
Ko's food doesn't appear to be particularly driven by the seasons, and it can be tricky to categorize neatly—Gray's kitchen is as comfortable making bearnaise as it is dashi. This has been the case for chefs on the French-Japanese beat for the last couple of decades. But at Ko, the integration seems more complex and complete. One of my favorite dishes on a recent visit was a mesmerizingly clear, delicious dashi made with fresh pineapple juice instead of water, with basil oil pooling over its surface. There were grilled razor clams bobbling in the broth one night, sweet half-raw scallops on another.
There are two options for drinks pairings—a full $155 choice that gets you a small pour of something with each of the 12 or so courses, or an annotated pairing for $85 that lets you take your time, as each glass lasts a couple of courses. Even the shorter version may involve surprises, such as consecutive dry Rieslings from J. B. Becker, with 15 years between them. This did what all good vertical tastings do: It showed you just how much a thing can grow with time.


I think there's still a temptation to think of Ko as the rebellious young show-off, but the cheekiest thing Ko has done since it opened in 2008 is to politely ask us to reconsider the meaning of fine dining. A good thing to do, every once in a while.
The dull, slippery phrase "fine dining" is used as shorthand for the absolute best in food and service. Too often, it points only to the larger production surrounding that food and service, to the starry extravagances that indicate money is being spent—on glassware, on silverware, on flowers, on bodies. These things are nice, but add them all up and you still don't have dinner.
All the extras in the world can't stand in for a team of extraordinarily talented cooks and servers working in unison to make you feel good for a few hours. The new Ko gets what matters—and gets it right. 

Ko is at 8 Extra Place (East Village); +1 (212) 203-8095 or momofuku.com/new-york/ko
Rating: Four Stars
What to Order: There aren't a lot of decisions to make in the menu department—everyone gets the 12-or-so-course tasting menu ($175). Choose drinks from the list, or go for one of the pairing options: $155 gets you a glass of something with every course, while an annotated pairing for $85 is better if you want to take your time.
Who's Next to You: The crowd is a mix of high rollers and special-occasion diners. Everyone is at a different course, moving at their own pace. Cooks come here, too, like pilgrims, though not everyone with vegetable tattoos covering their forearms is a cook.
Soundtrack: The room is quiet enough for speaking softly, but the kitchen buzzes with movement. You're likely to hear the Pixies, the Police, Talking Heads, the Pretenders, and New York Groove—Ace Frehley's version, obviously.