The Los Angeles Philharmonic Has Groupies That Follow It Around the Globe
What do patrons of the orchestra get when they tag along on a trip to Tokyo? Face time with the world's most famous conductor, plus karaoke.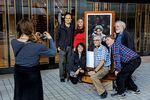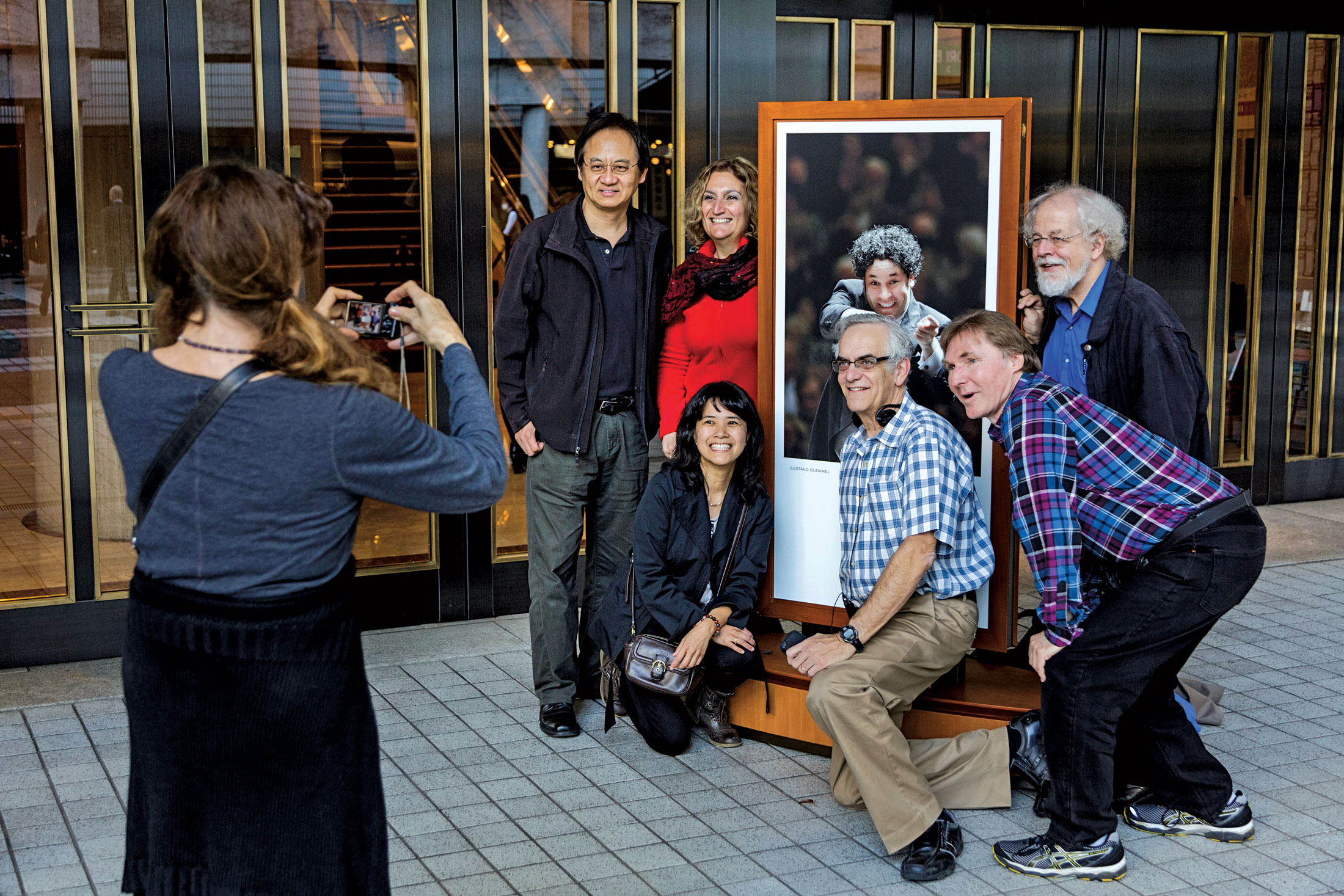 Most people who follow around musicians are young, unemployed, and in need of a shower. The Los Angeles Philharmonic's disciples are old, wealthy, and willing to sit through an awful lot of Mahler. Each year, the Phil, one of the top 10 orchestras in the world, goes on tour for two weeks, and the board and major patrons who give more than $50,000 each are invited to go with it. In March the orchestra did stints in Shanghai, Hong Kong, Seoul, and finally Tokyo, and their mostly retired fans tagged along for 13 days.
When I get to the Hotel Okura, where the orchestra will be staying, the 17 patrons are milling about the hotel's ballroom, eagerly awaiting the musicians' arrival from Seoul. The flight was delayed, which means the patrons are late for a reception at the American Embassy. But there's no way they're leaving before their heroes walk in. "That's the main thing we're here for," says Maynard Brittan, whose wife is on the Phil's board. "The reflected glory."
After almost an hour of picking at appetizers and drinking cocktails, Deborah Borda, the spunky chief executive officer of the L.A. Phil, arrives and says the 123 orchestra members are right behind her. "Those are the brass players," she says, pointing to the first few guys shuffling in. "They're a little more mellow. They're the jocks of the orchestra." Andrew Bain, the chair of principal horn, walks in with his wife, the tips of his curly blond hair resting below the collar of his sweater. The couple immediately heads for Ann Ronus, a board member who, like Bain, is from Adelaide, Australia. Each patron seems to have an adopted orchestra member. "We're groupies," says patron Dina Nahmias. "Especially for Gustavo."
When Gustavo Dudamel enters the room, everyone gets a bit quieter. The wild-haired, diminutive 34-year-old Venezuelan with electric energy is one of the only conductors in the world known by people who can't tell Bach from Brahms, and by far the youngest. Dudamel—along with Frank Gehry's Walt Disney Concert Hall, where he conducts—has made the L.A. Philharmonic a leading orchestra. If they were different sorts of fans, the patrons would be flashing body parts at him. Instead, they flash checkbooks.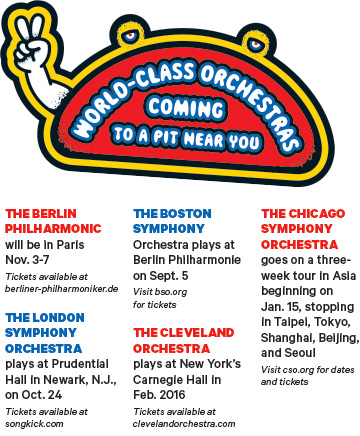 While the orchestra members eat from the hotel's buffet, Borda walks onto a raised platform and giddily announces that they've extended Dudamel's contract for six more years. He signs with a pen the contract that lists his new title of music director and artistic director. Everyone applauds. Then he bows before a gift of Johnnie Walker Odyssey, an $1,100 bottle of whisky a board member spotted him admiring at an airport duty-free shop. "Enjoy food. Enjoy drink. Get drunk today," Dudamel says to his orchestra. "It's an early concert tomorrow, but you still have time to fix the hangover."
The orchestra travels with roadies, a staff doctor (who sent home a horn player when a doctor in China wanted to pull a tooth he cracked on a chicken bone), a librarian, and a man named Guido Frackers. The impeccably dressed, handsome, long-haired Frackers is referred to by the musicians as "the international man of mystery," or "the most interesting man in the world." Frackers is the president of TravTours, a company that sets up tours for all the major American orchestras, and he sits right next to the concierge at each hotel at his own makeshift desk, dispensing confident restaurant recommendations and directions.
A different company, R. Crusoe & Son, has sent someone here to take care of the patrons. These kinds of trips are fairly common for boards of major cultural institutions. They'll travel with not only performers but even pieces of art that are visiting foreign museums. R. Crusoe is the biggest player in the industry, having begun almost 20 years ago when it brought 90 patrons to South America to celebrate Sir Georg Solti, the conductor of the Chicago Symphony Orchestra, on his 50 years with the baton. Since then it has taken board members of museums, colleges, businesses, and charities on trips meant to make them feel special. The "meet the American ambassador" jaunt might sound cool, but it's a basic move for R. Crusoe, which has to dig deep to impress its charges, most of whom are seasoned travelers. For Pittsburgh Symphony Orchestra patrons, the company organized a meeting with a woman who modeled for Pablo Picasso; Chicago Symphony patrons got to attend an after-hours a cappella concert at the Sistine Chapel; and a group of R. Crusoe VIPs got to record Oye Como Va with a Cuban band at the Egrem Studio in Cuba, where the Buena Vista Social Club had their sessions. Most of the patrons here in Tokyo have been on trips with the L.A. Phil before, and almost all are on more than one highbrow cultural institution board.

But they can't get another drink at the Okura, because they have to get one with the ambassador at his reception. Caroline Kennedy was supposed to be there, which would have been fun, but her schedule has been restricted since receiving a death threat the previous week. Still, these are professional patrons, and they have professional patron duties, so they say goodbye and sadly head off to the reception.
While that group eats from a second buffet on the stately second-floor dining room of the nearby deputy ambassador's house, drinking cocktails with British diplomats and a Noh master who's given a TED Talk, five members of the string section and one clarinetist head to the New York Bar on the 52nd floor of the Park Hyatt, the one from Lost in Translation. Because the L.A. Phil is so large, people who play the same instruments and sit near each other onstage tend to hang out together.
All six of the musicians drinking cocktails at 11 p.m. at the bar are under 35; three went to Harvard, and another, first associate concertmaster Nathan Cole, married a Harvard grad who's a fellow violinist in the orchestra. She stayed home, because she's eight weeks from giving birth to twins. There are five more married couples in the orchestra—plus the keyboardist's husband, who was hired as an extra pianist on the tour. This level of musicianship is like being a pro athlete: So few make it that they all meet on the way up. Cole, a calm, bespectacled, boyish gentleman from Lexington, Ky., met his wife at a festival in Taos, N.M., when he was 19; she thought he was a jerk back then. He met bassist David Allen Moore at the Kent/Blossom Music Festival when he was 14.
Despite performances, rehearsals, social obligations with the patrons, and gigs giving local master classes, the musicians do get a good amount of leisure time. In fact, when Cole's grandfather Robert looked over the Asia tour schedule, he laughed. He'd spent 1949 to 1962 with the Philadelphia Orchestra, which was the first to extensively tour outside the U.S.—usually for eight weeks at a time, with 50 nights of playing a new program of music every night. The L.A. Phil was doing two weeks with just two programs. "My grandfather said, 'This isn't a tour. This is a vacation,' " Cole says. "He looked at our list of hotels and said, 'Hotels? We had one hotel night a week. We slept on trains in sleeper cars.' "
This is Cole's third trip to Asia. Most of the patrons have also been to Tokyo before; Tom Beckman, for example, came here more than 100 times when he ran Roland, an electronic music company he founded. But they're not here for the sightseeing; they're here because they get to see what they love in a way that no one else can. The patrons know these musicians and their music so thoroughly they feel like proud parents at a concert, and traveling with their idols is worth $50,000 or more in annual donation. They get to be on the tour bus, man. It just happens to be a bus with excellent food and incredible access.

The next morning, when the donors get to the famed Meiji Shrine, R. Crusoe sets up the extra bonus of participating in a traditional prayer service, which is what President Obama did when he was here last year. This Shinto ritual takes place so rarely that a crowd gathers behind a fence to watch the Westerners in suits bow multiple times and repeat chants. Before they get to chant, however, they have to get purified with a stick with white paper on the end. This takes a while, because the stick itself must first get purified.
Later, after eating ukai-gyu beef and drinking Bordeaux at Ukai-tei, a one-Michelin-star teppanyaki spot on the top floor of the Chanel store, the patrons join Azby Brown, an architecture professor at the Kanazawa Institute of Technology, for a walking tour of the shops on Omotesando. The tree-lined avenue is full of high-end clothing stores, each of which has its own new building, many designed by a Pritzker Prize winner.
Michele Rauch is one of the few on the tour who also likes music that's amplified. She once took her husband, Dudley, to a Garth Brooks show in Las Vegas, which he liked, kind of. Another patron, Barry Pressman, the chief of neuroradiology and head and neck radiology at Cedars-Sinai Medical Center, has been getting subscriptions to the orchestra since he moved to Washington, D.C., after medical school. He says the only rock concert he's been to was Bruce Springsteen's and he had to go underneath the stadium to avoid the noise. Then he remembers going to one other. "Sandy, my wife, took me to … what the hell is their name? Crazy group. What's the name of that group, Sandy?" he yells to his wife, who has streaks of purple in her spiked jet-black hair, wears a leather jacket, and is on the Beverly Hills Fine Art Commission as well as NPR's board of trustees.
"The Rolling Stones," she says.
"I had my ears filled with cotton," he says.
The next day, the patrons go to the hilly resort town of Kamakura, where they get a few minutes to visit the Kotoku-in temple's 44-foot-tall, bronze, badass-looking 13th century Buddha that appears more peaceful the closer you get. This is normal tourist stuff, so the group has only a few minutes here before getting back on the bus to take a look at three 18th century post-and-beam minka, or farmhouses. Architect Yoshihiro Takishita bought them for almost nothing 40 years ago and moved them, piece by piece, to this town; he's transported other ones to California, Hawaii, and Buenos Aires. The Beckmans buy an ancient screen from his art collection.
Dinner that night is at the restaurant at the top of the Peninsula hotel, where the patrons are staying—they'd rather be at the same hotel as the orchestra, but apparently the tour arranger doesn't think the Okura is patron-worthy. The gang gets into a drinking game with three geishas (provided for their entertainment), two of whom don't speak English (which limits the entertainment).

The orchestra as a whole is slightly more sedate. Some of the clarinetists are going to sleep early; tomorrow morning they're meeting up with this guy in Tokyo who's supposed to sell amazing ligatures for their instruments. But a small number of musicians have decided to go karaoking. Even Dudamel shows up, singing Bésame Mucho, which Plácido Domingo once performed at the Hollywood Bowl when he was conducting. Another karaoke group is led by the gregarious keyboardist Joanne Pearce Martin. Violinist Johnny Lee belts out an impressive Let It Go from Frozen, and Pearce Martin and cellist Jason Lippman do Billy Joel's Movin' Out. At one point, percussionist Ken McGrath gives a tambourine lesson. "We're geeky musicians, so what harm is there in a quick music lesson between beers?" asks Martin.
The next afternoon, two hours before the first performance, violinist Cole goes to the hotel lobby to ask Frackers where to eat lunch near Suntory Hall before the concert. Frackers suggests a ramen place in the mall next to the hall, noting that the conveyer-belt sushi place there from the orchestra's last trip has closed. Violinist Mitchell Newman arrives at the restaurant just after Cole does. They're both part of the Phil's unofficial foodie group, which has been to Alinea in Chicago with former conductor Esa-Pekka Salonen. This trip they went to Liberty Private Works in Hong Kong, a 26-seat, invitation-only molecular gastronomy restaurant on the 26th floor of an office building. There was also an unfortunate incident in Shanghai when someone tried to explain they wanted an individual bowl of soup by calling it "snack"-size and wound up being served snake soup. But Newman's favorite meal was right in the Hotel Okura, at the Kyubei sushi bar, where the duo of salted and sauced eel is particularly amazing.
Many of the orchestra members share the food obsession: Principal timpanist Joseph Pereira, who's been to Tokyo 10 times, took his wife, violinist Minyoung Chang, and three of his percussionist buddies to Tsukiji Market at 6 a.m., skipping the tuna sale and going straight to wait in line for an hour for otoro tuna and Sapporo at Daiwa Sushi.
After lunch, Cole and Newman head to Suntory Hall. The orchestra's performance of Mahler's Sixth—a piece so somber it's called "The Tragic"—plays well to the serious Japanese audience: The applause is long enough to count as a fifth movement.
On the final concert of the 14-day tour, the Japanese audience is polite at the end of John Adams's jazzy 2009 piece, City Noir, which is clearly a bit too avant-garde for their taste. But they are pressured into standing up by the patrons, who've led the ovations throughout the tour. After intermission, the orchestra does a rousing take of Dvorak's New World Symphony, and the patrons don't have to do any heavy lifting.
A day earlier, at a press conference for Japanese media, Dudamel acknowledged the patrons, calling them "crazy people who follow us everywhere." The patrons were giddy at the mention.