New York's Bagel Whisperer Makes a Killer Everything
At Sadelle's, Melissa Weller masters the fine art of the bagel.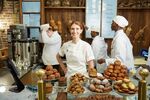 Any expert will tell you a bagel is at its finest when it's still warm, though not piping hot, from the oven. This is true: The outside is now shining and crackling. There is a barely sweet, pleasingly chewy quality to the bread inside. After a couple of hours, there will be a discernible shift, a deterioration in both spring and crunch. The bagel is not stale, but some of the spirit has gone out of it. It will now benefit greatly from toasting. 
In other words, the life of a bagel is short. So move quickly when you hear Melissa Weller and her crew shouting two of the sweetest words in the English language, "hot bagels!" This happens every 20 minutes during the morning rush hour at Sadelle's, the bakery Weller opened two weeks ago in Soho. The bagels are glossy and chewy and crisp, all at once—glittering with salt, bulging with onions, freckled with poppy seeds. For now, 1,200 are turned out each day. 

The oven you see at the center of Sadelle's dining room—a revolving four-tray Fish, set up with a sink to rinse the boards—goes on at four in the morning. It's hot enough to do its job by five, maintaining a temperature from 400 to 450 degrees. By 6 a.m., Rhizlane Fizazi, a young, Moroccan-born baker, is finding her rhythm. She scoops fat, slippery-surfaced rings from the kettle of malty boiling water, and flips puffs off the burlap-lined boards directly onto the metal of the oven. She is sniffing for the exact moment when the bread is ready.
"Thirty more seconds," Weller says over her shoulder, "maybe a minute." She manages a team of about 20 at Sadelle's with what seems like a constant, even-tempered chill, even as the daily horrors of opening a new restaurant unfold: The walk-in refrigerator has broken down, ruining a batch of dough; the supplier has forgotten the flour order; she has a hundred calls to field. Oh, and tomorrow, she remembers with delight, it's her son's first day of school. 


When they're ready and rested, the bagels are stacked onto long wooden pegs and brought up front. Weller, who is tall and lean and keeps her reddish hair back in a low braid, wears an all-white uniform at the bakery, right down to her clogs. She carries a dowel of bagels like a sword into battle—the battle for superb bread. 
"Hot bagels," she hollers.
"Hot bagels!" a chorus of bakers and cashiers and fish slicers shout back in a gesture so deeply comforting, any tourist might think Hot Bagels! is this city's unofficial motto, a rousing cry heard in every bakery and printed on signs welcoming drivers as they emerge from bridges and tunnels. 
Eastern European immigrants brought bagel knowledge with them to Manhattan at the turn of the 19th century, and the bread quickly became a standard among Jewish communities of the Lower East Side. It's tempting to think of this moment, right now, as peak bagel, especially when a bagel board at Russ & Daughters Cafe is fixing your hangover, or you're ripping into a deeply colored, bluefish-topped bagel from Black Seed. Still, there are still far more bad bagels in town than good ones.
Weller, raised on hard pretzels in Clearfield, in central Pennsylvania, is an unlikely champion for the modern bagel—not just because she's the daughter of a Methodist minister. When Weller took her first job as head baker at Per Se, a stronghold of French-American fine dining, her experience had mostly been with sweet pastries, not bread. She put herself through a self-taught crash course in baguettes and brioche and by the time she served Thomas Keller her savory mustard seed rolls, he told her it was some of the best bread he'd ever tasted.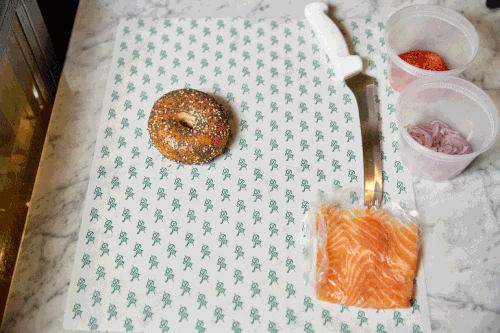 Weller became an obsessive scholar of baking and its history, developing a repertoire of doughs as she worked her way through reference books, from front to back, and followed every recipe from the great Nancy Silverton's Breads from the La Brea Bakery in her spare time, including one for bagels.
In the spring of 2013, just as the Cronut, that flashy hybridized pastry, was taking over, Weller left restaurant kitchens to go rogue. Every Saturday, she set up a modest, single-subject stall in Smorgasburg, a food market in Brooklyn, where she sold 300 bagels. That's where I first tasted Weller's super darkly-baked pumpernickel everything, twinkling with caraway seeds. It altered my definition of the perfect bagel. It had more crunch and crackle and flavor than any bagel I'd had before. With a schmear of cream cheese, which Weller was also making herself, it was spectacular. 

While Weller was running her tiny weekly stall, Jeff Zalaznick tried some of those just-baked bagels, too. Zalaznick is one of the three partners who make up Major Food, the restaurant group behind an internationally expanding empire that includes Carbone and Parm and which just took over the space that houses the Four Seasons restaurant in the Seagram Building. The trio, Mario Carbone, Rich Torrisi, and Zalaznick, teamed up with Weller to open Sadelle's, and they plan to open more locations eventually.
The group, which made its scrappy start with Torrisi Italian Specialties, has become well known for elaborate presentation styles and obscenely high price tags. But the style of Weller's baking hasn't changed, and the price of the bagels hasn't inflated. It's the same as it was, at $2, except for gluten-free bagels, which are $3.50 each. The bagels are exquisite enough that this can feel like a deal. 
A note on toasting: The bagels at Sadelle's don't require toasting, but your request for toasting isn't judged. After all, Weller likes a sesame bagel toasted with salty butter; and after almost 20 years of maintaining its strict no-toasting rule, even Murray's has relented. The toaster in Sadelle's back kitchen is of the college dining hall variety, a gleaming Toast Qwik conveyor that, as every American college student with a meal card knows, can be calibrated to produce exactly the shade you want.
After sending nine sesames down the belt in quick succession, fiddling with all the settings (top heat, bottom heat, color control), Weller finds the perfect setting (7, 4, 5.5) for the day. This results in a light gold lace across the surface of the sliced bagel, plus a uniformly brown and crisp edge. "Oh, yes! That's what I'm looking for," she says, noting the settings to the cooks. "But look, it's never going to be one size fits all," she says. "To get it like this, I think it's always going to depend on the bagel." 


A Brief Babka Interlude
Every babka looks delicious from the outside, but to really get a sense of how great it's going to be, you'll need to slice it open. There, in its swirls of bread-like cake and filling, you can read into its construction. Is it gappy, fudgy, lumpy, dry? Or is it, like the one at Sadelle's, tall and beautifully marbled with a buttery crumb?
Melissa Weller makes an enriched dough with milk, eggs, and plenty of butter, then gets it as thin as she can before rolling and twisting it with chocolate—a delicate, rewarding process. On something already so chocolate-y, a layer of ganache over the top would be overkill, right? Wrong. It's fantastic, and it often sells out before 11 a.m.


Weller is very happy with the bagels today. They started their lives just yesterday, in her larger kitchen space in Industry City, Brooklyn, where she spends half her time. There is room over there to mix the dough (high-gluten flour, salt, water, and a sourdough starter) and for three bakers in beanies and baseball caps to stand around rolling bagels the old-fashioned way, on a massive flour-dusted work bench, shaping each strip around their hands and working it until the seam nearly disappears.
Overnight, in the walk-in, the bagels puff up a bit, slowly rising and developing their structure and flavor.
Before the sun comes up, they ride to Manhattan. There, the bagels are boiled and baked and draped with lox, ordered to go and then eaten on stoops and sidewalks, on subways cars, and in front of desks—or, for those with the luxury of time on a Tuesday morning, at the marble cafe tables of Sadelle's.

From here, the appetizing counter has the careful, ornately pretty look of a Wes Anderson set piece. The clerks are in white paper hats, slicing fish and filling green and blue boxes with Weller's pastries. There are vintage cake stands stacked with those chocolate babkas, whirls of raspberry-walnut rugelach, and wonderfully tender, not-too-sweet chocolate chip loaves. Here are some the finest bear claws and sticky buns I've ever tried, and there's a menu of savory salads and sandwiches including a ham and turkey triple-decker. As the doors swing open, Tchaikovsky's Sleeping Beauty starts up as and it almost seems too baroque, too debonair, for this hour. Then Weller cuts in, handing over a dowel of sesame seeds and everythings.
"Hot bagels!" She says.
And the chorus comes back with it, "Hot! Bagels!"
Sadelle's is at 463 West Broadway (Soho); +1 (212) 776-4926 or sadelles.com