The Best Place in the World for Bonefishing Is No Picnic
The tiny island of South Andros, Bahamas, provides thrills—but also exhaustion, frustration, and triumph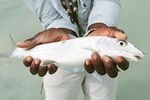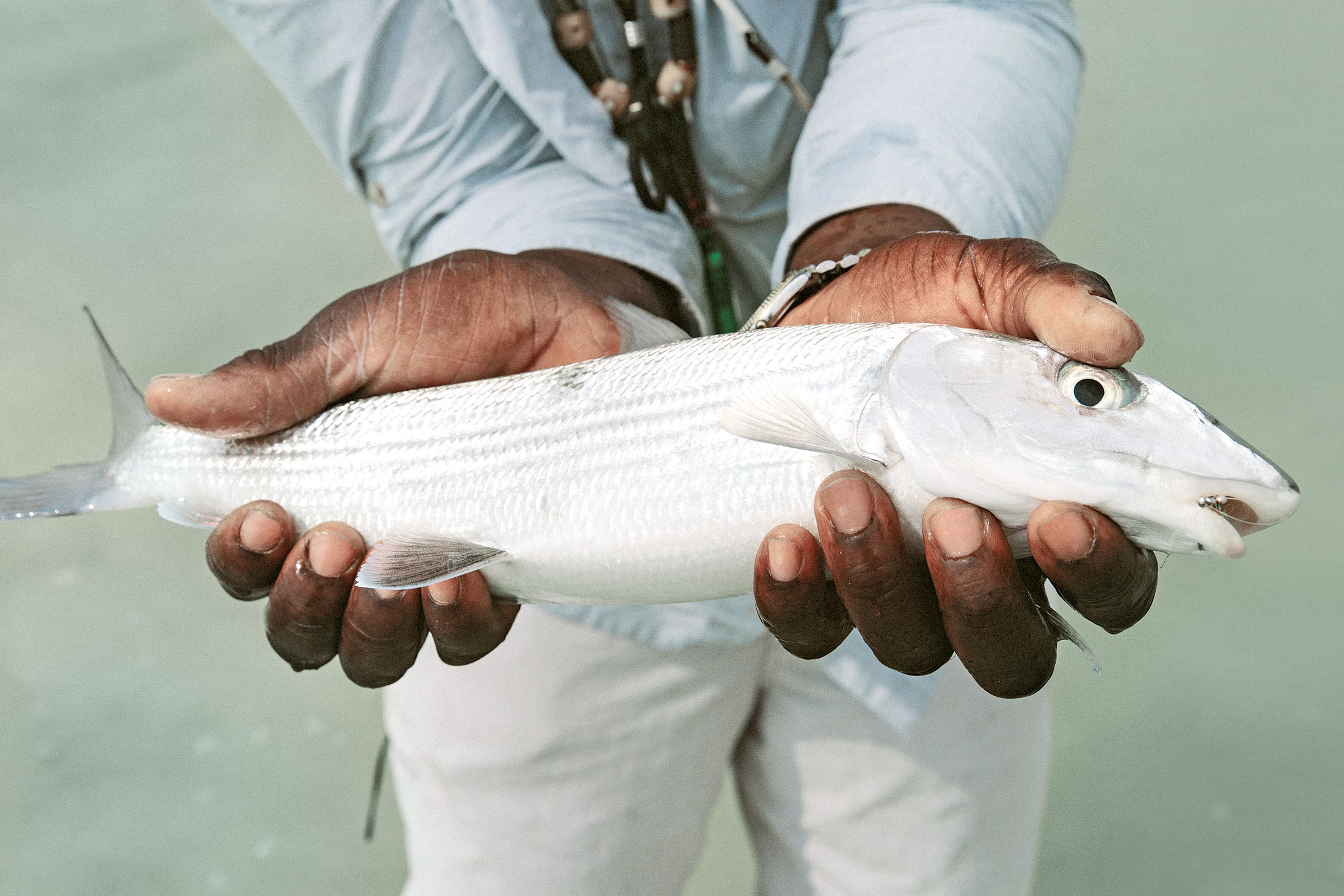 We were deep into the second hour of a sufferfest. My friend Tim Warren and I had just arrived in Nassau, on our way to the remote Bahamian island of South Andros. The Western Air 33-seat puddle jumper meant to take us there had boarded on schedule, but moments after the flight attendant closed the door, island time kicked in. We sat. Outside, the temperature was 85F; inside, it had to be 105F. "Air conditioning" took the form of the flight attendant walking up and down the aisle fanning passengers with the laminated safety card. Tim and I had long ago soaked through our shirts, and a gentleman across the aisle had gone pale.
There should have been a mutiny. Instead, people were smiling, chatting up their seatmates, and swapping information about where they'd be staying. When the pilot announced there would be yet another delay, someone in the back laughed, then offered, for everyone to hear, "Maybe they're de-icing the wings."
Why were we so happy, despite being almost cooked alive? Virtually all of us, it turns out, were headed to South Andros to indulge in the obsession known as bonefishing.

Bonefishing traces back to the 1930s and '40s—the Golden Age of big-game fishing as practiced by the likes of Zane Grey and Ernest Hemingway. Anglers flocking to the Florida Keys and the Bahamas in search of deepwater trophy fish such as marlin and tuna also discovered scores of albula vulpes in the shallow, white-sand flats close to shore. Suitable for target-fishing and given to blistering runs when hooked, the previously overlooked species quickly became a prized catch. "In 1947, when the first bonefish were taken on fly," the legendary fisherman Lee Wulff wrote, "we who fly-fished the flats for them knew that a fish hitherto modest in reputation would soon move into the front ranks of the most respected game fish."
Silvery in color, with black, alien-looking eyes and a long, overhung snout, bonefish aren't what you'd call traditionally handsome, but they have a kind of otherworldly beauty. In addition to the Bahamas, they haunt impossibly gorgeous places like Costa Roca and Belize. Three- to 5-pound specimens are the most common, but 10- to 15-pound monsters are not unheard of.

Bonefish are also a thrill to catch. More like hunting than conventional angling, bonefishing isn't a chuck-your-line-in-the-water-and-pray type of deal. A guide leads you to a promising flat, where you stand on the casting deck of a small shallow-water skiff as he poles you, gondola-style. (You might also wade into the water on foot.) Because bones' mirrored backs make them wickedly difficult to spot against the bottom of the sandy flats, it can take hours to locate one, and your guide will likely spy it before you do. With shark and barracuda as predators, bones spook at the first sign of a threat. Get too close, or drop the cooler lid too loudly, and they're gone. It's no wonder the species is known as the gray ghost.
When your guide finds a fish, he'll call out its position—"Bonefish. Two o'clock. Twenty feet." You cast your fly just ahead of your target, ideally within a foot or two of its nose. With luck, your quarry sees it, gulps it down, and takes off. Before you can say "Fish on," your line will be taut, your reel will be whizzing, and your rod will be bent in half. "They're tough little varmints," says renowned bonefish zealot Flip Pallot. "It's nothing for a bonefish to run 100 yards or more. And once you tussle him in, he's perfectly capable of doing it again."

Located about 150 miles southeast of Miami, South Andros is widely referred to as the bonefishing capital of the world. It's the smallest of the three islands that make up the 2,300-square-mile Andros chain, thought to be named for Sir Edmund Andros, a 17th century British commander, and it remains blissfully undeveloped. Populated by just a few thousand laid-back folks and unmarred by large-scale resorts or casinos, the island is a Gilligan-esque haven of tiny airstrips, sleepy towns, and deserted beaches. Bonefish sometimes gather in such large numbers here that when they eat—shrimp and small crabs are their primary food—they can kick up so much sand that their "mudding" can be seen from a plane above.
For our base of operations, Tim and I chose Bair's Lodge, a coral-pink, plantation-style outpost set hard against a sliver of white-sand beach on the island's eastern edge. Don't be fooled by the comfortable, air-conditioned rooms, gourmet meals, and quaint Bahamian décor. This is a purpose-built fishing lodge, providing ready access to some of the choicest bonefishing waters in the world and employing some of the islands' most experienced guides. The Outdoor Channel fishing show Buccaneers & Bones is filmed here. Anglers sometimes book a year in advance to reserve a room. Tim and I signed on for a two-and-a-half-day trip, plenty of time to find, and catch, big fish. 

"Bones coming at 12 o'clock. Get ready!" It was just before 9 a.m., less than an hour after we'd shoved off into the clear turquoise waters of South Andros for the first time, and our guide, Harlan "Harley" Sands, had zeroed in on a target. Tim, who was fishing first, pointed his rod toward the aforementioned spot on the clock. "A little to the right, mon," Harlan said. "Forty feet, and coming straight at us."
Tim is a professional fly-fishing guide, too. We met almost 20 years ago when he took me on my first fly-fishing outing, in Jackson Hole in Wyoming, and we've since fished together many times. He's taught me almost everything I know about fly-fishing, and his skill level remains many clicks above mine. Before this trip, Tim had fished for bones in Ascension Bay in Mexico and Ambergris Caye in Belize; he also guides the flats of Laguna Madre in South Texas for redfish, another prized saltwater species. I'm primarily a freshwater fisherman (brown trout, cutthroats, rainbows), although I've done a few saltwater outings chasing stripers off Long Island.
That we found a fish so quickly on our first day came as something of a surprise. When we'd arrived the previous evening, everything started out just as we'd hoped. Sue Vigue, who manages Bair's with her husband, Doug Meyer, had met us at the airport to make sure we found our van shuttle, helpfully outfitted with a cooler full of Kalik beer. The drive to the lodge took less than a half-hour, and soon Tim and I were standing on the beach, the house variation of a Bahama Mama in hand. Our rooms were large, clean, and 50 steps from the water. Dinner that night, served at a Timbo-wood table where the lodge's maximum of 12 guests can trade lies from the day's adventures, began with a local grouper boil, moved on to fresh pan-seared snapper, and ended with coconut panna cotta.
As we were finishing our meal, Tim looked out the window. "Full moon," he said. To most vacationers, a blazing Caribbean moon is a good thing, but to a fly fisherman, it's a pox. The light means fish can eat at night, which makes them less likely to chase a fly during the day, and the extra water the moon draws ashore at high tide floods the mangroves, giving the fish a perfect place to hide. It was an ominous sign.
And yet here we were with Harlan, first thing the next morning, staring down a promising target. Tim spotted the fish Harlan had pointed to, drew a bead on it, and made a cast.
"Short, mon. Go again! Push it. Push it out there!" Tim's next cast was on the money; the fish saw it and chased his fly. "Set!" Harlan said.
The fish was hooked and took off across the flat, leaving a miniature rooster tail behind him. After two quick runs, Tim reeled in his catch, removed the hook from the fish's lip, and released him. (Although bonefish can be eaten, most anglers pursue them for sport and practice a catch-and-release ethic.) It was a good-size bone, not the biggest the world has ever seen, but not the smallest either. But the speed! "Bahamian missile," Harlan said. We were officially on the books.
A master fishing guide has to be many things: expert boatsman, eagle-eyed fish finder, patient coach. The best guides—presiding as they do over long, hot, sometimes frustrating days spent in a small boat with strangers—are also world-class entertainers. Harlan is all of the above. At one point early in the morning, he told us a story about a spoiled tech mogul he'd guided. They'd just drifted past a local Bahamian oceanographic feature known as a blue hole, a dark, seemingly bottomless abyss that suddenly appears in the middle of the otherwise shallow flats.

"What do you all do in those blue holes?" the man asked Harlan.
"Well," Harlan said. "We look for big fish. We scuba dive and snorkel. And we hide the evidence." The man was apparently much nicer to Harlan for the rest of the trip.
At various points during the day, Harlan presented himself as a doting father, a Bahamian playboy, and a survivor of the mean streets of Nassau. Later that night, I asked Tim what percentage of Harlan's stories he thought were true. His answer: "Who cares?"

As the morning wore on, Harlan would find a bone, Tim would catch it. Harlan would find a bone, Tim would catch it. Before long, Tim was spotting his own and bringing them to the boat. I, meanwhile, was flailing. When I finally hooked my first fish, I put it on the reel too soon, tried to muscle it during a run, and broke it off. A short time later, after Tim hooked another, Harlan asked him to step down from the casting deck and told me to step up. He'd spotted another bone and wanted us to try to pull off a rare "double." But I jumped up too fast and loud and spooked my fish. "No, no, no!" Harlan said. "You got to go like a ninja, mon!"
Harlan immediately ginned up two more bones. "OK. Get ready. Bonefish at 3 o'clock." A good guide gives commands in a cool, even tone to keep his charge's adrenaline in check, and Harlan issued his next directive with Zen-like calm: "Cast."

This time, I managed to put the fly where I needed to, watched the fish start to chase it, set the hook the moment he sucked it down, and reeled it in. He was a solid 5-pounder, the biggest fish we'd caught so far. I felt a mix of shock and euphoria. Harlan recognized the condition instantly. "That's right!" he said. "You got da jones for da bones!"
After dinner that night, our host Doug built a fire on the beach and told stories about his adventures sailing the Caribbean and plucking skiers, mountaineers, and hikers out of danger as a former Alpine search-and-rescue professional. Sue asked about our jobs and families and saw to it that our breakfast and lunch orders were taken care of for the next day. Each day when we came off the water, she was standing on the beach waiting for us with hot towels. To help pass the remainder of the evening, the four of us enlisted the services of a bottle of Havana Club Añejo 7. 

About our second day, the less said the better. Tim and I weren't a good match with our guide (the lodge rotates guides every day), and whether it was the full-moon effect or something else, we saw far fewer fish. Tim landed maybe a half-dozen bones, and I took advantage of a nice, clean shot at a pod of four fish lined up like miniature aircraft carriers to catch one. But that was about it.
On the way back to the lodge, a full hourlong motor from where we'd been fishing, it began to pour. Naturally, Tim and I had left our rain jackets in our rooms.
Day Three began with another dry spell. At one point, Tim stepped down from the casting deck a bit before his allotted time was up. "All you, buddy," he said to me.
His thoughtfulness cost him. Within moments of my stepping up, our guide, Ronnie Bain, called out a fish. I made a cast and hooked up. While a few of the bones we'd caught had made decent runs, none had lived up to the species' hell-bent-for-leather reputation.

This one did. In what seemed like a second, he was 50 yards away … 75 … 100 … . He took me deep into the backing of my line, and right when I was beginning to fear he'd snap it and light out for Bora Bora, he eased up. I reeled like mad, trying to recover line while I had the chance. When I had him within a few feet of the boat, I could see he was a healthy 4-pounder with a pretty turquoise back and a cobalt tail. Then he took off and did it all over again. On that final run, when he appeared as just a tiny swoosh of spray on the horizon, when the sun sparkled off that immaculate white-sand flat, when my reel was whizzing and my heart rate was redlining—well, that's bonefishing. Eventually I landed him.
A few minutes later, our guide put us on a pod of six bones feeding in only a few inches of water, their tails visible above the surface. Casting to "tailing" fish is, to many anglers, the most thrilling situation in the sport. I proceeded to make a hash of the opportunity, firing off a lame cast that sent the bones scurrying in every direction. My ugly failure elicited a blue streak from our guide and a look I won't soon forget from Tim. Was it anger? Disbelief? Sorrow? I know I was feeling all of those things. That's bonefishing, too. Bair's Lodge starts at $2,250 for three nights and two days of fishing during high season (October though March), including lodging and meals.