Google's $6 Billion Miscalculation on the EU
Why the search leader's antitrust deal fell apart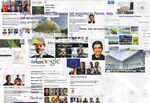 As the global elite gathered at the World Economic Forum in Davos in January 2014, Google Executive Chairman Eric Schmidt and four other executives from the Internet search giant were meeting in a conference room at the newly opened InterContinental, a golden, egg-shaped structure nestled incongruously in the snowcapped Swiss Alps. They hoped to finalize a settlement with Joaquín Almunia, the European Union's powerful competition czar and Google's primary legal adversary for the previous four years.
The mood in the room was cordial but tense. Almunia's term was up in the fall, and Google didn't want to have to start over with his replacement. Its previous two proposals had been picked apart by an assortment of 20 Google rivals, which had filed formal complaints to Almunia and the EU alleging that Google used its overwhelming dominance in Web search to divert users to its own services. For example, when someone in a European city searched for the best restaurants, nearby dentists, or airplane flights, Google linked to its own maps and other services instead of displaying links to the best content from elsewhere on the Web. Now, Schmidt told the group, his company was willing to do both. When consumers queried Google with phrases like "red Sony camera" or "flights to Rome," he said, calling up a PowerPoint slide to demonstrate the compromise, Google would prominently place a box at the top of its results page that contained links and logos of three rival websites, such as Yelp, TripAdvisor, and Expedia.

As Schmidt finished the deck outlining the proposal, Almunia, 67, an avuncular economist who'd run unsuccessfully for prime minister of Spain, peppered him with questions. He asked how Google's rivals could obtain this special placement (they would have to bid for it in auction) and how it might affect the behavior of users (no one quite knew). Google's top lawyers, Chief Legal Officer David Drummond and General Counsel Kent Walker, helped Schmidt answer. Then Schmidt inquired about worsening anti-American sentiment in Europe in the wake of leaks by former National Security Agency contractor Edward Snowden. Any agreement would need the consensus of all 28 members of the European Commission, which is why Google hoped it had found its champion. Schmidt asked whether Almunia could get a settlement approved before the end of his term. Almunia said he was confident that he could. After two hours, everyone was satisfied. They shook hands.

Ten days later, Almunia stood at the podium in an auditorium on the ground floor of the Berlaymont, the 50-year-old institutional headquarters of the European Commission, and announced the deal. Google's long-running antitrust ordeal in Europe, it seemed, was finally over. At Google's headquarters in Mountain View, Calif., the Almunia settlement with the EU was seen as such a fait accompli that staff assigned to the case started to work on other things.
It turned out to be a huge miscalculation. Almunia couldn't muster the political support inside the European Commission to ratify the deal. It never even came up for a vote.
On April 15, 2015, Almunia's successor, Margrethe Vestager, a 47-year-old former finance minister from Denmark, approached the same Berlaymont podium in the same auditorium. "Dominant companies can't abuse their dominant position to create advantage in related markets," she said bluntly, formally accusing Google of exploiting its supremacy in general search to dominate the market for online product searches—the equivalent of an indictment, the very move that Almunia had sought to avoid through the private settlement at Davos.
That wasn't all. Vestager (pronounced Vestayer) announced a new investigation into whether Google had abused its dominant position with the Android operating system for smartphones. She suggested other cases were possible, too—regarding Google's expansion into the markets for local search, maps, images, travel, etc. For Google, this was a nightmare portending years of scrutiny, a fine of up to $6 billion, and edicts that could forever limit the effectiveness of its products. The company must file a response to Vestager's "statement of objections" by Aug. 17.
In the span of just 15 months, Google somehow lost Europe.

Google had reason to believe it was loved on the continent. Free-speech advocates had cheered when it shuttered its China site in March 2010 to avoid self-censorship rules. Likewise, it was a darling of digital-rights activists during the following year's Arab Spring, when Egypt jailed Google's Middle East marketing head, Wael Ghonim, after he organized protests. In 2012, as evidence mounted that governments were targeting dissidents from Syria and other countries with malware, Google rolled out a warning system for Gmail users that alerted them to potential state-backed attacks. It gave everyone else additional protection by using HTTPS (the encrypted version of the Web's underlying protocol) and offering two-step authentication at login. "They'd been good about the attempts to attack their users," says Ben Wagner, co-founder and director of the Berlin- and Frankfurt-based Centre for Internet and Human Rights. "They were an alternative, safe space."
Whatever goodwill it had stored up, Google started to lose in 2014, in the aftermath of the Snowden affair. Several of the leaked NSA documents revealed how Google and other companies had given the spy agency access to users' accounts. Google said it was following the law and fought the NSA practice, but the damage was done. "What's the use of a two-factor authenticated e-mail if the NSA is reading it, too?" Wagner says. "There was a huge shift."
In Berlin, activists from the Peng Collective lampooned Google's data-collection practices by staging a fake product launch for "Google Nest" at the Re:publica digital-culture conference in May 2014. The suite of products included Google Trust data insurance ("It's completely free, you pay with your data"), the Google Bee personal drone, which watches your family, and Google Hug, which connects users with others in need of affection. "With our unique behavioral monitoring algorithms, embedded within all Google tools and services, we know when you're not at your best," a spoof product page said. At the December congress held by the Berlin-based hacker association Chaos Computer Club, one hourlong speech was titled "F--- Off Google." Delivered by an anonymous Frenchman, it cited Google Maps as evidence of the company's statelike ambitions. "One never maps a territory that one doesn't contemplate appropriating," he warned.

Google declined to make its executives available for on-the-record interviews, but several concede that the company was caught off guard by the intensity of European criticism, in large part because of its broad popularity with users. Google is so relied upon that many people casually assert that the most prevalent search term on rival Bing is, in fact, "Google." (Microsoft declines to confirm this.) The company has a commanding 90 percent share of the search market in most European countries, vs. 76 percent in the U.S., and its Android operating system has a 64 percent share, vs. 47 percent in the U.S.
"Google is the most popular search engine in Europe because it is built for consumers and helps them quickly find the information they want," Matt Brittin, Google's president for Europe, Middle East, and Africa business and operations, said in a statement. "Competition in search, online shopping, and access to content has never been greater."
The more Europeans rely on Google, however, the more they've come to fear it, making it an easy target for politicians. Last November members of the European Parliament voted 384 to 174 for a symbolic proposal to break up the search giant into two separate pieces—its monolithic search engine and everything else. In Spain, Google has been forced to shut down Google News over copyright issues. In Germany, it has stopped collecting images for its Street View navigation service because of privacy concerns. The memory of Stasi secret police surveillance in the former East makes such issues especially sensitive. More recently, Google has been forced to comply with an EU "right to be forgotten" ruling and to remove embarrassing items from its search database at the behest of users.
Sentiment also turned against other American tech giants, including Apple, Facebook, and Amazon.com, which were lumped with Google into a group disparagingly dubbed GAFA. Apple and Amazon's European tax arrangements were investigated; Facebook came under fire for its insatiable collection of personal data. Local politicians turned bashing GAFA into a campaign staple during the fall 2014 elections. "We don't want to be a digital colony of the U.S. Internet giants," said former French Economy Minister Arnaud Montebourg in an interview last year. "What's at stake is our sovereignty itself."

Rewind the clock a decade, and zoom in on Berkshire, England, the home of Windsor Castle, west of London. There, a married middle-class couple, Shivaun and Adam Raff, opened a shopping website called Foundem, allowing people to search for and compare the prices of various products at other online retailers.
There was nothing particularly special about Foundem, but in 2006, Google, as it frequently does, updated its search algorithms. Suddenly Foundem was a lot less visible in search results. Shivaun, an articulate and tenacious advocate for her tiny site, spent a few years trying to get Google to tell her what had happened and how to get her company out of the algorithmic penalty box. Google, characteristically opaque about its internal workings, didn't say much.
In 2009 the Raffs filed the first antitrust complaint against Google in Brussels. They also hooked up with Gary Reback. A Silicon Valley lawyer and serial agitator who had represented Netscape against Microsoft in its 1990s antitrust case, Reback helped the Raffs make the rounds in Washington. Soon regulatory authorities began looking at Google's behavior in the U.S. and Europe. "Under European law, being dominant is not a problem at all, but once you are dominant you have a special responsibility not to crush the remaining competition in the market," Shivaun says.
Google had reason to believe this was part of a plot led by its chief rival, Microsoft. Foundem was a member of one of those earnestly named lobbying groups, Icomp, or the Initiative for a Competitive Online Marketplace, which counts Microsoft as a founding member. Raff was paid to be a special adviser, which made her seem more like a mercenary than an entrepreneur.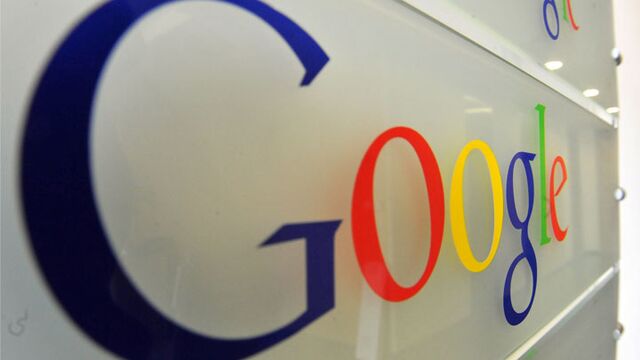 There were other Microsoft-looking fingerprints on the case as well. It's a member of FairSearch, a lobbying group formed in the U.S. by Expedia and others in an unsuccessful effort to block Google's acquisition of airfare data company ITA Software; the group's also focused on drumming up antitrust troubles for Google in Europe. Google didn't receive any complaints from online shopping site Ciao, an advertising partner, until after Microsoft acquired it, wrote Julia Holtz, Google's senior competition counsel, in 2010. Microsoft, through its Brussels office, declined to comment.
Aided by Microsoft or not, the Foundem complaint identified something true about Google: It favored its own services. In 2007, Google had introduced a feature called Universal Search that anyone who uses the site will recognize and likely deem useful. If you search for a particular city address, a stock quote, or the price of a product, Google will retrieve an answer to that query in the form of results from one of its own services—Google Maps, Google Finance, and Google Shopping, for example.
It was a philosophical shift. Chief Executive Officer Larry Page and his colleagues had spent years talking about how their search engine was an unbiased arbiter that directed users to the most useful, reputable material on the Web. Now, in some cases, it wasn't neutral at all.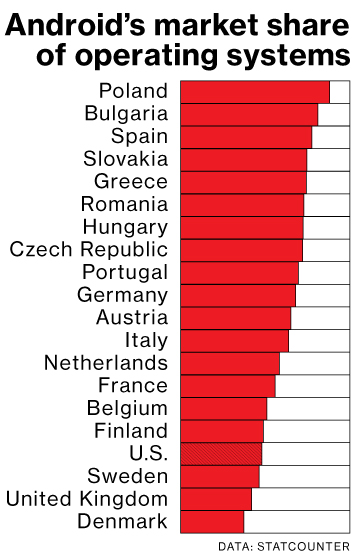 The company said the switch improved the user experience. "If we know the answer, it's better for the consumer to answer that question so that they won't have to click anywhere else," Schmidt told a U.S. Senate antitrust subcommittee. He also pointed out that the top algorithmically selected search results are still there, a little lower down on the page, and that no one is forced to use Google. Competition is only a click away.
Over the next few years, Google kept increasing the visibility of its own content, introducing tools like OneBox, which supplied answers to specific queries in a box at the top of search results. It also started integrating profile pages, contact information, and customer reviews into search results from the barely used Google Plus social network—for a restaurant, say, or a popular hotel. Most of the time that information appeared above the blue links to websites with more comprehensive data, such as the review site Yelp or travel site TripAdvisor.
These practices enraged companies that had depended on Google. In some cases, Google's Web crawling software was "scraping" or copying selections of actual reviews and rankings and using the data to populate its listings. (The company stopped this in 2011 after Yelp CEO Jeremy Stoppelman testified before Congress about the practice.)
Google also started pointing users searching for photographs (of a celebrity, for example) to large high-definition images presented in an easy-to-scroll-through carousel. Photo agencies such as Getty Images, which had its own photo search engine, saw their traffic plummet. Even worse, some Getty clients stopped paying to license pictures because they could easily copy them off Google. "Google became the No. 1 source for the piracy of images," says John Lapham, general counsel at Seattle-based Getty, which became an official complainant to the EU antitrust case in June.
Critics now draw from a wealth of evidence about the decision-making inside the Googleplex during this period, owing to perhaps the strangest twist in the entire case. Earlier this year every other page of a staff memo written by the Federal Trade Commission's Bureau of Competition was mistakenly included in the response to a Freedom of Information request made by the Wall Street Journal. The 169-page FTC document quotes liberally from internal e-mails and memos, during the time when Google's partners were noticing many of these changes to the search engine—and what they contained seemed incriminating.
Google engineers wrote that users often preferred websites Google suppressed in search results over its own services. Google employees also expressed concern that price-comparison sites could siphon away users who were the most likely to spend money online. The documents also showed Google executives Page and Marissa Mayer, among others, advocating for favoring Google's own services, even if its algorithms deemed that information less relevant or useful.
Smoke was pouring from the gun. But in early 2013 the five FTC commissioners voted unanimously to drop the case, concluding that Google might indeed be a monopoly, and that it might be hurting competitors, but that it wasn't harming consumers at all.
Rivals point to dark conspiracies behind the FTC's decision. Google was spending tens of millions lobbying the U.S. government; it was unusually cozy with the Obama administration; ex-Googlers worked in the White House. That was technically true. For U.S. regulators, though, the case didn't fit into contemporary notions of U.S. antitrust law, which seek to protect consumers, not competitors. Users were, in most cases, benefiting from easy access to answers without having to click and visit another website.
"Any negative impact on actual or perceived competitors was incidental to that purpose," the FTC wrote. That left the EC's Almunia as the only person standing between Google and total vindication.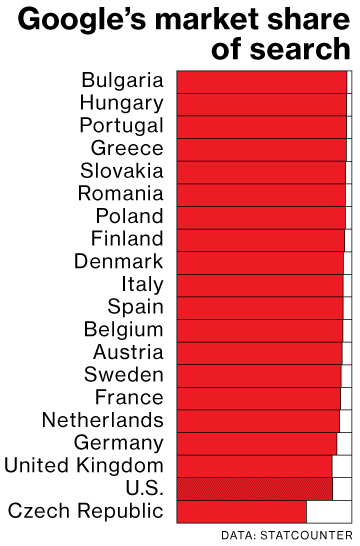 Almunia, a pragmatist, wanted to avoid complex litigation that could drag on for years and become irrelevant in the fast-moving technology industry. After losing his bid to be Spain's prime minister in 2000, Almunia had built a new career in Brussels. His 2010 appointment as competition commissioner gave him the shot at a role he'd long sought on the global stage.
A transatlanticist, Almunia enjoyed relationships with key figures in Washington and Silicon Valley. He loved talking privately to the media. In one disclosure that threatened to undermine his credibility with Google's opponents, Almunia bragged to the New York Times that he had Schmidt's personal cell phone number and that the two exchanged text messages.
In 2013, Almunia "market tested" the first two settlement offers, soliciting feedback from the complainants on Google's fixes. They responded that the new box of links Google offered wasn't prominent enough, and Almunia's staff suggested the box be moved to the top of the page. When the complainants protested that rival links were still too easy for users to overlook, Almunia's staff asked Google to make the links bigger and add the rival company's logos.
To Google, it was an excruciating ordeal. Executives were certain the terms were being cynically generated by Microsoft and its allies, whose true commercial interest was keeping Google in never-ending regulatory limbo. Within Google, there was a sincere belief that the company wasn't doing anything wrong.
At last, in early 2014, Almunia met with Schmidt in Davos, inside the gaudy golden egg, to conclude the deal. "No antitrust authority in the world has obtained such concessions," Almunia boasted at his press conference at the Berlaymont. He declared there was no need to test the settlement with complainants, as he had already done that with the previous two proposals.
The final step was bringing the deal to a vote in the College of Commissioners, a group of 28 political appointees, one for every EU country, with each commissioner in charge of a specific portfolio such as agriculture, justice, or trade. Since they're not professional regulators, they're expected to rubber-stamp complex deals made by a member of the group. Before they could, though, a storm erupted over a competitor's editorial.

In April 2014, Mathias Döpfner, CEO of Axel Springer, wrote an open letter to Schmidt for the Frankfurter Allgemeine Zeitung titled: "Why We Fear Google." Axel Springer is the largest and most powerful media company in Germany and perhaps all of Europe. It publishes Bild, a tabloid with four times the circulation of the New York Times. Döpfner's letter is an extraordinary admission of powerlessness by a very powerful man. His concerns ranged from his own, narrow dependence on Google's traffic to the broader role Google plays in all facets of daily life, liberal society, free expression—and to whether Google will become a "digital supra-state."
When Google favors its own services, he writes, "It is not even clearly pointed out to the user that these search results are the result of self-advertising. … This is called the abuse of a market-dominating position." Of the proposed settlement with Almunia, he says: "This is not a compromise," because of the requirement that Google's rivals bid in an auction for placement in the new search box. "This is the introduction, sanctioned by an EU authority, of that kind of business practice which in less honorable circles is called extortion."
Döpfner, 52, is known as a cunning executive. In Germany, the recurring joke is that he would run for political office but doesn't want to give up his power. Soon after the letter ran, Axel Springer and Lagardere Group, the French media syndicate and owner of the Hachette Livre publishing company, launched a trade organization called the Open Internet Project to oppose the Google deal. At the same time, Deutsche Telekom, the German phone company, filed its own antitrust complaint against Google, becoming one of the first large European companies to join the fight. The case against Google no longer seemed like a conspiracy led by Microsoft. European Big Business didn't like the settlement either.

During the months in which Almunia's Google deal was waiting for a ratifying vote, the political opposition found its voice in Günther Oettinger, a lawyer and former tax consultant who occupied Germany's sole seat in the College of Commissioners. Oettinger, 61, had risen through the ranks of Chancellor Angela Merkel's Christian Democratic Union party and was almost certainly listening to the media companies and telecoms that were uniting against Google. After Almunia presented the final settlement to the commission, it was Oettinger who complained the loudest that the other commissioners hadn't been properly consulted.
Google lawyers never saw Oettinger coming. His portfolio was energy policy, so they had never met or discussed the case with anyone on his staff. Now suddenly he was an expert on Google and Internet policy, skillfully channeling the fears that German industrial giants like Daimler and Bosch had about Silicon Valley upstarts such as Tesla and technologies like driverless cars. "If we do not pay enough attention, we might invest in producing wonderful cars, but those selling the new services for the car would be making the money," he said in one televised interview.
Later elevated to digital commissioner, Oettinger proposed an EU-wide "Google tax" that would let newspapers and other publishers bill search engines for using snippets of original stories on pages. It was something Axel Springer and Döpfner had been proposing for years.

Almunia's retreat was rapid. Weeks before the EU executive arm's summer break, he surprised a half-dozen journalists with an informal briefing in his 11th-floor offices in the Berlaymont. Accompanied by his press aide, Almunia sat at a long, oval table across from the handpicked press pack and told them he was upset about articles saying he was going to ram the deal through despite mounting opposition. That wasn't true, he insisted. The settlement reached in Davos was probably going to change.
It was a stunning reversal, but Almunia downplayed its significance, instructing the journalists not to report it right away (which they did anyway). He also credited the decision to "new technical evidence" submitted to the European Commission by Yelp, Expedia, and other complainants, which he said demonstrated that the settlement would do little to funnel more traffic to competing websites.

Frustrated by Almunia's about-face and perplexed by the backlash in Europe, Google invited Döpfner to debate Schmidt at a private event called Camp last August. Camp is a secretive three-day confab for Google executives, partners, and luminaries from New York and Hollywood along with their families, held at the ritzy Verdura Resort in Sicily. Page was there; so was Goldman Sachs Chairman Lloyd Blankfein and an assortment of celebrities, including Jared Leto, Rashida Jones, and Eva Longoria.
Convened on a hot night, the debate devolved into more Google bashing, this time at its own retreat. Döpfner, charmingly self-effacing and dressed Silicon Valley-style in sneakers and a hoodie (as opposed to his usual expensive suits), repeated his arguments about the unfairness of the Almunia settlement and how Google constrained innovation by linking to its own properties. Schmidt pointed out that a majority of Axel Springer's audience visited its websites directly, not via Google, and that its competing online businesses were doing well.
Logic wasn't going to win. Döpfner made an impassioned plea for European sovereignty, dignity, and the survival of local business in the face of American Internet giants. It was infectious. During the debate, Barry Diller stood up and agreed that Google was also a problem for his portfolio of Internet companies, IAC/InterActiveCorp. Vittorio Colao, CEO of Vodafone Group, added memorably, "We love Google, but we fear Google."
The impression of those paying attention—most Camp-goers were bored by the debate, attendees say—was that Schmidt lost badly. "Eric was in the weeds of the antitrust case, and Mathias was very, very good," says a former Google executive who was there but asked not to be named because it was a private event. "We suddenly woke up and realized we hadn't been making the right arguments."
Google now knew its true enemy in Europe. Döpfner, who declined to comment for this article, had plenty of reasons to oppose the antitrust settlement. Axel Springer was pivoting into digital properties such as video and shopping sites and increasingly competing with Google. Its old media assets in Europe were also heavily regulated. A decade ago, for example, German authorities blocked the company from buying the ProSieben satellite TV network on the grounds that it already had too much media market power in the country. By casting a spotlight on Google and its market power, Döpfner and his media cohorts were implicitly arguing that their regulatory burden should be eased. "This is not to say there should be a downgrading or upgrading of regulation," says Axel Springer's executive vice president, Christoph Keese, who reports directly to Döpfner. "All we're asking is American tech companies or any tech companies be judged and ruled by the same competition framework we adhere to." 

The Google file, says Vestager, was one of the first she took up when she arrived in Brussels. "He was sitting on my desk, so to speak," she says during an interview in her 10th-floor Berlaymont office, alone at a table in the middle of the room, a wall of windows overlooking the skyline. Vestager is tall, has spiky salt-and-pepper hair, tweets selfies, and was supposedly the model for the fictional prime minister in Borgen, the Danish version of House of Cards. Not one for small talk, she's also perfectly comfortable with awkward silences and answering questions with a simple "no."
On the subject of Google, Vestager is often obtuse. Discussing how it and other companies are shaping the digital future, she brings up Denmark's first cooperative dairy, founded in 1882 near her childhood home, and how the farmers had no idea how industrial equipment would revolutionize butter making. Similarly, she says, 21st century companies have no idea where they'll end up. She's just here to make them follow the rules.
Ten days into the job, Vestager announced she wanted to hear from all parties in the case, and Google's rivals lined up to complain. The parade of companies emerged optimistic. "She met with more of us in five months than Commissioner Almunia met with in five years," says Shivaun Raff. "She was unafraid to dig in and really understand the market. It means she is much less likely to be bamboozled by Google." Getty Images' Lapham adds: "What the commissioner has shown is a willingness to be unimpressed with any particular company if there is a belief they are abusing market dominance."
Vestager also met with Schmidt. The March meeting was the first time Google executives had made their case to her, and they got a taste of some of her idiosyncrasies, which include keeping a wooden stepladder in her office, to symbolize a woman's need to "bring her own ladder" if she wants to advance in the world.
By that time, Vestager had already heard enough. "A lot of effort has been put into the Google case before this," she says. Instead of going the settlement route again, "Maybe we should try something else, be more specific, be more open, put it in writing, to maybe enable us to solve the cases with a different approach."
With European Commission President Jean-Claude Juncker leading the April 15 meeting, she slapped Google with her statement of objections, alleging that the company favors its own price-comparison engine when users shop for products on the site.
The particulars of the case stem from Foundem's earliest charges, but it's a somewhat odd strategy, because Google is generally viewed as an underdog in product search, lagging rival Amazon, which many online shoppers visit directly.
Vestager's Android investigation is in its early stages, and complainants seem convinced that a second statement of objections could come this fall—perhaps about Google's conduct in image search and the way it repurposes high-definition pictures and pushes watermarked images from Getty and others further down in the search results. 
Google recently reported quarterly earnings of $3.9 billion, and its stock is up 20 percent this year. Yet in Europe, it seems it can do nothing right. When it announced a partnership earlier this summer to invest €150 million ($163 million) to develop products with eight European publishers including Guardian News & Media and Financial Times—but not Axel Springer—the move was widely condemned as "a blackmail fund" and "hush money."
Vestager says she loves the Internet. She recalls recently helping one of her three daughters book flights, a car service, and train tickets online for a trip to the U.S. for summer school. "It took us an hour and a half," she says. "It was not even to think of when I was a child!"
She and investigators from her 900-person staff must convince the commission that Google abused its position in a way that affects trade among EU member states. How they calculate a penalty is flexible, but Vestager is showing no sign of compromise. While the document containing her charges is secret, Bloomberg has seen a redacted version the competition authority sent to Google competitors. It says the European Commission "intends to set the fine at a level which will be sufficient to ensure deterrence." More important, Google might have to change the way its search engine answers queries on desktops and smartphones. That would handicap its profitable advertising engine and curtail its ability to compete against rivals such as Apple, Amazon, and Facebook.
Although she uses Google frequently, Vestager says it doesn't cloud her view of the case. "Congratulations for being big, but don't misuse it. For Europeans, this is very fundamental," she says.
That might be the scariest thing of all for Google. It isn't dealing with an antitech ideologue or a competition czar consumed with cementing a personal legacy. It faces a straightforward prosecutor in a hostile political climate dominated by powerful local business interests with their own regulatory agendas. Good luck to Google searching for a way out of that.
—With Stephanie Bodoni and Gaspard Sebag