Why Are Los Angelenos Lining Up for Jessica Koslow's Food?
At Sqirl, a tiny restaurant in a strange neighborhood, a young chef is serving up "a sneaky sort of complicated simplicity"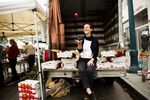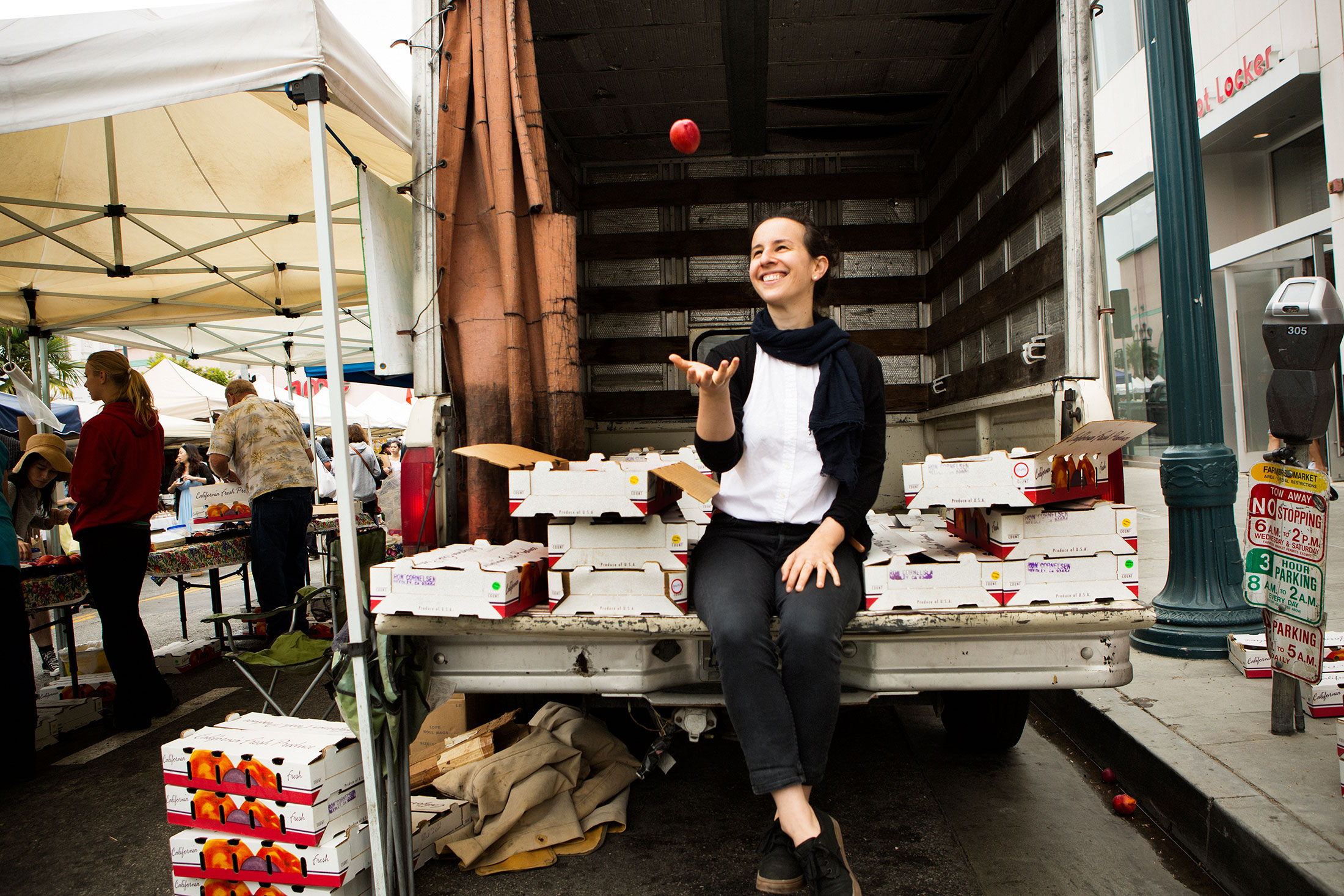 1. 
Not so long ago I had a jam that changed my life. It sounds hyperbolic, or like some kind of a put-on, but this jam forced me to rethink a lot of things, beginning with what I knew about jam, which was little. The jam came in a small glass jar, sold for $12, and was purchased on impulse at the register after I ordered a cup of coffee. I was meeting a friend at his favorite spot: a small, white tiled cafe in Los Angeles named Sqirl.
Later that day I absentmindedly opened my expensive jam jar and scooped out a bite. The jam wasn't very sweet. There was a subtlety to it, a roundness. I had another spoonful, then another. There was rose taste, but something else, too, slicing through the sugar and reminding me of what I couldn't recall.

I stared at the label, expecting it to reveal something. The rose was rose geranium, and cutting the sweet was Sorrento lemon juice. The jam had a lot going on, and for the rest of the day and weeks and months after, I would think about how many seemingly simple things are actually quite complex if only you stopped to consider them, which the jam had made me do.
Not long after that I met the jam's maker, the owner and chef at Sqirl, Jessica Koslow.

2.
Jessica Koslow is not quite a small person but almost. She's slight, and if you hang out with her long enough, someone, even a stranger, will tell her she is not eating enough, to which she will respond with a smile and laugh and say, "Oh, it's the stress," as though she's kidding, but she isn't.
Her restaurant, Sqirl, which serves breakfast and lunch, is wildly popular. There is often a comically long line out the door and down the block, snaking around the building. The line has become a thing—a point at first of pride and now minor embarrassment, because when Koslow is not in or around Sqirl (rare), people recognize her and say how much they love her place, and then, inevitably, add something about their Line Experience.
The past few years she and the restaurant have been showered with awards by various food media. She has been approached by investors about taking Sqirl national or global or franchising or in one way or another "growing the brand." She has a book deal, for two cookbooks, the second of which will be about jam. The morning we first met she'd had a breakfast with a group of powerful businesswomen who'd taken it upon themselves to offer counsel, who assumed she'd be rapidly expanding and taking on investors, growing the brand. This is all quite gratifying and thrilling, and she was, she said, happy for all the interest. But mostly she just wants to expand her kitchen. She meant this literally: The kitchen is way too small. She'd also like a place to store her jam jars that isn't her garage. 


She needed, she said, a commissary. Next door to Sqirl was a wine shop, which she'd bought and turned into a sort of staging area, but soon—by early autumn—it would become a takeout restaurant called Sqirl Away. The menu would be entirely different. Whereas Sqirl had become famous for ridiculously fresh, tangy, crunchy, rice bowls and veggies and pickled things ("a gentler version of dinner food," the New York Times's Mark Bittman wrote) Sqirl Away would feature heartier fare. Koslow was really into the idea of meats but not in cuts. More French. More scoops. A rillette, say. Sqirl Away would also take care of other problems, such as having space for prep work in Sqirl, as well as the Line Experience.
Koslow is 34 and hyperaware of everything that isn't quite right at her restaurant. In conversation she'll pause to try to overhear customers talking about a dish or stare at a plate that hasn't been removed quickly enough or, one time, a piece of lint hanging from one of the bulbs until, finally, she decides that's enough and she'll get up and remove the plates or the lint herself. She has 29 employees and plenty of ideas about what Sqirl can be, but right now, she's also trying to keep the whole truckload running at speeds it's not built for. Perhaps because we're both children of Southern California, she makes a car metaphor out of her restaurant business, too. "Logistically we're churning and churning and the wheels need to be oiled, you know? Like when an old car's going too fast? Like a Datsun? We are that Datsun."
3.
How Jessica Koslow came to be a jammaker, chef, and restauranteur was not at all straightforward. She grew up in Long Beach, south of L.A. Her mother, a single parent, worked six days a week as a dermatologist, running two practices. She still does. Dr. Effron stays out of the sun, has never been in her own jacuzzi, and, when her daughter was five and showed an interest in ice skating, thought that was perfect, as it was among the only sports in Southern California all but guaranteed to keep her out of the sun. Koslow was a competitive figure skater—quite serious and quite good—until she was 18 and saw that it was either that or something else. She went with something else, which was, at first, a major in economics and a minor in film studies at Brandeis, and then, still no idea, a masters in media theory at Georgetown.
But another thing happened when Koslow stopped skating. She started eating, and cooking, and paying attention to food. She met a guy who grew up on a cranberry farm and they'd cook together and, twice a month, go out for a meal and talk about it. Then she moved to Atlanta and started to put her résumé out for unpaid internships in kitchens. She ate at a restaurant called Bacchanalia, sitting at the bar and watching the chefs cook her an amazing meal, then she sat up all night and wrote a letter that was so cheesy she's since deleted it, out of embarrassment. At the time, though, she sent it. And it worked.

At Bacchanalia she candied hundreds of apples a day. "Is this ever going to end, this apple candying phase?" she thought. At the same time, she was making $10 an hour, with two degrees, and her mother "was, like 'I've paid for your education, and this is what you've done to me?'" she says. She moved to New York and got a job at Fox, working on American Idol, So You Think You Can Dance, 24. "In a restaurant, you learn: This is my task, I do this task. As a producer you learn, that person does this task, and this person does that task, and together, we make something." She also was able to save enough money to consider, seriously, starting her own restaurant. After a few years, the work took her to L.A., the market tanked, and, eventually she lost her job, which was fine, because months before unemployment she'd been moonlighting at a bakery, working from midnight to 4:00 a.m., napping for two hours, then heading to the office. Zombie days, those.
On Jan. 1, 2011, she put her plan into action. Quickly, as with most plans involving real estate, things changed. She wanted a dinner spot but couldn't afford it. In March, when she found a store on Craigslist that was five minutes from her home in Silverlake, she reconsidered. There were cockroaches everywhere, and the ceiling was falling down, but it was $2,500 a month and only $10,000 to buy out the previous tenant's lease. She got the place, thinking it'd be fine for making her jam and maybe teaching jam-making classes. Next door was a market that was famous for selling the cheapest Colt 45s in town.

4.
There are places in Los Angeles where the city's centerlessness, its washed out colors and spread out form appear fully realized. The buildings are squat and elongated, the businesses small and temporary. It is possible to have your nails and taxes done at the same time, in the same space. A storefront that was weeks ago a garage is now a used clothing store, or a church, or a marijuana dispensary, or a Crossfit gym. The blocks surrounding the space where Koslow opened Sqirl are a commercial stretch along Virgil Avenue, an area the city fairly recently decided to call Virgil Village. It epitomizes the transient nature of L.A. as well as the fundamental socioeconomic shifts taking place in similar urban blocks throughout the country. Gentrification, basically. There is a quote from a recent review of Sqirl in Los Angeles Magazine, splashed across the restaurant's website, that it is both "of the moment yet anchored by something deeper." The words were written about Koslow's food, but they are also true of her business, what it projects, and what it aims to be: a neighborhood spot in a shifting neighborhood.

5.  
The most popular dish at Sqirl is the sorrel pesto rice bowl. It is in many ways indicative of how Koslow thinks about taste and food. She started with the rice, a Kokuko Rose brown, rich and earthy and slightly salty, prepared a little crunchy. She knew she wanted to do something with that rice, which looks plain and uninspiring but is far from everyday. She also had, on hand, lemon preserves, because she always has a lot of preserves on hand. This was her base. While she was thinking of what to do next, she remembered a sorrel and salmon dish she'd had recently, how good it was, and how the flavors just made sense together. But what if the sorrel was the main event? She made a sorrel pesto, added it to the rice and her Meyer lemon preserves, splashed in some hot sauce, radishes because they were in season, and some French feta she had recently discovered and was crazy about. Then, for protein, a poached egg.

One thing Koslow might be best known for is how she uses splashes of acidity to cut through some flavors and highlight others. One customer, gushing, compared the way she uses citrus and vinegars in her dishes to how Klimt used gold leaf in his paintings. The trick is to make something that looks quite simple quietly complex. "It's not fussy food, but you know you know it's fussy," she said one day, when we we eating. I nodded, though I didn't quite get what she meant. It sounded right. The feeling, post-jam, of unfussy fussiness had led me back to Sqirl and Koslow again and again. There was something in the flavor and presentation at Sqirl—farm fresh, seasonal, aggressively relaxed, deeply Southern Californian—that felt completely familiar yet also new and different. It was taking all this fuss and throwing it in a bowl. It looked beautiful but also casual, as though it weren't trying. Beauty that isn't trying very hard (only, of course, it is) is how I would also describe the archetype of Southern California beauty.
As I was mulling all this, Koslow continued. The other rule at Sqirl, she said, is that nothing is one step. The dashes of citrus or vinegars, the difficult-to-source greens, the heirloom rice toasted just so—almost nothing at Sqirl can be made easily at home, even though it seems that way, and customers tried, and failed, all the time. "Everything is seven steps," Koslow said. Why seven? Maybe it was more. It was at least seven steps to get to what she said was her ideal, which was, she said, "a sneaky sort of complicated simplicity."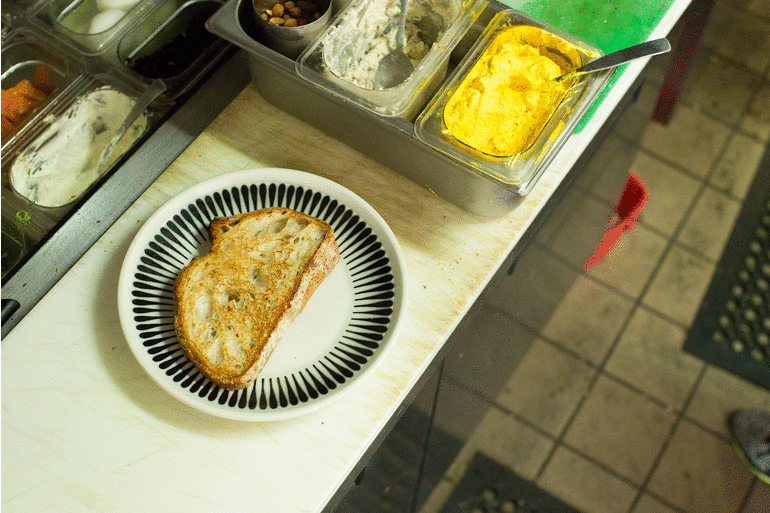 6.
One morning on the way back from the farmer's market in Santa Monica, Jessica Koslow called her business partner, Scott Barry, who oversees Sqirl's branding and design. They had received the renderings for Sqirl Away's interior and were not happy with the results. We were in Koslow's Prius (she joked that when a Prius pulls up on Virgil Avenue, you know where it's headed: It's headed to Sqirl). She had just purchased 40 pallets of olallieberries, filling the car with a tangy, sweet scent.
Barry compared the renderings to cheesy, laser-cut jewelry, the kind found on a hip avenue in Venice Beach. "Totally," Koslow said. "That style they're doing is like three years ago." Then she added, "At this point, instead of being like, 'ugh, no,' we need to figure out what works." They continued deconstructing just what was wrong with the rendering before switching to a more pressing matter: a neon sign they were making to point to the restroom at Sqirl. They considered Roman numerals but decided that was too confusing. They'd started with the poop emoji but determined that was too gross, in sight of where customers would be ordering food. They'd landed on "1,2" and an arrow.
When we arrived back at the restaurant, everything was in disarray. The kitchen was closed; it was getting retiled. We went a few doors down, into a dimly lit storefront. Koslow had recently started to rent this space, too. Lights were falling out of the ceiling. The contractor there thought he could have it ready for her commissary, or at least as a new staging ground for the jams, in a few months. She sighed and smiled, turning to me, "You've seen all the spaces now, and none of them are done. Maybe this is my ADD heaven, where nothing is done."

7.  
To make jam you must believe in the impermanence of plenty. Koslow learned preservation, and most of her cooking, in Atlanta. In California, where fruit is abundant year-round, preserves are not part of the region's traditional cooking, whatever that may be. Preserves capture some idea of freshness and save it for a later, drearier time. "We," by which she meant us Californians, "don't know what it's like to be cold and sad and frozen," Koslow told me one day, when we were talking jam. Her idea had been to take this abundance, the striving among California chefs for freshness, and subvert it slightly.

The jam I'd picked up that day not so long ago had been, like the sorrel, another happy bit of flavor exploration. It was spring, and strawberries were coming on along the coast. Koslow, like many chefs, searches the seasons—what comes in around the same time might go well together. Her friend had some rose geranium on his hill, and it was, she noticed, coming in around that time, too. She asked if she could use some but then kept trudging up his hillside for more and more before realizing she should probably find a real source, like a farm. The nice thing about preserves, she said, was that they force you to think about what you have and how to make that last. It was funny, I said, that that mindset had for so long been anathema in California, land of abundance, but the drought was forcing a deep reconsideration. It's like she had seen—or at least considered—the future, while the rest of us were just catching up.