Jared Isn't Subway's Only Problem
Dark times for the world's biggest fast-food chain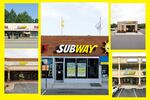 It was the fastest Subway had moved in years. On July 7, FBI agents raided the home of Jared Fogle, the long-serving frontman and healthy-eating ambassador for the world's largest restaurant chain. For much of the day, the authorities removed documents, electronics, and other items from his house in Zionsville, outside Indianapolis, possibly in connection with a child pornography investigation. In April the executive director of the Jared Foundation—Fogle's anti-childhood-obesity charity—was arrested and charged with producing and possessing child pornography. Fogle, 37, hasn't been arrested or charged, and it's unclear what specifically the FBI was looking for.
But within hours, Subway cut its ties to him. Jared-related content—such as an online game for kids called "Jared's Pants Dance"—was scrubbed from the company website. "Subway and Jared Fogle have mutually agreed to suspend their relationship due to the current investigation," the company said. Fogle's lawyer, Ronald Elberger, told Bloomberg News: "Jared has been and continues to cooperate with law enforcement and its investigation of unspecified charges and looks forward to the conclusion of that investigation." The FBI hasn't issued a public statement about the raid and declined to comment.
Whatever happens with the investigation, losing Fogle—or Jared, as everyone who's owned a television in the past 15 years knows him—is the last thing the company needs. One Subway executive told USA Today in 2013 that Jared may have accounted for as much as one-half of Subway's growth since his first commercial aired in 2000. Subway is preparing to celebrate its 50th anniversary this summer and had plans to relaunch Jared as its family-man (as opposed to weight-loss) face. Instead, the company's founder is fighting cancer, its franchisees are frustrated, its customers are bored, and its business is losing momentum.

Subway has about 44,000 shops globally, including 27,000 in the U.S., and opens five more a day on average. The company doesn't operate its restaurants; more than 21,000 franchisees do. It's part of Doctor's Associates, a private company formed by Fred DeLuca and Peter Buck back in the 1960s and led by DeLuca ever since. He and Buck still own the company, and they still call Subway a family business.
The family business doesn't share much financial information, and, like most companies, it prefers not to elaborate on bad news. According to research firm Technomic, in 2014 Subway's U.S. sales declined 3.3 percent from the previous year, to $11.9 billion. That drop was the worst among the big fast-food chains. Average annual sales per store fell from $490,000 in 2013 to $475,000 last year.
For almost two decades, Subway had essentially the same business plan: Open more locations while positioning itself as the healthier fast-food choice. But it hasn't kept up with the changing expectations of diners, especially younger ones, in the past couple of years. Subway's wholesome image—fresh vegetables and bread, custom-made sandwiches—is fading as newer, smaller competitors boast of being (or at least trying to be) organic, GMO-free, and transparently sourced. "We're not cool with the millennials. We seem tired and old, and it's hard to break out of that," says a longtime franchisee. He, like other owners critical of headquarters, didn't want to be identified for fear of retaliation. "There is no question millennial customers are important to us—and we are satisfying millions of them every day," Elizabeth Stewart, Subway's director for corporate social responsibility, said in a statement. "Consumers believe in our food."
Franchisees are also uneasy because DeLuca, who's 67, has leukemia. On June 1 he promoted his younger sister, Suzanne Greco, to president. She's responsible for day-to-day operations and reports to him. DeLuca didn't call Greco his successor, nor did he say anything about his condition, which isn't surprising but has contributed to the anxiety about the chain's future. When asked about DeLuca's health, Don Fertman, Subway's chief development officer, says: "He's not acknowledging a health issue. Not to say he doesn't have one. He's engaged and hands-on. He is still CEO."
Subway executives, including Greco, say their priority is to increase sales and profits in the U.S., not open more stores, but they decline to share plans for how they'll do it. "Headquarters is trying to figure out where to go," says Don Sniegowski, founder of Blue MauMau, a news site about the franchise business. "Because Fred is sick, there seems to be a lot of vacillation. Everyone is waiting for someone to lead."

Subway was always so sure of itself—sure about its growth, its relevance, Jared—that its recent downturn in the U.S. would have been upsetting even if its CEO were in perfect health. Now it's in transition at a time when the competition has never been as fierce. Just as "better burger" chains Five Guys Burgers and Fries, Shake Shack, and Elevation Burger are luring customers away from McDonald's, Burger King, and Wendy's restaurants, Jersey Mike's Subs, Jimmy John's, and Firehouse Subs have emerged as high-quality, made-to-order submarine sandwich shops. Chipotle boasts of "food with integrity," and Panera Bread offers a "transparent menu."
"Subway's business has been selling franchises," says Darren Tristano, an executive vice president at Technomic. "When your goal is to have the most vs. the best, you'll eventually run into trouble."
 
 
DeLuca always wanted Subway to get bigger. In 1965, when he had one sandwich shop in a plaza in Bridgeport, Conn., he said he wanted 32. When he had 200, he said he wanted 5,000. When Subway finally reached 33,749 in 2010—and edged out McDonald's to become the biggest restaurant chain in the world—DeLuca said he could see 50,000. "A big fast-food company should be able to have 100,000 stores," he said on Bloomberg TV in March 2013. "Now, I don't know if we're going to be that company. But somebody should be able to get there, and we'll have as good a shot as anybody."
Three months later, DeLuca was overcome with chills while visiting Subways in Montreal and Toronto, and he was soon diagnosed with leukemia. In May 2014, after months of chemotherapy and a bone-marrow transplant, he returned to work, saying he was in remission, eager to resume leadership, and looking forward to the company's 50th anniversary celebrations.
When he promoted Greco in June, the company didn't publicize the move until Bloomberg News reported it. "My primary focus is to make our family business even better by making improvements wherever we can, especially at the store level," Greco said in a statement on June 25. "It's blood, and also the logical choice," Fertman says of her ascendancy.
Franchisees who know Greco seem to like her, though they say she hasn't been a strong leader in her previous roles. "She's no Fred. But then no one is," says John Gordon, a franchise consultant. Greco, 57, helped set up the Independent Purchasing Cooperative, the franchisee-run food supplier for Subway restaurants, after owners persuaded headquarters to hand over control. There are now five such organizations around the world, which help keep down the cost of food and return all rebates to the franchisees, and they've become an essential part of the Subway system. Greco has also overseen research and development—the sweet onion teriyaki sub was born under her watch. She introduced the breakfast menu, toasted bread, and Subway's line of seven sandwiches with 6 grams of fat or less. At a franchisee meeting in Miami in January, she acknowledged some of the problems with the chain—the need to improve the customer experience and the marketing—and promised that solutions were coming.
DeLuca was present, too, appearing onstage during another session. He shook a few hands, bumped a lot of fists. In May he attended a marketing meeting, though he looked frail. He still gets on the phone with colleagues, and franchisees still get e-mails from him, sometimes with very specific suggestions. One DeLuca note said cookies sell better when they're baked in small batches and displayed in a bowl near the cash register. "Suzanne is doing the day-to-day," Fertman says. "But Fred is watching over everything, front and center."

About 900 people work in fluorescent-lit cubicles in the five squat, red-brick buildings that comprise Franchise World Headquarters in Milford, Conn. The door to the co-founder and CEO's corner office is closed one afternoon in mid-June, signaling his absence. DeLuca, who lives in Boca Raton, Fla., with his wife, usually travels to Milford a couple of times a month. He declined to be interviewed for this article. Greco also declined. Both cited packed schedules.
A framed and autographed pair of Fogle's jeans, size 60, hangs on a wall in the lobby of the executive building. Fogle, who famously lost 245 pounds eating two Subway sandwiches a day for a year (he also exercised), helped the chain create its health-conscious image. In 2000 he became the face of the company. This summer, Subway has been airing an animated commercial with him and his wife, Katie McLaughlin, teaching their two young kids to eat well. "I'm not just a stagnant person like some of those other mascots," Fogle told Bloomberg Businessweek on June 17. "I hope to be a great parent and a great role model for kids anywhere. I hope to be with Subway for a long time to come." He was supposed to have a bit role, as himself, in the Syfy Channel movie Sharknado 3. That cameo has been cut, according to a spokesman for NBCUniversal, which owns Syfy.
For years, Subway has let others, especially Fogle, speak for it. Executives have mostly kept a low profile. Aside from Greco, who began as a "sandwich artist" 42 years ago, the other longest-serving executives include Fertman (34 years) and Dick Pilchen (50 years). Pilchen, DeLuca's first employee, is a Subway owner in Amherst, Mass., and works at headquarters, where his title is "profit-building consultant." Fertman wrote and performed the first jingle back in the late 1970s, When You're Hungry, Make Tracks for Subway, and he's still comfortable in front of an audience. (The more recent and infuriatingly catchy Five Dollar Footlong jingle came from an ad agency.) In 2010, Fertman was featured on the reality-TV show Undercover Boss. "Otherwise, nobody knows them," says franchise consultant Malcolm Knapp.
DeLuca doesn't have any hobbies. Last year he told USA Today that he didn't have a bucket list, he just wanted to work. He doesn't appear to have had any mentors. A business book he co-wrote in 2000, Start Small Finish Big—"I joined a fraternity, I dated Liz, and I had a good time in college"—has the emotional depth and resonance of a Wikipedia entry. It also serves as the script for all personal inquiries; if it's not in the book, it's not up for discussion.
Subway wouldn't confirm that he still owns half the company, whether he sits on any corporate boards, or whether he's given any commencement speeches. It did, however, provide a flattering 90-minute-long DVD about DeLuca and the company. Among its lessons: Owning a Subway franchise is so rewarding that second generations are getting into the business.
In early June, a dozen potential franchisees gather around a conference table in Paul Landino's office in North Haven, Conn., to hear his pitch. Landino is warm and enthusiastic and well-rehearsed. He bought his first Subway franchise for an initial fee of $1,000 in 1976. His was restaurant No. 16, in nearby Hamden. Landino was just finishing college, and he regularly ate footlongs at store No. 5, often after leaving a bar late at night. DeLuca, who'd opened his first restaurant at 17, recruited graduates from local schools, friends, relatives, and sometimes even customers, to run the stores. "Fred would visit us every month and say, 'Hey, you need another store,' " Landino says. In 1986 he became a development agent, someone contracted by Subway to develop a market. Agents recruit franchisees, advise them on operational issues, monitor compliance, and, when necessary, mete out discipline. Landino oversees 600 stores in New York and Connecticut. He still owns store No. 40, which is next to his office.
The group of would-be franchisees listening to him look to be in their 40s and 50s. They've already taken the Wonderlic test of basic skills—a variation of the psychological exam given to NFL draftees. Sample question: If John's deli puts ⅛ pound of ham in each ham sandwich, how many sandwiches can be made from 22 pounds of ham? "If someone doesn't know what ham is, we might wonder if Subway is the best fit for them," Landino says.
Subway operations are fairly simple: There's no grilling, frying, shaking, or flipping. A store needs a minimum of 350 square feet, about half of which is for sandwich-making and storage. Subways have opened in a car dealership in California and a Goodwill store in South Carolina, in a Brazilian appliance store and on a German riverboat, even in a high school in Detroit and a church in upstate New York. ("I've got one backstage in my bathroom," stand-up comedian Jim Gaffigan said in a 2012 routine.)
A Subway is inexpensive to get up and running. The franchise startup fee in the U.S. is about $15,000; it may cost as much as $250,000 to lease, build, or renovate a space and buy equipment and food. A Jimmy John's franchisee has to pay at least $320,000 to get started; at McDonald's it's anywhere from $1 million to $2 million. The royalties at Subway are high, though. Franchisees give Doctor's Associates 8 percent of sales. By comparison, at McDonald's, headquarters gets 4 percent; at Jimmy John's, 6 percent; and at Jersey Mike's, 6.5 percent. Even in the best years, the average sales per Subway store are among the lowest of the chains.

Subway serves breakfast and is open for dinner, but it's still primarily a lunch business. In QSR's annual survey of the top 50 fast-food and fast-casual restaurants, coming out in August, the trade publication ranks Subway's average sales per store ($475,000) at the bottom for 2014—only Baskin-Robbins is lower. Jersey Mike's average store sales were $670,000, and Jimmy John's were $900,000. They offer more choices, charge higher prices, and together are about one-ninth the size of Subway.
"In some ways, Subway went dark," says Sam Oches, editor of QSR. "They had the opportunity to take a leadership role in health and nutrition last year. Instead, a lot of other brands are taking the initiative." One longtime franchisee laments that Subway did well during the recession with the $5 footlong, but then, as the recession ended, fell quickly behind.
Asked about declining sales, Landino says fast-food chains do well when people are pinched. "The economy is doing better, and so we're struggling." People are willing to spend a bit more now, and they expect more from even their everyday lunch. "We've done this for 50 years. I've seen a lot of ups and downs," he says. "I think we'll get our act together."
None of the potential franchisees ask about Subway sales, though, and Landino doesn't mention the current slowdown. Instead, he says, "We tell you we have a good business. Some people make a lot of money. Some people lose a lot. We want you to do well. If you do well, we do well." Most of them seem eager to proceed. Some already have locations in mind.
Fertman says Subway will open 1,800 restaurants around the world in 2015; only 360 will be in North America. Of those 360, about 80 percent will go to existing franchisees, which Subway regards as a testament to the system. More than half will be in "nontraditional" locations—by that he means schools, hospitals, military bases, zoos, anywhere there's a captive audience. In the past six months the rate of franchisees transferring ownership has risen, Fertman says, to about 4 percent a year. He doesn't see a problem with that: "It's good to bring in new blood." Subway's overall turnover rate, which includes transfers, terminations, and closures, was 8 percent last year, according to Franchise Grade, which analyzes the investment value of franchises. That's the highest it's been in the past five years but still lower than the industry average of 10 percent.
"It is a buyer's market out there for all franchises, not just Subway," says Paul Batra, a franchisee in Westchester County, N.Y., who sold three of his four stores because he didn't have the stamina to manage them all. "If I had sold in 2012, I would have gotten an amazing price. In 2013, I would have gotten a little less, and in 2014 and 2015, well, it's just not the same, but it was OK." Other franchisees in the Northeast estimate that the value of a franchise has decreased by half, while the number of stores for sale has doubled. Subway says it can't comment on such speculation. "We can only sell the same sandwiches for the same price for so long," Batra says. "Promotions work to some extent. But we need new products." Batra, it should be noted, describes himself as a happy franchisee and says he has confidence in headquarters.

Subway's executives won't get into specifics about the chain's future. The most recent significant additions to its menu were guacamole and a turkey sandwich with a new vinaigrette. Last year it improved the quality of its chicken and removed the "yoga mat" chemical bleaching agent from its bread. After almost all of its competitors pledged to remove artificial flavors and preservatives this year, Subway did, too. It said it was working with suppliers to provide antibiotic-free meat only after criticism from consumer and health advocates. McDonald's made the same pledge in March, saying it would complete the shift within two years. Subway said only, "It will take time."
The chain also faces consumer fatigue. "Eating is entertainment. People want new things," says Gordon, the franchise consultant. "Subway and McDonald's got into trouble right at the same time. Maybe when there is too much of something, people are turned off." Fertman has heard all this before and says Subway is "addressing the marketing, the product, the value, the in-store operations. We're working hard with franchisees and sandwich artists to up the game." He described a "rally training" regimen started in April called What Makes Subway Great. "We have to make sure customers get the perfect sandwich. There are other people trying to do that now. We started custom-made. We need to own that."
When asked how Subway is adjusting to the higher standards for transparency about ingredients, Stewart, the executive in charge of social responsibility, said in a statement that Subway has been a leader in food-quality initiatives going back to the late 1990s. "We will continue to evolve to meet consumers' changing tastes and expectations," she said. Justin Zandri, vice president for brand strategy, also sent a statement: "It's not one or two things to call out. … It all starts with keeping pace with the evolving needs of our customers. From there it includes staff training, providing new and improved products, developing great advertising, and focusing on more efficient operations." Later, the company spokesman, Kevin Kane, said profits and store traffic had risen in the past three months.
Restaurants are cyclical by nature. Starbucks was in a similar bind several years ago and recovered. In 2014, for the first time, the coffee chain's U.S. sales were greater than Subway's, according to Technomic. Not many chains manage that kind of comeback, though, and Subway stores are owned by franchisees, not headquarters. "The franchisees are deciding what they want," says Sniegowski of Blue MauMau. "Then they will be gently pushing the system."
Rumors that the company could be for sale have increased along with uncertainty about DeLuca's health; headquarters notes that DeLuca has said he's not interested in selling. "Fred is Subway, and Subway is Fred," Landino says. "He remains very focused on the success of Subway, that's all I can say." Speaking to Bloomberg News in May 2014, DeLuca said, "I don't think there's many sizable chains where the guy who worked there the first day and made the first sandwich is still running it. But somehow that was my path in life."
Subway will hold its 50th anniversary celebration at a convention in Las Vegas at the end of July. There will be music and awards and parties. DeLuca has been on calls to discuss the arrangements. The company says he'll give a "state of the business" talk. Greco will describe "product and operational initiatives." In August, Subway will open its 44,200th store, probably in a country with potential for growth, such as Brazil or China, or maybe Russia. It most likely won't be in the U.S.
—With Leslie Patton and Jennifer Chaussee