Larry Ellison Is Spending a Fortune to Save American Tennis
The Oracle billionaire already transformed sailing. Now he's taking a swing at another sport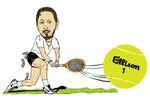 Amid a devastating drought, the Southern California town of Indian Wells seems like it should perhaps be illegal. Left alone, the ground here is baked and cracked and the same color brown as the barren mountains that surround this enclave of 5,000, many of whom are wealthy, white, and retired. But there aren't that many spots where the ground remains in its natural state. Indian Wells is a vacation paradise full of resorts with luscious green golf courses, vibrant flower gardens, and abundant pools. Some resorts even have sandy beach wading areas for the grandchildren. The weather is perfect eight months of the year.
In 2011, Larry Ellison, co-founder of Oracle, paid $43 million for Porcupine Creek, a 249-acre estate here. Visitors sign a nondisclosure agreement to get past the armed guard and front gate. Once inside, they find an exquisitely maintained 18-hole golf course decorated with sculptures of naked women lounging among pink and purple tropical flowers, a "slidetacular" pool, and a Bellagio-worthy fountain that shoots water into the air when cars approach. These diversions surround a 27-room residence reminiscent of an Italian villa. Each year, Ellison's architect adds another signature feature to the estate to keep him from getting bored.
Ellison comes to Porcupine Creek for at least two weeks in mid-March to take in the BNP Paribas Open tennis tournament at the Indian Wells Tennis Garden, 20 minutes away. Ellison is worth an estimated $47 billion, making him the world's seventh-wealthiest person. He bought the tournament and its facilities for $100 million in 2009 and since then has invested another $100 million, improving the event year-after-year. Indian Wells, as it's commonly known, has become one of the world's premier tennis venues, attracting top players from both the men's and women's professional tours and, this March, 456,000 fans. That's more than will attend the French Open, which ends on June 7, and rivals the draw of Wimbledon. It's been dubbed the "fifth Grand Slam" and has become the model of how a tournament can be profitable while offering lavish perks to players and fans.
"It is so important for the tour to have someone like Larry buying a big tournament and pushing the other events," says Rafael Nadal, a three-time winner at Indian Wells, shortly after losing to Milos Raonic in the quarterfinals this year. Nadal stays at Porcupine Creek as Ellison's guest during the tournament. The estate has three tennis courts nestled into a grassy knoll with butlers on call from a central cabana to serve espresso, Champagne, or, as Nadal prefers, chilled coconut water. The cabana could be Nadal's second home: Scores of his rackets fill a floor-to-ceiling locker; photographs of his trophy presentations dot the walls. "What Larry is making is amazing," he says.
Other players show up to enjoy the splendor of Ellison's estate, too, including Novak Djokovic, the current top-ranked male tennis player, and Roger Federer, his competition in the Indian Wells final this March. "Novak coming over and playing golf and joining us for dinner with his lovely new wife and baby is great," Ellison says. "Roger's kids are always here going down the water slide. And I don't think there is a nicer person on the planet than his wife, Mirka." Things get so clubby at Porcupine Creek that Ellison has to work to keep the rivals from running into each other at dinner or in the fitness center. "These guys like one another and respect each other, but they're competitors, and they want to beat each other," says Ellison. "There's got to be a certain amount of separation."
During a weeklong visit to the stadium and Porcupine Creek, it became clear that on the strength of Indian Wells, Ellison isn't content with adding a fifth Grand Slam to the pro tour. With help from Mark Hurd, Oracle's co-CEO and fellow tennis aficionado, he wants to restore tennis to prominence in the U.S., and make the game more profitable globally. "I think we simply have to do something to improve the quality of American tennis," Ellison says, sounding for a moment like someone determined to end malaria. To do that, he and Hurd are plotting an all-new American tennis tour, and they want to cultivate the next Andre Agassi and Pete Sampras. Around Indian Wells, meanwhile, there are plans to build for tennis fans what Las Vegas is for gamblers. "I wouldn't call Indian Wells a competitor to Monaco just yet, but the desert is changing," Ellison says. "And why not? We should compete in all of these dimensions."
Ellison, 70, has rebuilt a sport before. His love of sailing led him to his highly controversial domination of the America's Cup, the capstone to decades of exploits that have included brushes with death while sailing in the Pacific, the construction of a real estate empire in Malibu and Hawaii (where he owns 98 percent of the island of Lanai), and liaisons with far younger women, including current girlfriend Nikita Kahn, a young actress and model from Ukraine.
In the runup to the 2013 America's Cup in San Francisco, Ellison used his fortune and connections in technology to create the biggest, fastest yachts the world has ever seen. The result: two- and three-hulled boats that travel more than 50 miles per hour, pleasing spectators while putting the crews at risk. (A sailor on a competing entry died when a yacht capsized.) Ellison's team made unapproved changes to a practice boat and was penalized for cheating before completing one of the greatest comebacks in sailing history. While San Francisco officials had complained about the regatta's cost and impact on the city, spectators packed the waterfront and millions tuned in on TV and tracked the boats online. Encouraged by the success, Ellison wants to take smaller, safer boats and start a worldwide racing series. "We want to turn this into Formula One," he says. "We want to have regattas in Shanghai where they close down the Bund. We want to be in Tokyo Bay, in Auckland, Marseille, and Sicily racing these boats in big breezes."
Ellison took up tennis about a decade ago. The pickup basketball games that kept him in shape were grinding down his body. "You can only play with 22-year-olds and get your nose broken so many times before you look for a sport that is cardiovascularly demanding but without the broken bones," Ellison says. He plays tennis about five times a week now at his main residences in Malibu and Woodside, Calif. Most often, Ellison competes against Sandy Mayer and Trey Waltke, a pair of former pros.
Ellison attended Indian Wells as a guest of the owners a few times before hearing from Raymond Moore, a former player and investor in the tournament, that it might relocate overseas. In 2008, groups in Shanghai and Qatar had put together lucrative offers. (Event owners basically control a specified date for holding a tournament and can sell those rights.) Moore reached out to Ellison to see if he might bid to keep the tournament in California. Ellison obliged. "I thought it was inexpensive in terms of its value," Ellison says of the $100 million he plunked down in 2009.
Ellison has advanced Indian Wells at a furious pace. It's the only event to have the automated—and costly—Hawk-Eye line-calling system on every court. Players are treated to gourmet food and spacious training facilities. "Everything here is Grand Slam level," says Tim Smyczek, a 27-year-old American player. Ellison has built stands around the practice courts—a move the United States Tennis Association has since copied at the US Open—and built out large shaded park areas with water misters and bars. "For me, Indian Wells is the best two weeks of the year," Nadal says.

In 2013, Ellison decided to create an 8,000-seat venue to complement the existing main 16,000-person stadium. Minutes after that year's final, bulldozers began grading the desert dunes. Ten months and 10 days later, the court was ready. It has three world-class restaurants overlooking the courts, including a Nobu that's open only for the two weeks of the tournament. "I am sure we have the best sports stadium food of any stadium on the planet earth," Ellison says. He didn't want people parking in remote lots, so he purchased dozens of acres of land surrounding the center and turned them into grassy parking lots.
Most provocatively, Ellison has been boosting the prize money. To the horror of frugal tournament owners around the globe, Ellison has raised the payouts from $7 million to $11 million. "The other tournament directors are not that happy to see such a steep increase," says Tommy Haas, a German player once ranked No. 2 in the world. Some players tried to block the prize money increases because Ellison wanted to give a higher percentage of the earnings to the top singles players rather than lower-ranked grunts and doubles players, even though everyone would still have made more money than in previous years. "There's always going to be a tension of people saying the people getting paid the most are getting paid too much," says Ellison, one of the highest-paid executives in the world. "I think this is something we see in all aspects of society. We hope we can come to a reasonable compromise where obviously the stars are going to keep making a lot of money, but where we also make sure the other players can make a good living as well."
Many in professional tennis say Ellison may be just the sort of shrewd risk taker the sport needs. Tennis is unusual in that it has no central ruling body; instead, a half-dozen or so organizations control how it evolves. The men's tour and women's tour, for example, are separate, with separate sponsors, marketing, and TV deals. Tennis officials have run calculations that suggest the industry could bring in five times more revenue under a combined regime, but the last time such an idea was proposed some of the top male players drew a sexist line in the sand. They did not want to do business alongside the women.
"We have monetized tennis to only a single-digit percentage point of where it should be," says Steve Bellamy, who runs several tennis clubs and has been a longtime advocate for change in the business. "It's all one big political hairball."
To shake things up further, Ellison has at least considered buying the Tennis Channel. "I was in negotiations, but we were wildly far away on price," he says. Even so, Ken Solomon, CEO of the Tennis Channel, got excited. "For things to change, you need someone with enough money and a long-term view," Solomon says. "I think maybe Larry is the guy to do this."
During the second week of the Indian Wells tournament this March, the tennis cabana at Club Ellison becomes a strategic conference. A glistening Nadal comes in from the practice court to meditate on the future of the sport. Then Haas, wearing a white tennis ensemble and a baseball cap, holds a tête-à-tête with Hurd. All agree that tennis—both the quality of play, sponsorship, and broader financial growth—would be well served by the emergence of a major American male star in the tradition of Jimmy Connors, John McEnroe, Pete Sampras, or Andre Agassi. "We need the U.S. game," says Nadal. "We hope the U.S. players will come back to the top positions."
"Tennis is just not at the forefront like it used to be," says Paul Goldstein, a former player and the head coach at Stanford University. "There are on the order of 20,000 kids playing in tennis tournaments, and when you look at those numbers compared to where youth soccer is at, it's disturbing."
Unlike Ellison, Hurd played tennis throughout his youth. He was good enough to earn a full ride to Baylor and to play No. 1 for the team. Without any prodding at all, Hurd will pull out trophies earned at National Collegiate Athletic Association Division I championships. "You would never have seen one of these," he says, knowing that I managed to play only Division III tennis. When the Indian Wells tournament is on, Hurd flies down from Oracle's headquarters to mix business and pleasure. He speaks with customers and takes in the matches. He also plays at Porcupine Creek and can be found showing off his guns in a tank top.

According to Hurd, any revival of U.S. tennis will start with the NCAA. He's been a major donor to Baylor's tennis team and says that, as with football and basketball, universities can become a kind of minor league for the pro tour. Because of advances in string technology and improved fitness levels, players must now be prepared to spend three, four, and five hours on the court bashing balls with all their might in long rallies. As a result, 18-year-olds now rarely win Grand Slams the way young stars of yesteryear did. These days, players hit their prime at around 25. The change has made collegiate tennis a more attractive option for future pros. The athletes can develop their games on a university's dime and get an education instead of spending a minimum of $60,000 a year of their own money traveling the world and working their way up tennis's ladder.
Oracle last month became the lead sponsor for the Intercollegiate Tennis Association and has put its money behind a couple of major college tournaments—one at Indian Wells and another at Ellison's club in Malibu. A new American circuit might start with a midlevel pro tournament in Los Angeles that would take place a couple of weeks before Indian Wells. Then, leading up to both events, there would be a series of 8 to 12 minor-league tennis tournaments played throughout the U.S. College players would be allotted a set number of slots in these tournaments to provide a tryout of sorts. "Either Oracle is going to sponsor it, or I am going to do it," Ellison promises. He and Haas may also go in together on a junior tennis academy in California.
Despite a few tries, Ellison hasn't been able to get his hands on a sports team, in part because other owners have blocked him. "I could have bought the [Golden State] Warriors," he says. "But I know for a fact that there was concern that I was a person who wanted to win all the time and that I would raise the prices for coaches and facilities and all sorts of other things and make it much more expensive for all the other teams to compete," he says. "You know, on Tuesday I'd love to own an NFL team and I'd love to own an NBA team both. And then by Thursday I'm really glad that I don't own an NBA team or NFL team, because there's a lot going on in my life."
Ellison has plans for a third showcase stadium that will also have the world's best tennis museum. "We have objects going all the way back to Elizabethan times, when tennis was played in front of the queen," says Ellison. At the grandstand stadium, he plans to unveil a president's box next year. It will be a special seating area for celebrities, accessed via a private entrance. Ellison is modeling the idea on the Royal Box at Wimbledon, where actors such as Bradley Cooper take in matches.
"If it sounds elitist, I'm sorry," Ellison says. "But, if we want celebrities to come to the tournament, we have to provide them with security and privacy. Having those people there is going to make it more interesting for the television audience and more interesting for the other fans. A die-hard middle-class fan will have a great time, and so will Bradley Cooper."
(Corrects prize money amounts in graphic.)