Will Jay Crash? Will Dave Cry? Will Anyone Get a Fruit Basket?
And other questions of David Letterman's 6,028th episode.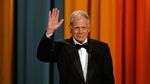 For a brief moment on David Letterman's penultimate show on Tuesday night, it felt like 1992 again. No, the color didn't go back in Dave's hair, and no, Larry "Bud" Melman didn't come back from the dead. But in his final hours on the air, Letterman, as he had in the days of yore, made fun of his bosses.
More specifically, he mocked the local CBS affiliates across the country who, despite his 33 years on the air, 22 of them on CBS with local newscasters throwing to his show, still can't quite get the Dave details right. During Letterman's opening remarks, the show ran a montage of various local talking heads saying, "Up next, The Tonight Show with David Letterman" and "David Letterman, taking his talk show of 33 years, The Tonight Show, off the air next week." (Every time one of them said The Tonight Show, the show clanged a WRONG buzzer.) One anchor, who looked not old enough to be alive when Letterman first showed up on Late Night, said, "I have a hard time watching the show." It was a glorious throwback to the days of Letterman's constant battles with NBC, usually on the air, and one of the most famous segments in the show's history, when he attempted to welcome his new corporate overlords at GE (which has just bought NBC) with a fruit basket. It didn't go well. 
Tuesday night's segment was also a fun reminder, with just an hour left in Letterman's late-night history, that one of the great things about his is that certain people just don't get him. As influential as he has always been, and as massively successful, he still can be an acquired taste. No wonder Vanilla Jay Leno beat him in the ratings.
Tuesday night's show was the final "traditional" show, with a celebrity on the couch and a musical guest, and it went over big, with Bill Murray (the first guest on both the NBC and CBS shows) bringing the house down by jumping out of a cake and ultimately escaping the theater into the streets of Manhattan, mobbed by onlookers. The musical guest was Bob Dylan, who had one of the most famous performances in the show's history but didn't bring his A-game on Tuesday, singing an uninspired tune off his uninspired new album and, weirdly, never once looking at or acknowledging Letterman. And that was that for regular shows. Wednesday night, the final show, is billed solely as "The Final Late Show with David Letterman" and a "night of surprises." Which leads back to Leno.
The history of Letterman, frankly, is incomplete without the final reckoning with Leno, the man whose career he helped launch before Leno turned on him, took his Tonight Show away from him, and ultimately defeated him in the ratings using the very lowest-common-denominator tactics Letterman had built his career on avoiding. Last week Letterman told guest Howard Stern that Leno had been asked to come on but had declined, saying the last shows should be about Dave and Dave only. That's a somewhat compelling argument, but Leno and Letterman are so connected and intertwined that an appearance by Leno (who showed up on James Corden's first show, for crying out loud ) feels almost obligatory at this  point...it would feel strange if he didn't pop by.
The only other question about the mystery show—the first time in the show's history about which nothing has been revealed beforehand—is: Will Letterman cry? His guests have been blubbering for weeks now, but Letterman has always played it cool and not gotten too emotional. But even Carson choked up on his last show, 23 years ago this coming Friday.
No one knows what's going to happen on Letterman's final show, who will show up, who won't, what this is possibly going to be like. In other words: It's just like the shows that came before it.