The Summer Fashion Guide: What to Wear for Outdoor Occasions
Summer is here, and it won't last long, so the only things to do are play, eat, drink, and dress up. Who says you can't play soccer in heels?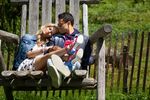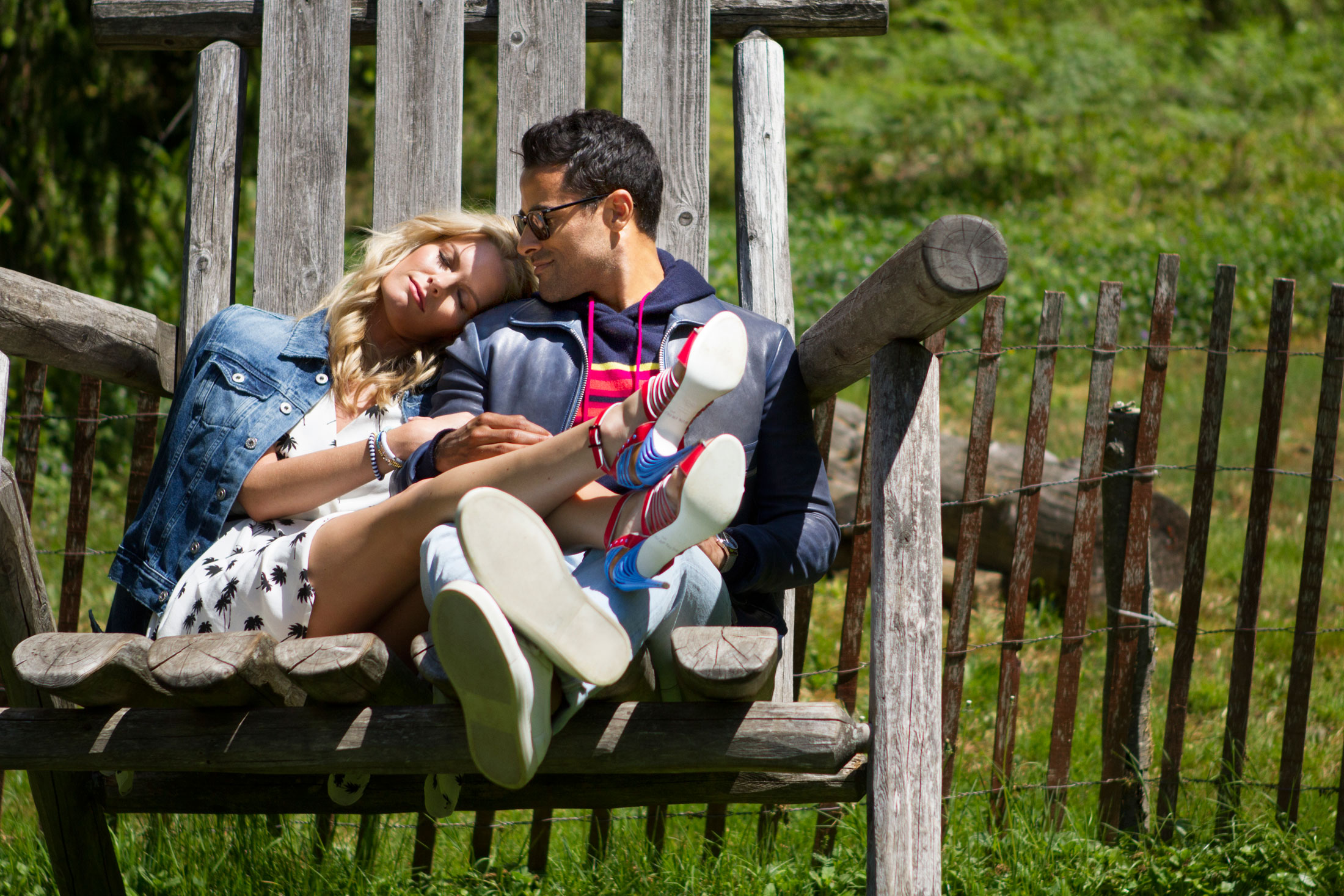 For our fashion guide, we dressed models Lisa Marlier and Steven Beck in our favorite summer styles and sent them to Bailey Arboretum in Lattingtown, N.Y. Their mission was to road-test the clothing through a series of competitive lawn games and prove its wearability, no matter what the activity. Watch the video below for the full shoot, and scroll down for details on what they are wearing, and where to get it. (For an HD version, check out our YouTube page.)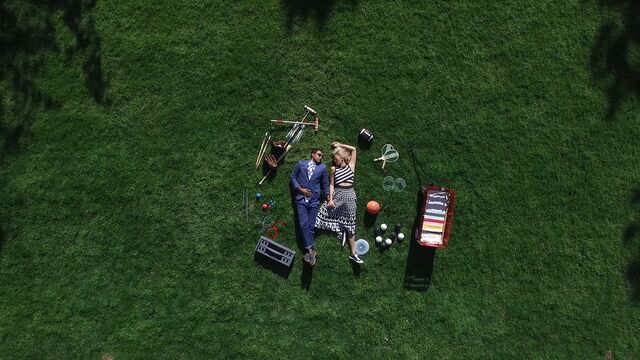 The Challenge Begins
Armed with a Berlin Flyer Wagon ($131, premierwagons.com) Steven and Lisa hauled their equipment to the playing fields. If you're entertaining, it's the little details—remember that red wagon from your childhood days?—that make memories.
On Him: Hermes khaki suit, $3,625, hermes.com; Bonobos Bengal stripe shirt, $85, bonobos.com; Hermes sneakers, $780, hermes.com; Tod's leather bracelet, $225, tods.com; Oliver Peoples x Maison Kitsune Tokyo sunglasses, $550, kitsune.fr; Suitsupply pocket square, $45, suitsupply.com.
On Her: DKNY dress, $495, net-a-porter.com; & Other Stories sandals, $195, stories.com; David Yurman Waverly 18-karat gold bracelet, $14,500, davidyurman.com; Tissot Luxury Automatic watch, $1,225, us.tissotshop.com.
Croquet Match
The ur-lawn game, croquet, is harder than it looks. This beautiful set is from Crate and Barrel ($149.95, crateandbarrel.com), and it will only get better with age. If ever there were a competition designed to be played with drink in hand, it's this one. Try it with a Pimm's Cup or some of Moët's Grand Imperial Rosé new rosé champagne ($49.95, www.sherry-lehmann.com).
On Him: Boglioli double-breasted blazers, $1,345, boglioli.it; Tomas Maier pants, $310, tomasmaier.com; Club Monaco shirt, $98.50, clubmonaco.com; The Tie Bar knit tie, $25, thetiebar.com; Jack Erwin chukka boot, $175, jackerwin.com; IWC Portugieser Annual Calendar watch, $21,300, iwc.com; Persol sunglasses, $360, sunglasseshut.com; Suitsupply pocket square, $45, suitsupply.com.  
On Her: Oscar de la Renta blouse, $1,690, oscardelarenta.com and shorts, $1,190, net-a-porter.com; Rebecca Minkoff sandals, $225, rebeccaminkoff.com; Ippolita earrings, $995, ippolita.com; Gucci sunglasses, $345, gucci.com.

Messi Ball
Not everyone is good at soccer, you might recall from your days of Saturday morning games in your town's league. But you have only to play with the Adidas Messi 10 Glider ($25, modells.com) for a little while to get that feeling of youth back—and then it's straight to the orange slices. We recommend using one as a garnish for a craft beer like Special Herbs by Upright Brewing Co. from Portland, Ore.
On Him: Tom Ford leather jacket, $4,790, tomford.com; Michael Bastian sweater, $1,295, michaelbastiannyc.com; Michael Bastian jeans, $350, michaelbastiannyc.com; Common Projects sneakers, $430, mrporter.com; Uniform Wares C40 day-date watch, $1,010, uniformwares.com; Oliver Peoples sunglasses, $325, oliverpeoples.com.
On Her: Band of Outsiders dress, $575, bandofoutsiders.com; AG Jeans denim jacket, $215, agjeans.com; Fendi heels, $1,350, fendi.com; Tory Burch necklace, $150, toryburch.com; BaubleBar bracelets, $62, baublebar.com. 
Frisbee vs. Football
Now, be honest with yourself. Do you want to get up close and personal with your party guests? Or do you want to stand on the other side of a field, shouting to be heard and doing the same thing over and over again? That's the dilemma lurking between frisbee (TK, TK) and football (Nike, $19.99, modells.com) conundrum.
On Him: Berluti polo, $1,070, berluti.com; Suitsupply shorts, $129, suitsupply.com; Soludos espadrilles, $85, soludos.com; Tommy Hilfiger sunglasses, $140, tommy.com; Shinola the Runwell watch on nylon nato strap, $500, shinola.com; David Yurman spiritual beads, $450, davidyurman.com.
On Her: Bottega Veneta dress, $2,300, bottegaveneta.com and cardigan, $1,350, bottegaveneta.com; Common Projects sneakers, $415, net-a-porter.com; Vince Camuto necklace, $78, vincecamuto.com; Michael Kors watch, $225, michaelkors.com; Pomellato ring, $3,450, pomellato.com; Oliver Peoples sunglases, $335, oliverpeoples.com.
The Paddling Will Continue ...
You don't have to be on the beach to play Kadima or paddle ball ($29.95, llbean.com)—in fact, you'll never lose a ball in the waves if you stick to the front yard. And if you want to keep with this crazy iconoclasm of yours, try wearing darker colors to your next outside party—you'll stand out among a sea of whites and pastels.
On Him: Paul & Shark jacket, $2,395, paulshark.it; Tomas Maier sweater, $660, tomasmaier.com; Michael Bastian khaki pants, $425, michaelbastiannyc.com; AMI sneakers, $300, amiparis.fr; Miansai bracelet, $68, miansai.com.
On Her: Michael Kors crop top, $1,995 and skirt, $8,995, michaelkors.com; Christian Louboutin wedge sandals, $795, saksfifthavenue.com; Ippolita earrings, $695, ippolita.com.

Horsing Around
When you're playing around with hardware like horseshoes, try to keep your own accessories simple. Steven sticks to just a Baume & Mercier Clifton watch with a big date complication ($4,100, baume-et-mercier.com), while Lisa plays it discreet with a David Yurman buckle bracelet ($3,250, davidyurman.com).
On Him: Michael Bastian suit, $2,470, michaelbastiannyc.com; Bonobos shirt, $78, bonobos.com; Oliver Sweeney shoes, $379, oliversweeney.com; Westward Leaning sunglasses, $225, westwardleaning.com.
On Her: DKNY crop top, $235 and skirt, $495, dkny.com; Converse Chuck Taylor All Star sneakers, $50, converse.com; Oliver Peoples x Maison Kitsune sunglasses, $420, oliverpeoples.com.
The Reward
This summer why not take your picknicking to the next level? A rattan picnic basket equipped with everything you need is a compact tool you'll use forever ($99, potterybarn.com), and if you're in Manhattan or Brooklyn, the subscription service Picnicked will supply you with the food and snacks for a perfect meal. All you need next is a Pendleton Glacier National Park blanket to keep all those fancy clothes grass stain-free. ($219, pendleton-usa.com.)
On Him: Michael Kors denim bomber jacket, $495, michaelkors.com; Bonobos sweater, $148, bonobos.com; AG Jeans Matchbox jeans, $178, agjeans.com; To Boot New York sneakers, $350, toboot.com; Miansai bracelet, $85, miansai.com.
On Her: Tory Burch ribbed polo, $275, toryburch.com; Club Monaco khaki pants, $159.50, clumonaco.com; Club Monaco wedges, $289, clubmonaco.com; David Yurman sterling silver and green onyx bracelet, $1,450, davidyurman.com.