Big and Weird: The Architectural Genius of Bjarke Ingels and Thomas Heatherwick
The next Googleplex goes way beyond free snacks and massages. It's a future-proof microclimate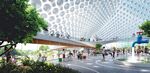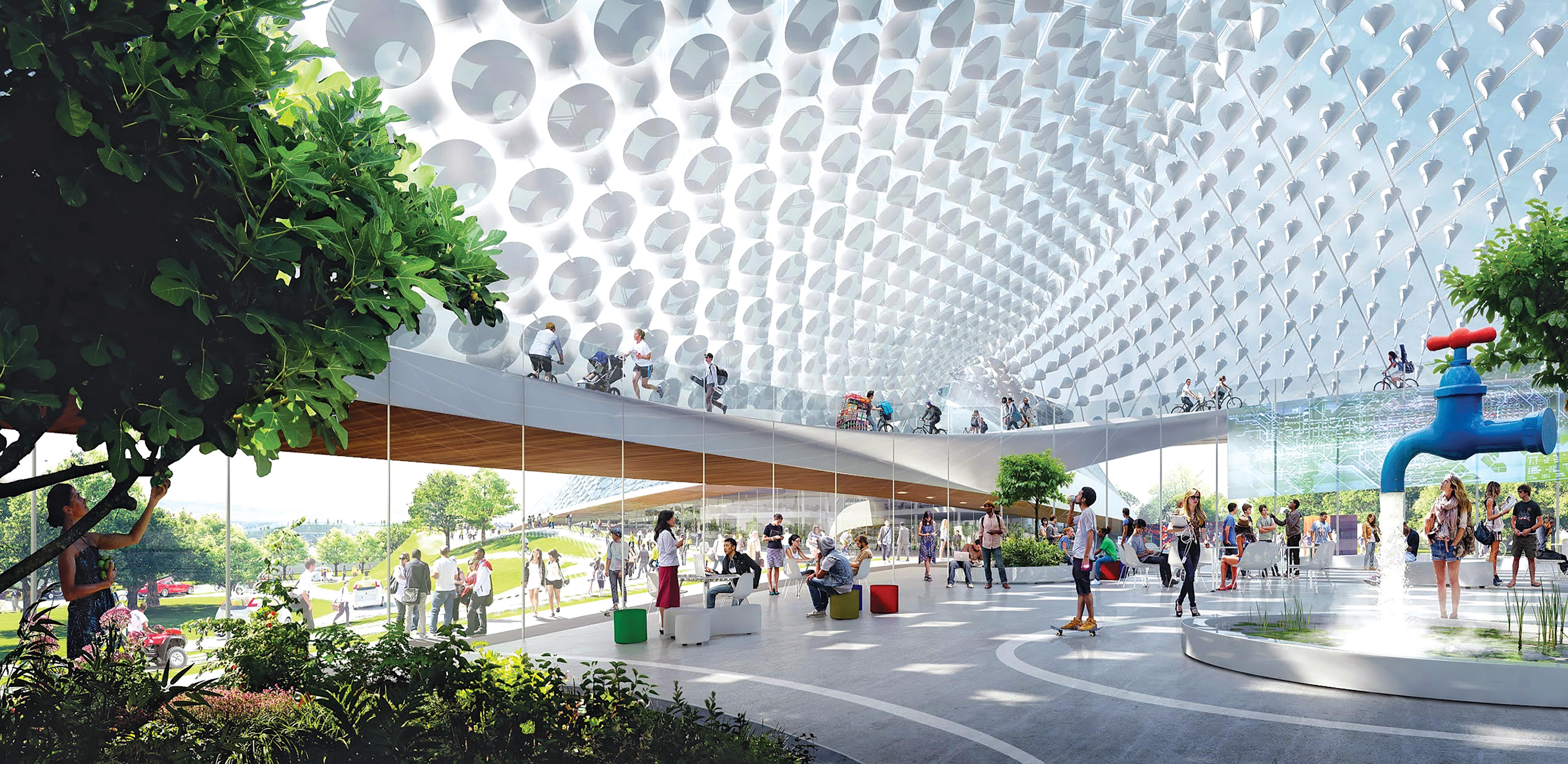 The most ambitious project unveiled by Google this year isn't a smartphone, website, or autonomous, suborbital balloon from the Google X lab. You can't hold it, or download it, or share it instantly with friends. In fact, the first part of it probably won't exist for at least three years. But you can read all about it in hundreds of pages of soaring descriptions and conceptual drawings, which the company submitted in February to the local planning office of Mountain View, Calif.
The vision outlined in these documents, an application for a major expansion of the Googleplex, its campus, is mind-boggling. The proposed design, developed by the European architectural firms of Bjarke Ingels Group and Heatherwick Studio, does away with doors. It abandons thousands of years of conventional thinking about walls. And stairs. And roofs. Google and its imaginative co-founder and chief executive, Larry Page, essentially want to take 60 acres of land adjacent to the headquarters near the San Francisco Bay, in an area called North Bayshore, and turn it into a titanic human terrarium.
The proposal's most distinctive feature is an artificial sky: four enormous glass canopies, each stretched over a series of steel pillars of different heights. The glass skin is uneven, angling up and down like a jagged, see-through mountain. The canopies will allow the company to regulate its air and climate. Underneath, giant floor plates slope gently upward, providing generous space for open-air offices and doubling as ramps so the 10,000 employees who will work there can get from one floor to the next without the use of stairs. For additional office and meeting space, modular rooms can be added, stacked, and removed as needed. To accomplish this, Google says it will invent a kind of portable crane-robot, which it calls crabots, that will reconfigure these boxes and roam the premises like the droids in Star Wars.

The plan is just as impressive from the outside. The canopies hug the ground like a biosphere on the surface of Mars, except in a few places where they dramatically curve upward. Google isn't planning to seal off its new campus but will keep it open to acres of manicured parks and restored coastal wetlands, with bike and hiking paths winding throughout. The company is pitching the project as a gift to the city where it's resided for the past 15 years: The parks and ground-floor retail plazas are meant to be accessible to residents, who can traverse nearby Highway 101 via two pedestrian overpasses Google also promises to build.
The proposed designs are full of ideas about the future of work. There are collaborative spaces and private perches, where employees can pop open a laptop away from distractions or the glare of the sun. Googlers will also be able to ride their bikes right to their desks. Parking lots are underground and hidden from view. Employees will have access to exercise equipment and yoga studios on majestic balconies overlooking central courtyards, although the renderings curiously omit railings and other safety barriers. Perhaps gravity will be different under the glass as well? With cafes and stores on the ground floor, and 5,000 units of proposed housing within an easy recumbent bicycle ride, there may be no reason for workers to ever leave.

Silicon Valley is blessed with nearly idyllic year-round weather, but it's almost devoid of landmarks, other than a mission-style bell tower on the campus of Stanford University and the utilitarian sign of a once famous electronics company, Ampex, standing along the 101 freeway in Redwood City. Generic low-rise buildings inside endless office parks are spread over the rest of the area, which is carved up by highways and dotted with parking lots, marring a landscape once rich with orchards. The leaders of high tech, it seems, were too busy changing our world to pay attention to theirs.
That era officially ended in late 2011. In one of his last acts as CEO of Apple, Steve Jobs made a surprise visit to the Cupertino city council and unveiled plans for an ambitious corporate campus, comprising a huge single building that looks like a doughnut-shaped spaceship. Apple hired the renowned British architect Norman Foster, designer of the new Wembley Stadium in London and New York's Hearst Tower. "I think we do have a shot at building the best office building in the world," an ailing Jobs told the stunned city bureaucrats, four months before his death. "Architecture students will come here to see this. I think it could be that good."
The Apple spaceship, scheduled to open next year, is meticulously conceived and obsessively polished down to the smallest detail, just like an Apple product. Forty-foot concave glass panes for the curved walls were specially manufactured in Germany. With a projected price tag of $5 billion, it will probably be the most expensive building in history. It will also be closed to the public.
Jobs's presentation kicked off an architectural arms race in Silicon Valley. In 2012, Facebook commissioned Frank Gehry, mastermind of the Guggenheim Museum in Bilbao, Spain, to expand its campus. Facebook's building, which opened this year in Menlo Park, is more subdued. It recalls the "great workroom" of Frank Lloyd Wright's Johnson Wax Headquarters: a soaring space with 400,000 square feet of open offices, where desks can be organized and moved around as needed. The new digs function less like a headquarters and more like a living social network, where employees can hobnob freely and have unplanned exchanges of genius. A lush 9-acre green park covers the roof.
Foster is 79. Gehry is 86. Both are Pritzker Architecture Prize-winning eminences in the twilight of their careers. To design its own future home, Google has enlisted two young guns: 40-year-old Bjarke Ingels of Denmark and 45-year-old Thomas Heatherwick of England. "If you add my and Thomas's ages together, we are just as old as either Frank or Norman," Ingels says. "So the math adds up."
The Apple, Facebook, and Google projects are all three-dimensional press releases meant to impress customers and employees and to communicate their self-declared missions to improve the world. More practically, the companies are pursuing the Internet-age ideal of big open spaces that can accommodate rapidly growing head counts and large, interdisciplinary teams that must frequently consult each other, preferably without having to hike across a vast parking lot.
Yet Google's architectural goals are the most radical. A decade ago, the first Googleplex set the standard for a spate of ecofriendly, diversion-filled headquarters. Now the company is attempting to establish something that goes far beyond mere perks—a future-proof office, endlessly reconfigurable to meet unforeseen demands. "It's a very Google-esque approach: Bring brilliant geniuses together and let the magic happen," says Brian Schermer, an associate professor at the School of Architecture & Urban Planning at the University of Wisconsin at Milwaukee. "There's a huge risk in that they have never worked together before. And meanwhile, they are attempting to invent a whole new approach to building. The results could be spectacular. Or it could be a train wreck."
Getting the city of Mountain View to approve the plans may be just as big a challenge. In a meeting on May 5, the city council snubbed Google and granted only a fraction of the land it requested. The company did its best to conceal its disappointment: "We're pleased that the council has decided to advance our Landings site," says David Radcliffe, Google's vice president for real estate, referring to one of the North Bayshore locations. "Given the connected nature of our campus design, we will continue to work with the city to identify a process to move forward with this project."
Last Christmas, Google Chief Financial Officer Patrick Pichette presented Heatherwick and Ingels with a holiday present: a pair of Boosted Boards, motorized skateboards controlled by handheld remote. Neither had seen one before, and each approached it differently. Ingels, an avid outdoorsman, hopped on the board, flew down the office hallway, and toppled off at the end of it, recalls Radcliffe. Heatherwick studied the board and began to discuss with Pichette whether it could replace cars for short trips. Then he cautiously stepped onto it as a smile slowly spread over his face. He didn't crash.
Ingels's firm, known as BIG, usually deals in massive projects with some demonstrable local-community benefit, while keeping a sense of humor. (BIG's Internet domain name is big.dk.) Recent efforts include a waste-to-energy plant in Copenhagen that has a ski slope on its roof and, in a clever aside, generates rings of steam through its smokestack rather than regular plumes. The idea behind the ring is to illustrate what one ton of carbon dioxide, the greenhouse gas, looks like. BIG is also the lead firm on New York's proposed Dryline, 10 miles of flood defense on the southern edge of Manhattan that will serve as home to a series of parks, playing fields, and museums.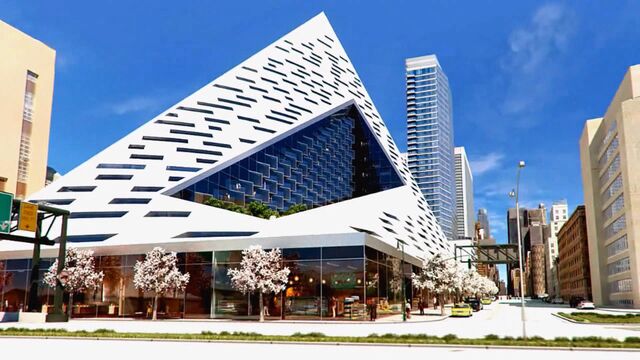 Heatherwick Studio operates on a slightly smaller scale. Trained as a furniture designer, not an architect, Heatherwick started by rethinking benches, chairs, and other conventional forms. His scope gradually expanded. In London, he redesigned the double-decker bus to make it more environment-friendly and accessible to the disabled; in New York, he laid out Pier 55, a park on Manhattan's West Side that will be home to art galleries and community gardens. It's scheduled to open in 2019.
Ingels and Heatherwick may not have the standing of Gehry or Foster, but they've been the subjects of exhibitions at major museums and profiles in magazines. They're both charismatic pitchmen, adept at presenting their visions in relatable terms. Ingels's 2009 TED Talk, 3 Warp-Speed Architecture Tales, has been viewed more than 1.9 million times. Heatherwick's newer presentation, Building the Seed Cathedral, about his porcupine-like British pavilion at the 2010 Shanghai Expo, has 1.4 million views.
Google almost didn't hire BIG or Heatherwick. In 2011 the company was considering building an office park on Moffett Field, a former U.S. naval base 3 miles east of its current headquarters. The plans, developed by Seattle architecture firm NBBJ, consisted of nine rectangular four-story buildings arranged around a central courtyard. By 2013 that proposal had been shelved. Google's Radcliffe says the city of Mountain View's decision to permit new office building development in North Bayshore, which encompasses the current Googleplex, inspired the company to focus on a single project. It was also clear the NBBJ designs were simply not out there enough for Larry Page.
Google started searching for another architect, with a focus on newer firms. The process lasted almost a year, Radcliffe says, until the fall of 2013, when the company sent a request to a shortlist of four firms asking them to submit 18-minute video proposals. Google's request contained some broad guidelines, many from Page himself. He wanted flexible large-span structures that dissolved the conventions of boxy buildings with four vertical walls and a roof. The new Googleplex should meld the inside and outside, bringing nature closer to employees and encouraging creativity and collaboration.

Page talked to his real estate team about the old Building 20 at the Massachusetts Institute of Technology, a 1940s wood-frame construction. It was ghastly to look at. But the "plywood palace," as it was sometimes called, was beloved as an unruly nexus of interdisciplinary discovery. Wallboards and floors could be popped out and changed around, letting occupants—physicists, electronics researchers, linguists—mold their space however they wanted. Building 20 was a proto-incubator that begat a range of advances, from single-antenna radar to loudspeakers (Bose has roots there) to strobe photography, and was home to nine Nobel prize winners. It was torn down in 1998 to make way for the larger, postmodernist Stata Center, designed by Gehry. Page "challenged us to look beyond whether we liked building A or building B and to consider what is happening inside the building and why," Radcliffe says.
By the spring of 2014, Google had narrowed the candidates down to Ingels and Heatherwick. The real estate group spent a month internally debating the merits of each and flew them separately to Mountain View. The two lunched privately with Page, who talked about why nature is so removed from the daily experience of Silicon Valley and his obsession with improving air quality, particularly because Google's offices are so close to a major highway. At the end of the deliberations, the Google executives decided not to choose one or the other. "The simple version is, Larry just liked both of us and said, 'Why don't we work together?' " Ingels says.
Ingels and Heatherwick had encountered each other's firms in the finals of international design competitions. They'd met only once, at the Shanghai Expo in 2010, and again for the second time on Google's campus. They agreed to fuse their teams on the project and never disclose which firm was responsible for a particular innovation.
"We basically agreed we would really work together and make our teams understand there was complete joint authorship and that nobody would have any interest in who came up with what," Ingels says. Each party would have a creative veto, and "we would never be in a situation where one of us couldn't own part of the design."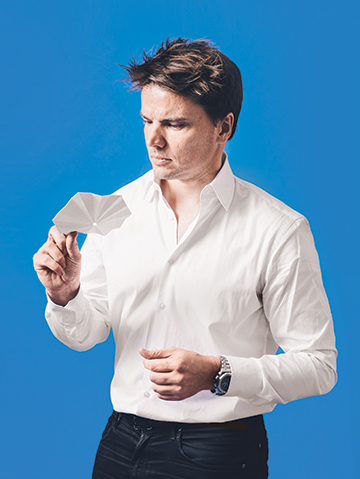 Ingels talks in the lofty argot of a starchitect. Meeting in the lobby of a boutique hotel in San Francisco, he wears all black, with fashionable beard scruff and an Audemars Piguet watch on his wrist. He says things like, "I like showing there is potential for meaning in the mediocrity of the everyday. There is poetry in the practical."
He was born in Copenhagen in 1974. His father was an engineer, his mother a dentist, and after studying architecture in Barcelona, he became a disciple of Dutch architect and urban theorist Rem Koolhaas. "When I started studying architecture, the typical question at a dinner party is, 'Why are all modern buildings so boring?' " he says. "Everyone had some kind of feeling that in the past, castles and churches came with ornaments and gargoyles and moats and spires, and modern buildings look so uninteresting."
Mountain Dwellings, an Ingels-designed housing complex in the Copenhagen suburb of Orestad, opened in 2008. It submerged a parking garage beneath a pyramid-shaped housing block, giving the impression of what Ingels calls the "dreamlike condition of a mountain village."
Ingels often takes two ideas and mashes them together—such as the recycling plant-cum-ski slope. In Sweden he recently proposed capping a biomass power plant with a geodesic dome, using the carbon emissions to feed greenhouse plants and opening it to tourists.
In New York, Ingels's home since 2012, he's building an apartment complex in the shape of a tetrahedonal pyramid along the West Side Highway. It has a courtyard in the center and clear views of the Hudson River, and it's not angering neighbors by blocking the sightlines of nearby buildings. In Vancouver, the Vancouver House, due to be completed in 2018, includes a series of pedestrian-friendly plazas nestled alongside and underneath a cluster of ramps that feed into the city's busy Granville Bridge. At the center is a 515-foot residential tower that's tapered at the base, to accommodate local setback laws, but then thickens and corkscrews the higher it goes.
"He's looking at how he can bring something into an environment and actually change the landscape for the better," Google's Radcliffe says. "When he's done, there is a new landscape that just seems like it should have been there forever."
Ingels's unusual perspective also prepared him to interpret Page's unorthodox parameters—facilitating greater collaboration, fusing the inside and outside, and leaving plenty of options to change the space around later. Ingels's proposed solution, conceived with Heatherwick, starts with the giant canopies, which evoke the geodesic domes of Buckminster Fuller and the tentlike structures of German architect Frei Otto at the 1972 Olympic Games in Munich.
Ingels says that because the canopies will shield the buildings from wind, sunlight, and inclement weather, the designers can use lighter materials and take greater risks. "By making the membrane sophisticated, we can have a much more free and flexible architecture within," he says, adding that BIG and Heatherwick are still working on ways to regulate sun exposure and reduce glare. "I doubt that any of us would have arrived at these designs if we had just been doing it alone."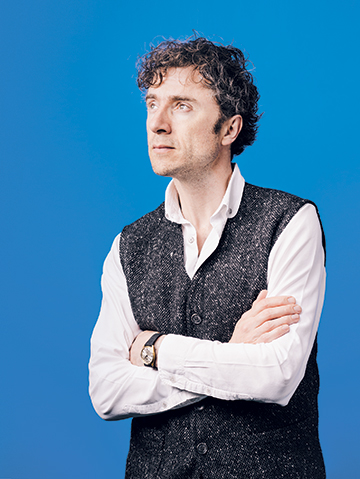 In Heatherwick's London studio, a few minutes walk from King's Cross rail station, employees hoist pieces of canvas onto a pair of pipes hanging from the ceiling and take photographs as the canvas is furled and unfurled. A spokesman says the studio is "prototyping the shading process" for the Google canopy. When Heatherwick himself appears, shaggy-haired and gracious, he's more discreet. Asked about the tests in plain sight, he says nothing, then jumps up and down jokingly in an exaggerated attempt to block the view.
Heatherwick grew up in a middle-class neighborhood in North London. His father was a musician, his mother a jeweler who founded the Bead Society of Great Britain. To get to his parents' attic bedroom, he had to go through her workshop, which was full of mechanical tools and toxic enameling powders. He says that from an early age he was disappointed by the mundane conformism of Britain's postwar construction and, in the skyscraper boom, found "some real bad judgments playing out around the world." Inspired by the science fiction of the 1960s and '70s, he wondered why the world didn't look more interesting.
He studied three-dimensional design at Manchester Polytechnic but rejected the formal discipline of architecture, preferring instead to get his hands dirty with welding, cabinet making, and glass blowing. He attended the Royal College of Art to get a master's degree, then set up his own studio, because "I didn't know who else to work for."
A better-known early design is his aluminum bench, one of which greets visitors to his studio. The bench looks like a warped, silvery piece of UFO hull. In 2001, Heatherwick had it extruded from an aluminum die-casting machine as a single 100-meter object, and then cut it up and sold the pieces as commercial furniture. Other early projects showed similar inventiveness. His Rolling Bridge in London's Paddington Basin, finished in 2004, doesn't split open like a conventional drawbridge to let boats pass. It lifts entirely from one end and then curls back on itself like the tail of a scorpion.
The studio employs 170 people and is less a pure architecture firm than an interdisciplinary collective of architects, landscape designers, and engineers, all working quietly on PCs amid models and prototypes as well as a fully equipped workshop. Like Ingels, Heatherwick seems to enjoy imitating organic forms. The Learning Hub, which he completed earlier this year for the Nanyang Technological University in Singapore, includes 56 "tutorial rooms" that discard the forward-facing conventions of a typical lecture hall in favor of cornerless spaces and shared tables. The buildings, which taper outward in a series of stacked layers, resemble a menacing cluster of beehives.
Heatherwick says he was initially lukewarm about Google's overtures. What won him over was the executives' earnestness about opening the complex to the public and restoring the area's natural habitat. That appealed to him. "Smuggling an organization away from the world was clearly not the motive," he says.
He's no stranger to collaborating on large, challenging projects. He's working with Norman Foster's Foster + Partners on a series of skyscrapers for Shanghai's Bund finance center. But he says the partnership with Ingels is particularly close and that they've established "a kind of combined, driving-input creation team." On that very day, he adds, Ingels himself is at Heatherwick's London studio, working unseen with employees of both firms in another building.
Google now has to convince its hometown that its intentions are non-evil. In its development proposal, it asked Mountain View for permits to build 2.5 million square feet of offices, most of the new space the city was prepared to develop. In a five-hour meeting on May 5, the city council, concerned about economic diversity and traffic congestion, allotted most of that space to LinkedIn, which had a competing proposal. Council members say there's some resistance to giving Google everything it wants, particularly extra housing, which could permanently tilt the city's voting rolls in Google's favor. "They are not the only company in town, and there is a significant amount of public pressure not to be a one-corporation town," says Councilman Ken Rosenberg.
Still, it's unlikely the council will entirely block Heatherwick and Ingels's plans. Google received one parcel for its expansion and must now persuade the city to allow it to develop on another three. As Radcliffe notes, no other company comes close to offering the same loaded package of community perks and environmental benefits. Either way, the architects aren't waiting and say they didn't create the ambitious conceptual drawings just to be gawked at. "Neither us or Heatherwick are in the business of producing a pretty painting," Ingels says.

Shareholders are also unlikely to stand in the way. Investors have been tolerant of, and sometimes even jazzed about, the company's expensive "moon shots," such as self-driving cars, Internet-connected glasses, and broadband-broadcasting blimps. And Google does, after all, need the extra space for a head count that's climbing above 55,000. "This is a company with almost $75 billion in cash on their balance sheet," says Ashim Mehra, a vice president at Baron Fund, which holds Google shares. "If they want to use some of it to build an office that facilitates a better work environment and better collaboration, I think investors are generally supportive."
The true skeptics, really, are other designers, and they're not hard to find. Why, for example, do you need giant glass enclosures in a place where the weather's always perfect? "This is why hiring architects from Northern Europe maybe wasn't the smartest thing," says Louise Mozingo, a professor of environmental planning and urban design at the University of California at Berkeley. She also wonders how Google plans to clean the glass canopies when it doesn't rain for long stretches. "There is something about this whole microclimate that they are not quite getting," she says.
Others doubt the practicality of the supposedly flexible design. How, they want to know, do you configure a stable electrical system in a set of modular office units that will be hoisted and moved around by crabots? "Flexibility can become really expensive," says David Meckel, director for research and planning at the California College of the Arts. Radcliffe says the company hasn't worked out every problem just yet. "There may be a few things we need to scratch our heads on and figure out over time," he says. He agrees the project should probably be considered another Google moon shot—a hugely ambitious idea that doesn't yet have a lot of supporting details nailed down. "It redefines the way we think about the relationship between the built environment and the work that happens there, and the community and ecology it sits in," he says.
He adds that others probably shouldn't try to copy the grand design. "This is absolutely the right thing to do for Google. I'm not sure it's the right thing for anybody else."