This Is the Perfect Hotel for Business Travelers, but You'll Never Stay There
Deloitte's new training center — aka Deloitte's Disneyland — gets five stars on Yelp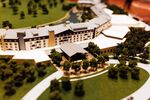 It's 5:30 a.m. in DFit, the health club at a resort northwest of Dallas, and the spin class is filling up quickly. As the music starts and a rider grabs the last bike, muscular attendants begin wheeling in an additional row of $1,795 Keiser M3 cycles. The instructor sets off at a brisk pace. Midway through, she asks: "How many of ya'll enjoyed an adult beverage last night?" As hands go up, she urges us to crank the resistance and burn off the excess. 
There will be plenty of time to redo the damage. By the time class ends, the restaurant down the hall has begun serving made-to-order omelets, piles of smoked salmon, impossibly creamy scrambled eggs (with three kinds of house-made salsa), and a dozen further options, all free. Later this evening, guests will compete in an Iron Chef-style celebrity cooking challenge; afterward, they can party until 1 a.m. in the on-site sports bar. "I love it," says one reviewer on Yelp, where this destination averages a five-star review. "I'd live there if I could."
Not bad at all, considering that this is no ordinary, $300 million, 800-room resort. It is owned by Deloitte, the 70,000-employee professional services firm, and the guests—almost all accountants and consultants—have come to Deloitte University for mandatory leadership classes. At most companies, offsite training generates as much enthusiasm as a tax audit, but since these doors opened in late 2011 in Westlake, Tex., employees have grown to love it. Even Deloitte partners who initially opposed the project admit it has boosted recruiting efforts, impressed potential clients, and created opportunities for the firm's increasingly virtual workforce to form real-life relationships. Much of the appeal lies in thoughtful design, upscale amenities, and fun after-hours activities, which have led to its nickname: Deloitte's Disneyland.

The facility's leaders wince at that moniker; they think it undermines the serious learning that takes place here. Still, they acknowledge that the best-laid pedagogical plans are worthless if students don't want to show up. "This couldn't be a place where employees had to go," says managing director Pete Sackleh. "This needed to be a place where they wanted to go." Some skeptics wonder if the facility is enjoying a short-term honeymoon; they speculate that enthusiasm will ebb as the novelty wears off and employees come back, year after year. But for now, the outdoor firepits, bike trail, unlimited Starbucks, and pretzel-with-sea-salt-flavored frozen yogurt have succeeded: Employees are clamoring to enroll in further training.
The idea for the campus was first proposed by Barry Salzberg, Deloitte's then-chief executive officer, at the firm's 2006 partners' meeting. While many partners preferred to invest in online training, internal surveys showed that millennials—now more than half of Deloitte employees—preferred a face-to-face learning option. Opponents argued that the project would be far too expensive and that Deloitte had no business owning a hotel. The biggest objection, though, was the one you'd expect from an accounting firm: The giant facility would turn training into a fixed cost, limiting the firm's ability to cut expenses during recessions. After dozens of town hall meetings and endless one-on-one cajoling, Salzberg prevailed: In 2007, Deloitte's board approved the project. The firm chose the Dallas location largely because of its climate and American Airlines hub, purchasing 107 acres cut from the middle of the 2,500 acre Circle T ranch that was owned by Ross Perot's family.
Designing Deloitte University was a painstaking process. To start with, it had to look nice without being visibly luxurious. The team worried that if the resort looked too expensive, it could upset employees (who would prefer that the money be spent on higher salaries) or clients (who would worry that the spending was driving up Deloitte's prices). Says Sackleh, who oversees the facility: "If you look at every element, it may be nice, but it's not opulent—and that's on purpose." 
Many of the design ideas came from Deloitte's consultants, who travel constantly and can pinpoint the shortcomings of the standard business hotel. There are electric outlets everywhere—no crawling around to plug in an iron. Next to each bed is a wired remote that controls all the room's lights and the thermostat. The glass-walled shower has its water temperature knob on the opposite wall from the nozzle, making it easy to adjust the temperature before stepping in. 
Other important design decisions involved what to leave out. Despite the resort-like setting, there's no pool, hot tub, sauna, or steam room because nobody wants to encounter a boss in a bathing suit or towel. There are no pay-per-view movies or room service because managers want employees out of their rooms and interacting with peers. There are no suites, eliminating headaches over who gets upgraded. And in dining areas, there are no two-person tables, forcing employees to sit in large groups and make friends. 

The design thinking extends beyond the physical environment. Airport shuttles are hyper-organized: The goal is to have employees seated and en route within 10 minutes of getting off planes. Since Deloitte already has every employee's information, there is no check-in process. Assigned key cards and ID badges are handed out as people exit the shuttles. Since nearly everything here is free (guests pay only for alcohol or personal training), there's no need to carry cash, keep receipts, file expense reports, or tip anyone. Guest surveys show employees prize the hassle-free elements as much as the amenities.
Then there's the food, which is fairly ridiculous—in variety, quantity, and quality. Former Four Seasons chef Michael Jackson runs the kitchen; a typical lunch spread includes lobster rolls, Scottish salmon, shrimp, mussels, roasted chicken, a chicken wing bar, three kinds of sandwiches, five kinds of burgers, a hummus station, and a long salad bar. Between meals, snack stations offer popcorn, jelly beans, trail mix, and ice cream bars. Spacious pantries located near guest rooms have soft drinks, yogurt, string cheese, and M&Ms. After 5:30 p.m., employees migrate toward the Barn, a hangar-sized sports pub that serves ribs, jumbo shrimp, and hickory-smoked brisket. Deloitters say alcohol-fueled Jenga and karaoke competitions often keep the Barn busy until last call, at 1 a.m.
While other big companies—including Boeing, Lockheed, General Electric, and Accenture—have large residential training facilities, people who have visited them agree that, for the moment at least, Deloitte's is in a class by itself. "It's the nicest I've ever seen," says an outside consultant who routinely visits Fortune 500 training centers. "The amenities rival those of the headquarters of high tech startups like Google, Twitter, and LinkedIn." 

No matter how late they stayed out the previous night, by 8:30 a.m. everyone is clad in business casual and gathering near the 32 classrooms, 33 team rooms, and the 176-seat amphitheater that make up the center's learning wing. Most sessions are led by Deloitte partners and involve role-playing and simulation. After lunch, 30 newly-promoted managers sit in groups of five, with one facing a Deloitte partner. In the assigned scenario, the partner is yanking a staffer off a project because a different client urgently needs his expertise. The new manager first tries to convince the partner to let the teammate stay put (which doesn't work), then negotiates for additional time to make a smooth transition. After the role-playing, the team does a computer simulation to tell the departing teammate he's switching projects. Then a different partner leads a group conversation about the dual challenges of managing up and managing down.
None of this comes cheap: In 2010, before the facility opened, Deloitte spent more than $113 million on training, according to a Harvard Business School case study. Those expenses are even higher today because the firm has added employees and now offers more training per employee. However, managers say that if you compare the per-hour training cost, they'll save more than $7 million this year, compared with holding classes at outside hotels or conference centers, as they did before Deloitte University was built.
There are rumors that this campus will only get larger. "The last I heard was they're going to [add] another 250 rooms," says Doug Lattner, former CEO of the firm's consulting business who retired in 2013. Deloitte University's leaders deny the expansion plans, but during a tour they brag that the heating and electrical systems are already sufficient to handle an additional 200 rooms, and they point to precisely where they would build them, out by the sand volleyball court and the lit basketball courts.

None of this guarantees that the facility will be successful in the long-term. Boris Groysberg, the Harvard professor who wrote the Deloitte University case study, says that over the last 30 years many big-name companies—including IBM, ATT, Merrill Lynch, and Goldman Sachs—opened training centers that seemed successful for a few years. But as such facilities age, employees typically grow less enthusiastic about visiting, the most talented partners devote less time to instruction, and companies invest diminished energy in keeping the curriculum relevant. "The question is: Is it sustainable?" Groysberg asks. "Having seen this movie before, the batting average is not in their favor."
At 7 p.m. on a Tuesday, those concerns seem far away. Hundreds of Deloitters are cheering as colleagues compete in an Iron Chef competition. "I feel like I've gained 10 pounds in the last two hours," moans the master of ceremonies as plates are sent for final judging. (Other evenings offer wine-tasting classes and casino nights.) Just after 10:30 p.m., more than 100 employees are still raising glasses in the Barn as an NBA game winds down on the giant TV. "Hey, you guys are going to split this with me, right?" yells a new manager toting a Himalayan-sized plate of nachos. Go ahead, guys: Tomorrow's agenda begins with a five-kilometer race around the property.