The Most Remote and Beautiful Landscape in the World Is in Westfjords, Iceland
Artists and Internet moguls are beginning to discover this vast oasis of quiet and raw nature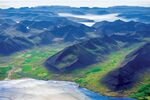 It's early June and a mild 53 degrees, but the overland trail to Galtarviti is still blocked by heavy snow. So we're on the backup route, a path along the rocky coast of a fjord just 20 miles south of the Arctic Circle. A couple of hours in, we reach a steep slope, and I start sliding, helplessly, down a massive snowbank. I jab my trekking pole, trying to stop the fall. Ahead of me, Olafur Jonasson, Galtarviti's burly owner, is also doing his best not to topple onto a pile of rocks. It hadn't occurred to me until now, but there's a downside to visiting the most remote and beautiful landscape in Europe. If we die, we won't be found for days.
I eventually slow to a skid and then to a full stop. Which is fortunate, because I'm looking forward to seeing Galtarviti, a lighthouse in the far northwest of Iceland on a peninsula called Westfjords. The journey starts with an eight-hour car and ferry ride from Reykjavik. After the road ends, you hike for another three hours or, when the weather and tides cooperate, travel by snowmobile or boat. "Basically, there's no easy way to get to the lighthouse," says Jonasson, 47, whose face hides behind a bushy beard. When we finally reach the place, on a bluff overlooking the Denmark Strait, the view of waterfalls and lush, cliff-backed meadows pleasantly distracts me from throbbing knee and shoulder pain. As we take out the whale steaks we've carried in our backpacks and start preparing dinner on an outdoor grill, Jonasson tells the story of how he bought the entire valley 14 years ago for about the price of a month's rent on a Manhattan one-bedroom. He points to a grassy mound nearby. Local lore dictates he must never mow the lawn there—a large family of elves lives below.
 Westfjords, whose fierce arctic storms and rough gravel roads keep it largely inaccessible, attracts both rich adventurers and creative types. Paul Allen reportedly dropped in by helicopter from his expedition yacht, Octopus, to take a dip in an open-water hot spring. Danish artist Olafur Eliasson contracted a local farmer to breed sheep whose wool is the precise shade of gray he wanted for a knitted sculpture project. And every year at the summer solstice, Jonasson turns over his 1,000-plus-acre property, including the lighthouse, to a contemporary artist as part of a residency program. Past visitors have included Elizabeth Peyton and Ragnar Kjartansson.

Jonasson says it's Westfjords' limitless supply of two increasingly rare commodities—space and quiet—that lures most people here. There are also the bragging rights that come with visiting a mythical place at the outer edge of Europe where the main travel season lasts all of six weeks, from late June to early August, and where shipwrecks and fatal avalanches are routine.
Westfjords is shaped like a mutant lobster claw, with jagged inlets sporting their own jagged inlets. Just getting from one side of the main bay, Isafjardarjup, to the other—a distance of 5 miles—takes more than three hours by car along a 143-mile coastal road that hugs the foot of precipitous table mountains. The most scenic way to reach the area's capital and largest settlement, Isafjordur (pop. 2,500), is to drive north from Reykjavik past a series of lava fields to the tiny port of Stykkisholmur. From there, a car ferry continues to Westfjords, with a stopover on tiny Flatey Island, whose year-round citizenry consists of two families who've been feuding for centuries and don't speak to each other. For those who want to avoid the drive from Reykjavik, there are daily 45-minute flights on Air Iceland to the airport in Isafjordur, but where's the fun in that?


Stykkisholmur, a fishing village, is little more than a cluster of small houses sheathed in corrugated metal. Its main attraction is a 2007 installation by the American artist Roni Horn that looms over the town. The sculpture features 24 floor-to-ceiling glass columns filled with glacier water that offer refracted views of the vast bay below. In the port, I meet with Sigurjon Jonsson, a tall, cheerful 65-year-old who owns the local shipyard as well as the marina's largest yacht, the Valtyr. The ship, modeled after a ninth century Norwegian sailboat, has a mahogany interior, three staterooms, and a water desalination system. Jonsson says the Vikings would sail these boats from Norway to Iceland in only four days, a feat many now consider impossible. "Well, I did it in four days, so the sagas are correct," he says. The Valtyr is available for charter, but Jonsson built it mainly for his own pleasure. Its hull keeps it so stable that even during bad storms, he says, "I can drink my coffee without spilling a drop."

When Jonsson hears I'll be spending the night at the only hotel on Flatey Island, he calls a friend there to arrange a visit to a little-known hot spring called Drapsker. In the middle of the sea, it's almost entirely underwater—except at low tide, when its 140F geothermal waters mix with the ocean's frigid currents, making the temperature just right for bathing. It's early June, so there's still plenty of daylight at 11:30 p.m. when local captain Bjorn Samuelsson picks me up at Flatey's port in his fishing boat for the quick ride to the spring. We set anchor just offshore and walk along seaweed-covered rocks toward a spot where steam rises from the ocean for an unforgettable midnight soak under the setting sun. On the way back, I ask Samuelsson about the origins of the feud between Flatey's two families, who both make their living raising eider ducks. "It's just like that," he says. "Nobody remembers why."
The next day, after another ferry ride and a twisty car journey, I get to the deserted bay of Arnarfjorder. On a beach on the fjord's south coast, art collector Petur Arason and his wife, artist Ragna Robertsdottir, have gutted the interior of an old farmhouse, painted everything white, and furnished it with midcentury pieces from an abandoned U.S. naval base. The American artist Donald Judd, another Westfjords enthusiast, stayed with the couple once before his death. He scouted the area for a minimalist-art center but ultimately built it in Marfa, Texas.
Arason tells the story of famed hermit Gisli A Uppsolum, who lived alone in a hut nearby and somehow survived off his near-barren land for more than 40 years. By the 1990s, when he was interviewed for a TV documentary, he'd lost the ability to speak intelligibly. When he died, he left behind a trove of lyrical writing. He remains a hero in a nation that exalts humility and stoic self-reliance. "You do tend to find a lot of people here who are a bit strange, to put it mildly," Arason says.
One of his neighbors is Hilmar Einarsson, a framer for artists such as Lawrence Weiner. Einarsson summers here with his wife, Kristin. After the couple bought their waterfront property, their neighbors told them of a legendary battle between the Vikings Hringur and Austmadur, which allegedly took place in their front yard. In 2006, Einarsson's visiting brother appeared in the couple's living room brandishing a human leg bone. Within days, a team of archaeologists flew in from Reykjavik; they eventually identified six Viking graves, one of which included a perfectly preserved skeleton alongside a Norwegian sword dating from the 10th century.

Locals believe the essence of Westfjords is concentrated in Hornstrandir, the nature reserve on the peninsula's northern tip. The region was abandoned in the 1950s after local fishing stocks declined and the few hundred families living there were forced to move. It has no roads, restaurants, hotels, or campgrounds, and its trails are entirely unmarked. A couple of hiking shelters open in summer and are reachable only by boat or on foot.
I make the trip to Hornstrandir with Runar Karlsson, 42, the owner of leading local outfitter Borea Adventures. Karlsson, who climbs frozen waterfalls in his free time, recently leased Kviar, a two-story farmhouse on one of Hornstrandir's pristine bays, for Borea's use. As we set off by boat, it's snowing lightly; we spot a humpback whale breaching. Today the water is dark gray, but on sunny days it has that Caribbean turquoise glow. Within minutes of our arrival at Kviar, a brown arctic fox walks right up to the house and stands there, staring at us placidly. The foxes, which can survive in temperatures as low as -58F, are extremely rare in most of northern Europe.
That evening, while preparing a pasta dinner, we notice something moving around the garden. "What the hell?" Karlsson asks, rushing to the window. The intruder turns out to be the last type of creature one expects to encounter: a human being. The solo Dutch hiker is as startled as we are—he'd assumed our house was empty and was looking for a place in the yard to pitch his tent. Over dinner, he tells us it's his eighth trip to the reserve. "There's absolutely nothing like this on mainland Europe," he says, adding that he's been trekking in Hornstrandir for more than a week, and we're the first people he's seen.


By the next morning, the skies have cleared, transforming the view into a blindingly bright mix of blue water, green meadows, and white snowbanks. Karlsson and I put on waterproof gear and take out a couple of sea kayaks. As we paddle around, he points out a spot where past avalanches have left a large crater, now a pond favored by eider ducks. The scarcity of predators makes this place a haven for thousands of migrating birds. We see flocks of arctic terns, guillemots, cormorants, golden plovers, northern fulmars, and the occasional stray puffin. A harbor seal follows us for half an hour as we glide past more than 20 waterfalls.
Back at the house, we decide to try to locate the fox's den. Karlsson catches a mouse with a trap in the basement and sets it outside on a rock. Soon, a female fox comes to take it home in her mouth. I follow her to a nearby thicket, from which I can hear muffled, high-pitched squeaks. After a few minutes, a tiny newborn pup, still blind, waddles out from under the brush toward me, sniffing the air.
Karlsson has been gradually renovating Kviar's rustic interior and plans to add a sauna and a thermally heated hot tub in a retrofitted life raft. Every spring, Borea Adventures books backcountry ski trips on the 60-foot expedition yacht Aurora Arktika, which sails the fjords of Hornstrandir in search of powdery, never-before-skied ridges. The Icelandic writer Andri Magnason spent a week on the boat last spring. "Where else can you use a yacht as a ski cabin, going from one virgin slope to another, and have an excellent meal each night, with shellfish you've picked from the ocean?" he says. (The trip costs about $2,000 for five nights.)


Throughout the journey, locals constantly tell me that Westfjords is home to Iceland's highest concentration of sea monsters. A dark, eerie museum in the town of Bildudalur focuses on these creatures. When I show up, I'm the sole visitor, so I get a private tour from the curator, Ingimar Oddsson. Exhibits highlight Iceland's most common monsters, including the mythical "shore laddie," which lurks in the waters by the coastline and preys on small children. "The shore laddie doesn't actually eat kids, but it tries to get them to come into the sea to live with it, because it is lonely," Oddsson says.
Back at the lighthouse, Jonasson shrugs off the myths and reassures friends and family who get nervous when he makes the trip alone to Galtarviti, where there's no cell service or electricity, and where snowstorms can pound the coast for days. "I tell people, 'I'll be back on Friday but don't start worrying until Sunday,' " he says.

For the residency program at Galtarviti, tradition dictates that each year's artist chooses whom to invite the following year. In 2013 the nod went to one of Iceland's art stars, Ragnar Kjartansson, who spent the week of the summer solstice at the lighthouse keeper's cottage. He painted, played the guitar, and invited a few friends to walk over the mountain for a party and exhibit on June 21, when the sun never sets.
Mostly, he slept. "It's a big deal for the brain to be relieved from electromagnetic waves and Wi-Fi and all that," Kjartansson says. "It completely reset me and had a profound effect on the work I did afterward. All day long I was falling asleep on the bed, on the sofa, on the grassy hill where the elves supposedly live. I didn't hear any elves, but when you're in a place like that, you sort of start believing in them."