In New Hampshire, Lindsey Graham Retools the Straight Talk Express
Ground troops against the Islamic State, amnesty for undocumented immigrants, less money in politics: 2016's happiest warrior thinks he can win—and he's not kidding.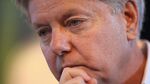 CONCORD, N.H.—The fireplace is getting to be a problem. It's Sunday afternoon, and South Carolina Senator Lindsey Graham is making his first visit to New Hampshire as a potential presidential candidate, speaking at the Snow Shoe Club—all wood panels, low ceilings, and aging photographs of local worthies. The handful of reporters watching Graham are getting an image so perfect, so New Hampshire, that it may be worth checking the negatives for Teddy White's ghost. 
But, man, that fireplace. Graham had dressed for winter, but as he paces back in forth between the fireplace and 50 or so voters, he's getting blasted. An hour into the town-hall meeting, he removes his fleece and gnaws into a question about sequestration. "Ronald Reagan is rolling over in his grave," says Graham, "because the GOP put the Department of Defense on the chopping block." As if on cue, a log tumbles and catches; a flame shoots up behind him.
Graham keeps going. The 59-year-old seems to shake off the years as he talks, riffing and joking, taking six more questions after an aide told him he had time for one. The zingers keep flowing; the Iranians, for example, are "the oldest negotiators in the world," while the Obama administration is "a team that if they bought a car would pay more than sticker price." 
In the back of the room, next to a rapidly depleting coffee supply and sextet of warm pies, there's John McCain's 2000 New Hampshire chairman Peter Spalding; next to him is Steve Duprey, a former New Hampshire GOP chairman who became a 2008 McCain travel buddy.
"He's doing very well," says Spalding. "It's like he's an old hand at the town-meeting type of stuff."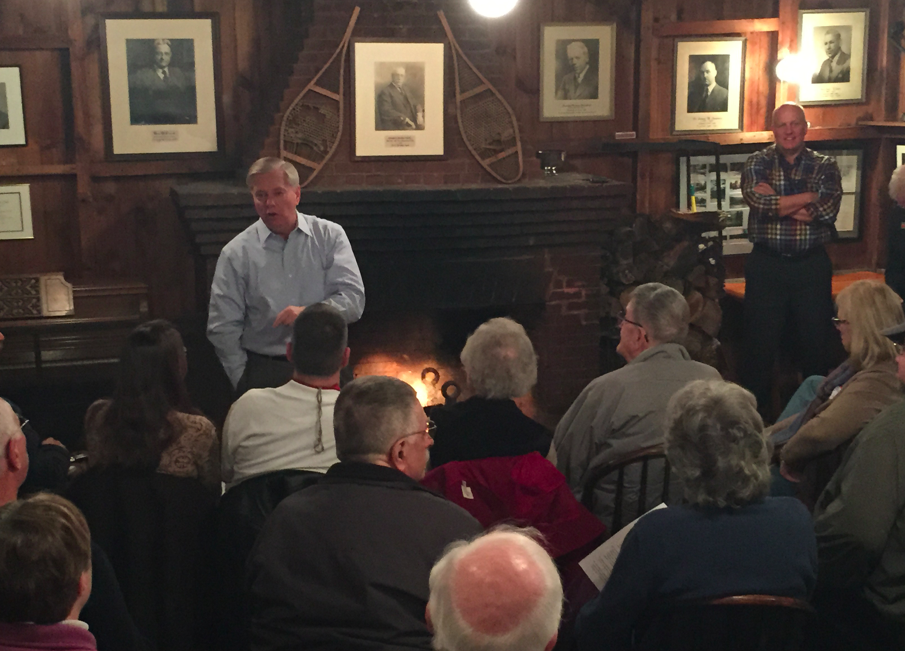 He is, and the temptation to do them across New Hampshire may be irresistible. Graham's presidential campaign lacks the grandeur of the Bush restoration or the today-Madison-tomorrow-the-world narrative of Scott Walker 2016. Graham only started speculating about a run after he won a majority of the vote against a Division AAA team of 2014 Tea Party primary challengers. His campaign team consists of himself, his communications director, his Senate campaign manager, and anyone who remembers him fondly from the McCain bids. In Washington, McCain and Graham often crowd a podium with freshman New Hampshire Senator Kelly Ayotte; on Sunday, after the Concord town hall, Ayotte would host a dinner on Graham's behalf.
Graham is polling at 1 percent in New Hampshire, but he does not seem to care. In Concord, he tells a mostly Republican crowd that "some candidates" want to raise $100 million (this is a reference to Bush) immediately, but that he just needs to raise $10 million. If that. Maybe. Who knows?
"New Hampshire is an antidote to big money," Graham says in Concord, after a voter asks if he'd help undo the Citizens United decision. "If you did away with New Hampshire, Iowa, and South Carolina, running for president would be like buying soap. I don't care how much money you have—you still have to come to New Hampshire."
Lots of candidates say that. Graham departs from the pander when he actually answers the Citizens United question. "I would like to control the money in politics to the extent it will destroy the political process," he says. "There are probably 50 people in the country you've got to go to and see if they'd support you, because there's unlimited giving … if we don't have some control over the money, the most influential people in the country are going to be the ones with the most money."
That's what McCain used to say in New Hampshire, and he won twice. The Graham campaign, or whatever it is, feels like a low-budget reboot of a movie that people retain a wistful fondness for. McCain held more than 300 New Hampshire town halls over his two campaigns, and crackled when he knew he was telling the crowd—"my friends"—something popular.
Graham, whom McCain affectionately dubs a "little jerk," behaves the exact same way. Before he speaks in Concord, a one-sheet (prepared by the Strength Through Security exploratory committee) is passed around to share his most electorally compelling facts. He was born in the "blue collar, small town of Central, South Carolina," his parents "died within 15 months of each other," he's been a military judge and gone on "multiple Reserve deployments to Iraq." 
Graham's recitation of that story is the only quiet part of his spiel. When he gets to the policy—when he gets to tell a New Hampshire crowd the stuff the other Republicans probably won't tell them—his voice fills the room. He wants Americans to join a "ground force" in Iraq. He wants a pathway to citizenship for "the 11 million" living in America illegally. He wants to cut Social Security obligations before they wreck the country, because there simply aren't enough young people paying into the system.
"Strom Thurmond held my seat before I did," says Graham to his snowy-haired audience. "He had four children. Had the first when he was 68. I see any volunteers in the room?" First the spoonful of sugar, then the medicine: "If I thought I could run for office and not ask you to sacrifice, I would. I'm gonna do what Ross Perot did. I'm gonna get me some charts and go around the country."
At least three of Graham's Senate colleagues—Rand Paul, Ted Cruz, and Marco Rubio—are considering presidential bids. Graham stands apart from them by explaining exactly what he wants to move through the Senate, right now, in 2015. (He stands apart from the former governors in the race because he suggests that Washington may actually achieve something.) When several voters ask Graham why the Senate failed to defund the president's executive orders, Graham answers like he's on Meet the Press, talking about how the press would have blamed his party for the Department of Homeland Security not being funded. Not one but two voters ask how reconciliation can be used to undo Obama's work; Graham says it can be used to rip Obamacare "out by the roots." Another voter asks what America is doing to prop up the Egyptian government, and Graham goes on a tear about democratization.
"How many of you would expect your children to live in a dictatorship at someone else's convenience?" asks Graham. "How many times have I heard, Gosh, I wish Saddam was still around? Well, that's great. You didn't have to live there. We're Americans, folks. I don't wish for anyone to live in a dictatorship. The Arab Spring is real, and we screwed it up."
As the heat rises—literally—Graham scouts for hostile questions. Charles Pewitt, a town-hall regular who wants to grill the next president about immigration, butts into a Graham explanation of why reform wouldn't depress wages. When Graham finishes that answer, he points right at Pewitt, who asks a wordy question about whether Graham thinks America is a coherent nation or some polyglot theory.
"The rhetoric that you're hearing today has been spoken in the past," says Graham, scanning past Pewitt to his fellow skeptics in the crowd. "Any of you Irish? Well, your ancestors ran into signs that said No Irish Need Apply. Any Chinese people here? Well, one day maybe we'll get some Chinese Republicans in New Hampshire. I hope so. You had to cut your ponytail off." Graham walks back and forth in front of the fireplace, arms folded behind his back. "America, to me, is an idea that makes a woman walk across the desert with her children."
A few questions later, Graham pronounces himself "well done" from the heat and ends the town hall. He's spoken for 97 minutes. Of the 50 or so people who showed up, only three left, and all grabbed palm cards. Graham darts around the emptying room, gaggling with reporters and posing with the pies that had been mostly devoured during the Q. & A.
"You get a photo?" says Graham, posing mid-forkful. He takes a bite. "Okay, get another one." A second bite. "Try it again!"
The cornpone and insta-friendliness of the campaign trail suits Graham. He's got something pleasant to say to everyone who sticks around—even to Pewitt, whom he finds again and thanks for the "passion" of his question.
"I didn't want to avoid him," explains Graham. "He's got a point of view that's legitimate. Obviously, I'm in another spot. I think I've earned his respect if nothing else."
He spends slightly more time with the voters who didn't come to goad him. "Are we going to see as much of you as we saw of Senator McCain?" asks Sally Embley. Before the speech, she'd been saying she liked the way "Graham stood up to the Tea Party." She was one of the Democrats who might cross over, like thousands had for McCain.
"Well, I'm going to be here as much as I can," says Graham. "The world is deteriorating as we speak, but I know it's required of me and others to come and do this. If today is any indication of what I'm in for, I think I'm going to enjoy it."
Another handshake, another photo, and Graham finally breaks through the door outside. The last gasps of winter cool him off, and he cheerfully explains how the Concord crowd moved him closer to a run. "You can see how McCain did with people," says Graham. "I'm gonna see if I can put the financing together, hire a good staff—I'm not gonna do it as a lark."
Graham's 2014 primary win convinced him that the hard right, the base of the party that can't stand him, has missed its moment. Four years earlier, he predicted that the Tea Party movement would "die out" because it could "never come up with a coherent vision for governing." His politics were clearly going to win—and then they did win. Why not run?
The confidence of that pitch ignores the conservative theory of 2008 and 2012. In the accepted history of those elections, the GOP's voters moved the party right but were buffaloed into nominating "moderate"-seeming, "electable" candidates—starting with John McCain. If Graham ran, the best he could hope for would be a McCain 2008 sequel, and potential candidates like Cruz have already explained that McCain was a "pale pastels" sort of nominee, the kind the party could never pick again.
On Monday morning, when he visits the traditional "Politics and Eggs" breakfast for aspiring candidates, Graham pulls on a purple sweater and jokes with a crowd of business worthies. He signs dozens of the wooden eggs given to anyone who attends. "Who came up with this?" he wonders. "A wooden egg salesman? These eggs better not be made in China." 
After a couple iterations of that joke, I ask Graham why conservatives should see him any differently than McCain. 
"Number one, I'm conservative, and I'm practical," he says. "We lost because we didn't stay home. There's this myth that we didn't get enough votes, but demographically, we're getting killed. The party has been tagged by some of the rhetoric. Look, John could have done better, Mitt's a good guy, but we're going in the wrong direction."
He could have blamed the campaign finance gap between McCain and Obama—something no Republican will likely suffer from ever again. He could have suggested that 2016, unlike 2008, would be a foreign policy election. That wasn't his answer. Graham wanted his Republican Party to pass immigration reform in 2015, to work with Democrats and replace Obamacare, and to win the sort of numbers with black and Hispanic voters that George W. Bush did. In a time of mass disgust with Washington, he will, by force of personality and willingness to stand in front of fireplaces, convince people that Washington is fixable.
Graham's hourlong speech to Politics and Eggs is a toned-down version of what he said at the Show Shoe Lodge. The crowd's about as energetic as a Monday 8 a.m., post-Daylight Savings crowd gets. It's also less hostile, which does nothing to change the way Graham slings promises and zingers. The coming entitlement crush, he says, will have "the same effect on America as if the radical Islamists had a nuclear weapon." The GOP's Obamacare fix will keep the benefits for adults under 26, because "the American dream is getting your kids out of your house."
He'll talk about anything, as long as the people in front rows and the media clustered in the back of the room realize he's not kidding. "I'm gonna do weddings," he says, "bar mitzvahs—anything it takes to get known in New Hampshire."
CORRECTION: An earlier version of this story incorrectly identified Graham's communications director as chief of staff.
(Corrects communications director's title.)