Massive Redesign Turns Newark Airport Terminal Into a Foodie Theme Park
Exclusive images of the $120 million project opening next year at United's wing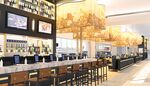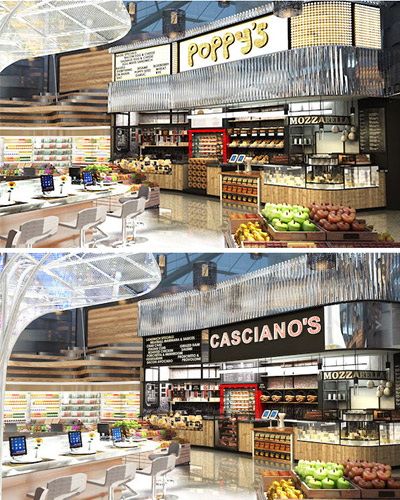 You wait on what looks like a Soviet bread line. You show your I.D. to a guard. You take off your shoes, empty your pockets, and surrender to a digital scanner.
Fortunately, there's always a bevy of gleaming cocktail bars and foodie outposts welcoming you to the other side.
No? Get ready. That's the plan for United Airlines' Terminal C at Newark Liberty International Airport—a $120 million redesign that includes 55 dining venues with enough celebrity-chef cameos to rival the glitziest of Las Vegas casinos. Instead of the usual McDonald's, TCBY, and Sbarro, there will be restaurants serving up far-ranging cuisine, from authentic ramen and tacos to gourmet, Neapolitan-style pizza and Swedish meatballs. Since the terminal must remain in operation, all the structures will be assembled off-site and dropped in next year to keep construction time to a minimum.
And here's the unique feature: Rotating signage and sliding walls will transform, say, a bagel stand for morning travelers to an Italian deli in the afternoon.
"It's part Get Smart, part James Bond, and part theater technology," said David Rockwell, whose past projects have included JetBlue's Terminal 5 at Kennedy International Airport, Academy Awards stage sets, and top-notch restaurants such as Nobu. At Terminal C, he is responsible for the bulk of the eateries, many of which have furnishings that light up at night. A towering ramen noodle bar, for example, is covered in a white metal mesh that is skylit during the day and dotted with light after dark.

"Light is an element that creates a warm glow, almost like a hearth," he said. For some locations, the designer enhanced the fireplace effect by adding area rugs, an unorthodox choice for airports because they're harder to clean than bare floors.
Attention to the circadian rhythm is rarely seen in airports, where passengers generally bemoan the day's passing, not savor it. To strengthen customers' connection to the outdoors, Rockwell placed the seating by the airfield-facing windows, moving the circulation corridors to the back. He was careful not to block sightlines to departure gates.
"If you can see where you're going," the designer said, "you're able to take the 30 minutes you have to relax and get a bite to eat."
A handful of cities have lovely airports, but Rockwell didn't model his designs on London's Heathrow or Amsterdam's Schiphol. Instead, he drew inspiration from such varied places as the theater, New York's Madison Square Park, and European town squares. Since all the venues are bespoke and detailed, they can be used as landmarks to help orient passengers navigating the terminal. Rockwell said the layout solves the airport conundrum of turning down a hallway that looks like the one you just passed.

One element is common to all the restaurants, bars, and food stands: an iPad at every seat, for a total of 6,000 tablets in the 100,000-square-foot terminal. United Airlines customers will be able to pay their checks using frequent-flier miles and monitor flight info by scanning their boarding passes. OTG, the terminal's operator, says it is the second-largest customer-facing iPad platform in the world, behind Apple's retail stores. OTG, which is funding the redesign, and Rockwell previously collaborated on JetBlue's terminal at JFK.
The company's chief executive officer, Rick Blatstein, said his terminals' revenue is 50 percent higher than the revenue at half of the top 50 airports in North America while maintaining menu prices comparable to the street and without reducing personnel. "We actually increased the headcount in some of our airports," he said, "but we decreased our payroll percentage because we could drive higher sales."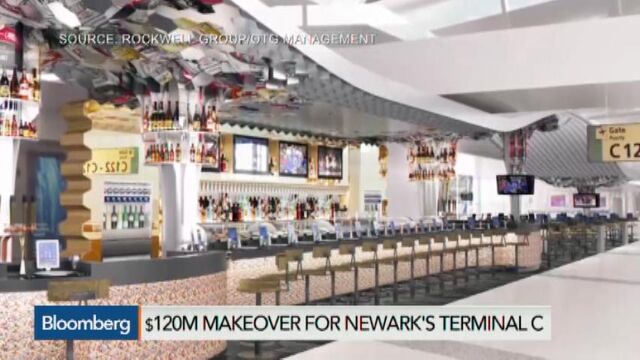 So if you fly out of United's Newark terminal in 2016, you can expect to have more fun before boarding. Just don't be surprised if you rack up a big tab while you wait. 
Check out these other exclusive architectural renderings: 
An iPad at every seat  

Customers will order on tablets and can even pay checks using United frequent-flier miles. They will be able to charge their personal devices while waiting for food to arrive.
Craving dumplings? No problem

Top Chef 's Dale Talde will make dumplings—from shumai to wontons—the focus of the menu at Little Purse, designed by New York-based Parts and Labor. 
Bespoke details 

For SRF, a bar by chef Josh Capon, Rockwell will install  a mix of custom-made and found baskets overhead, as well as driftwood behind the servers, to hint at the seafood-themed menu.  
Star chefs galore

Michelin Star chef Alain Ducasse will contribute a classic French brasserie, with such dishes as onion soup gratinée, hand-cut beef tartare prepared table-side, and traditional sandwiches like croque monsieur and jambon et beurre.
Celebrity-made sweets, too

From celebrated pastry chef and chocolatier Jacques Torres, Melange Bakery Café will bake a variety of breads, rolls, and sweets, as well as prepare sandwiches and light entrées.